By Maria Immaculate Owechi
Outdoor wedding ceremonies are loved for their natural backdrop that compliments the décor and the fresh breeze of air they offer, however, throughout the planning and stress, the weather is always at the back of any soon to be wedded couple's mind. The most commonly feared is rain but also too much sunshine and wind can be disruptive to a ceremony.
Lawrence Eli Okoronkwo, better known as Renzioni Hill, a Ghanaian wedding planner based in Kampala, says fine weather is what every couple prays for but it is important to plan appropriately on how to deal with bad weather to avoid any rude surprises.
Joy Nalwoga, a mass communication student at Kampala University shares about how they felt embarrassed when rain scattered the groom's entourage at her sister's traditional wedding.
She says they thought it would be a sunny day and it never crossed their mind to put some measures in place to handle a rain situation, "The entourage had just lined up to access the venue when a heavy downpour started out of the blue forcing our visitors to seek refuge in their vehicles," Nalwoga shares.
To avoid getting stressed from seeing your guests being inconvenienced, here are ways you can deal with bad weather.
Choose your venue wisely
Proper selection of the venue sets the pace of whether you will have a beautiful or disastrous wedding.
Christine Nankya of Elegant Events discourages couples from hiring bare and dusty grounds.
She says this is because whether it is a wet or dry season, bare grounds are unfavorable for a party, "The greener pastures have an excellent way of absorbing the mud or dust."
Renzioni says selecting a venue that has both outdoor and indoor spaces is a good backup plan in case of a sudden downpour.
Select décor that can withstand any weather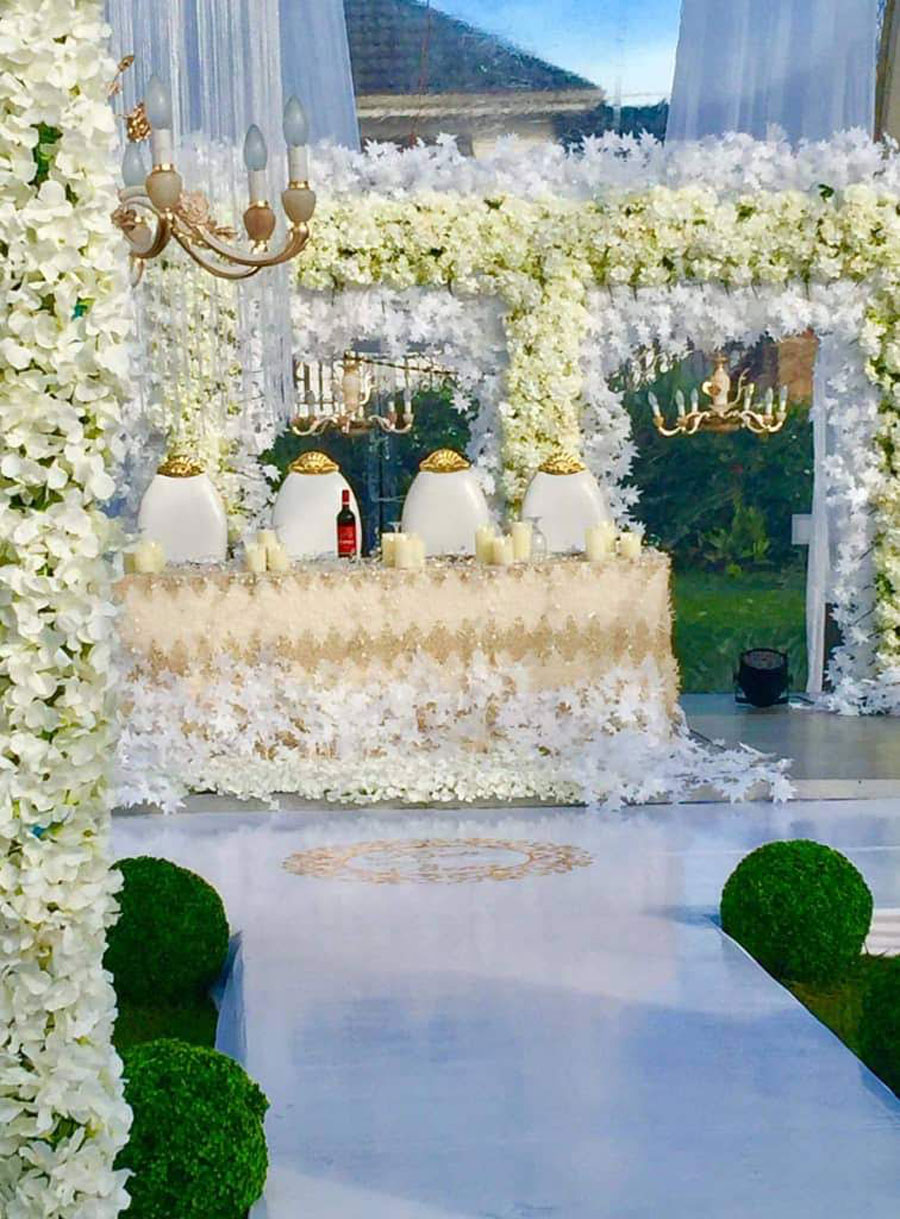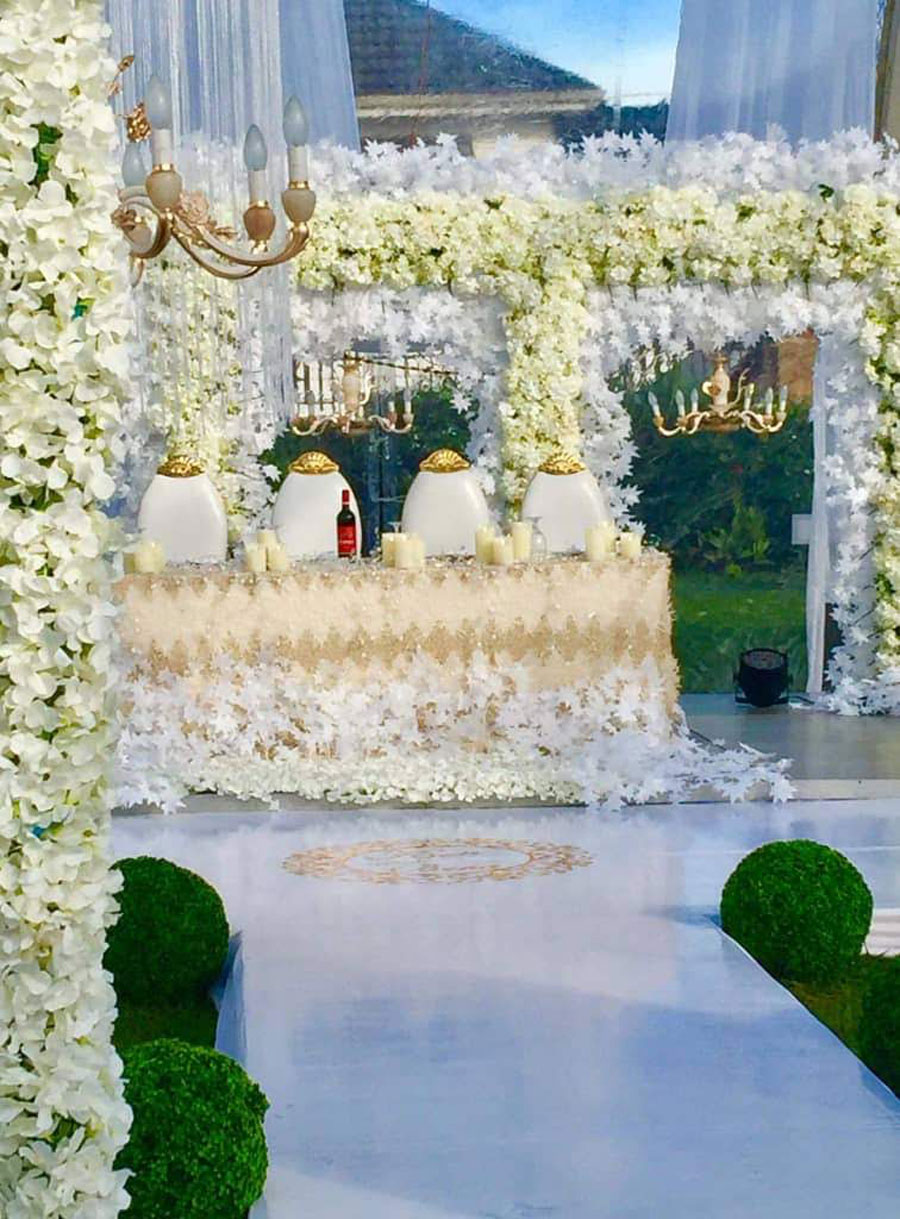 In amidst of wind and heavy rains, some light décor and floral materials can easily be blown away.
Nankya suggests ensuring placing the flowers in heavy metals to keep them from toppling over.
Avail umbrellas
Umbrellas are not only needed during a rainy day but also on a sunny day if it is an outdoor wedding without tents.
Investing in enough umbrellas can shelter your guests from the harsh weather.
Renzioni adds that for the bridal entourage, it is an opportunity to order some colorfully patterned or clear umbrellas that will look fun and quirky in your wedding shots.
Inform the guests to prepare for a rainy day
Availing umbrellas for the guests may be a bit expensive and the solution is to notify them to carry their own.
With the help of the weather forecast, you can note in the wedding invitation if the ceremony is to be on the beach or send messages in case you expect it to rain heavily.
They will definitely appreciate being told beforehand.
Be flexible with the time
There is no need to stress about the weather. Many of your guests are more empathetic than you imagine and are in most cases more concerned about you not having the day of your dreams.
With this in mind, you can be flexible by letting the rain pass without worrying about the entire timeliness or the day getting messed up. After it is done, the ceremony can proceed.
Availing appropriate refreshments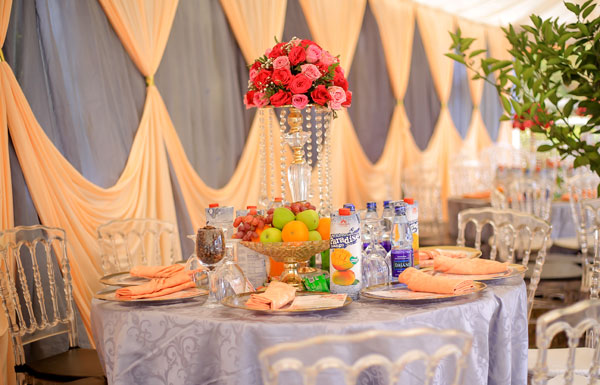 Nankya advises that for the case of hot weather, having lots of water and soft drinks can keep the guests hydrated for the day, "For the case of cold weather which is usually not considered, the couple can include warm beverages tea and coffee in the menu."
Wear appropriate outfits for the day
In most cases, guests have time to ensure they select an appropriate outfit, and one of the things they have to think about is the weather. For the wedded couple, however, this may be hard because they want to ensure smartness first before anything else.
For instance, a groom wouldn't want to take off his coat even it is hot during the religious ceremony. For the bride, putting on a sweater or a shawl on her bridal gown can easily spoil her look.
Nankya recommends considering purchasing bridal shawls and jackets that can come in handy in such moments.
She adds that for hot weather, in case the religious ceremony is done, the bride can take off the long veil since it adds to the heaviness of her clothes and makes her sweaty.
Work with your photographer
Bad weather can also interrupt garden photo shoots for the couple.
Renzioni advises a couple to remember to have a good look through potential photographers' portfolios as this will give a good indication of whether they have experience with  rainy days.
"In cases of rain, the photographer can come up with amazing shots that wouldn't have been possible on a sunny day," he explains.
Hire a weather-appropriate tent
Hiring a tent that can withstand any weather is also a good alternative.
According to Renzioni, a marquee tents, tents that are made like a makeshift house, enclosing all the guests within are perfect for outdoor events because they protect your guests from getting wet in rains or being scorched by the sun. They also protect the décor from getting blown away by the wind.
Do not let bad weather be the reason you have to push your wedding to another day, as this is a manageable natural occurrence.