By Maria Immaculate Owechi
It is not news that brides tend to be ready for unfortunate situations like their dresses getting ripped during the wedding, or experiencing their menstrual period. Grooms rarely think of the nitty-gritty of what may go wrong, much less if it is in line of ruining their smartness.
According to Emma Mukiibi of Classic suits on Kampala road, it is only a few grooms who anticipate that an emergency kit may be needed for cases like a wardrobe malfunction.
He adds that some grooms assume that as long as they carry key items like the wedding rings and suits on their big day, nothing can go wrong that may ruin their outfit.
However, carrying this emergency kit can also come in handy in case one of the groomsmen encounters an accident that needs a quick fix.
We now bring you items a groom can carry in their emergency kit and their use.
A sewing kit
One of the most common accidents that can ruin your outfit is a wardrobe malfunction.  This can be a loose button or a pant rip which can cause you an embarrassment before your guests.
This is where carrying a sewing kit with items like needles, threads, safety pins, tape measure, extra shirt buttons and cufflinks can come in handy to save the situation.
A cosmetic kit
Mukiibi explains that since some men are not so used to carrying a cosmetic kit around, they definitely don't consider it important even on the wedding day.
"This is where in some weddings you find the groom has a pale face, dry and cracked lips even on a day as special as their wedding day," he reveals
The suit shop owner advises grooms to at least ensure their cosmetic kit includes necessities like vaseline, lotion and a lip balm to ensure they look fresh on his big day.
A cologne or deodorant is another item you shouldn't forget to include in your cosmetic kit. You wouldn't want to earn the reputation of a groom who had a bad body odour.
Mukiibi shares of a wedding where he was irritated by the groom's bad body odour as he hugged him towards the ends of the wedding.
A first aid kit
It is possible for an unexpected health issue to arise that can put a groom in a bad mood. This can range from an allergy, headache, stomach upset or a blister.
This is where first aid items that contain items like pain killers, plasters, cotton wool, antibiotics and so many others can assist in treating the unexpected health issue.
A breath fresher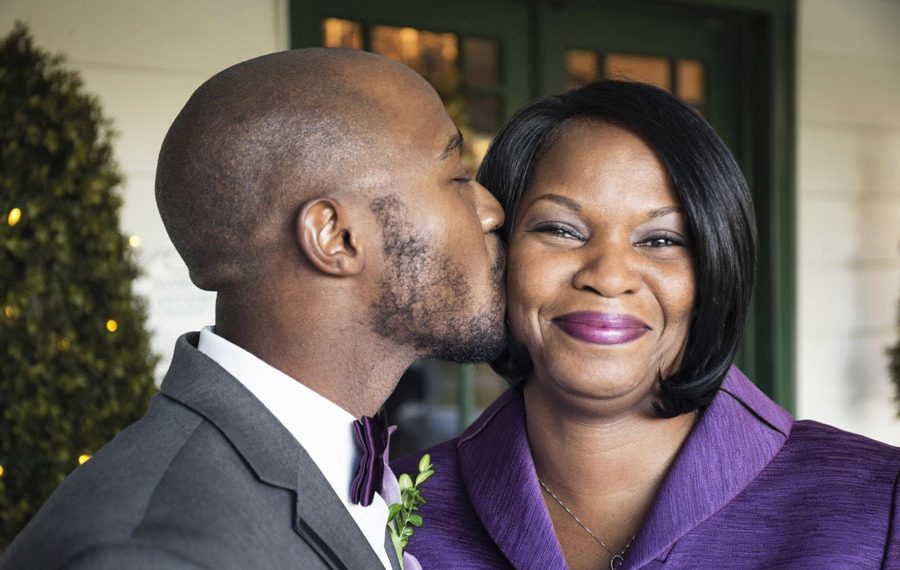 From sharing the first kiss with your wife to interacting with your guests, fresh breath is a must-have.
Much as fresh breath items like mouthwash or mints are popularly encouraged, Gerald Wangwe, a professional wedding MC advises grooms to start the day off by brushing their teeth.
Strain remover
It is possible for the groom's outfit to be stained by spilt drinks, foods or dirt.
According to Wangwe, carrying a packet of strain remover wipes can clean off the above-mentioned strain effortlessly.
A shoe shiner kit
A groom's shoes are prone to lose its shine as he walks in dusty places, muddy ground or being accidentally stepped on.
This is where a shoe shine kit is needed so that the groom is able to polish or wipe his shoes back into perfection in between the ceremonies.
Mukiibi advises grooms to select shoes that just need to be wiped because getting time to polish shoes in between the functions is rather difficult.
A handkerchief
This is a must-have item because the long day's events will require wiping sweat off your face and even drying tears just in case you become emotional.
Wangwe reveals that on his wedding day, he forgot to carry a handkerchief but luckily his best man had an extra one.
"I sweated profusely on my wedding day and I still wonder why I forgot to carry a handkerchief yet I knew it was going to be a hot day," he shares.
An umbrella
Whether it is a rainy day or sunny, carrying an umbrella assists in shielding you from the rain or the scorching sun.
A phone charger
For a groom who intends to carry his phone for communication, carrying a charger comes in handy in case the battery runs down.
Extra cash
Grooms are also advised to consider carrying some extra cash in case of an emergency.
Christopher Ebiau, a phone technician shares how his car had run out of fuel on his way to his honeymoon hotel with his wife.
Ebiau says luckily he had some cash on him to fuel his vehicle.
The responsibility of taking care of this kit can be given to an usher or a close friend that will be around the bridal party for most of the day.
With these items in handy, we hope no emergency will catch you by surprise.