By Rashim Nabanja
However much being part of a couple's entourage involves hard work, people love it. Most of the time when a couple announces that they are about to get married, some people will start revealing their intention to be part of the entourage.
However, playing this part involves more than just having the best dance moves and striking poses for the camera. It means being by the couple's side in case they need a helping hand all through the planning process. This is why Simon Byensi (31), a social worker from Bundibugyo and Winnie Nambuba (24), also a social worker from Mbale district were very critical when it came to choosing the people to be part of their entourage.
The couple had a successful union at Redeemed Church in Kitebi and later headed for their reception at Grand Global Hotel in Kikoni.
Simon tells the story.
According to Simon, choosing his best man and the groomsmen was based on strong friendships and the capability of each person to pay for their attires inclusive of the suit and shoes.
"The entourage funding their dressing is like a contribution to my wedding," he says.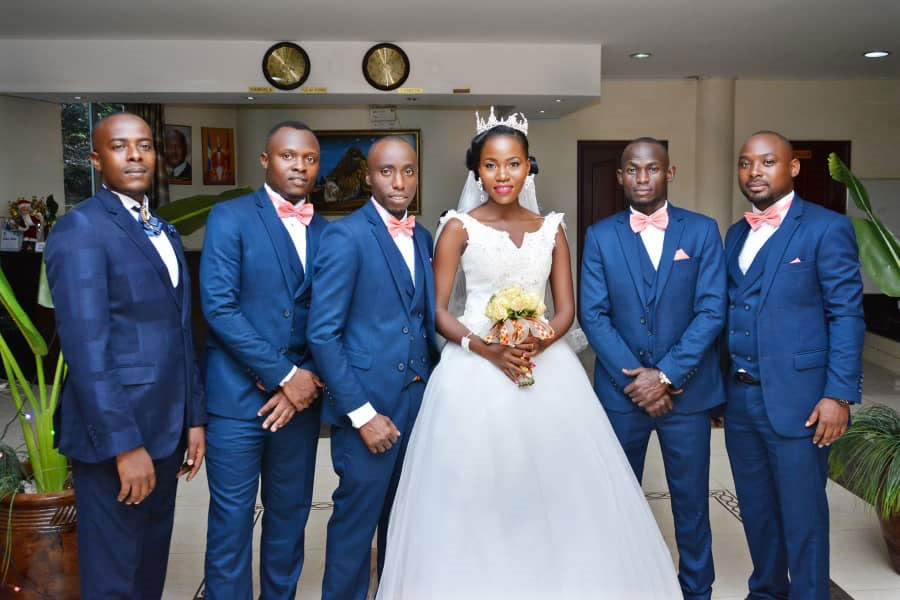 Simon adds that his groom's men also catered for their own grooming services so that he only had to pay for their transportation to the salon.
Winnie's bridesmaids and matron also funded their dressing. According to Simon, this helped to reduce financial pressure during wedding preparations.
To chose the entourage, therefore, Simon and Winnie spoke with close friends and relatives, informing them of this requirement. Simon reveals that amazingly, those who could not afford what was asked for, stepped out but continued to support the couple.
"They were very understanding friends," he comments.
That aside, it has always been stressed that you have to be free with the entourage.  Simon therefore says that although they wanted a budget-pressure-free wedding, friendship was a key aspect for a person to be on their entourage.
And because the couple wanted the entourage to look uniform and colourful, they also considered size and age.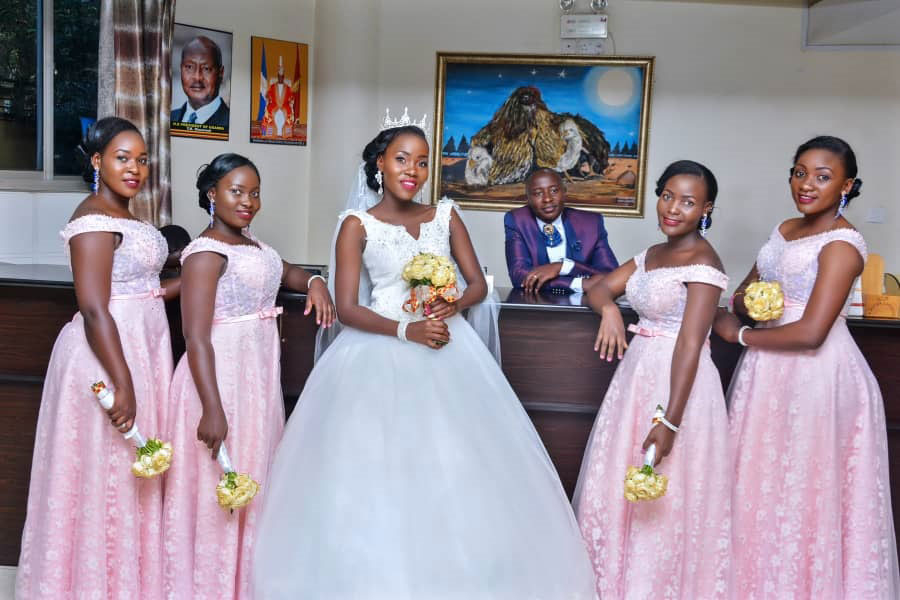 "We chose people we could relate with easily. They were actually our friends so we were very comfortable around them."
Dating
Simon first met Winnie in December 2013 at Makerere University near the Senate building. Winnie was a fresher finding her way around the new campus but seemed to catch Simon's attention as he had gone to clear his dues with the university.
"Winnie's looks caught my eye. I was immediately impressed by the way she carried herself on top of being gorgeous," Simon narrates.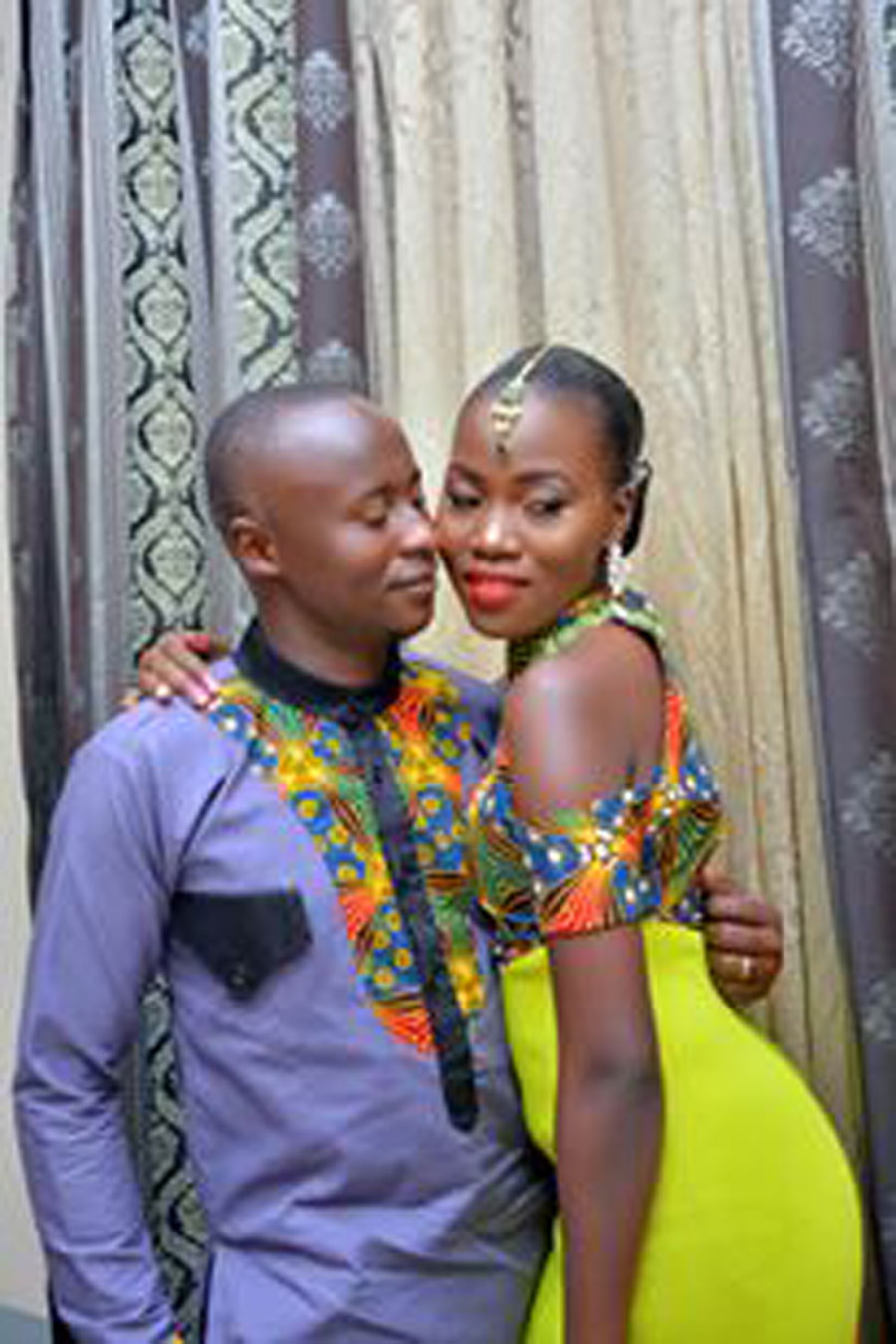 The two did not interact much but Simon says he had already sensed a connection. This was only time that Simon saw Winnie for the next three years. As they say, what is destined to be yours will always find its way back to you. Simon met Winnie again in October 2016 through his work place.
"I got to meet Winnie again after three years. I was in the same line of work with her mother but I didn't have a clue that the woman I respected and loved working with was the mother of the girl that once caught my attention years ago."
This time, he couldn't let the chance slip out of his hands. He took the opportunity to get close to Winnie and this is how their relationship began.
Making it official
Winnie and Simon dated for a period of eight months until July 2017 when the two decided have the kukyala ceremony at Winnie's home in Kiboga.
"Winnie is a beautiful and intelligent girl that I felt we needed to be in an official relationship."
Simon, his friends and family travelled to Kiboga to discuss the bride price. Here they set the wedding and introduction dates.
When Simon approached his mother to tell her that he had found someone he would be spending the rest of his life with, she was thrilled with the news.
"She wished me the best and offered me her prayers and blessings."
Winnie's parents also welcomed the idea with a condition that she was to leave their home onlyafter being officially wed.
The introduction ceremony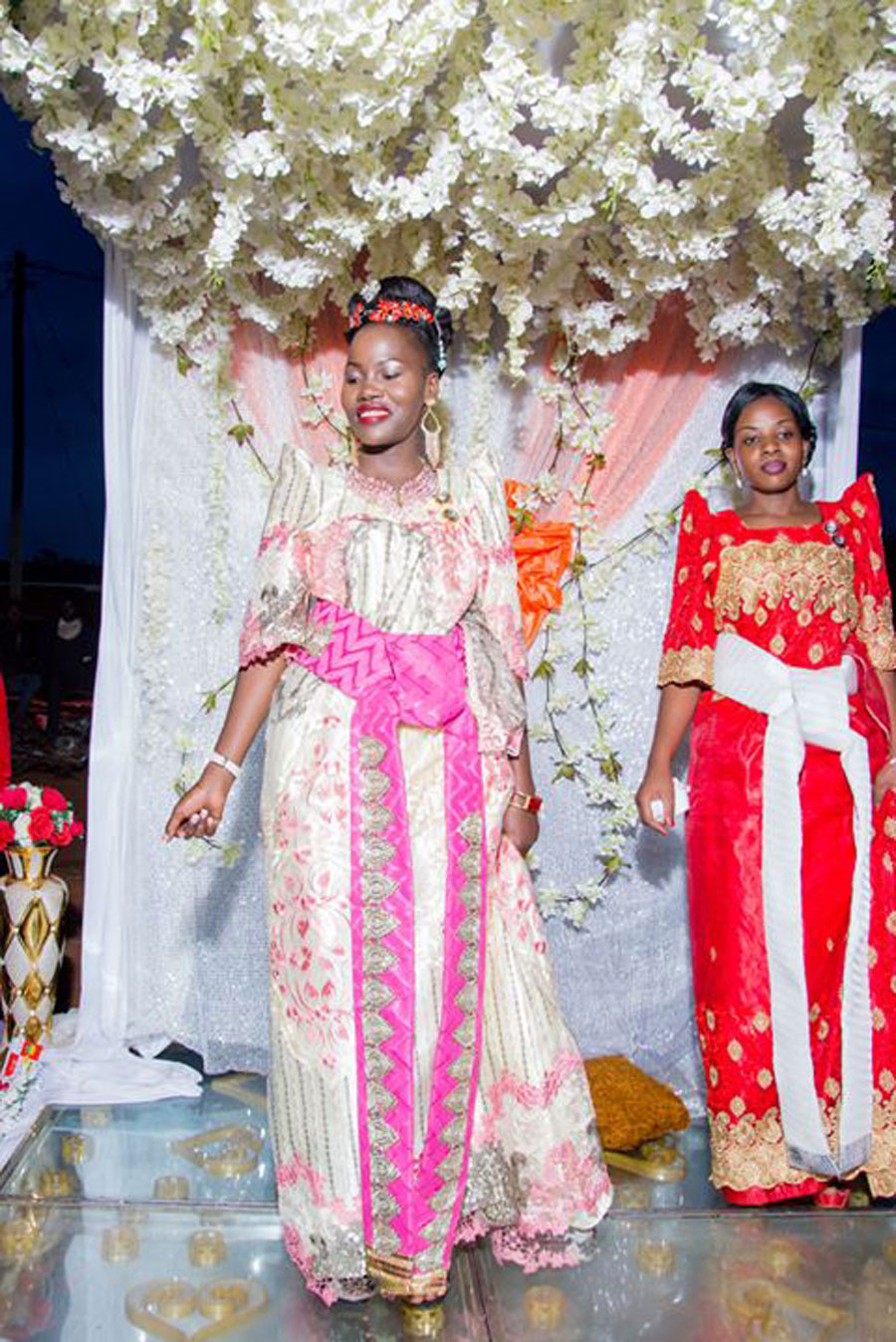 The introduction ceremony took place on October 27, 2018 in Kiboga. Simon was asked for cows and goats for bride price, the amount of which he preferred not to disclose. The groom took other gifts with him on the D-day.
"My in-laws were very forthcoming. They prepared the introduction ceremony without asking for any contributions from me," he says.
The wedding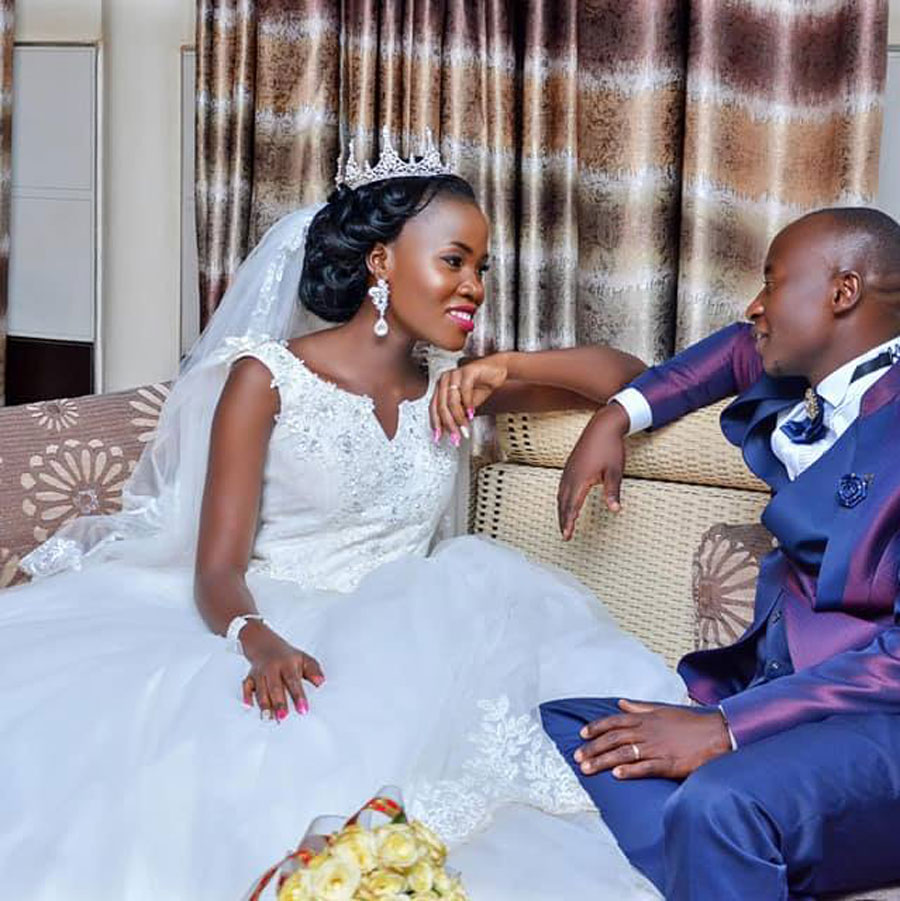 The couple had a guest list of 200 people. Although Simon was not comfortable mentioning the total wedding budget, he stated that he and Winnie worked together from day one when it came to selecting their service providers. They also managed to raise 60% of their budget and the rest came from friends and family.
" We did everything together; service-provider identification, resource mobilization and maintained transparency while using the money."
He adds that whatever money they collected would immediately be used to cater for a particular service so as to avoid unnecessary diversions.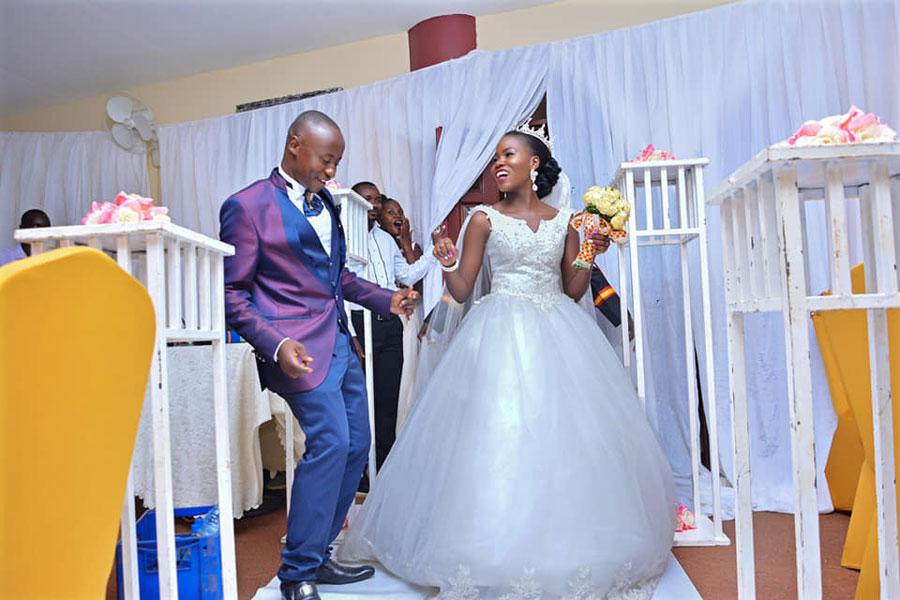 Lucky for the couple, they had friends dealing in businesses like hotel management, decoration, entertainment, videography and photography. This reduced their worries as they were working with familiar people."
On the wedding, Simon wore a navy blue and purple tuxedo while Winnie stunned in a white princess gown accessorised with silver jewellery and a crown. The couple later changed into matching custom made African print attires.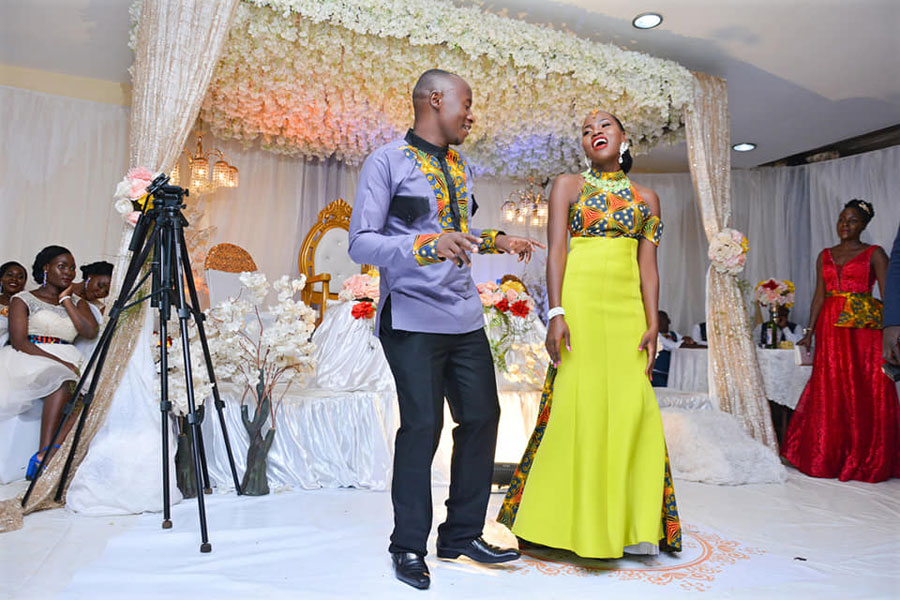 The honeymoon
Despite fixed work schedules, Winnie and Simon managed to have a two-day relaxing honeymoon at Entebbe Botanical Gardens.
"Although our honeymoon didn't take that much time, we still enjoyed activities like swimming and hanging out," Simon comments.
Any advise to those intending on getting married
Simon: Couples need to strengthen with their relationship with people they know. These are the exact people that will help you out when it comes to the time of your wedding. Sometimes people's presence is much more important compared to what money can offer. When it comes to such big and important events in life, it is not only money that makes the event successful. The service providers one decides to go with have a great effect on your event, therefore, one needs to be very careful when selecting who to work with.