A young Nigerian lady identified as Okonkwo Ngozi committed suicide over the weekend after lamenting on social media that she was broken to the core. It was learnt that Ngozi was dumped by her boyfriend of 12 years.
"I have never been this broken in my entire life, " Ngozi posted last week on Tuesday on her Twitter page.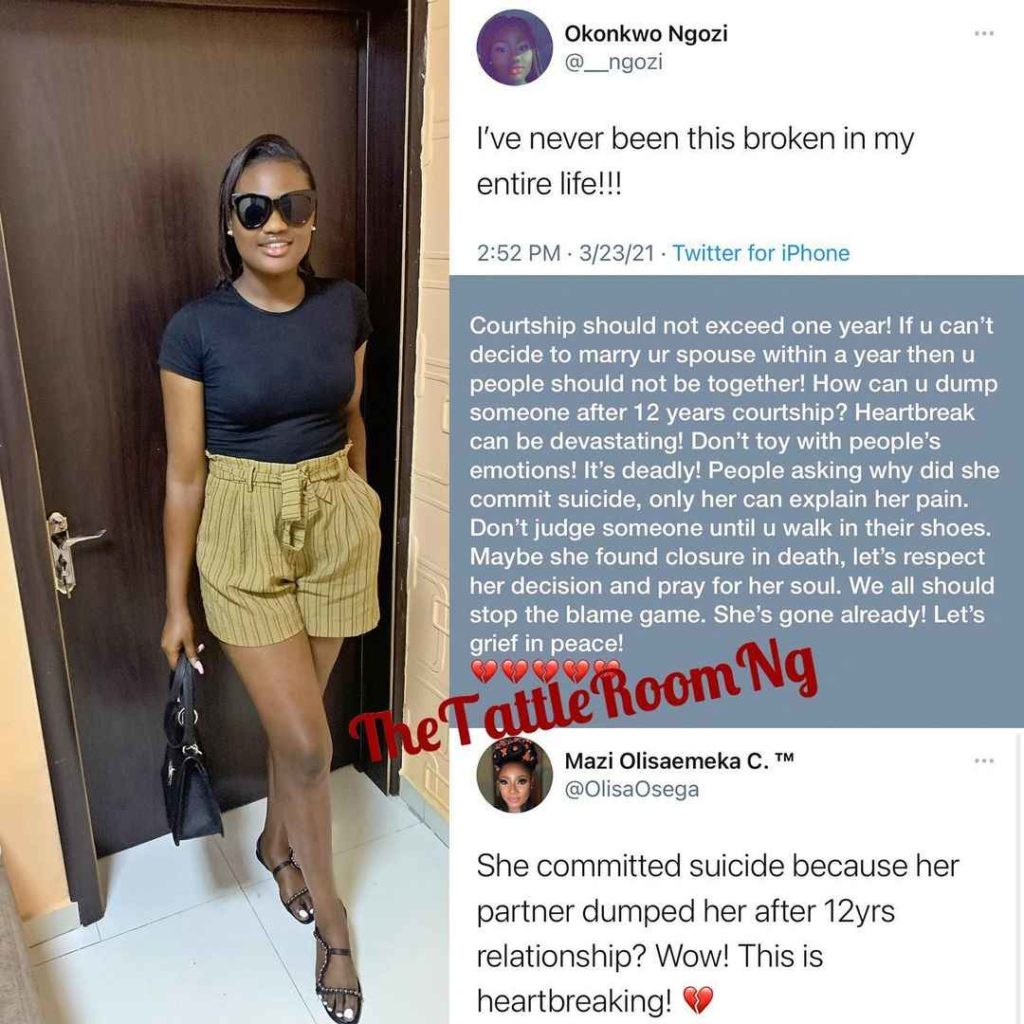 Ngozi's Twitter account has since been deactivated. Many people have commented on the incident.
"Taking your life because of a man is stupid. May her soul rest in peace but that man will continue to enjoy his life and no karma will disturb him because it is what it is. He didn't kill her and he didn't tell her to take her life, lastly, he owes her nothing" a one Mimi commented.
"You sound really insensitive… you don't know what a heartbreak can do to a person…she may have suffered other things but the boy getting another girl pregnant and dumping her was the last blow," a Twitter user that goes by @bohaddict replied.
"I am too pained seeing our videos at the last meeting we had at work. I cannot breathe," another user commented.
The question that keeps popping up in such instances is, how long should a couple date before getting married?
Samuel Settumba, a professional relationship and marriage counselor says one year can be okay, two adequate, and three a long time. "By this, I mean people dating while living separately, then afterward coming together to live under one roof. Cohabiting changes the interplay of this as it is no longer dating."
According to The knot, a wedding website, "There's no definition of what's "normal" when it comes to the question of "how long should you date before getting married?" Answers can vary from decades of dating to four days (wow!).
Even though everyone, your parents and extended family members and friends will have an opinion on the matter, from "You're jumping in too quickly!" to "It took him way too long to propose, are you sure?" There isn't a magic formula. Only you can know when you're ready to take the next step.
As quoted in The Knot story on how long you should date before getting engaged, Ian Kerner, a licensed psychotherapist says, " For me, it's more about the range of experiences that lend themselves to compatibility rather than the amount of time.
As you wonder if it's too soon to start talking about marriage with your partner, think about all the experiences you've shared. Have you faced major life challenges together? Have you seen them at their highest and their lowest? Have you had the time to learn about their family and background? Do you know their strengths and their flaws?
There is no set time limit to gain this experience. You can learn a lot about a person quickly, especially if you spend a lot of time together. Alternately, you can date someone for months and years and barely dig beneath their surface."
Counsellor Sam Settumba advises couples facing similar situations to confide in people that are significant to them like siblings, friends, aunties, or seek professional help.
"Seeking help can assist in pushing you away from the edge," he concludes.