By Maria Immaculate Owechi
This time last year, many couples who had planned their weddings were cancelling them due to the coronavirus pandemic.
John Kawalya, a graphics designer and Juliana Nyakake, a nurse were originally set to marry on May 9, 2020 but made the tough decision to postpone their wedding until March, 2021.
"I think for us, it really came down to the fact that we wanted all of our friends and family to be there and we also prioritized a big celebration over a small intimate one," Nyakake says, adding, "We have had a few friends that did the scientific wedding and it was really great to see that but we were still not convinced."
Grace Kisakye, a wedding planner with Exotic Events advises that if for any reason, you have had to cancel your wedding, you do not have to lose hope in the merriness a wedding creates.
The wedding planner explains that considering postponing gives you both more time to re-plan and also accounts for uncertainties that you may not have anticipated the first time.
So, whether you are just starting the planning process, mid-way through the planning or was about to get married,  postponement will probably leave you with lots of concerns on how you can best handle the situation.
We bring you some helpful tips on what to do if you want to reschedule your wedding ceremony;
Let your venue and suppliers know your decision
"The first thing you need to do if you are planning to postpone your wedding is to immediately contact your wedding vendors and suppliers," Prossy Lungabo, an Event planner with Rossy Events Ltd reveals. "The sooner you are able to do this, the sooner you will be able to reschedule your wedding."
She explains that this is because you will also need to work with your wedding suppliers to sort out the costs of rescheduling.
According to an online website called Wedding Sparrow, a minimum of three months of postponing gives time for both parties involved to properly re-plan and prepare.
Nyakake shares that speaking to her wedding vendors was so much easier than she anticipated.
"We picked out some new dates that would work for us and contacted all our wedding vendors to let them know our decision and to ask if they could be available then or whether we could transfer our booking to another date. "All our suppliers responded positively to let us know which dates they were available. They all agreed to transfer our bookings without any additional costs."
Keep your current venue and suppliers
According to Prossy Lungabo, an event planner with Rossy Events, the smoothest way of postponing your wedding is to keep your current venue and suppliers.
She says this is because you already have a relationship with them and they are likely to do whatever they can to keep their commitment to you.
"If you decide to find another decorator, for example, you might struggle if the decorators are priotising postponements of couples that had booked earlier," the event planner explains.
Understand your contracts
You may have paid either a deposit or the full amount for your venue and to suppliers. Lungabo recommends re-reading your contracts thoroughly to understand what your suppliers' policies are around change of date, cancellation or postponement.
"If you are postponing, see if there's any clause about having to pay a fee to rearrange dates," she reveals.
Kisakye adds that is important throughout this process to keep in mind that this may be a challenging decision your service provider too.
"When you have to have conversations around contracts or financial losses, know that it's also difficult for the wedding vendor," says the wedding planner. "Kindness and understanding will make it easy for the both of you to reach a mutual agreement.
Hire a wedding planner
In this tough time, being able to lean on someone who has experience and understands the industry can assist you tremendously.
According to Kisakye, consider outsourcing the services of a wedding planner.
She explains that a wedding planner will be able to offer guidance throughout the process from postponement decisions to contracts and not to mention all the normal wedding planning tasks that will cut off your stress.
Inform your guests
Once you have confirmed with your venue and suppliers that you plan to postpone, you will need to send out a clear message via SMS, or Whatsapp saying that you have decided to postpone the wedding until a date when you hope everyone will be able to attend.
Lungabo adds that elderly family members will appreciate a phone call too.
"If you would rather speak to everyone on the phone, split the calls up between you and your partner, family and close members of the organising committee. It's too much for you to take on just as a couple and will be much quicker to get done," she explains further.
Kawalya and Nyakake reveal that they announced their postponement decision through their Whatsapp wedding groups and SMS in the month of April.
The message read, "After long consideration, Nyakake and I have decided to postpone our wedding scheduled for May 6, 2020, because of the coronavirus outbreak that has led to suspension of wedding ceremonies. We will continue to update you with any new dates that we have. Please don't hesitate to contact us with any concerns or questions. We thank each and every one of you for your support and understanding during this difficult time. We cannot wait to celebrate with you next year under better circumstances. Please stay safe and healthy."
Acknowledge your original wedding date  
To avoid feeling sad that your wedding day didn't go as planned, it is recommended to choose to acknowledge the day by celebrating it.
Lungabo recommends that both you choosing to have some fancy dinner, popping champagne or having a picnic to let the day be memorable and special.
Kick start planning the new date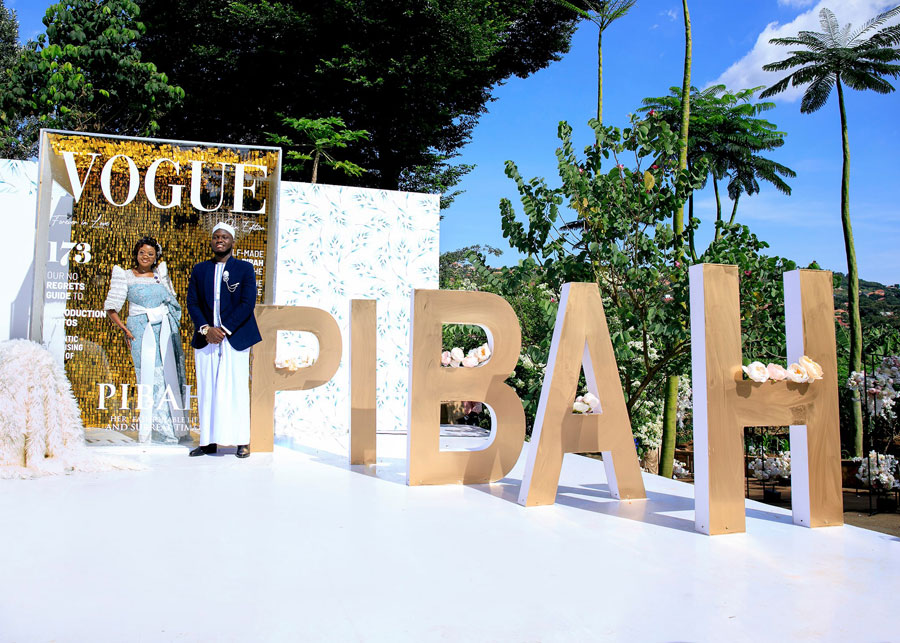 As you monitor the situation that lead to the postponement, there is something you can do to get ahead.  Kick start planning the new date and think about how you can adapt what you already have.
"This can range from continuing to mark off your checklist things like your dresscode or meeting vendors to see if they will still meet all deadlines for delivery or pickup," Kisakye reveals.
She adds that it is important to also figure out a new date that works with all the wedding vendors and suppliers.
"If the wedding vendor is not available for the new date, see if they have someone within their company they can hire before you look for a new vendor," the wedding planner explains further.
You need to be flexible
There is a possibility that everyone will be booking the same dates, in instances where the wedding was postponed due to disasters like a world pandemic. You are advised by wedding experts to be more flexible about your new date.
According to Lungabo, after setting on a new If you want to find the nearest available date to reschedule, you might have to accept a Friday, Sunday or even a weekday.
She further reveals that fully or partially outdoor venues will probably be okay in October, but you will need an indoor plan-B if you have your wedding from November onwards.
The Events planner further adds that once you set a new date, be sure to sign the amended contracts as soon as possible with your wedding vendor or suppliers.
However, if you are bent on getting married on your set date, you don't have to cancel the actual wedding ceremony, just the reception party.
In case there are important people that you would have liked to attend but are far, there is the option of utilising the technology of zoom where your guests, who can't make it to the officiating venue, can watch the entire ceremony from home.