CHRISTINE KATENDE
How did you meet?
Caleb: I first saw Justine on Women's Day 2016 during a conference at Omega Healing Centre in Namasuba. She frequently attended church services and was also one of our clients at Adella Salon. Being a seamstress, I later asked her to make me a shirt. At that point, I got her number and kept sending her messages on WhatsApp to check on her, as well as the progress of the assignment I had given her. Due to the alterations that were supposed to be made on the shirt, I had room to see her more often. Later, but in the same month, I told her of my intentions but she was disinterested. I got more determined to pursue her because I had liked her. We stayed as friends and I took her for a movie at Victoria Mall in Entebbe.
Justine: I first saw Caleb at church though we did not talk. I later met him at Freedom City and we had a lunch date with his mother. The third time was at a bonfire at church and we exchanged contacts. We kept in touch until he told me about his intentions. I turned down his first attempt because I had just ended another relationship.
When did you reconsider his proposal?
Justine: A month later, I had got to known him better and I knew he was the man of my life. His personality drew me closer to him; Caleb is open, down to earth, understanding, loving, caring, God-fearing, hardworking and a good listener. So, I was ready by the time he proposed.
Caleb: I tried again and I never wanted date for fun. I proposed marriage four months later at Protea Hotel, Entebbe by August 2017.
When did you go for kukyala (first visit to the girl's parents)?
Caleb: We went to her aunt's home on November 25, 2017. It was a simple event that did not require many things.
When did you start planning for the introduction?
Caleb: After setting the date [after the kukyala] and knowing the requirements for the function, we held a family meeting and drew a budget with the help of the spokesperson (omwogezi). The preparations started in January 2017. We started buying things one by one and by D-day, everything was in place.
Justine: Caleb gave me money for the gomesis. At home, there was a committee running the rest of the preparations. We had meetings between family and some close friends. This was to cater for the music, decoration, food, tents and chairs.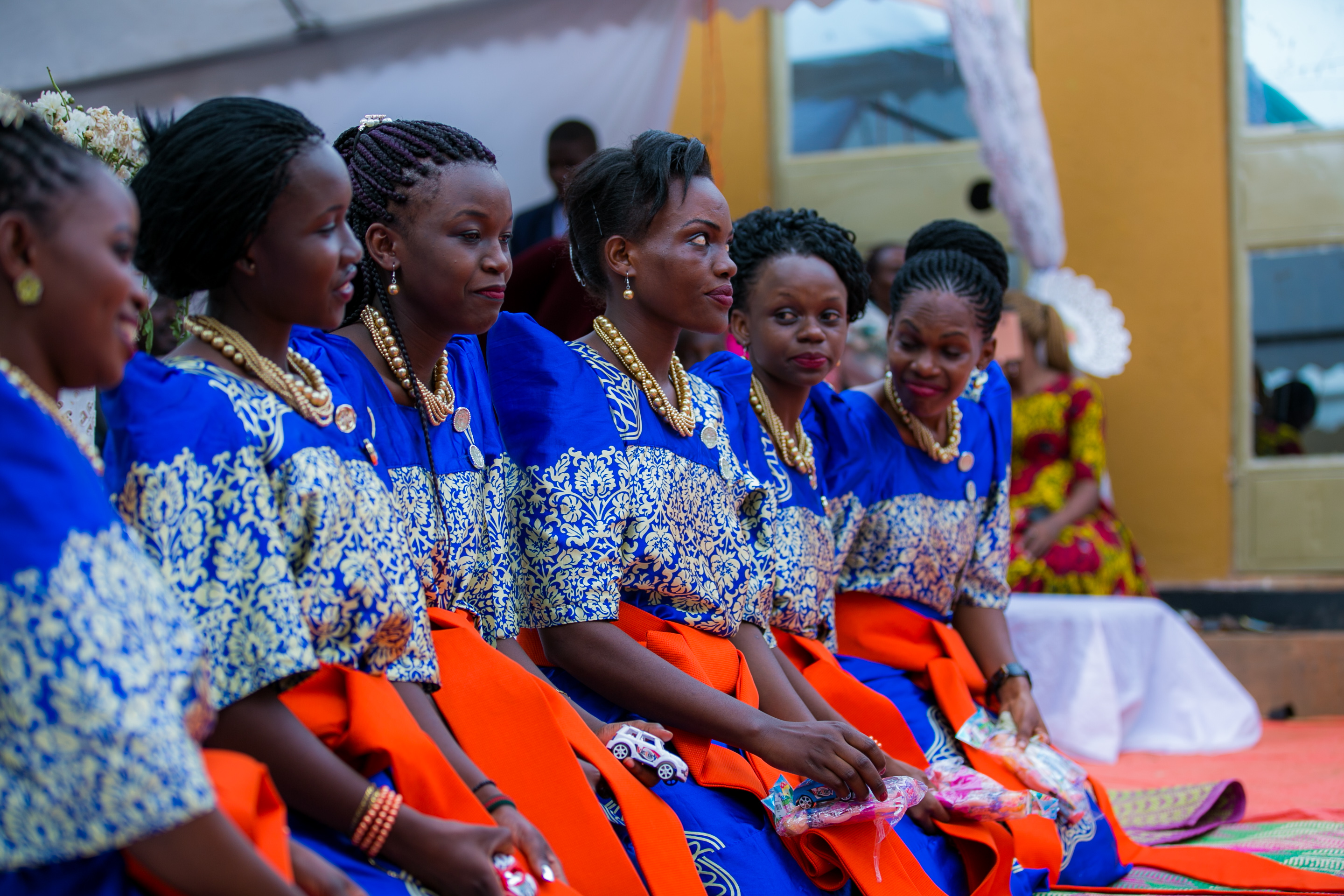 When was the introduction?
Caleb: On February 24, 2017, we met at Omega Healing Centre then set off at around 12.40 pm for Justine's home in Namasuba-Kikajjo. It took us only 10 minutes to get there.
What was the set bride price?
Caleb: A Bible. I, thought of other gifts alongside the mutwaalo. With the help of Justine, we bought a sofa set, rocking chair, and an oven (parents' gifts).
What were the must-haves on the budget?
Caleb: The mutwaalo, MC, aunt's suitcase, the bride's suitcase, mother- in-law's suit case, the customary wedding certificate, the brother-in-law's cock (enkoko y'omukko), the Buganda Kingdom certificate, the map of Buganda, the Kabaka and Nnabagereka's portraits.
Justine: My attire, MC, decoration, food, chairs, tents and, music.
Who helped you to choose the clothes to take to your in-laws?
Caleb: My mother. We went to a wholesale shop in town and selected what to give specific people, paternal and maternal aunts, uncles plus brothers.
What was the most expensive item on your budget?
Caleb: The sofa set cost Shs2.5m but the budget was Shs18m.
Did you buy new garments?
Caleb: No, I had everything. I could not buy anything better.
What did you consider while drawing the guest list?
Justine: We looked at the size of our compound, how many people we would cater for including the bakko (in-laws).
What was your cake like?
Justine: I had a six-tier cake made in form of covered baskets with fruits on top. The main tier was a traditional curved vanilla cake. It cost us Shs600,000.
How many times did you change your clothes?
Justine: Four times (three gomesis and a dress). I wore a cream gomesi with a red sash, changed into a pink one with a purple sash as we received gifts, then a white gomesi with a royal blue sash for kabbo kamuwala in the evening. For cake-cutting, I wore a kitenge dress blended with another fabric. They all cost Shs2.7m. I used four pairs of shoes at Shs50,000 each.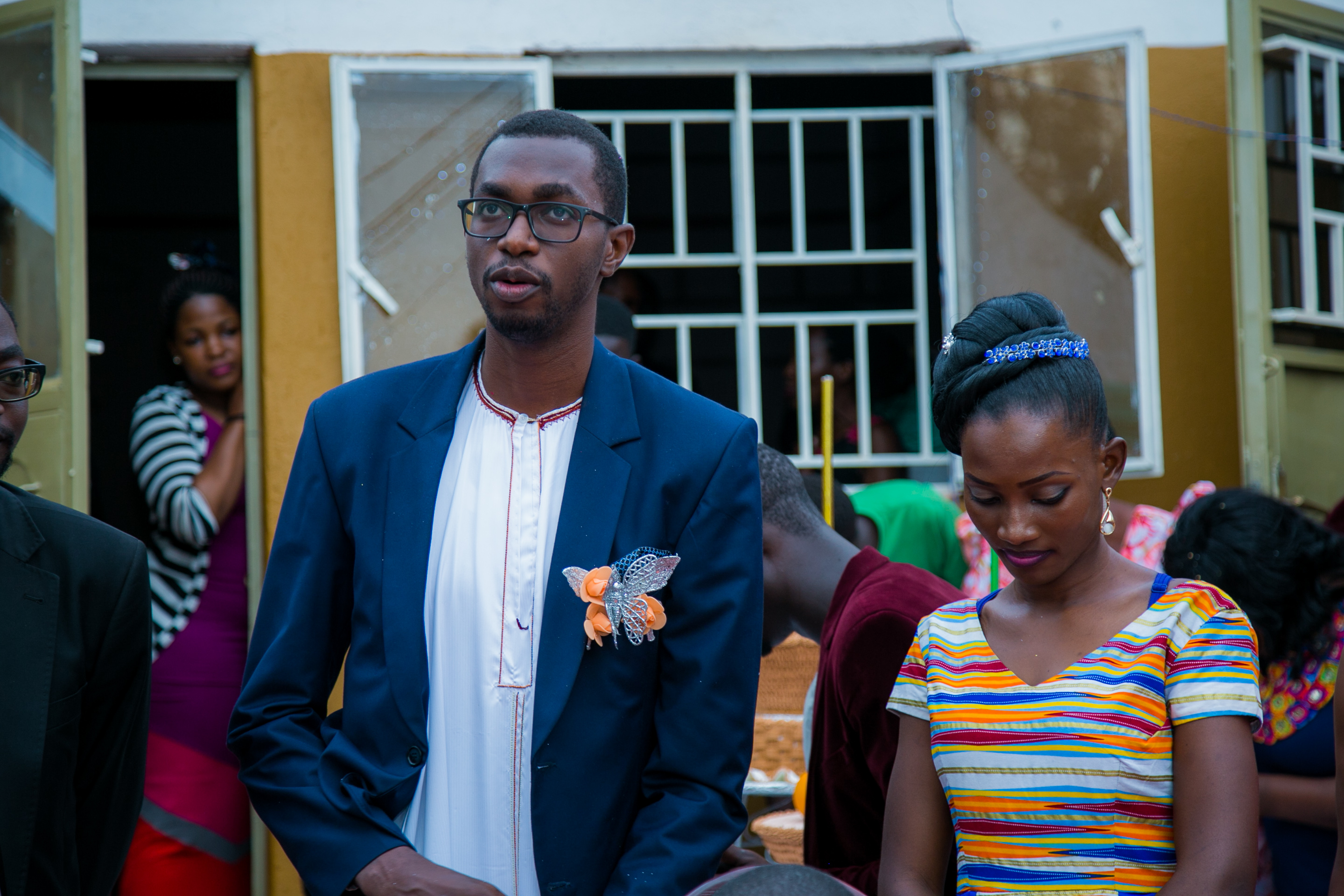 What did you consider while choosing what to wear?
Justine: I had initially chosen my favourite colours but I was advised to pick the best gomesis because the colours I wanted looked dull.
How did you make sure your function was a success?
Justine: I had all service providers sleep at our home with their equipment in place apart from the hairstylist who came the following day at 9am.
What was your colour theme?
Justine: Peach and mint because they are vibrant.
Did anything cause you butterflies?
Justine: When the hairstylist delayed and was not answering her phone calls. I got confused because I did not know what to do but when I called her boss, he assured me that she was coming and indeed she made it. He had also promised to send another person in case the one we had agreed upon failed to turn up.
Did you have any worries?
Caleb: Time management. People were a bit slow to make it to the meeting point. Thank God by noon they were all set and we made it at 1pm as we were asked.
Were you disappointed in any way?
Caleb: Yes, the sofa set man failed to deliver the type we had agreed on even after making full payment. He had not finished it, I ended up compromising with something that looked like it.
Justine: The MC messed up the programme and he ended up putting me on tension which annoyed me.
What challenges did you face during the preparation?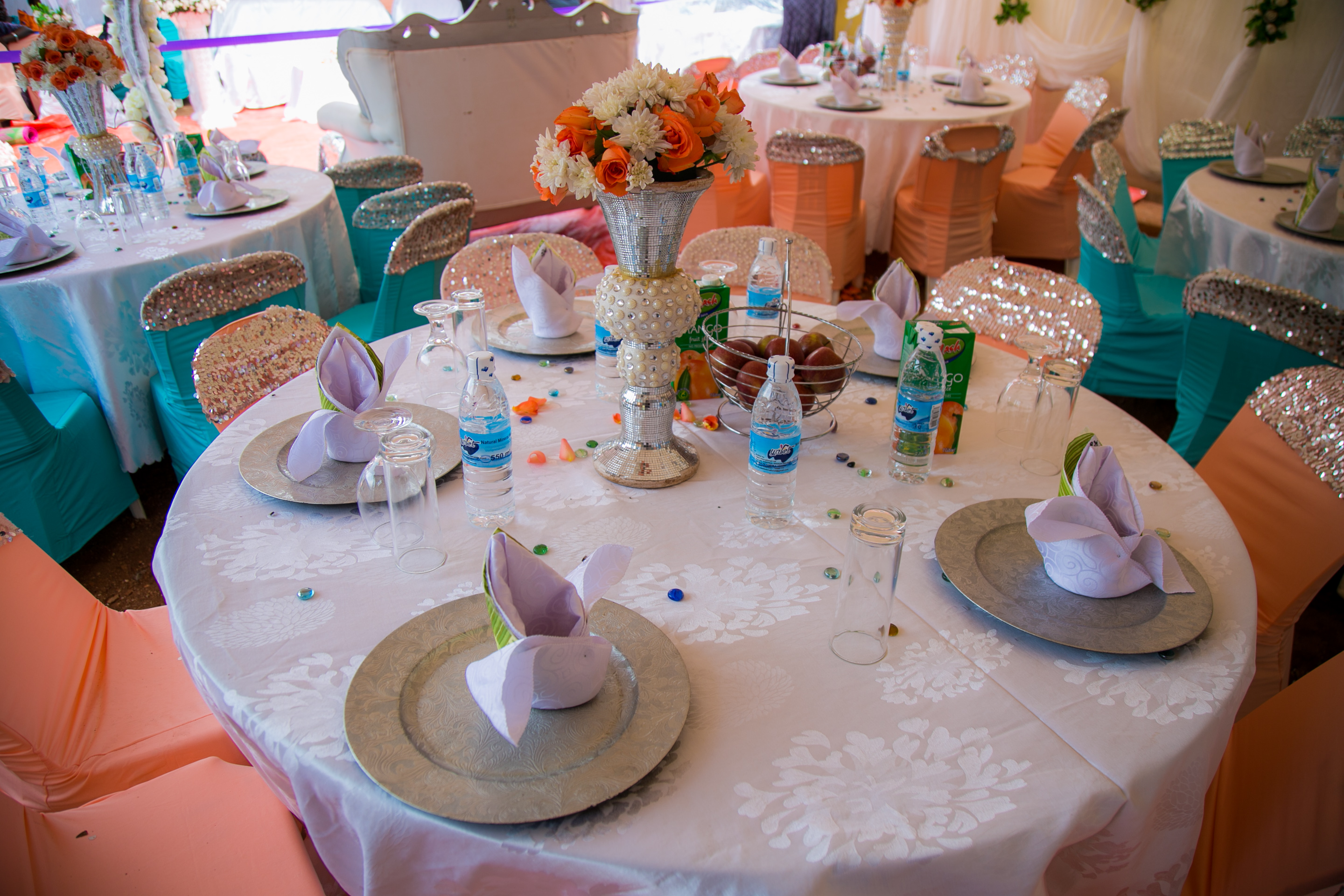 Caleb: Getting funds was a bit challenging given the fact that it was between family and a few close friends.
Justine: Finding what to wear was a hustle, I tried shopping around town but I failed. Later, a friend along with my aunt found a woman who finally got me what to wear. Also, finding someone who would do my decoration; I never wanted something common, I had taken time to look for the best. Still, a friend connected me to a decorator who did a great job.
When is the wedding?
Caleb: It will take place on March 24, and we are undergoing premarital counselling.