By Claire Balungi
Henry Waiswa was searching and he says God showed him Monica Kawuma. She was in school at that time and Henry was a working 26-year-old.
In 1992, Henry met a beautiful young Monica at his friend's introduction ceremony. He managed to chat her up and he says he was impressed by her calmness and humble responses to his advances. "When I first saw her, I thought she was going to make a great wife. She looked like she was going to be responsible and patient. Whatever I asked, she responded well."
The following day, the two met at Iganga Church Missionary Society (CMS) and talked some more. On December 31, 1992, after one month of meeting, Monica would come to Henry's then-grass-thatched-house in Iganga. She had come to stay, and that is how their humble relationship began.
Where is my daughter?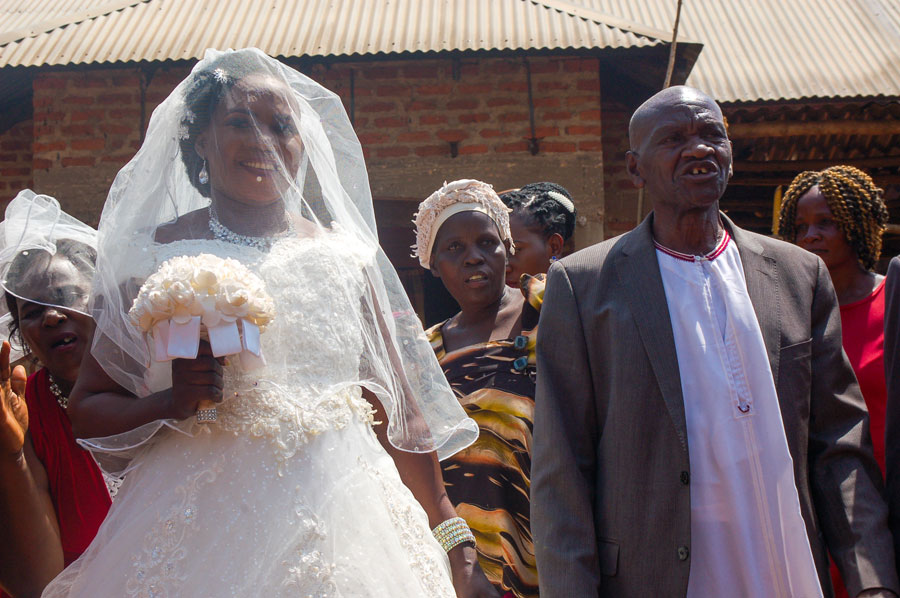 Monica's father was not aware of the plan and often asked her mother where his daughter was. Her mother who had been part of her daughter's elopement plan always tried to dodge the question and at times responded with a straight, "How would I know?"
After a year, Henry would "set Monica free" to go check on her parents and especially set things straight with her father to whom she said, "Father, I found a man who will take care of me."
Henry's grandparents had always advised him to officially introduce himself to the girl's family although he says he had no intention to arrange an official introduction ceremony since he was not doing financially well at that time. He'd only go officially to Monica's father for introduction in 1996. "I didn't have it in mind that in 1996 I would go for the introduction. It happened because of pressure from her parents. When I got some money I informed my brothers and meetings started. I got some contributions, we picked a day, which was June 17, 1996 and introduction happened, we didn't have to do kukyala." says Henry adding,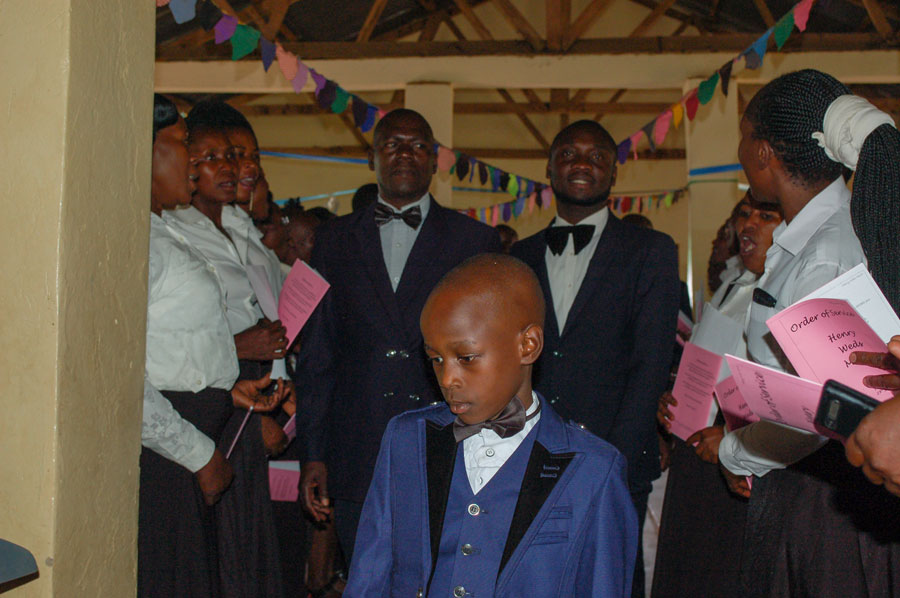 "Her father had met me unofficially before introduction but the family assumed they still did not know me and said they would know me when I came to get introduced by their daughter," recalls Henry who also admits that it was such relief when the introduction happened, although it was still not easy coming into agreement with Monica's family.
Initially, Monica's father and kinsmen were tough about Henry "hijacking" their daughter and making her stop going to school. However, one of Henry's escorts posed the question, "If your daughter elopes, do you beat her or welcome her?" The question would bring Monica's father and his team to understand that there was no need to get tough. They would forgive both their daughter and her man.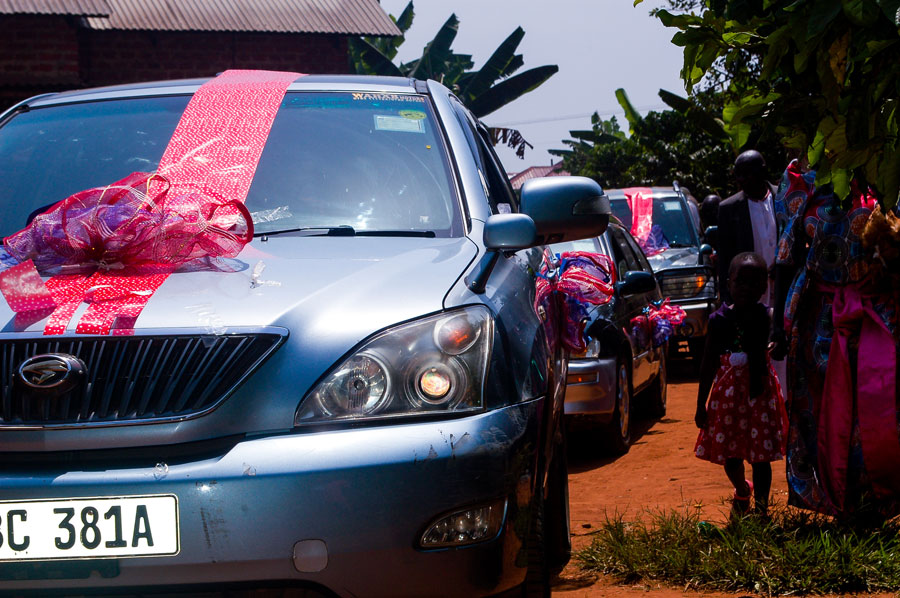 Monica's family was kind and did not ask for bride price as they understood the limping financial situation of their son-in-law, but Henry went ahead and brought a consignment of presents out of courtesy. Among the items were three bags of sugar, three cartons of salt, a jerrycan of cooking oil, gomesis, kanzus, vegetables and fruits plus envelopes for her father, brothers, Sebataka and Senga. To put the resources together, Henry's family and friends had been of great assistance.
Through the years
"I was working in Kampala and I would come home after a month or two. She had no trouble with it. I would send her upkeep through someone coming to the village." There was no mobile money at that time and Henry would leave Monica enough for her and the one-child they had two years after they had met.
Emotional turmoil and deciding to have a wedding
 However, Henry fell sick from 2012 to 2014- the MRI scan that was performed showed that a foreign body grew on his spinal cord and he couldn't walk anymore. It was a difficult moment as Henry had stopped working and was financially incapable, but Monica never left him.  "She still loved and took care of me so much, she didn't think of leaving me. I really thought that when I got better and made money, I would wed her- maybe that would make her happy," says Henry whose Monica came along everywhere he was taken, to the hospitals.
However, after he got better, he was still a little afraid of whether he'd manage to organize a wedding. In August 2021, a relative of Henry's encouraged him assuring him of support from the family and that was when Henry and his committee came up with his wedding's proposed budget. The wedding which happened five months later was successful and the couple is now excited to have each other as husband and wife.
 Getting set for the wedding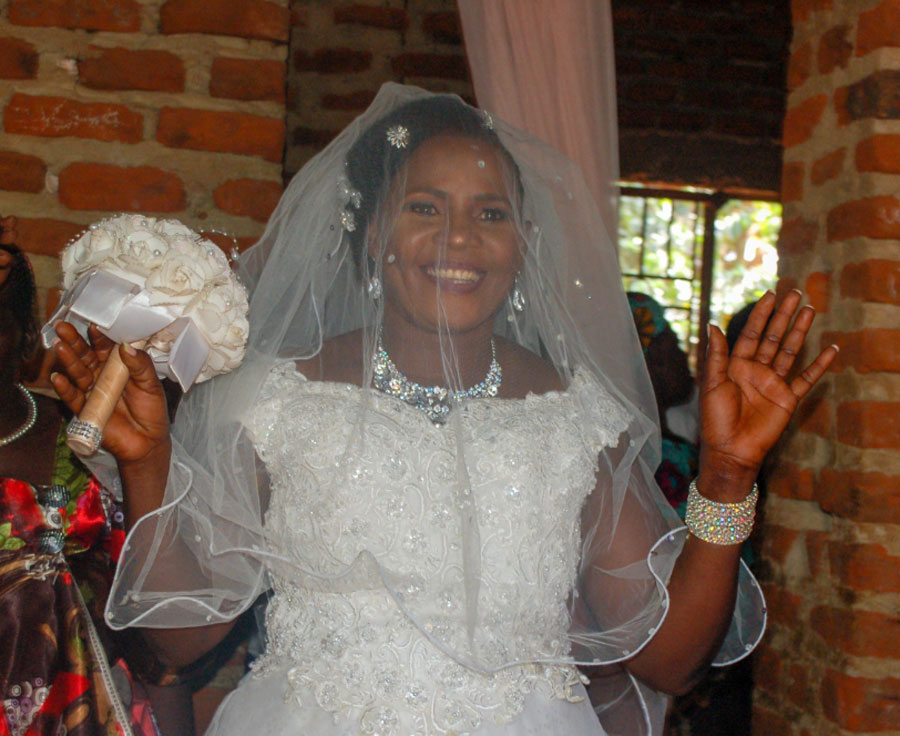 On the morning of January 29, a fleet from Waiswa Henry's family home in Nakalama- Iganga advanced towards Monica Kawuma's parents' home in Namasoga-Iganga to collect the bride who had just finished dressing and being made up from home.
It is an old-fashioned and eccentric culture that a bride would finish saloon and all preparation from her parents' home as there has been a notable revolution in wedding programming. The common trend is such that saloon and dressing are performed at an actual salon or even a hired hotel space.
However, this trend was ignored and the bride dressed and got made up from home, in the presence of her family who wanted to ensure her safety and comfort to the very end. Henry admits he had no trouble with the arrangement as he respects his in-laws and having their daughter spend time with them is not something he'd have wanted to contest. Monica had only visited a nail spa the previous day to get her nails fixed and her feet scrubbed. She admits it was a life-changing experience as she had forever known a life of the hoe and how the feet and nails looked barely mattered. Monica was especially excited by the well-scrubbed feet which after being scrubbed, appeared to have lost the broken marks which always lived on her heels. She was also careful and worried from time to time that the acrylic nails would jump off if she touched something. But this was her special bridal moment and she was having her first experience with this luxury. She let herself enjoy it.
Monica is picked from home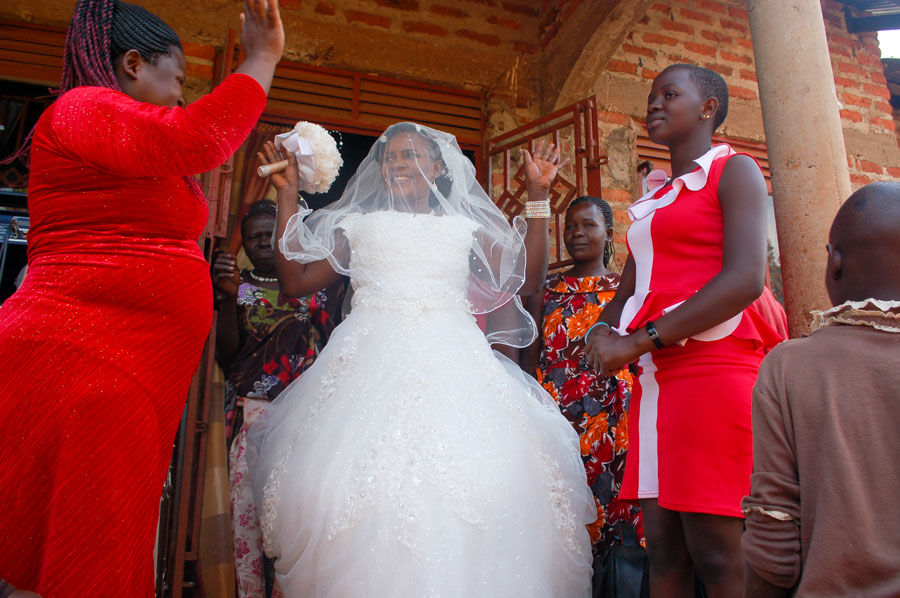 It was a merry moment as Monica left her room to head to the car which was now waiting to drive her to church. Relatives cheered as they said goodbye to the only daughter of the family that had reached this great milestone. The previous night and early morning had been one of prayers for the bride and many came to share in the bride's goodbye blessings.
Finally, we're here now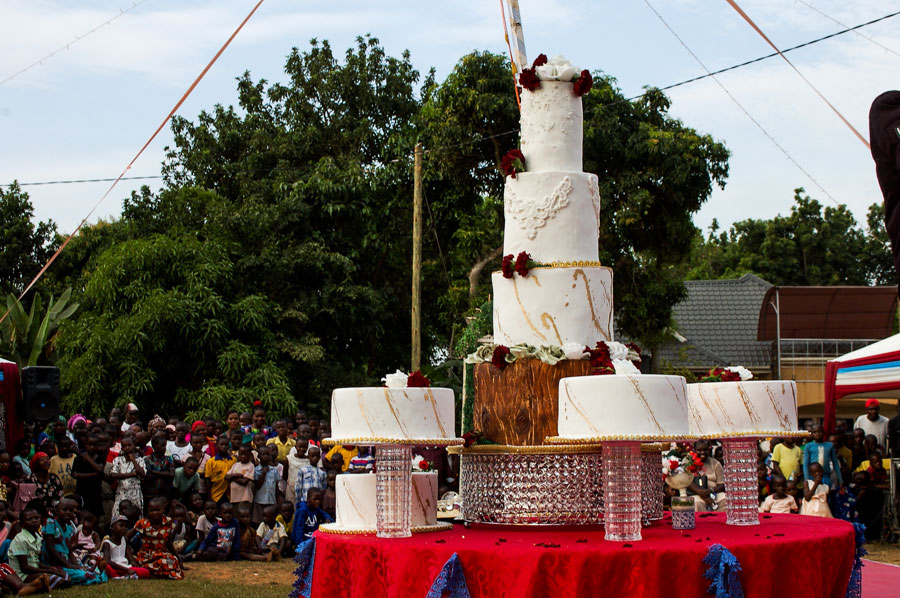 There are always firsts and walking his daughter down the aisle was going to be a first for Monica's father who was unsure of how to perform according to the norm. At St Luke Church of Uganda- Nakalama, he was introduced to the idea of letting his daughter walk hand-in-hand with him as he took her to the man who was waiting impatiently for her at the altar.
Henry admits that he was excited and just couldn't believe that finally, it was happening for him. He was especially thrilled by the numbers that had turned up to witness his special union with Monica. Church was filled to the brim and the latecomers had to either watch through the windows or listen from outside.
Offertory time got the congregation a chance to take a closer look at the couple who were holding baskets that the guests generously filled with notes. It was the time for some members with smartphones to execute their camera skills, but there was one particular guest who must have been indeed happy for the union of Henry and Monica; she quickly located her small button phone and joined the smartphone crew. It is difficult to tell whether she was able to get the recording she was interested in but, what love!
Reception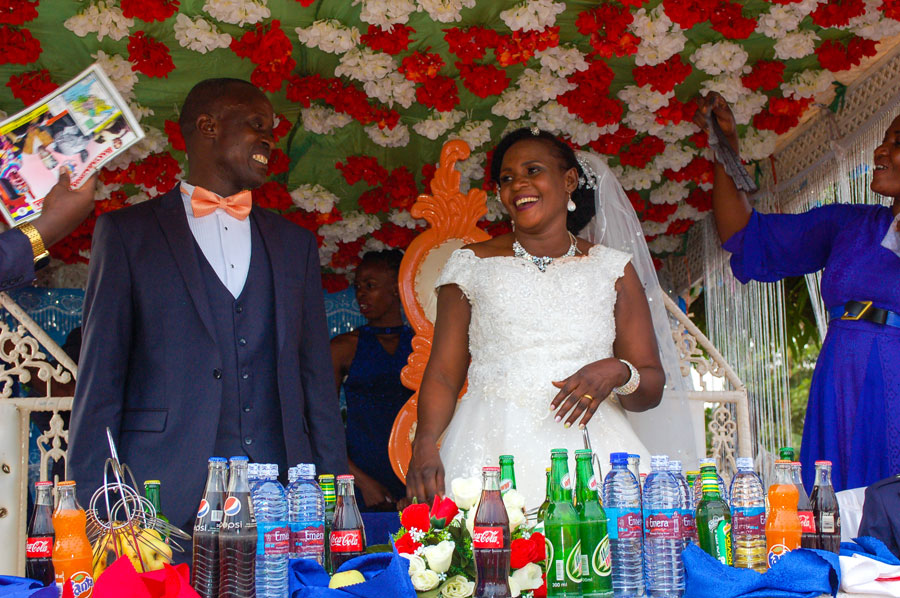 The two-hour church service ended at 2:00 pm and guests walked to Henry's family home whose grounds hosted the couple's outdoor wedding reception whose décor went for Shs 500k. Over 700 guests turned up to enjoy the banquet although only 500 had been planned for. Nevertheless, the guests dined to their fill and later enjoyed the tree-bark-4-tier-cake which cost Shs 800k and whose design was symbolic of unity as tree shades bring people together. Henry's sister had been so excited to hear the news of his wedding that she made a contribution of 200 kg of rice. Other contributions to food had come in during the preparation and the catering budget had all together come to Shs 650k.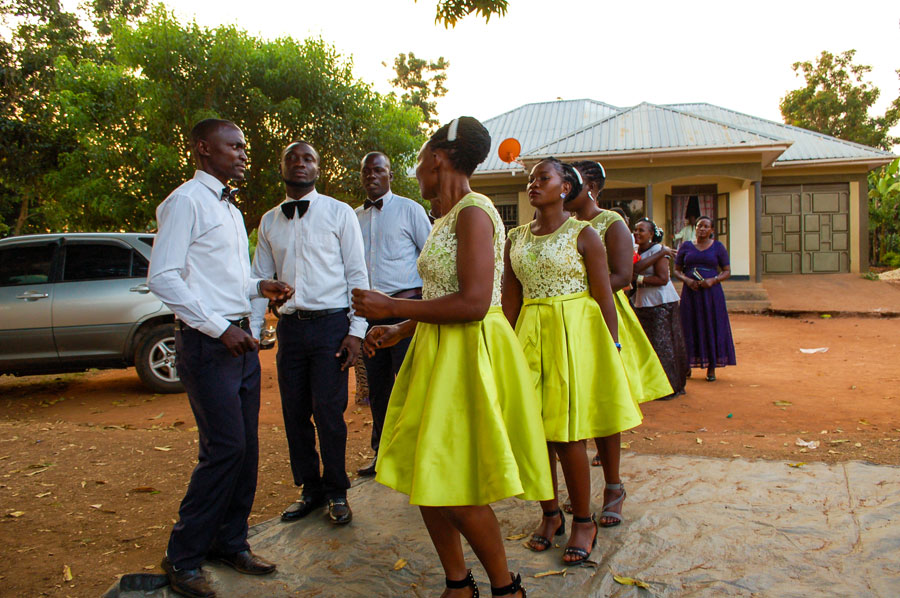 The groom and his best man wore dark blue suits they bought already made from Wilson Street in Kampala at Shs 350k each. The bride's gown had been hired at 200k in Iganga Town. The 4 groomsmen hired suits at Shs 30k each and the 4 brides had their dresses hired at Shs 25k each. With other costs, the couple pulled together a wedding budget that came to a rough Shs 20m. They were greatly supported by family and friends since they had started planning their wedding in August 2021 despite having been together since 1992.