By Edgar R. Batte
Herbert Kafrika a filmmaker, screen actor a swimming and squash instructor and his wife, Rose Namuddu, a sales person, got married on April 18. Their wedding was attended by ten people. They shared their story with us
How did you meet Rosemary Namuddu?
Kafrika: I met Rose through a friend, seven years ago. Actually that friend was the one I was after but she had a simple suggestion of introducing me to her friend, Rose. She gave me her number. I contacted Rose that evening and we planned to meet the following day.
What is your recollection of your first meeting with Kafrika?
Rose: He called me and we met. I liked what I was looking at. He had this smile that melted my heart whenever he talked. His sense of humour and confidence got me hooked. I was shy but I must say the conversation I had with him was good.
What convinced you she was the women to commit to?
Kafrika: Basing on the few female friends I had met and dated, Rose stood out given her confidence, kindness and prayerfulness. Those traits swept me off my feet. To top it up, her loyalty towards me and the relationship, is magical. She's a blessing to me. Heaven sent, I must say.
What are some of the acts of kindness she has showed you?
Kafrika: She has been through thick and thin with me. We have toiled together, loudly and silently. She has paid bills for me when I was low, took care of me when I was ill. She's such a sweet person.
How did Kafrika propose to you?
Rose: Well, he woke up on the 16th of September 2019 and told me he wanted to meet my ssenga (aunt). I didn't believe him so I kept asking him if he meant what he was saying. He said he meant it. And here we are, married.
Who has been part of your journey towards the achievement of wedding the love of your life?
Kafrika: Oh my, I was blessed with a dream team. First is God, then my friends who stood by me, not forgetting Tony Kyazze who chaired our meetings even in the tough Covid-19 times. When it became tough, he embarked on an online wedding meeting which was a first of a kind. He was assisted by my aunt Eva Isiko. They both canvased funding to the last day. I thank them wholesomely.
What do you feel about being married during the Covid-19 times?
Rose: I feel blessed and happy because it's God's will and mercy for us to get married in this time. God knew it and He fulfilled it.
How did your wedding go?
Kafrika: I woke up to a wet, rainy Saturday morning. I had to crosscheck with my case to ensure that everything was packed before our driver of the day pulled through to pick me up at 8am. We drove up to church through some roadblocks but by God's grace we made it there. Then, he had to go pick the father of the bride. On their way back, towards church, he was stopped again at a roadblock. His car's moving order was confiscated. He called me and I had to leave church to go and settle the moving order dispute. He was released so he proceeded to Naalya to pick the bride.
How many guests attended?
Rose: In church, we were 10. We had to follow the President's order for scientific weddings.
Of the 10 people who attended, who was who?
Rose: Father Mathias Nteza, myself, my husband, my father, my mother in-law, my sister in-law, my brother, matron, best man and his wife as a witness.
After church, what were the proceedings?
Kafrika: It was supposed to be blissful but the bliss was postponed to a later date because of the lockdown. After church, part of the entourage headed home. Me my wife, and our chauffeur enjoyed a nice ride around town as we headed home. All eateries were closed so we too had to observe the guidelines.
How much did you spend on your wedding?
Kafrika: All in all, I parted with Shs1m for all clearance. I had to hire another gown for the bride because the one we had banked on was locked in someone's shop. Then I had to spend on make-up, hair, fuel, photo and videography services.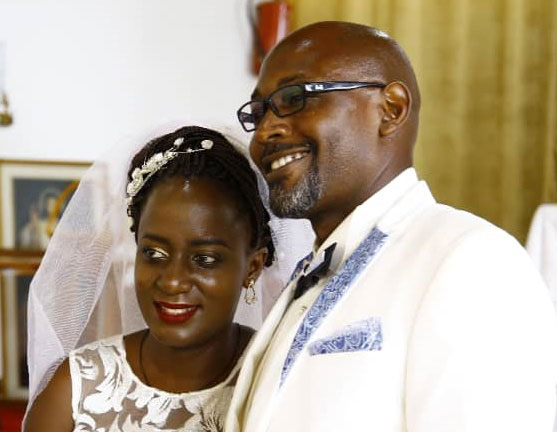 What memories do you carry from that day?
Rose: The memories I carry from that day can be summed up in a statement, 'With God, all things are possible', especially when there is love, faith, trust, patience and sacrifice. Like how my husband sacrificed and walked from home, Kirinya- Bukasa to town to secure stickers for our big day. I learnt to always follow my heart and the voice of God for when we pray, He listens and answers. To always think positively and avoid negativity. Many people wanted us to postpone our wedding but we stood by our faith and prayed for it till God made it happen. I Thank God for I am Mrs. Rosemary Kafrika.
What plans do you have a couple?
Rose: A home with God-fearing children and improving our businesses.
What things do you enjoy doing together as a couple?
Kafrika: Sightseeing, swimming, adventure, cooking and camping.
Rose: Nature walks while holding hands, watching movies, playing Candy Crush on phone and travelling.
Which parts of Uganda have you visited for adventure?
Rose: Jinja, Sesse and Bulago islands, Fort Portal, Kisoro and Mbale. We are mesmerised by nature.
What advice would you share with couples about managing expenses in the name of holding a wedding?
Kafrika: Do what's necessary or what will please you and not what pleases others because you can't please everybody.
Rose: My advice to couples is to do what is within their means because at the end of the day, it all rounds up to you as husband and wife. The rest won't be there when you are stressed with debts after the wedding, they may even be laughing behind your backs. Couples should always put God first in everything, especially their wedding preparations and marriage.