By Beatrice Nakibuuka
In August 2021, Barbara Ndihizwe, a physiotherapist at Root & Vine Lifestyle Centre needed chamomile oil for her patients but could not find it. A friend gave her James Opeto Okudi's contact because he is a food scientist dealing in natural essential oils.
"I had saved his contact as Blackstone but when I called him, he said the oil was out of stock and that he would revert when he got it. A month went by and I did not hear from him, so I gave up. One day during church service, he came to church but he was very late," Barbara says.
James had heard about Barbara and how people were giving testimonies about her healing hands, especially during the pandemic. He, on several occasions came to the church where she worshiped but he bounced.
"I thought she was some old woman and when I saw her being introduced in church, I made my way to approach her after church service. After a few introductions, I asked to see how she ran her clinic and she accepted," James recalls.
The meeting
Since Barbara had patients to treat in the afternoon, the two left together and headed for the clinic which was a walkable distance away from the church. On their way, Barbara accidentally injured her foot and it bled. James then reached for his essential oil which he had carried for another patient and massaged her foot.
"In a few minutes, the bleeding had stopped and the pain had been managed. We took a motorbike for the rest of the journey to the clinic. He had meant to stay for only an hour to watch how I treated the patients but he stayed for more than four hours," she recollects.
Initially, James had told a friend that he was ready for marriage but he did not know whom to marry. "That friend advised me that I read The Adventist Home by Ellen G. White, is at once a sort of handbook or manual for busy parents, and a pattern or ideal of what the home can and should become, and thereafter get back to her."
"When I did, she asked me if I had met Barbara and that I should prayerfully consider her. I had met her and from the way she carried herself, she was the missing part of my puzzle. We had similar dreams. Her beauty was outshining everything else. Also, she was a doer and spiritually connected."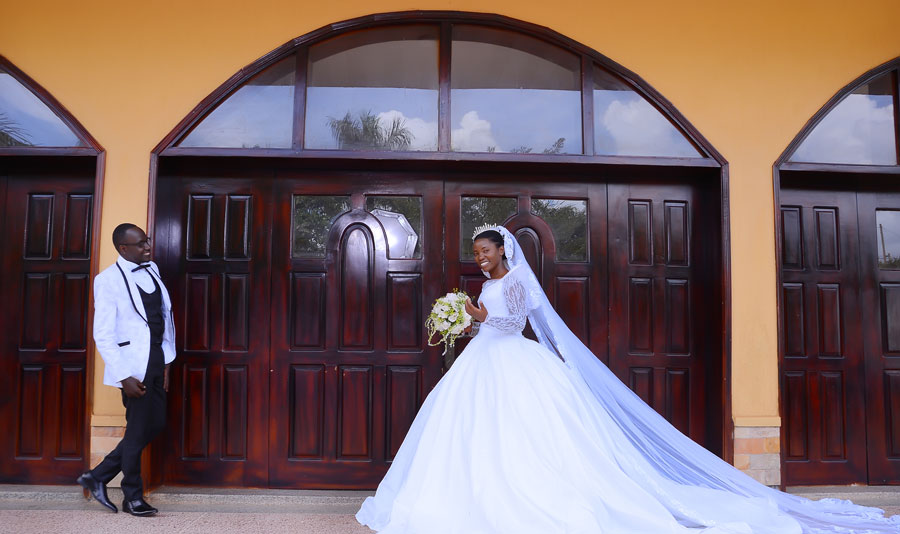 The plan
When she went for physiotherapy training in India, Barbara was greatly inspired by a couple that worked together and always longed to find a partner who would be in the same field as her.
"I had two relationships before but I always felt there was something missing in our relationship. When he came into my life, everything was very smooth. I fell in love with him so easily."
She feared that her parents would not accept him but to her surprise, there was no objection from anyone. After Barbara had introduced James to her relatives, he also took her to Langi land where they spent four days introducing her to different family members and received warm welcome from everyone.
"I think it was the will of God for us to be together," James says.
The couple thereafter informed their friends and family that they were going to get married officially so they started mobilizing resources for their wedding.
The finances
Friends and family contributed towards their wedding and delegated responsibilities to different people because they did not want to get stressed by the events since they were three days apart.
"I only chose my gown which I hired from Unik Bridals at Shs1m and chose a style for my changing dress and found a tailor who made me the dress. I also dictated the colours for decor and I left the rest of the responsibilities to the organising committee," she recalls.
The couple however regretted overtrusting friends, especially when it came to finances because about half the pledges were not settled so they ended up cutting costs to fit the budget.
"We ensured that the introduction and wedding happen close to each other so that we book the service providers at once. We bought food and hired service providers to cook the food. Also, we had to forego the cost of transport from church to the reception because the gardens were in the same vicinity," he says.
The moments
Barbara remarks that the wedding was a dream come true. For both, the moment of exchanging the vows was memorable.
"While exchanging vows, I was making a commitment to hold the man I had chosen until eternity. My aim for our relationship was for us to go to heaven."
They describe their day as the happiest of their lives and kept happy throughout the day except for a few service providers that disappointed them.
"If I had the chance, Barbara says, I would change the people at the PA system because they refused to follow our playlist and instead played their own songs," Barbara says.
Also, James says, "the photography team was sluggish, moody and emotional, so they missed capturing many of our key moments."
James describes marriage as a school where you get a certificate before you practice.
"You cannot experiment with someone's daughter. You get to learn how to handle things when you are there already," he says.
Marriage is what you choose to make it. "For anyone to be better, they need to be married. You can be a good partner or a headache and nagging person."
Highlights
Date: September 18, 2022
Groom: James Opeto Okudi
Bride: Barbra Ndihiziwe
Venue: SDA Central Church Bunga
Presiding Officer: Jimmy Kajura
Reception: Bunga Gardens
Budget: Shs 17m
Guests: 500