Dorothy Nakaweesi
Marriage, if you like, is the uniting of two different worlds into one. For this reason the Bible states in Mathew 19:5 "A man shall leave his father and mother and be joined to his wife and the two shall become one flesh."
But before that happens there is a wedding. And with the wedding comes the need for money, budgeting, more money and more budgeting. Depending on how things go, you will either have a story to tell or an experience you will quickly want to forget.
The truth is, even though many people have had a hard time meeting their budgets, you don't have to go through sleepless nights and even consider breaking a bank. Neither do you have to take loans just because you want to impress society.
Whereas society has its expectations, it's solely up to you to decide what you can bite and swallow in terms of what to include on your budget.
So then, what is a wedding budget ? It is an estimate of income and expenditure for a wedding. Ladies and gentlemen, budget on what is within your means. Have a fabulous wedding  without borrowing heavily or leaving yourself penniless.
Ms. Annette Katusiime Muhumuza, Executive Director at Be Money Wiser, a social outreach organisation says: "A wedding is beautiful if well planned through proper budgeting and when the couple is realistic on what they can spend as well as knowing the clear source of funding because every coin matters."
Katusiime shares that prioritising needs while planning your wedding is important and helps you avoid unnecessary spending and stress that comes while trying to make the deadline.
"If you have the church fees, the rings, the wedding gown and a suit for the groom, then you can ably wed without worrying about other demands," Katusiime recommends. It might sound simplistic but that really is a wedding. You are no less married than someone who has a fancy reception afterwards.
However since our culture is one of sharing such big milestones and joyous moments with friends and family, you will likely want to organise a reception. Just do so within your means.
Here are a few things you can do to keep the costs down.
Breakdown
Substitution
When you decide to have a wedding, make a list of service providers. Then look at the ones you can substitute with in-house personnel; these could be your relatives or friends in your circle or workplace which can provide the service for free or at a greatly subsidised cost.
For instance, if you have a friend or a former schoolmate who is good at emceeing, ask them to be your MC. Instead of spending Shs1 million or Shs2 million on an MC, you could instead offer to give your friend an appreciation amount of Shs200,000.
"Using your friend as the emcee is an added advantage because they've lived with you, and probably know everything about you. It is better than hiring someone who has to prep about your biography," Buteraba shares.
Venue
Hosting a wedding at a hotel could cost an arm and leg unlike doing it at an open garden especially if the weather is favourable.
If you have your wedding in a hotel you are likely to be asked to pay an average of Shs50,000 per person for food, and one drink. This means if your guest list has 400 people, it will cost you close to Shs20 million.
Yet, if you opt for a garden reception, where you are allowed to bring in your own caterer, you will be charged an average of Shs20,000 per plate for the same number of guests (400). This means you will spending about Shs8 million. Think about how much you will have saved!
Also, "In most cases people who have gardens offer chairs as a bonus," Buteraba says.
Decor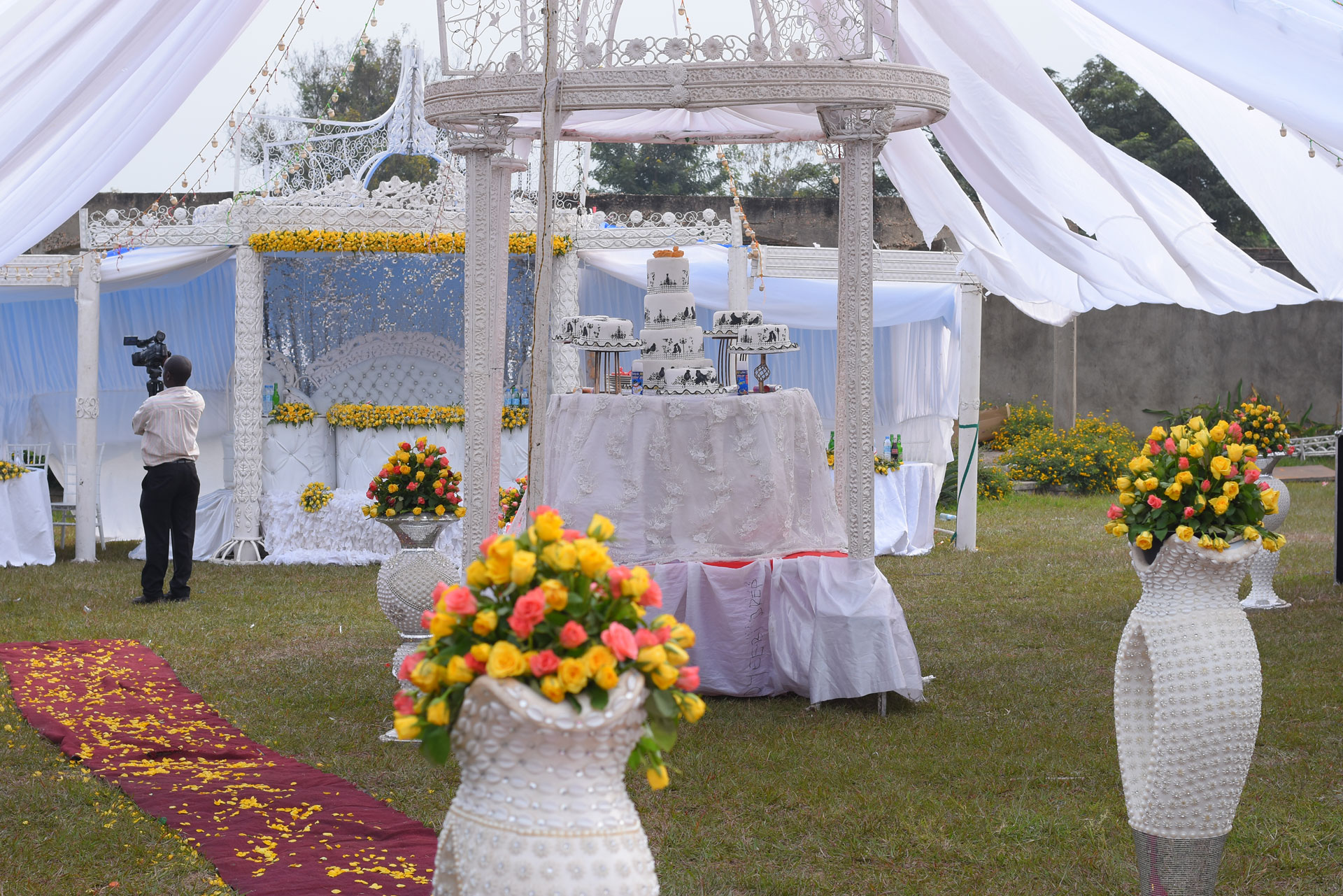 With the decoration, think of doing it half and half – you might have to buy some items but you can get friends to decorate for free. Again, go back to the list of friends in your circle. Identify people who can offer the service. Find those who are good at decorating and who are willing to do it at no cost. Then together with them, go buy items from a wholesale shop and not an events or bridal shop. Remember, we are cutting costs. You will have saved yourself a good amount of shillings.
Other items
For the other items like videography and photography do your homework and find out who can provide a good service for a fair price. Compare prices with others. Ask around. Some people charge really highly for small additional items which you can do without. Determine what you really need from a service provider then look for one who can provide it. Remember that some things can be done after the wedding, for example framing the photos. So look at that option as well.
Budget for a wedding at Shs 13 million for 300 guests
Garden Reception       Shs1,000,000
Food & Drinks            Shs6,000,000
Décor                          Shs1,000,000
Video/Photos              Shs1,000,000
Cake                            Shs1,000,000
MC                              Shs200,000
Church                         Shs400,000
Rented gown and suit  Shs2,000,000
Vehicles (Fuel)            Shs400,000