By Esther Nantambi
It has been quite a journey but she has finally said yes to your proposal. Now, the only thing left to make it official is the wedding. Brides are known to make a fuss over what gown, shoes and jewellery to put on. Men generally take the issue of what they will wear lightly, but many have got it right and their weddings have surpassed expectation. Whether you take it as seriously as your bride or not, here are tips on what to consider when choosing a suit for your wedding.
When should you start looking for a suit?
James Senyonga had his wedding suit delivered from abroad and tried it on for the first time on Thursday. His was wedding was set to happen to on Saturday that very week. He says it all turned out well. Senyonga was lucky. For other men, their experience turned out to be a disaster. This is why, according to Mr. Robert Mudde, the Manager, Suits Man, Kampala, men should take about two months to look for a suit. "Two months would be the perfect time to find a suit," Mudde explains. He also adds that sometimes men have pre-made plans on what colour to put on but on trying the suits out, they might realise the colour they had in mind was unsuitable. Looking for a suit two months ahead of the wedding gives them ample time to find something better.
A suit or a tuxedo?
A tuxedo is basically a suit with some satin. Typically they have satin facing on the collars, buttons, pockets, a side stripe down the leg of the trousers and so forth.
Mr. Alex Kimera a salesman at Belleza, a groom's shop in Kampala explains that a tuxedo is a better fit for a wedding since satin has a more celebratory appeal to it than a plain suit.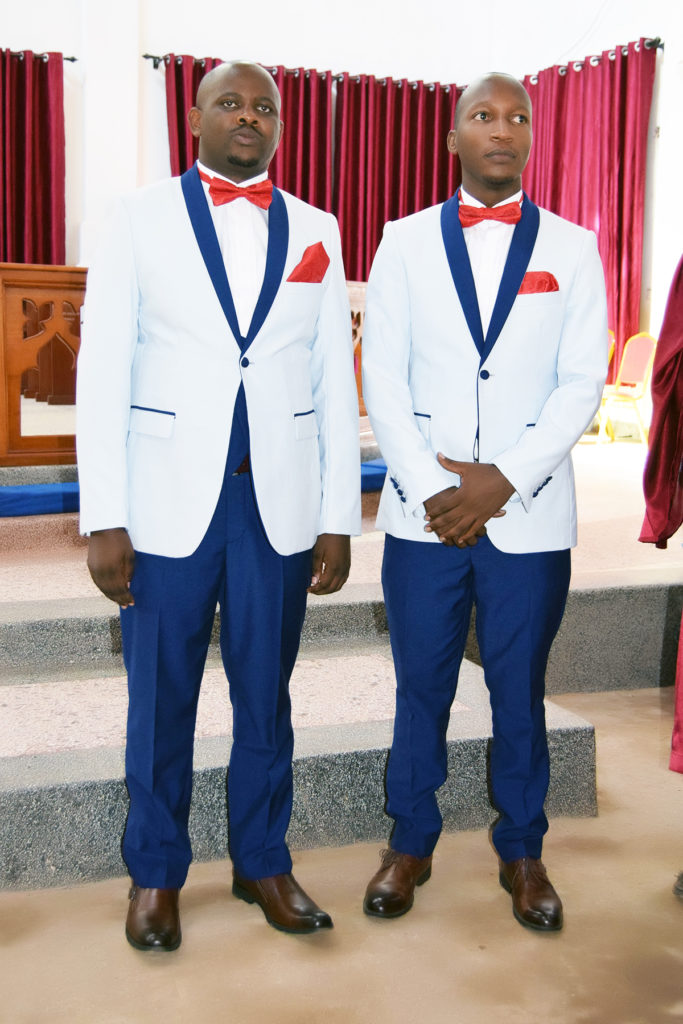 He however adds that some men do not like the extra detail and in such cases, they can go with suits as long as they add a wedding appeal to it.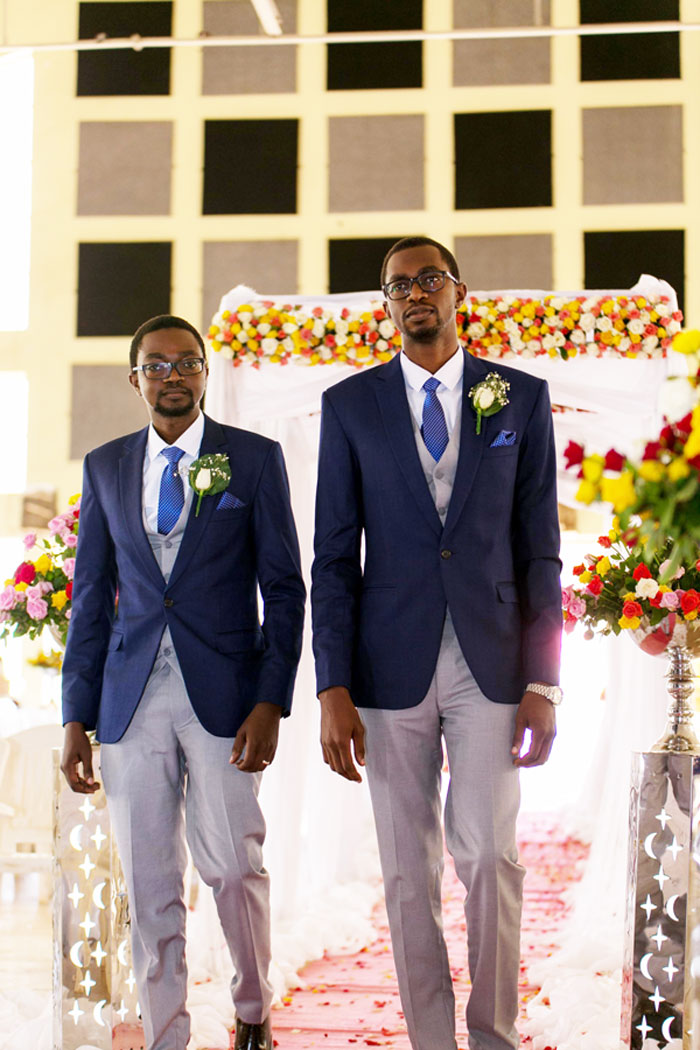 Cost
A classy suit costs about Shs1,200,000-1,500,000 million in uptown Kampala. It comes with a tie/bowtie, shirt, trousers, a coat and a waist coat/waist band.
You can still get a decent wedding suit in downtown Kampala at about shs500,000
Colour of the suit.
Mr. Alex Kimera, a salesman at Belleza, a groom's shop in Kampala says there is not a definite colour for a wedding since people have different preferances. He however says that in his experience, the theme colour of the wedding is a big influence on what colours a groom will choose.
"You do not want to be completely off at your weeding. Have something in common with your woman. This is also a way to show that now you and her are one," Kimera advises.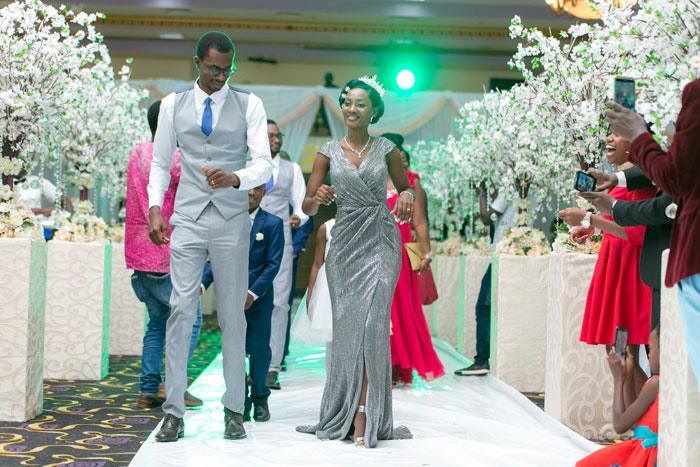 Mr. Mudde recommends that dark men will look better in white or navy blue suits. He stresses that black is a no go for them. For light men, he says maroon, black and navy blue would make them stand out.
The shirt
Mr. Kimera and Mudde both seem to agree that a man's shirt should strictly be plain white in a wedding suit.
"Those other funny colours would spoil your look. Please don't think about checked, stripped or print shirts for you wedding. Let the shirt be white," Robert stresses.
Mr. Kimera adds that coloured shirts can do for the groomsmen but not the groom. He however gives an exception of a coloured shirt if the groom is some sort of fashionista adding that it's a big styling risk.
Tie or bow tie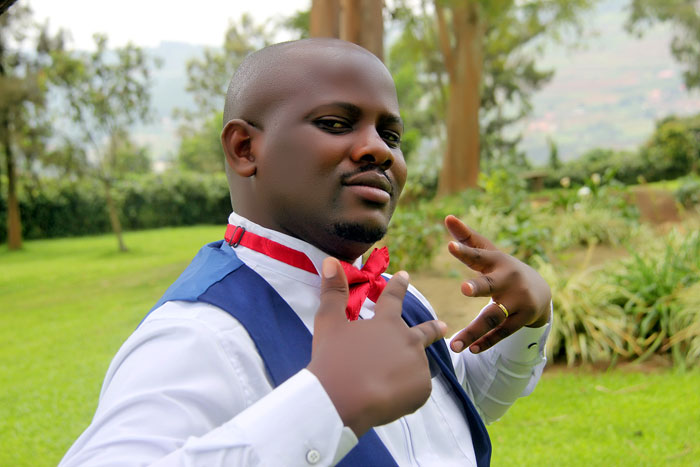 Kimera and Mudde clarify that the groom's shirt is made different from the commonplace shirt. Its collar is designed to be slim. Therefore, if you are putting on a suit or a tuxedo for your wedding, you can choose to match either with a bow tie or tie as long as they have a slim band. Note that the slim band may not apply if you have assembled your suit with a commonplace shirt.
Waist coat or waist band
Mr. Kimera says a waist coat is mostly favoured if the groom does not expect to change. Then, a groom would just remove the coat and the waist coat would bring about the change in design.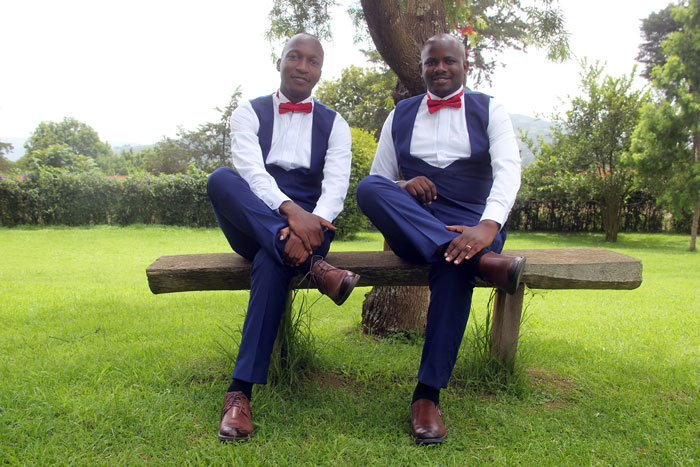 A waist band on the other hand would make no meaning if the coat is removed so the groom needs to shave a plan B for changing. Whichever style the groom chooses, Mr. Kimera stresses that it's important that they choose knowledgeably and are in terms with what they want.
Does a man really need to change at the reception?
Mr. Kimera explains that although many men don't like the fuss which is why they just remove the coat, it would be nice if they changed. "When you change, you don't become boring to the eye. It's your day too, not just hers," he stresses.
He also says that blazers are a good changing substitute; "A man can maintain his shirt and trousers but replace his coat with a more sophisticated blazer. That would create a whole new look. It also breaks the monotony of just removing the coat," Mr. Kimera adds.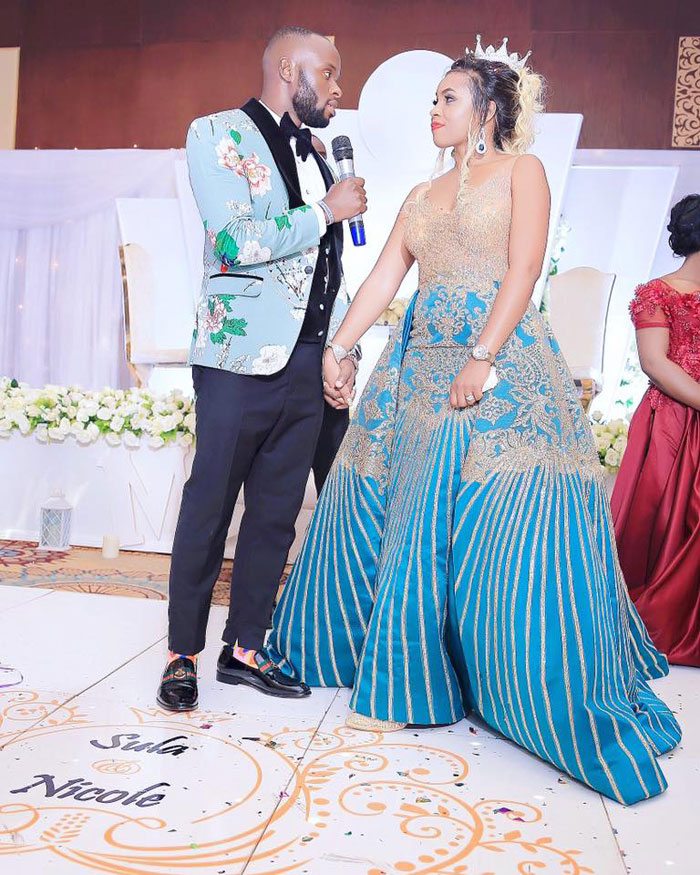 Tight or loose trousers
Whether you choose tight-fitting pants or loose ones, Kimera stresses that what matters is that a groom is able to comfortably make movement – sit, stand or bend with comfort. "Basically everything should be in moderation. Loose or tight," he says.
"Also worth noting is that a groom's trousers should break from the shoes, unless it was really an intended styling idea that they stop way above," Mr. Kimera advises.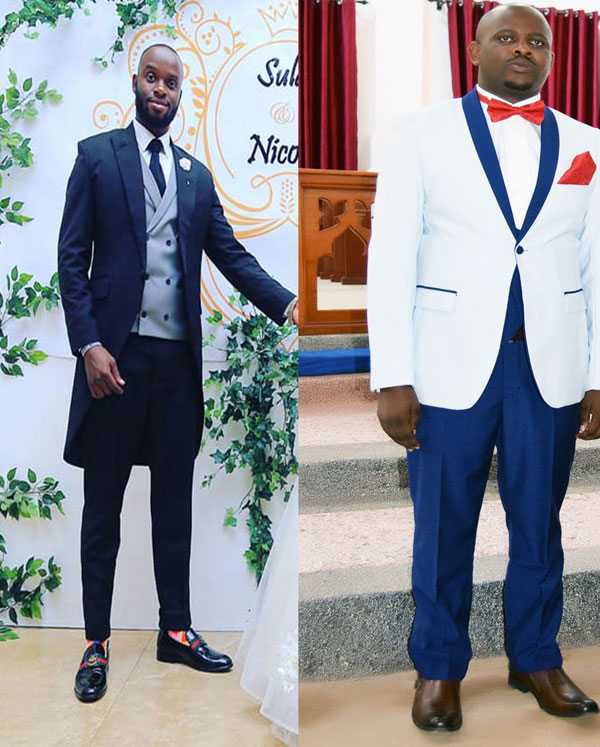 The belt.
Kimera says a wedding belt should be one without a buckle: "You do not worry about the belt buckle clashing with your shoes or being too much when considered in relation with the rest of the attire. It is simple and safe," he tips
He adds that a groom would then only make certain that the belt colour blends in. "You cannot go wrong with such a belt," he stresses. If you can't find a buckle-less belt, choose a belt with a slim, simple buckle.
Cuff-links
Cufflinks
Why would someone even care about cufflinks?
Although cufflinks are usually taken to be unimportant, they are key in making the look of the groom, Kimera states. "Shirt sleeves usually go through the coat. It would be sad if your elegant look is spoiled by your dull old cufflinks because you were lazy to get appropriate ones," he says.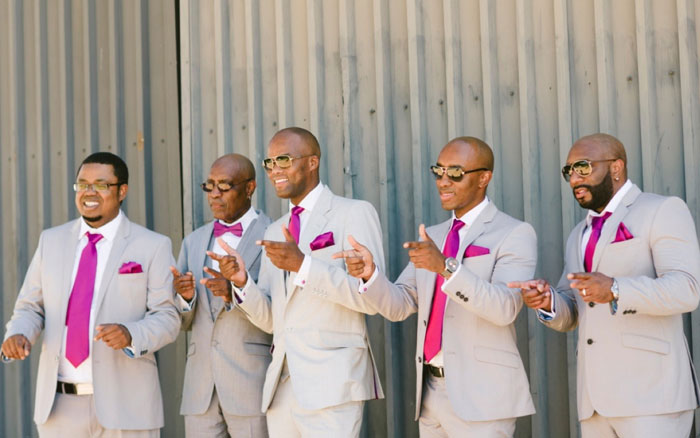 Cost
Groom's cufflinks range from Shs50,000 – Shs150,000.
Shoes
Kimera stresses that shoes are crucial to a man's image and the wedding is just time to up the game in the shoe field.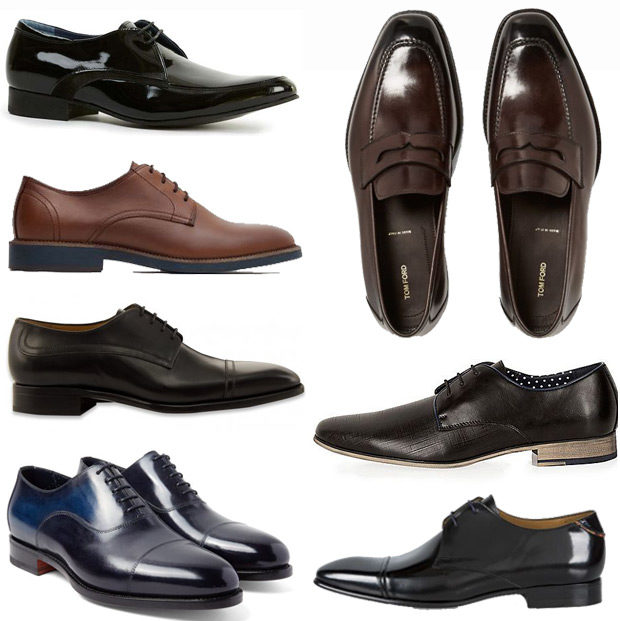 Mudde says shiny shoes are a good choice for a wedding. For those that hate overly bright shoes, a blend between the shine and leather would strike a balance. He also adds that shoes can be in different colours as long as they blend well with the attire. A mixture or blend of colours on a shoe when considered carefully is also highly recommended by Mudde.
Kimera also adds saying that as long as the shoe is not entirely dull, it would be good for a wedding.
Cost
Wedding shoes for men range from shs800,000- shs1,200,000 in uptown Kampala
You can get decent wedding ones downtown at shs500, 000
Pocket squares and flowers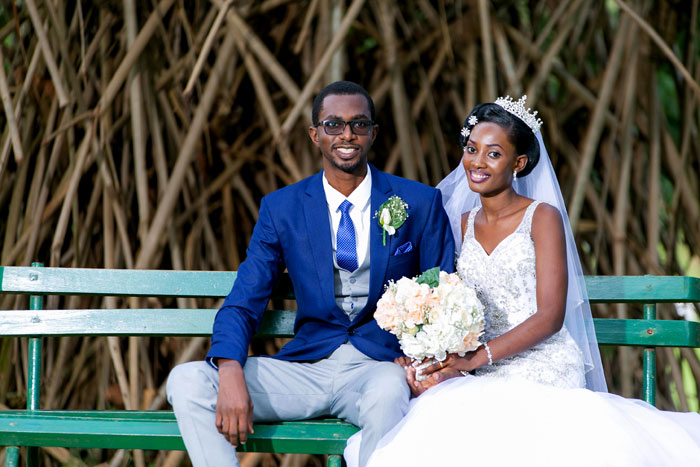 According to Kimera, pocket squares should match with the tie/ bowtie if you want to rock them. An additional flower also sets the groom apart from others in the audience who sometimes might have similar outfits.
Hire or purchase a suit?
With all the above that said, a suit doesn't come cheap and someone may not be able to afford the one they desire. In such cases, men can rent one.
A rented wedding suit will range from Shs100,00 to Shs500,000 depending on its quality. Some shops do not hire out their suits but others gladly welcome the idea.
As you consider those tips above, Kimera maintains that men should be more interested and do research about what they shall wear in order to rock their weddings.