By Joan Salmon
Looking for the ideal car to hire for your wedding sounds fun; it actually is. It is like being Cinderella and before you is a vast choice of rides to pick from. While it is fun, it is also crucial because there is a lot out there. If you are wondering where to start from, here are a few things you ought to have at the back of your mind; they will ease the task.
Price and budget: These are the biggest determinants of the car type one will use for their wedding. While Ahmed Kikomeko really wanted Range Rovers for his wedding, he had to go for Klugers because he could not afford to stretch his budget any further. "I had to cater to the transportation and accommodation of some relatives that I could not afford dipping further in my pocket for the Range Rover despite them having been our dream cars," he said sadly.
Size matters: When choosing your ride, it is important to know the exact number of people you are travelling with. The number of passengers will help you determine the size and type of car and how many to hire. "Traditionally, the bride will arrive at the wedding venue with her parents and leave with her husband but lately, the bridal party arrives together," Nester Birungi of Executive Bridal cars says. That was Nina Kaitesi's dilemma, "We had hoped that we would only need two cars; one for me and my parents and another for my husband and his parents. That was because the wedding venue and reception were in one place. However, at the last moment, we learned that unlike what we had planned, having salon done at the venue, we would need cars to transport us from the salon to the venue. That was an unanticipated cost."
Time: While many couples never think through this factor, it is important because some drivers work per hour. It was a wake-up call for Fred Kawuki when he was asked how long they would need the cars for. "All along, I was certain that as long as I booked for a car, it would be there, plus the driver until the end of the function, only to learn that Shs350,000 would only afford me seven hours. Nonetheless, I was glad that I was told earlier than later, it helped with planning." Companies need to communicate these to their clients early in time so that they can make informed decisions. Clients also ought to state the time they need the cars at to avoid delays.
Company: "It is best to find a company that will not only listen to your needs but also provide realistic solutions," Joan Nassozi of Prime Rides and Events explains.
Additionally consider hiring a car company you can trust. Asante Mukisa was willing to part with more than what other companies needed for Mercedes C-class cars for the sake of peace of mind. "We have worked with these people for many years and I was certain that despite their prices being on the higher side, they would deliver on time," he shared.
Leg room: It would be absurd for the couple and their entourage to be cramped. Alex Ntambi, the Fleet supervisor at MTN Uganda says one of the first considerations should be the bridal dress, if it cannot be comfortably contained, look on. Most Mercedes cars have enough leg room except for the Compressor.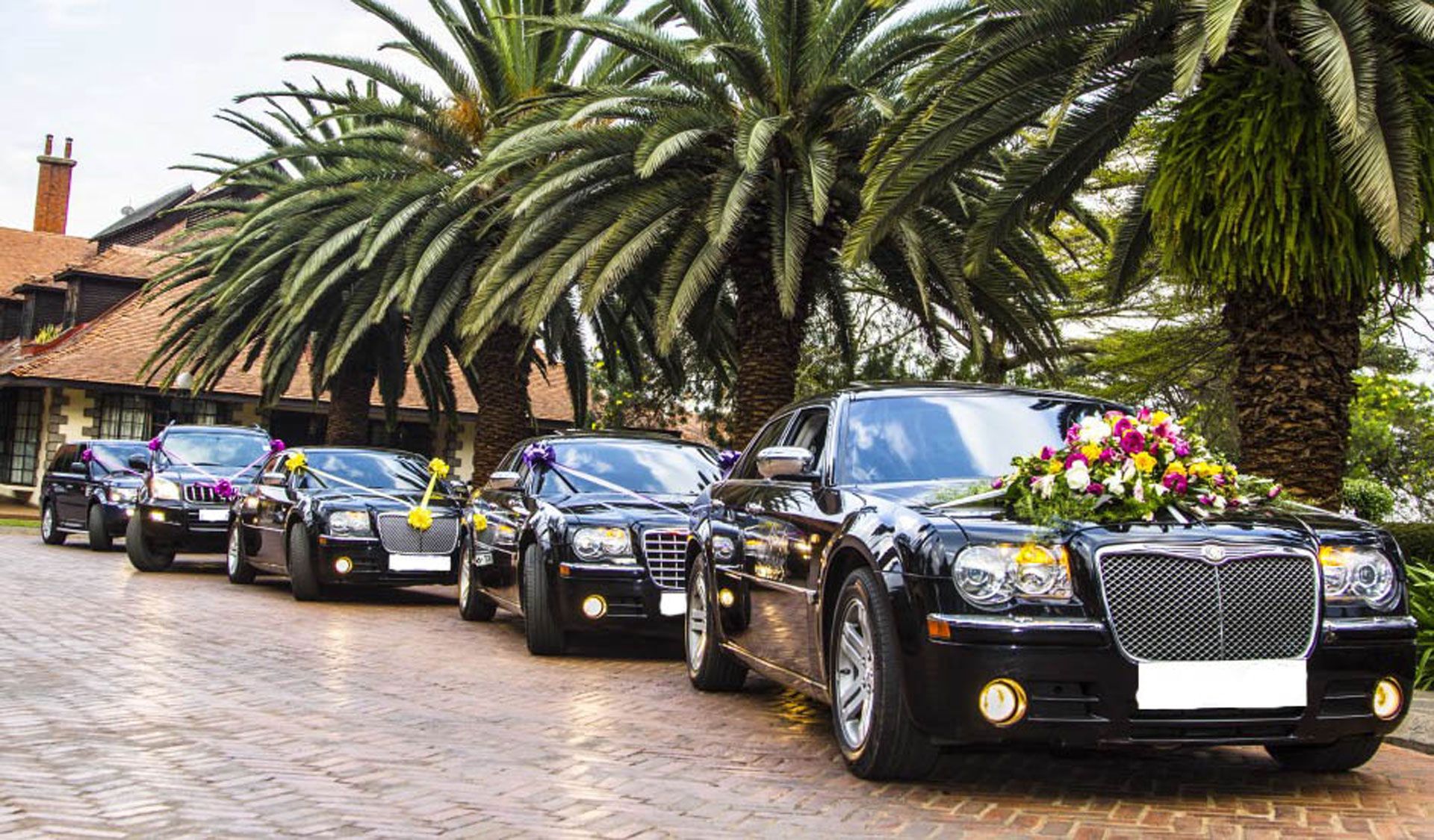 Weather: Rain is one of those things that can make any bride cry, more so when their venue is in the open. "Weather is such a crucial point lately as the weather seems to change unexpectedly," Birungi explains. While it may seem obvious, you need to take extra care to protect yourself from the elements; you do not want your makeup or hair ruined on your wedding day. For example, a convertible is not that ideal for rainy seasons regardless of how trendy it might seem.
Location of the function: Catherine Nassuna can attest to the importance of thinking through your reception location: "We had really wanted to have our reception in Garuga despite church being at Namirembe. However, the distance meant that we had to pay an extra Shs100,000 for every car for fuel." Nassuna and her fiancé had to choose between changing the venue or having to part with an extra Shs600,000 because they had six cars for their entourage; they settled with paying the extra money. "We really needed that serenity for our reception and Garuga was offering us more than just a reception ground," they shared.
Fuel consumption: The more a car consumes regarding fuel, the higher its hire price. Ntambi advises couples, who want to lower expenses, to refrain from cars such as Range Rovers as these consume a lot of fuel. Look at the boot of the car to see the numeric inscription of the fuel consumption; those with an inscription of 2.5L or 3L do not consume much.
Type of car and comfort: Comfort is relative. Rema Bwete opted for a Subaru, "Strange as it might seem, we all zeroed in on a Subaru for the love of the brand and it is definitely comfortable." Anthony Sembera opted for a Toyota Camry, "Its comfort is unprecedented and the cost for hiring was friendly."
Time of the year: If you and your partner have seen a car that you love, Nassozi advises you book it as wedding cars can be booked up to a year in advance.  Some seasons are quite busy, therefore if your function is in the peak season, the earlier you book the better. It would be such a disappointment to be told that the car of your choice cannot be got after everything else has been made ready.
Backup plan: Always ask the company you are using if they have a backup vehicle available in case of any mishaps on the day, particularly if you have chosen a classic or vintage vehicle. Nothing will make up for the distress and upset caused by a vehicle failure.
Theme: Nassozi explains that some people work with themes on their wedding.  It could be vintage or modern, whatever it is you may want to choose a car that resonates with your theme yet still depict your personality. However, Tom Musana found that very difficult, "We wanted the Beetle VW, however, they had limited space and the thought of having to push the front seat to give way for someone to sit behind was not nice, at least for me. We just had to go for Mercedes cars, something far from vintage."
Duo climate air conditioning (a/c): It is your day and heat or people's preferences should not ruin it. Ntambi advises couples to pick a car where the air conditioning on the driver's side is controlled differently from that of the passengers' side. That is what Nandi Kimera did, "I needed my space and peace thus went for a limo where we would control what happened in our space." This car is only ideal for the couple though as it is rather costly.
Your wedding dress: While you may want a car that depicts your theme or reflects your personality, Birungi says that it would be absurd to pick a beautiful two seat car that cannot contain your wedding dress. Max Makula really wanted a Jaguar for her wedding. However, with a big wedding dress, the next best pick was a Toyota Crown car and it did not disappoint owing to the luxuriant amount of space it offered. There is therefore need to be practical in your choice – pick your car around your dress' size or vice versa.
Cooling compartment: It is pleasant to step into the car after the wedding service to a few cool drinks. Though such a car would cost a bit too much, it can be slotted in for the couple. There are also separate cooling compartments that you can fit in your car to store drinks for your special day.
Note: Ntambi cautions couples on companies offering their vehicles for a price that seems too good to be true; beware of potential problems. "The low price may be due to their hiding behind caveats you hadn't anticipated: some companies restrict the number of hours you can hire for, or limit your mileage. Hefty 'additional' costs can be incurred on top of the basic price if you go over on either. Similarly, some do not service their cars efficiently." Ask as many questions as possible to get both as much information as possible and peace of mind.