By Bash Fahad Mutumba
What you need to know
Simon and Daphine Singiza had a destination wedding that necessitated they do somethings differently. The couple shared their story.
Exchanging wedding vows outside a church or mosque is not a very common thing in Uganda, regardless of the fact that such destination weddings are very popular in Western Countries. More often than not, people in developed countries would rather say "I do" with their feet getting caressed by the sand, and a tropical breeze hissing onto their skins under the morning sunshine; than do it inside any church in the world. That said, the younger generation of Ugandans is breaking the norm, and embracing such scenic weddings, for the love of travel. Simon and Daphine Singiza said their matrimonial vows on top of a cliff at the twin lakes of Mirambi and Katinda in Bunyaruguru; with the Queen Elizabeth National Park Savannah clearly visible in the lowlands and Mountain Rwenzori in the distance. They shared the details about how they pulled off their destination wedding.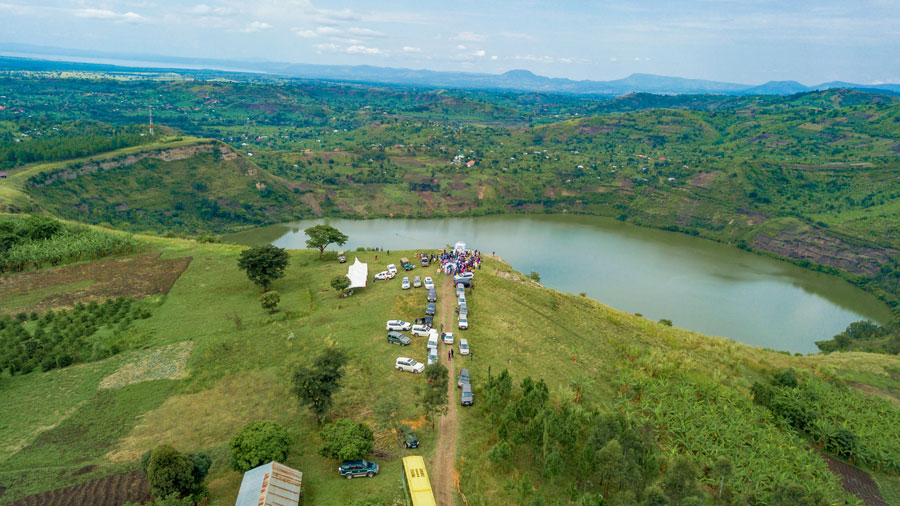 First off, the inspiration for someone to want a destination wedding would vary, but for Simon's case, his inherent love for travel was the absolute reason,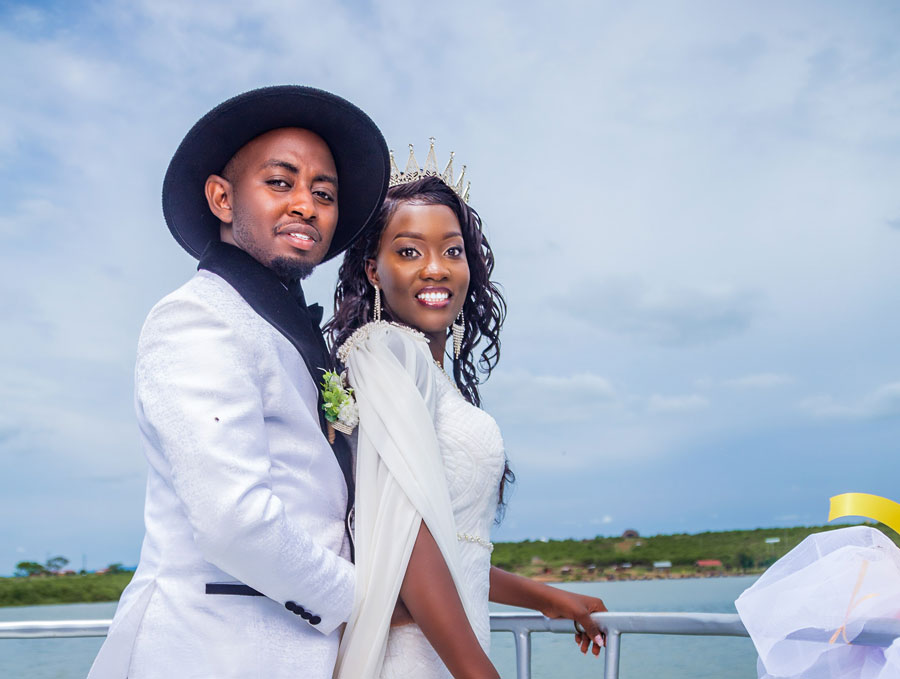 "Growing up, I have lived in a family that lives, loves and is all about tourism. A destination wedding for me was more of an opportunity to promote Uganda's unique physical features and give our guests a unique experience that they would live to remember. Imagine attending church service on a cliff of 2 beautiful lakes, a Kasiki party on the bus from Kampala, and a reception amidst lions, baboons and elephants. It is definitely something thrilling."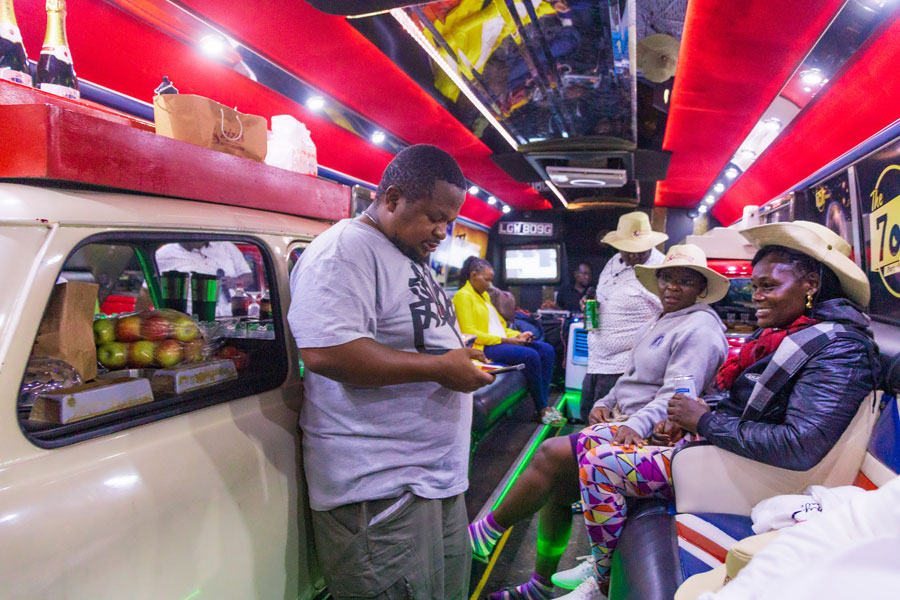 The Singizas had initially planned for 300 guests but ended up hosting 400, and their choice of open terrain was always going to cause some weather concerns,
"We opted for an open church session in the Savannah wilderness. We relied on the weather forecast to predict the weather of the D-day, and even though it had predicted some rains, thankfully the sun shone bright all day long."
On how they managed to ferry all those people from Kampala to Kasese, Simon explained,
"Transportation and accommodation are at the core of any destination wedding. When dealing with these, you always must use your power of the numbers to negotiate amazing discounts."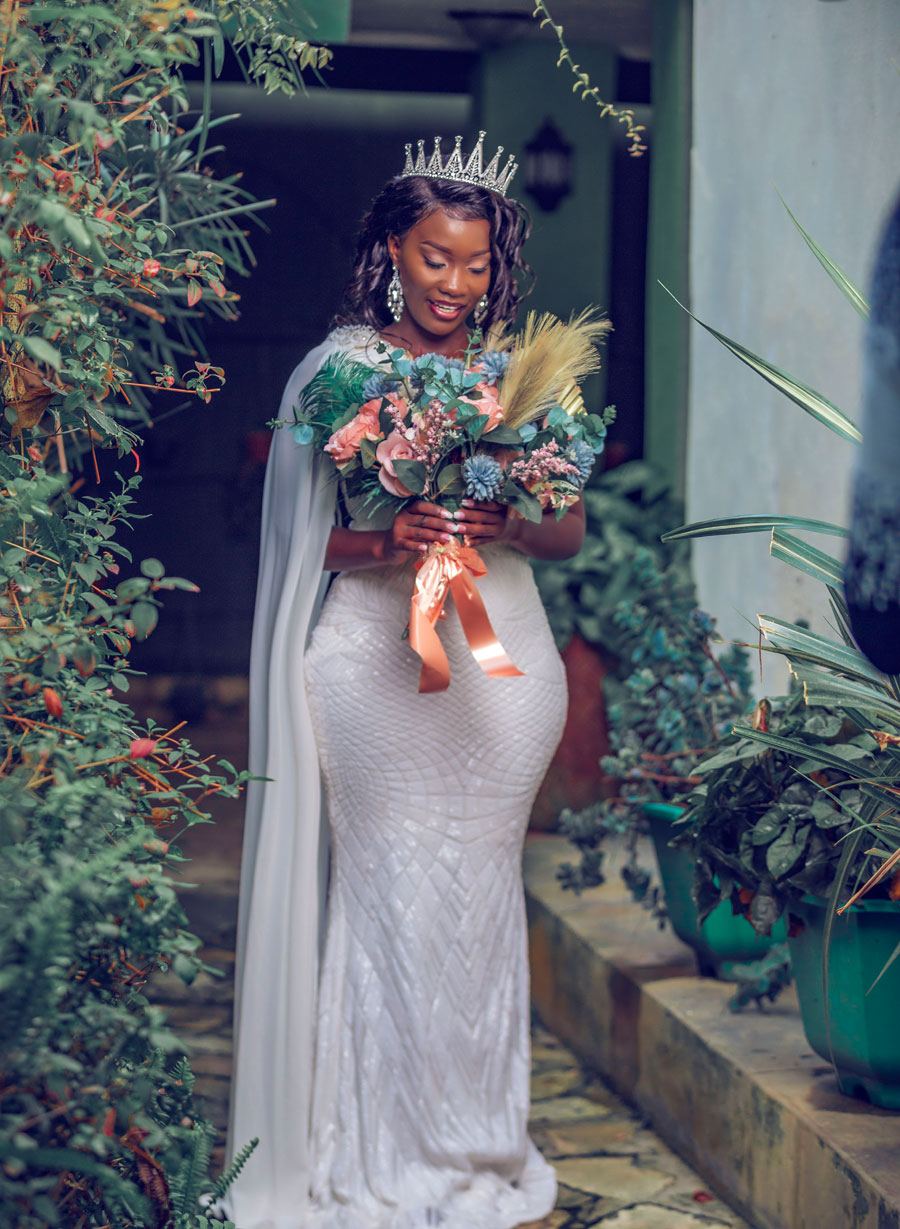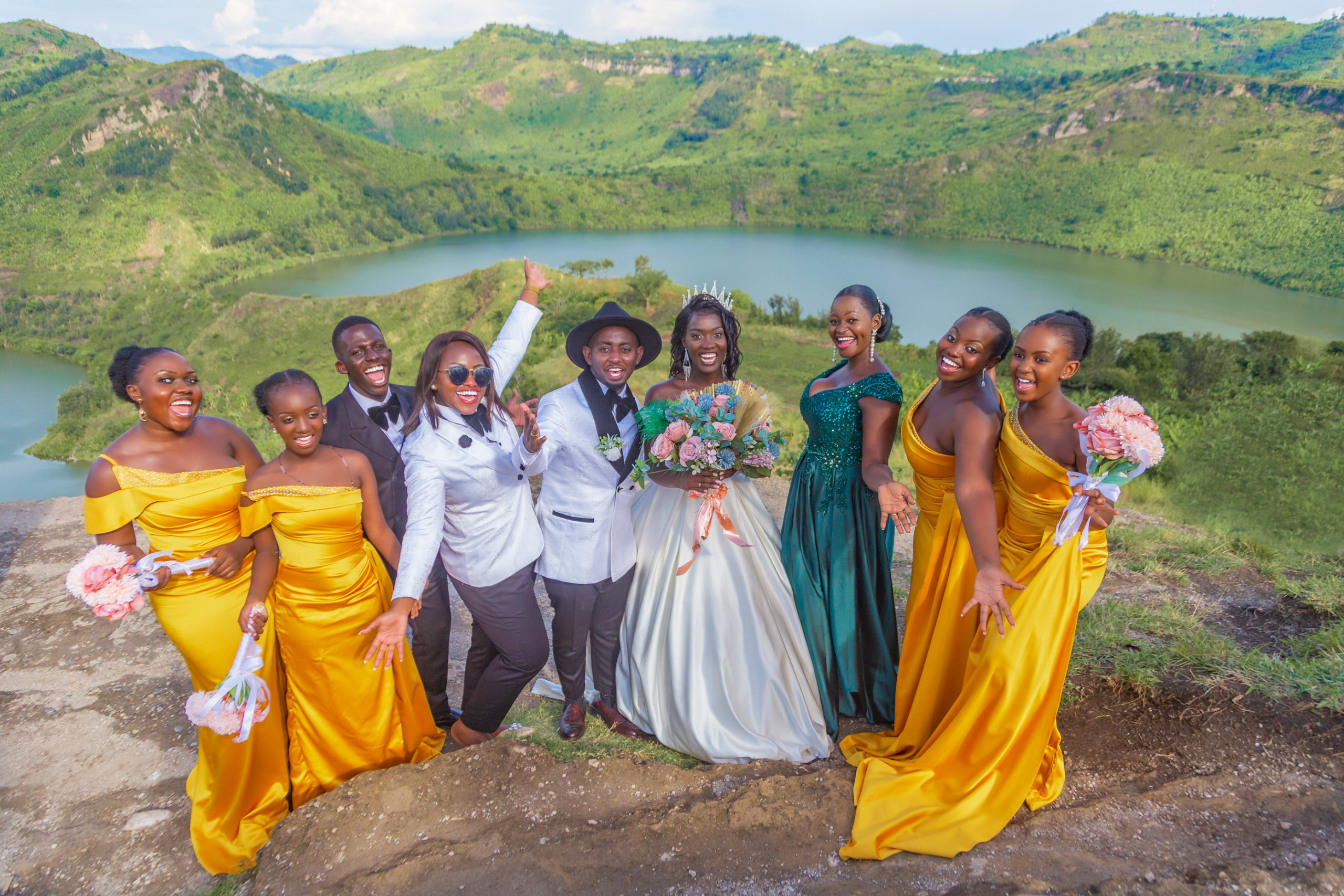 The hotelier and businesswoman couple were very conscious about the budget, and managed to get the best deals possible for every single service,
"In our case, we fully catered for an UWA bus and a party bus to transport our guests. After negotiating good deals with several hotels such as Voyager Equator Lodge, Simba Safaris and Ciello Country Inn, guests contributed to their accommodation by booking any hotel of their choice from high-end to budget. Some guests even opted for camping which was really fun."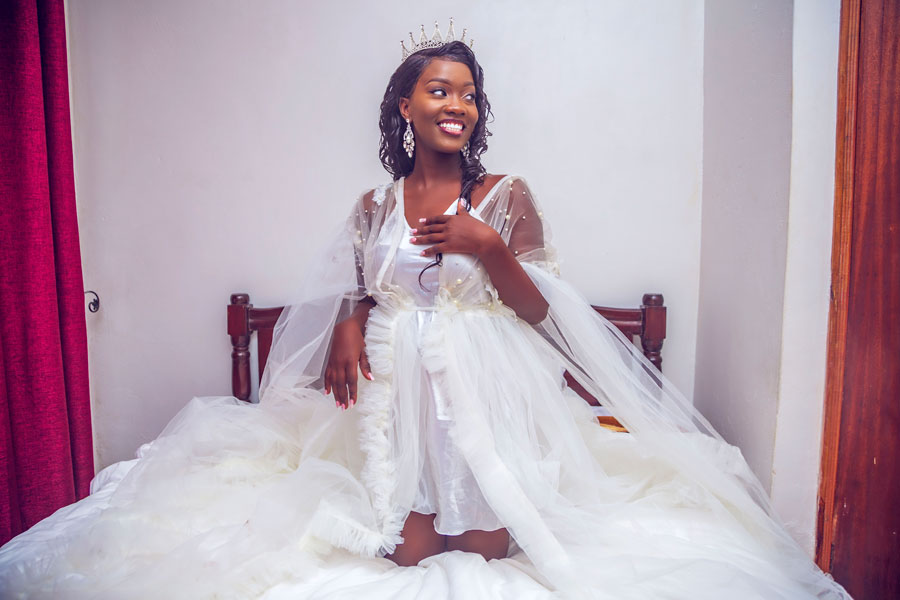 About how people got to the Saturday wedding in time, after a 9-hour drive, and also the activities on the eve of the wedding, he said,
"Since our wedding was on Saturday, guests started travelling as early as Thursday on the party bus. It was a party all night affair while stopping at different clubs in Mbarara and Bushenyi."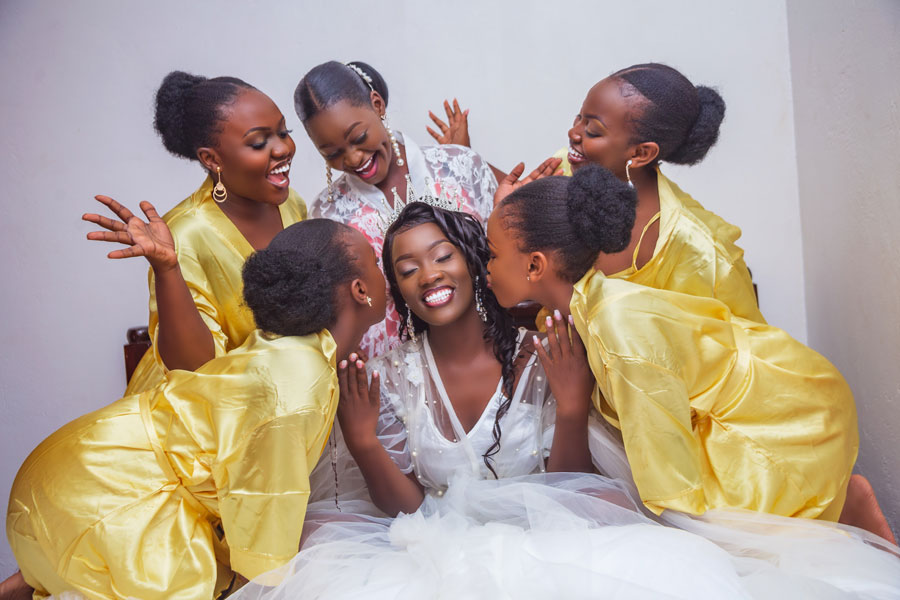 On Friday, they organised a camp fire and barbecue in the evening, and then Saturday started with breakfast on a boat cruise on Kazinga Channel. For Daphine, the wedding morning was filled with anxiety,
"I woke up at 4am and prayed for everything to go well. It was raining so I was a little anxious; thank God it didn't rain for the rest of the day. By 8 am we were done with makeup, and had a photoshoot which took an hour, then we set off for a boat cruise at Kazinga Channel. We later headed to the Twin Lakes for church."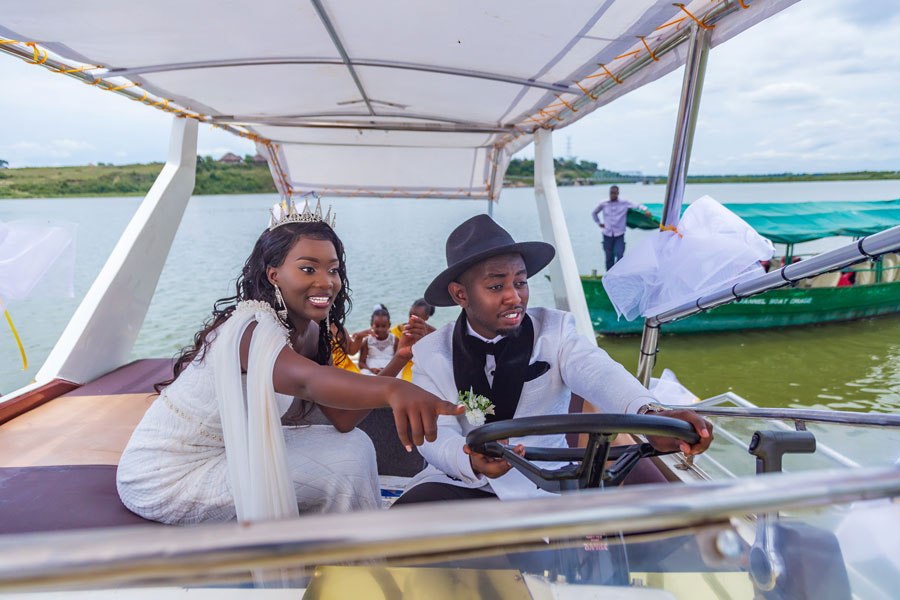 "Church started at 2pm at the twin lakes of Mirambi and Katinda. We eventually had the reception at 4pm at Voyager Equator Lodge, with very few speeches. The very next day we had a game drive in the park and did our post-wedding photoshoot to ensure we got pictures at as many of the beautiful spots in Queen Elizabeth National Park as possible." By divulging these details, Mrs. Singiza probably hadn't yet noticed how unconventional their wedding timeline was, so I had to point it out.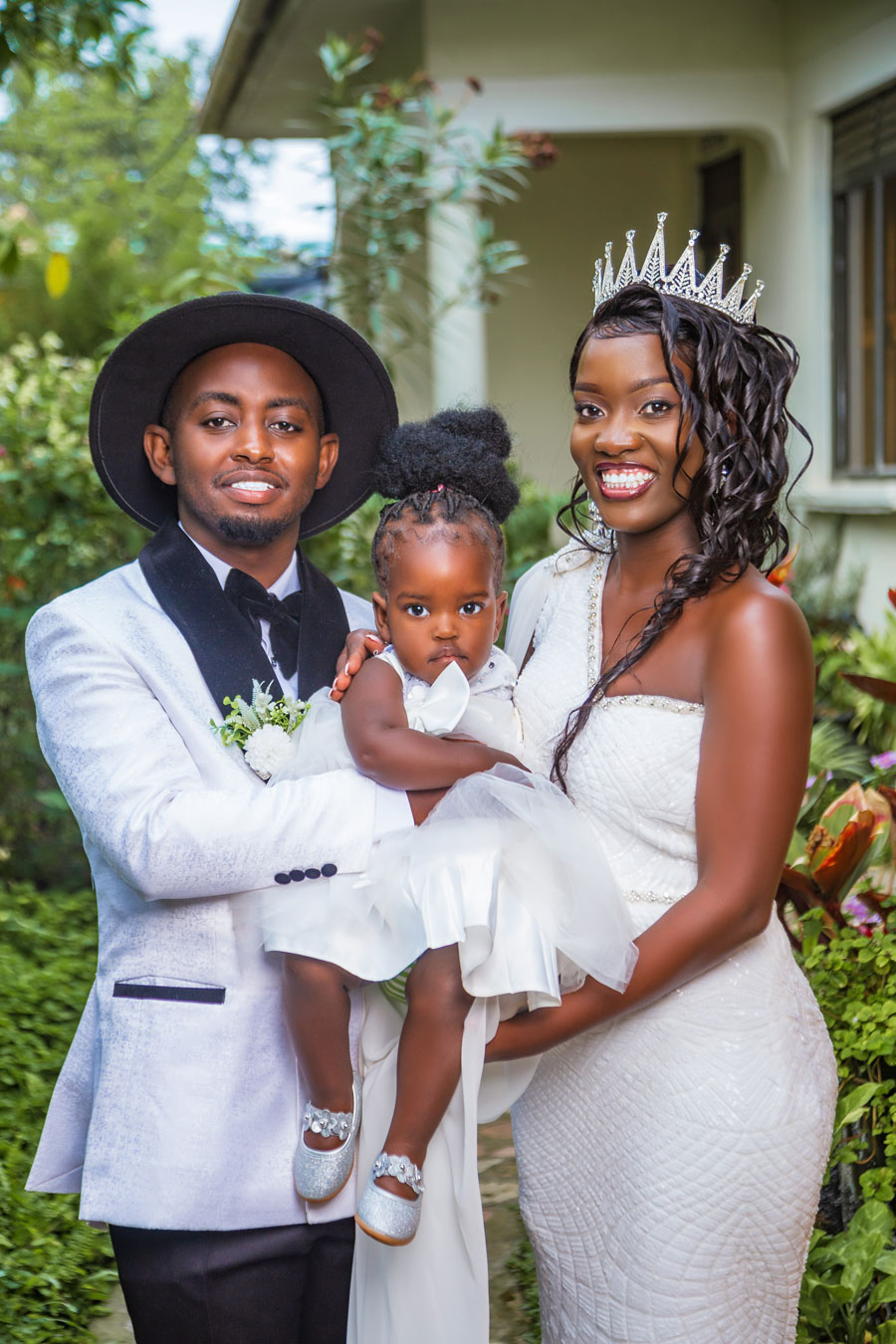 "Yes. Everything about our wedding was so unique. We had church at 2pm. Haha! Funny enough, I met the groom before church because of the very big distance between the Church Venue, and the reception. Also, this was to give time to those travelling from Kampala on the same day to attend the church ceremony." Daphine added, and then let Simon chip in.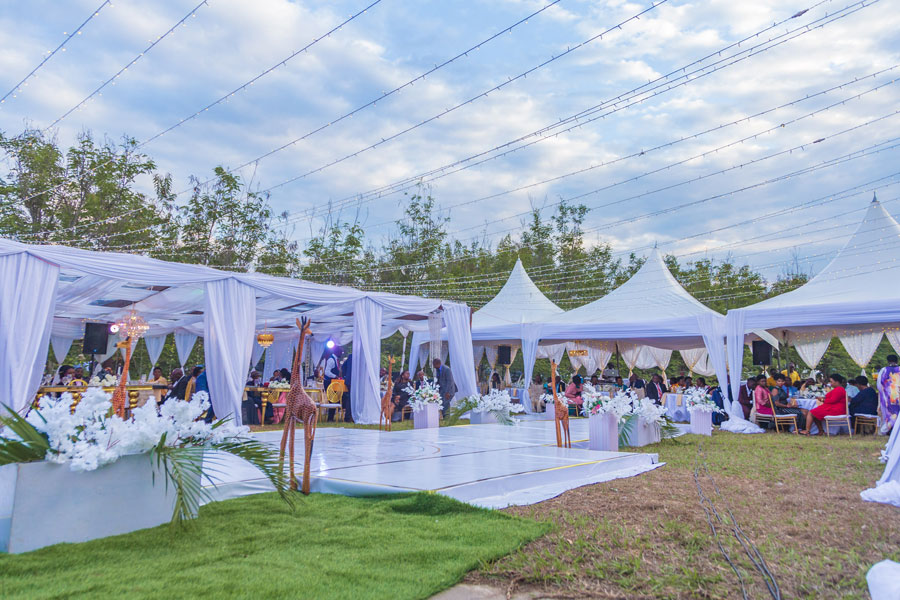 "One has to be a bit more flexible and open-minded to have a destination wedding. For instance, we had to process a church gazette to allow us to wed outside a church building. We had to move up and down to get the pile of documents needed to submit to the registrar of marriages at URSB. Without this license, your wedding is considered null and void, and process to get these documents takes about 21 days, so it is important to start early. The documents include: application letter from the couple, letter from the church, copy of church gazette, marriage banns by the church, registered affidavits of the couple giving reasons for grant of the license, IDs of the couple, payment receipts of service providers, necessary documents to support the claim, passport photos and shs. 300,000/= for nationals. The couple is also required to require before the registrar for an interview prior to submission of the application." He said.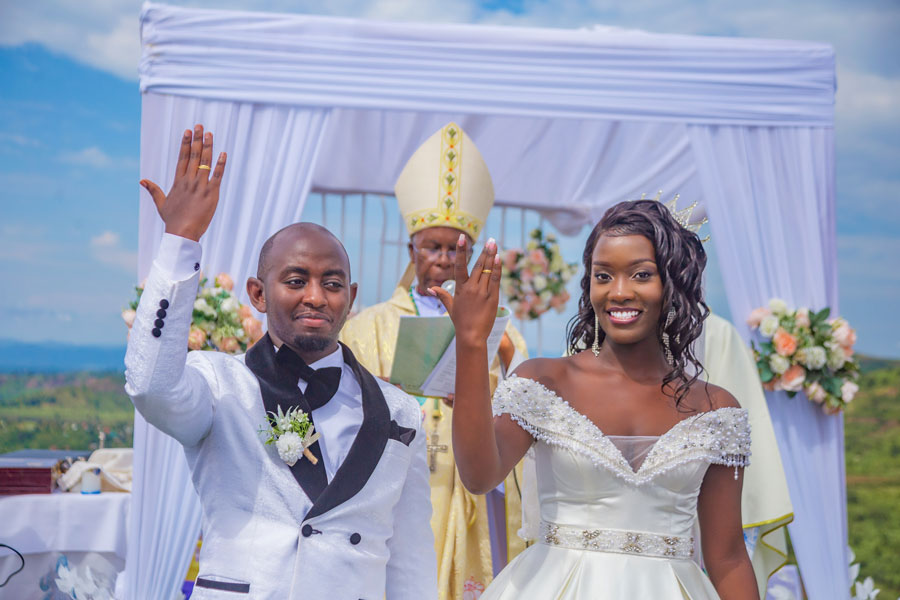 "We also did our photoshoot before church instead of after church. In doing so I had to break the tradition of seeing my bride at the altar." Simon revealed.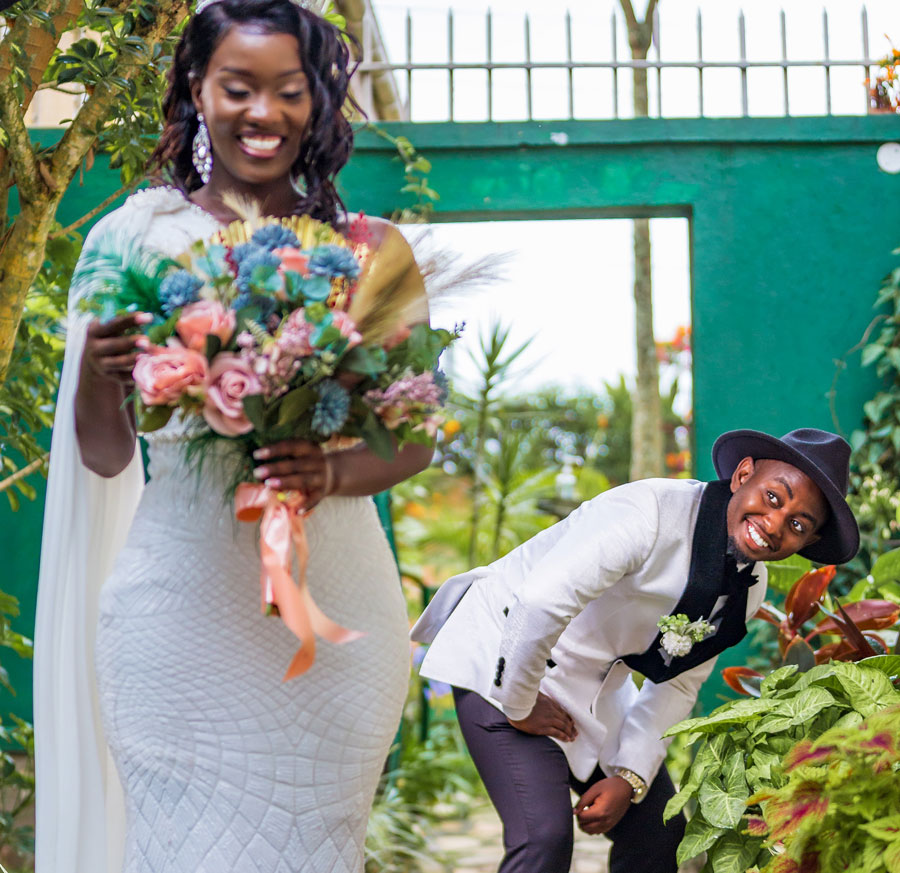 This is a tradition very strictly adhered to by most people, as they believe it brings bad luck to see your bride before the church, so Simon stressed the need for a very open mind if you ever want to pull off a destination wedding. Nature and other factors are very unpredictable, so you can't be rigid.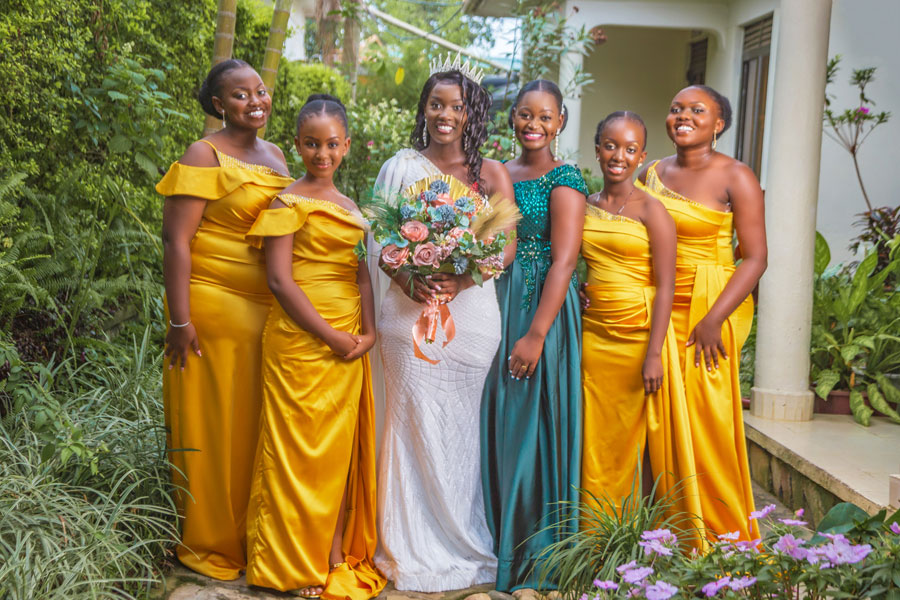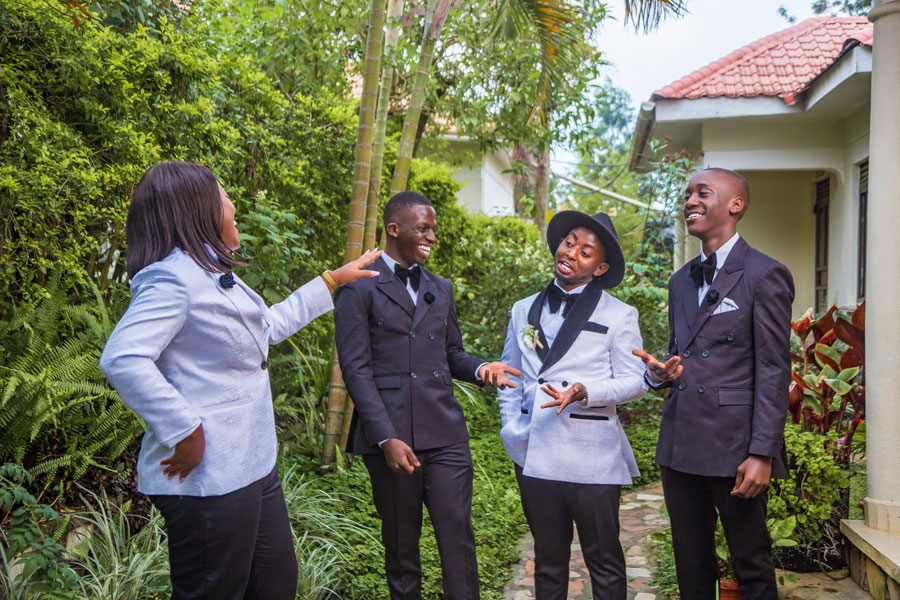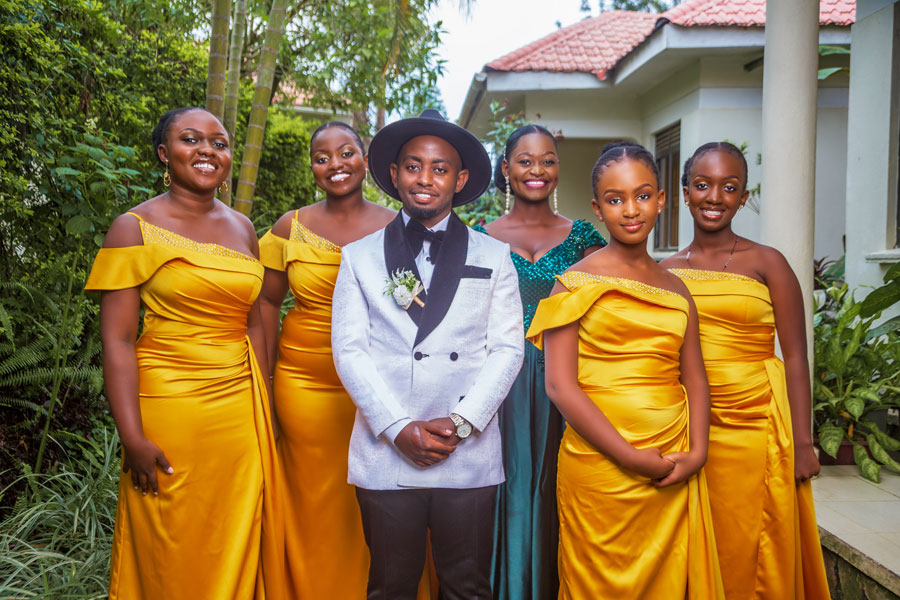 Furthermore, the Singizas didn't have a designated choir in church. They hired a couple of instrumentalists: a pianist, a violinist and an accordion player. The singing was done by family members. On the cliff next to the female and male lakes like the locals call them, one could see the beautiful Rift Valley landscape and Mountain Rwenzori.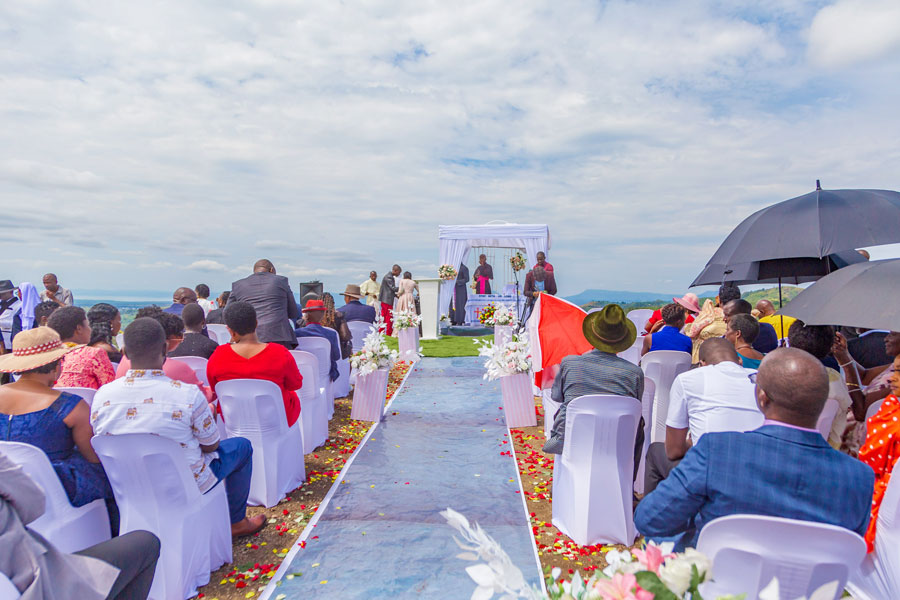 "The wedding reception was at the Voyager Equator Lodge in Kikorongo. We chose it for it's lush Savannah-themed gardens but equally it's strategic location. It neighbors the park in the South, a view of Mountain Rwenzori on the East and a view of Lake George towards the North. The lodge also happens to be cut through by the Equator so it is safe to say we had our reception at the center of the earth." Simon revealed.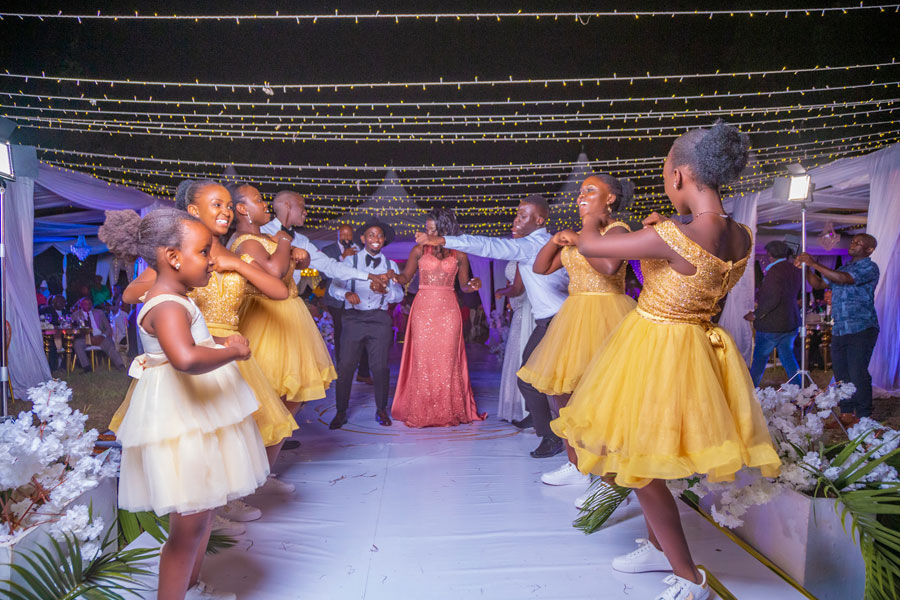 The pergola wedding theme beautifully designed by the decor service provider was Daphine's favorite thing about the reception, as Simon mainly loved the Kasiki on the party bus. They both loved the boat cruise on Kazinga Channel, and the thrill of tying the knot at the Twin Lakes.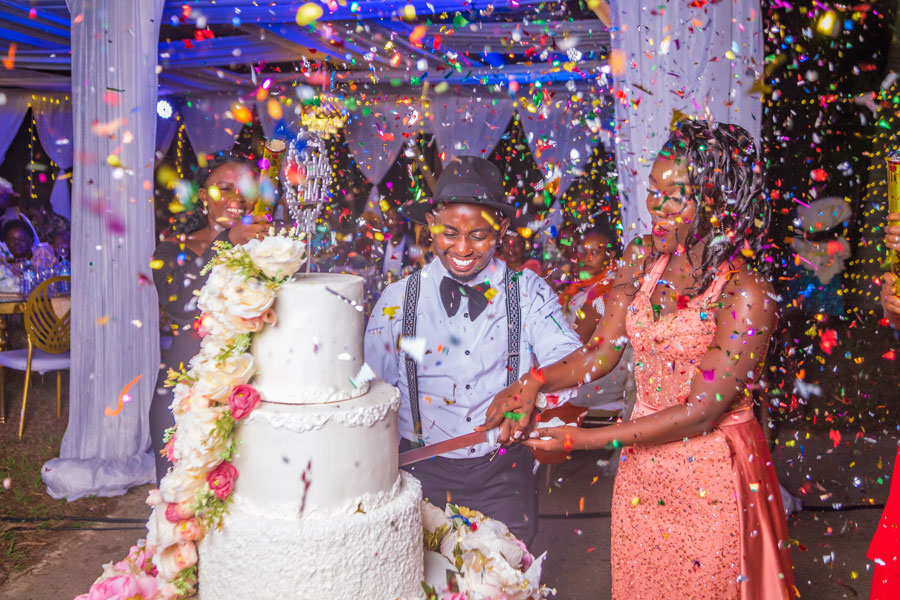 According to Daphine, a destination wedding is a bit expensive compared to a usual wedding with similar aesthetics. You have to plan everything in advance, since more often than not, it happens far from Kampala. You have to book things early enough. Simon however thinks it can be affordable.
"Destination weddings are not as expensive as many think. They are in fact affordable if you know how to manage your numbers. It can even be cheaper than a city wedding." He argues.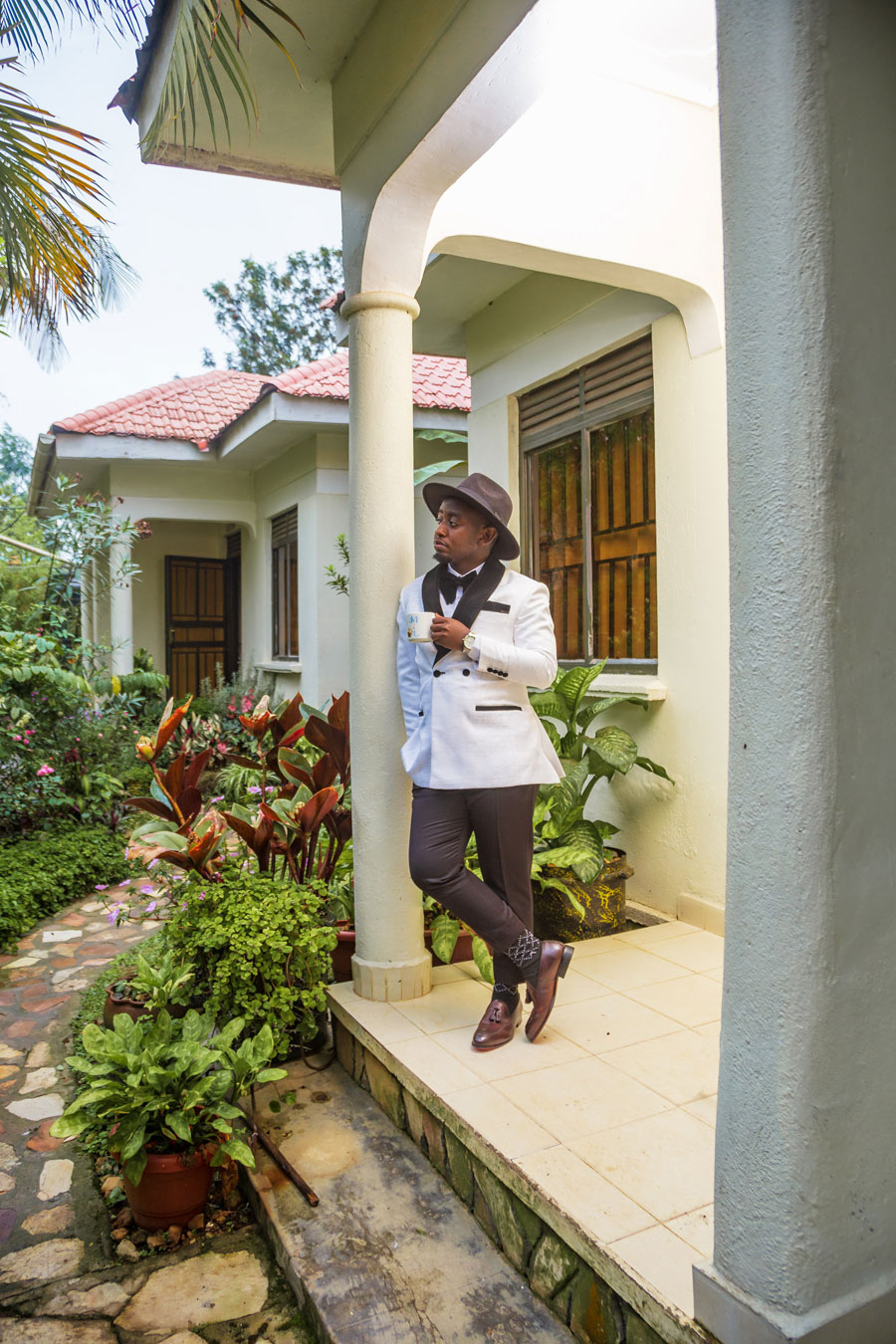 He adds that with just a bit of planning, you will enjoy all the advantages of a destination wedding, which include: having a lot of room for creativity and setting a unique standard, getting less stress especially when you let the hotel handle 70% of the reception items such as food, drinks, service and accommodation, less chances of unplanned guests since every guest would have to travel long distances to your wedding and a lot more room to organize more fun activities such as boat cruises, game drives and nature walks for your guests. Also, there is no need to travel to another exotic location for your honeymoon, since chances are you are already in one.
"In fact your honeymoon starts the moment you say 'I do'." He stresses.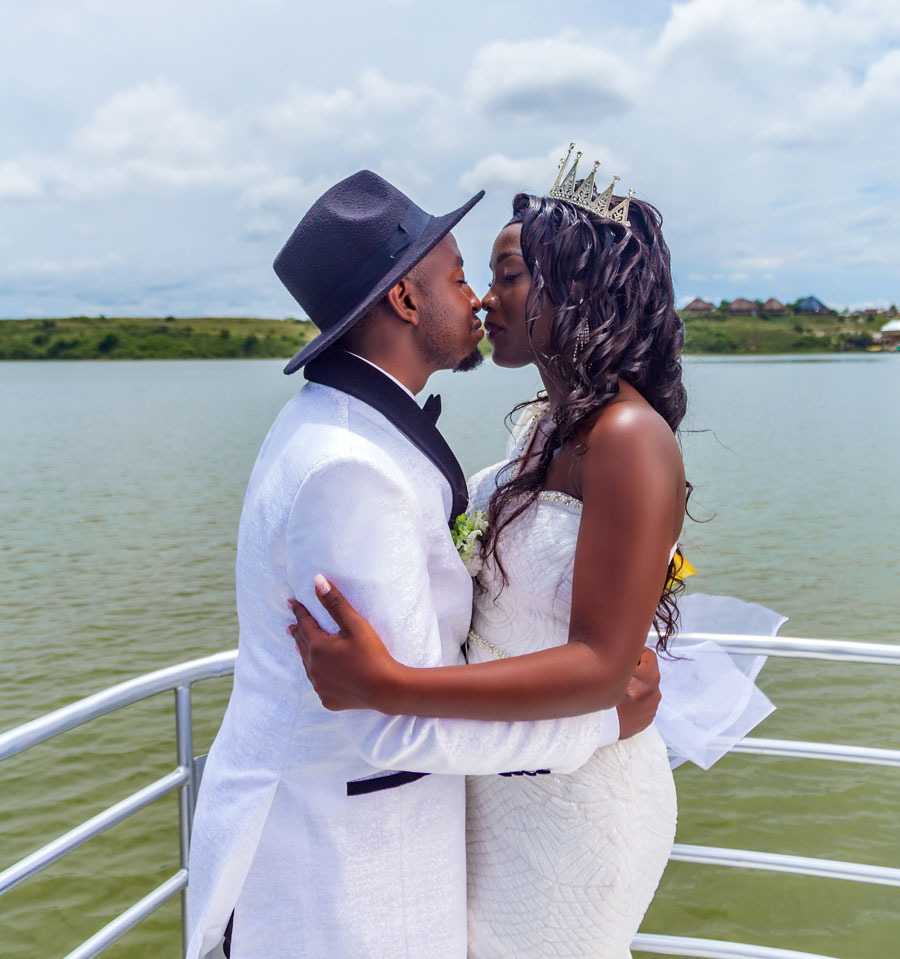 However, the Singizas acknowledge that a destination wedding is not always easy to execute because: most destination weddings are expensive, there are limited service providers to choose from, many guests might not turn up due to distance and tight schedules; for example their guests gave up 4 days for the wedding.
Simon and Daphine Singiza have a final word of advise for you that wants to have a destination wedding,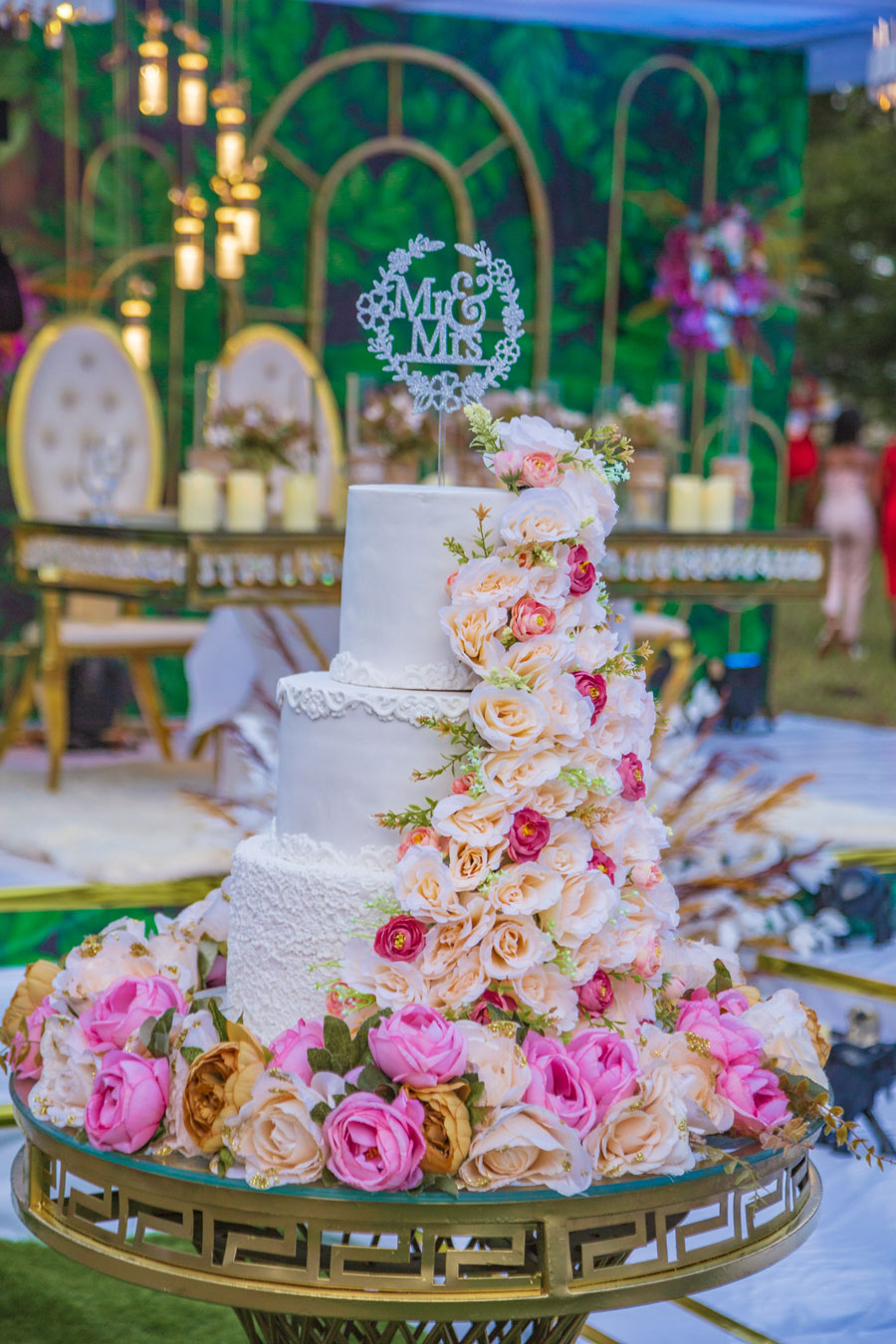 "Chose an affordable location otherwise everything might end up being pricy, try and get as many service providers from around the area to avoid transporting them from elsewhere, keep it simple but classy, arrange different activities for your guests to make the wedding memorable, and finally capitalize on group discounts on accommodation and transport for your guests, even if they will be paying for these themselves. The overall budget mainly depends on how many people you are hosting, but a ballpark of shs. 30 million is enough for a simple destination wedding of about 50 people."