By Esther Nantambi
Solomon Sula Matovu had decided that Nicole Estella Namubiru was going to be his wife by their first date anniversary. He proposed in a private affair. Three years later, on  7th July, 2018, Nicole agreed to join Sula in holy matrimony. Nicole and Sula walked down the spectacular aisle of Miracle Centre Cathedral. There were high ceilings. The piano was playing. People sang. He was marrying his girlfriend of three years, a stunning beauty. Nicole gracefully glided through the church doors. People around her clapped but her eyes saw no one. They only looked at the man at the altar. The man she loved. When they said their vows to each other, she could hold her emotions no more. Tears flowed. He got emotional too but he didn't let the tears flow, well because men don't cry: "My world closed down for a moment when I saw her come towards me. Such beauty! And then she cried. I knew what those tears meant, ahh, it was so amazing.  I can't explain," Sula professes.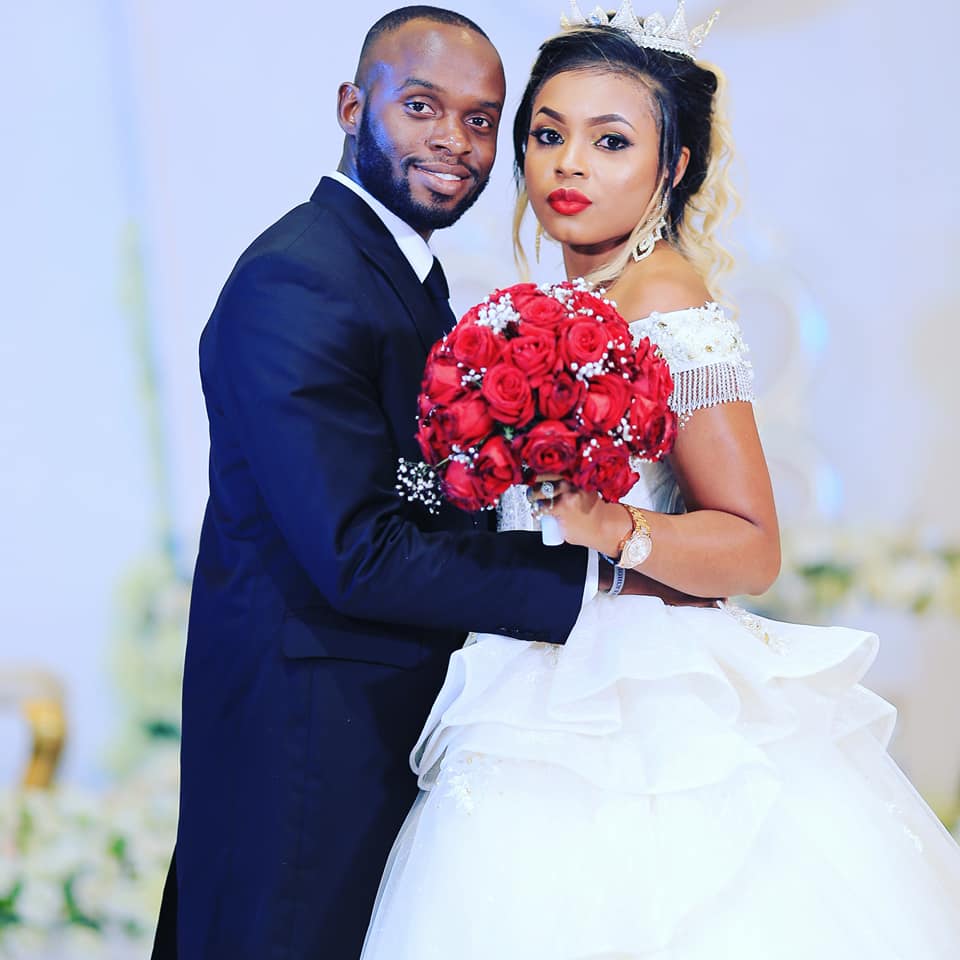 Amidst the emotions and tears, the couple slid their wedding bands on each other's fingers and their love story was sealed. When I reached out to the couple, they were on the plane, on their way to "vacay". They agreed to have an exclusive interview with MyWedding and we bring you their full story.
Sula is a professional football player. He has featured on teams including the Uganda Cranes, Swedish side BK Häcken, Erbil SC in Iraq, and Ethiopia's Saint George. He also played with the South African Kaizer Chiefs, becoming the third Ugandan to play in the Premier Soccer League side after Ivan Bukenya and David Obua.
Nicole prefers to be described first as a born again Christian. She imports clothes from China, Thailand and sometimes Dubai, which she sells on wholesale in downtown Kampala. Professionally, she is a journalist who has worked for both The Independent magazine and Channel 44 in the past.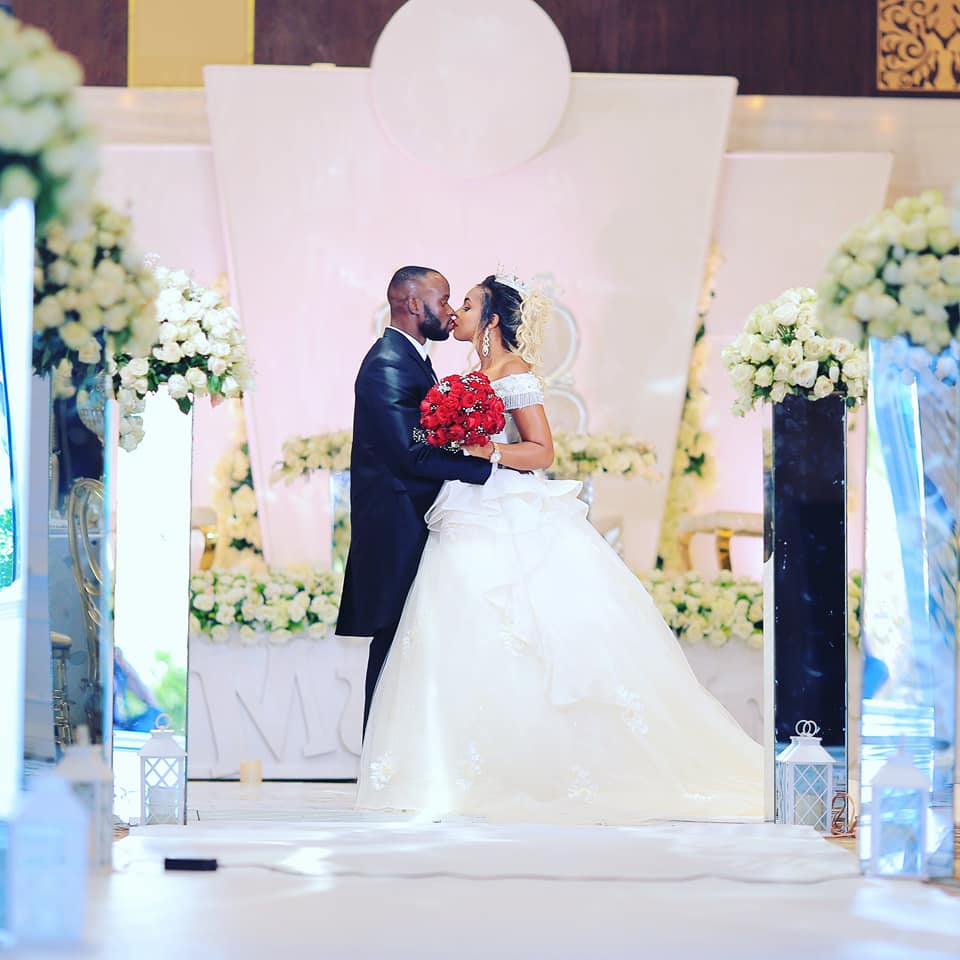 Sula met Nicole earlier during a hang out with mutual friends. They became friends too. He had been checking her out for a while, taking her for coffees, lunches and dinners but you know how it is when you hang out with a woman you like; you first keep it under your hat and on dates you go. He found her very fetching, very stunning but then, you want a girl that's more than beauty. When Sula saw that she was humble, insightful about God, principled and mature for her young age at the time, he fell in love with her personality. And then there was her very funny and charming laugh. He enjoyed it too. Immensely. "I connected a lot with her and I fell uncontrollably in love with her," Sula confesses.
Although Nicole turned down his request to date at first, they stayed friends. They still went out for their coffee and dinner dates, and one day, when the chance presented itself, Sula moved in for the big score.
"On one of those evenings I noticed she was getting fond of me and I knew this was the right time to state my request again. I knew she was in love with me too but maybe she was afraid to give in too much so soon. I could see it in her eyes. She later confessed to me the same," Sula tells.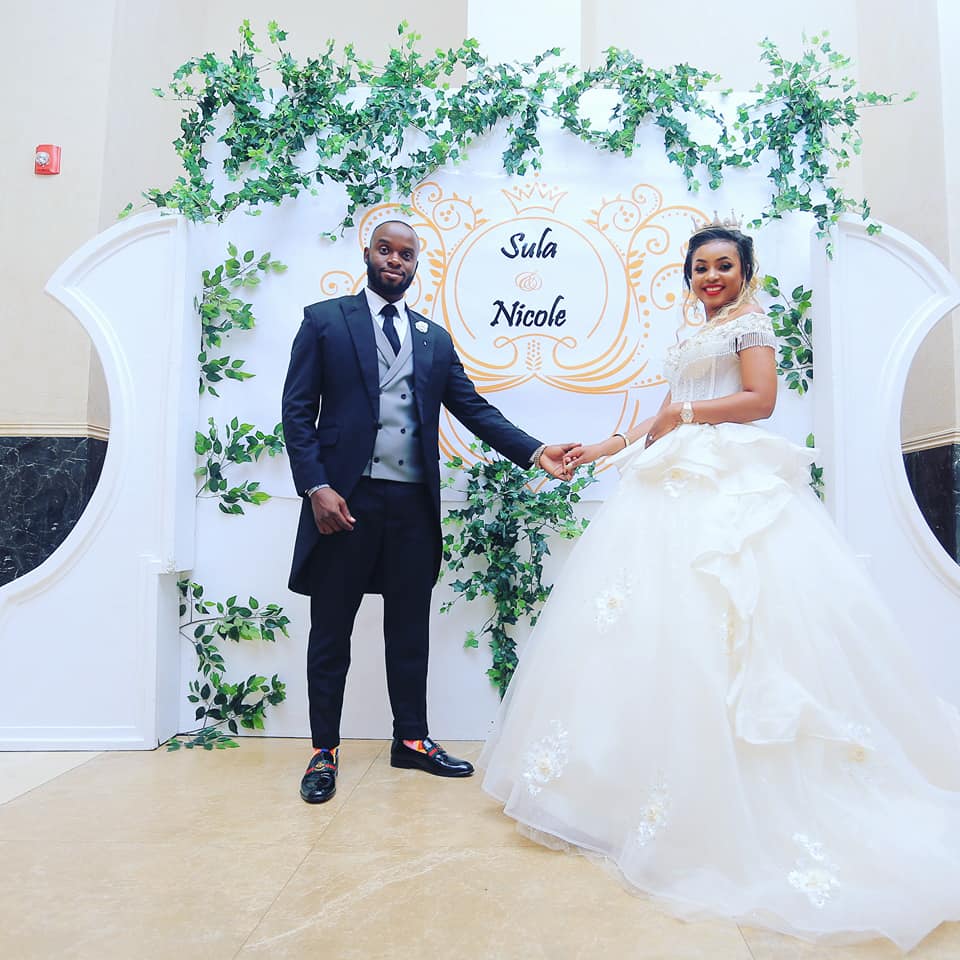 The couple tells the rest of the story in their own words.
How did you change your mind towards dating him?
Nicole: Well, with time I found out he was a very good person. We have the same principles and every single time with him was magical and he has such discipline.We are friends, partners, and lovers. We love travelling together out of the country "We enjoy time spent together. When we travel to a new place. That's my best time. We are in a foreign land, the people don't know us. It feels like it's just the two of us in the world. We enjoy each other in and out of home.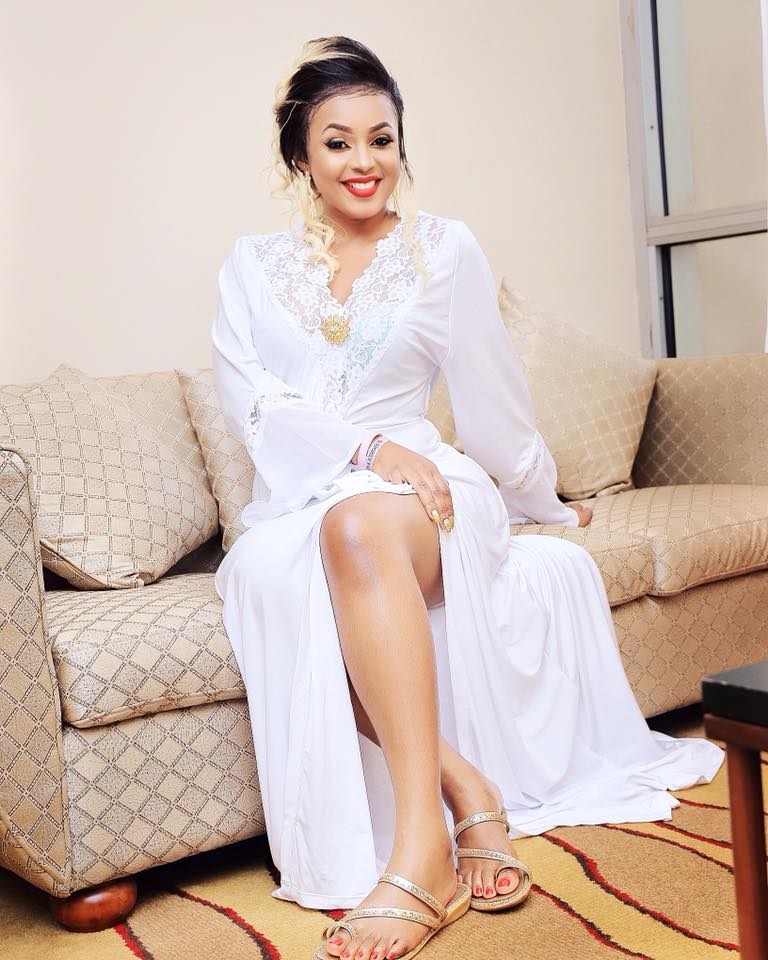 All indeed looks magical, do you have some things that make you mad about each other?
Sula: Nothing really she is a sweetheart. Ohh, she's slow sometimes.
Slow? What do you mean?
She does things at her pace. Like she spends a lot of time in the mirror even when we don't have much time and are going somewhere. That gets to me sometimes.
Nicole: What drives me crazy about him is actually within his strengths.He is extremely disciplined. That drives me crazy. Once you have a plan, you better not deter from it! When you have to be somewhere at a time, then you should be there by the dot. We are not programmed machines.  Sometimes I just want to put on my makeup. [Laughs]
Tell me about your wedding dress. Why did you choose that particular wedding dress, what did you consider?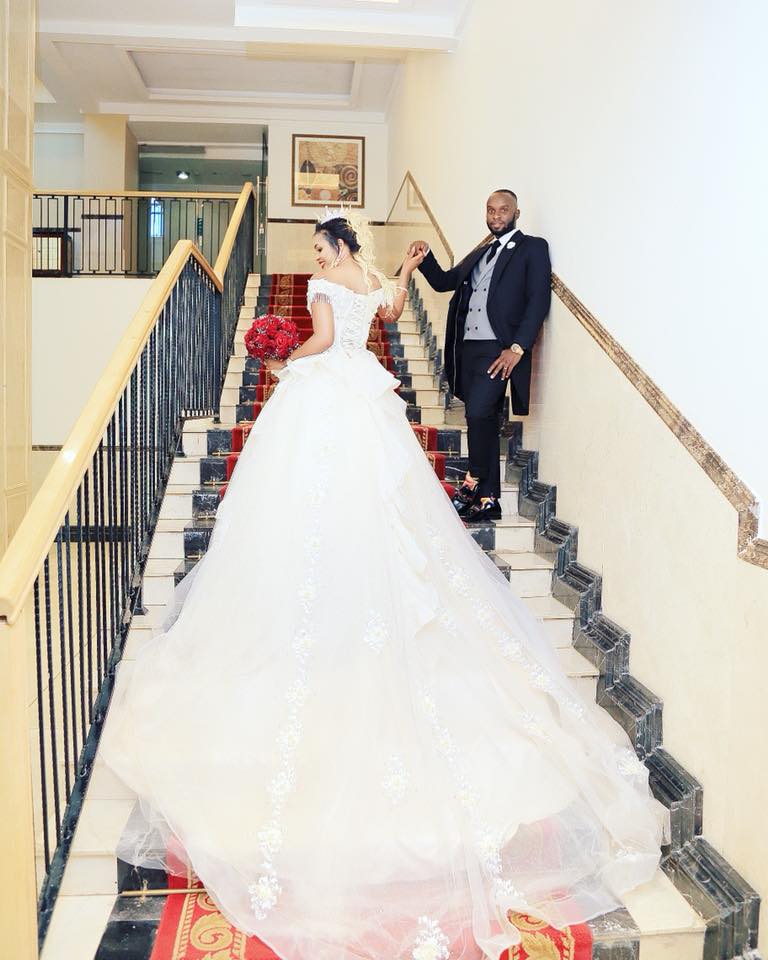 I bought my wedding gown from China. I did not want a snow white gown so I went for something with a "peachish"/ "creamish" detail to it. I also knew that I wanted a Cinderella gown so when I went to shop that's what I got.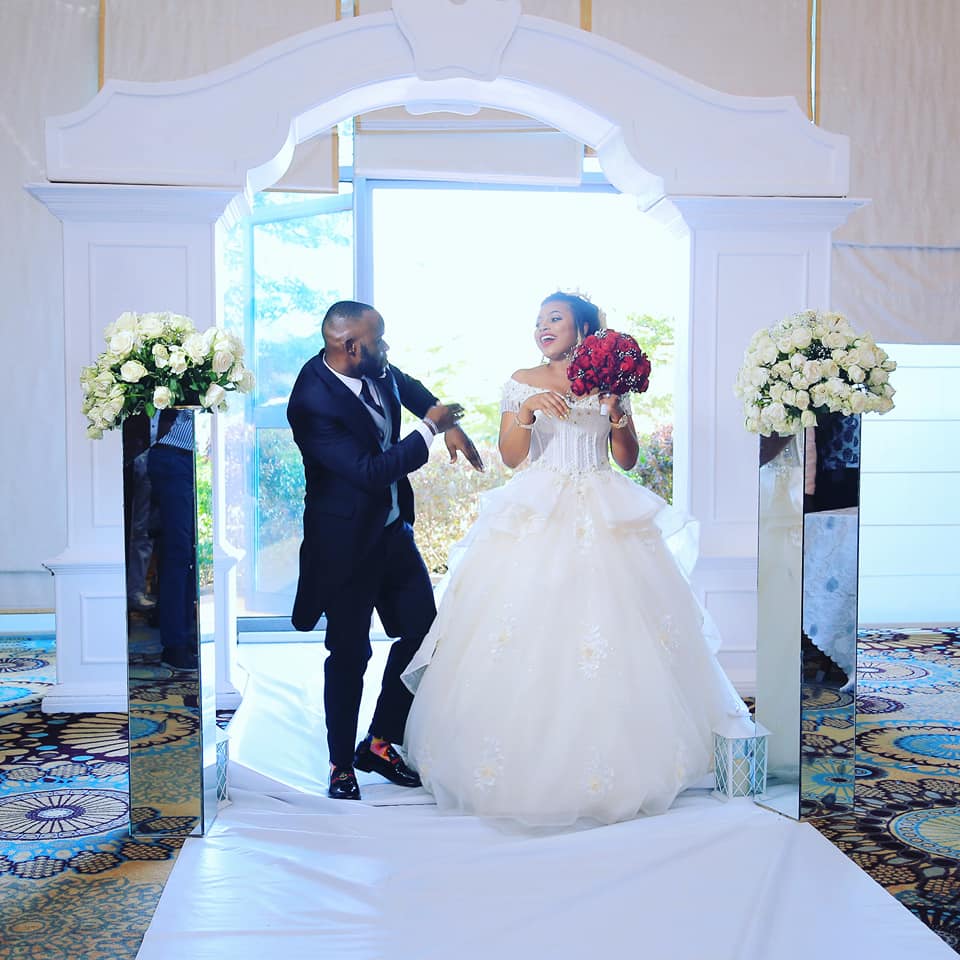 It's a beautiful gown. At how much did you get it?
The gown was Shs3.5 million.
Why did you choose blond hair? That is very unconventional.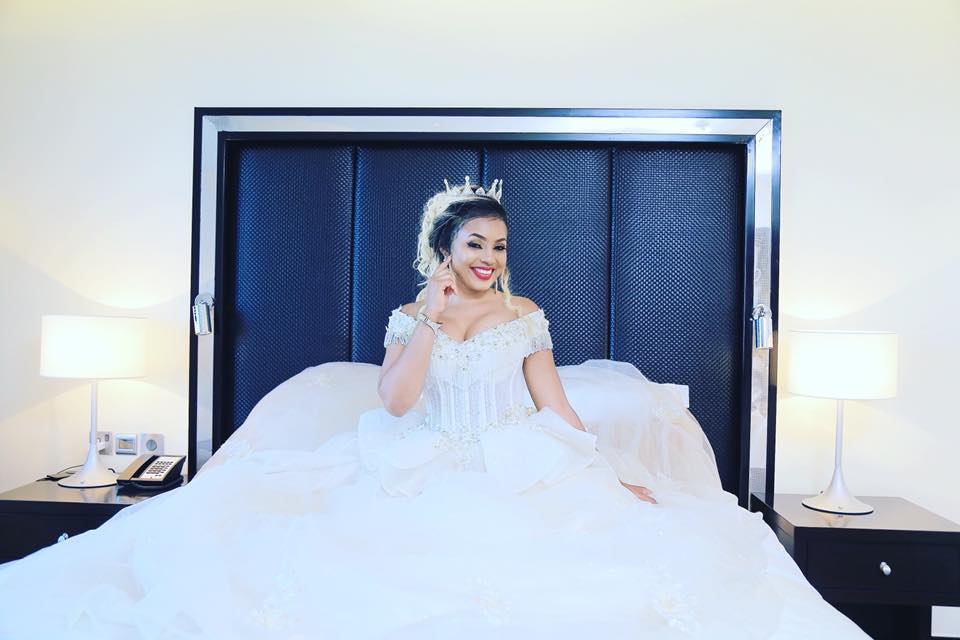 Nicole: Well, I was definitely gona go blonde. I love blonde hair so I threw in some highlights.
How did you choose colours for your entourage?
Nicole: We mostly choose according to the colours we love. I particularly love nude.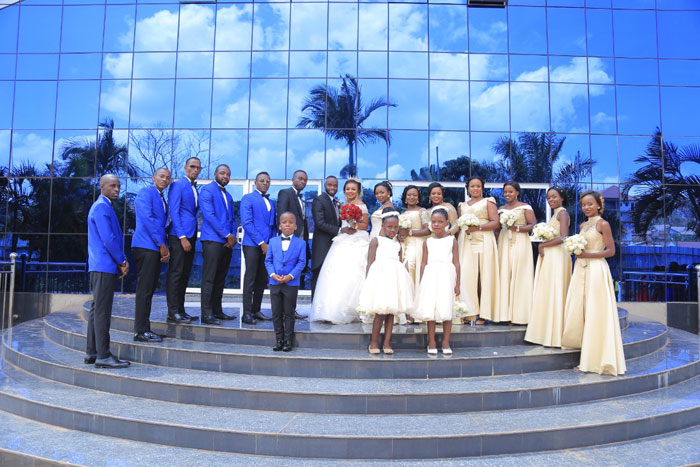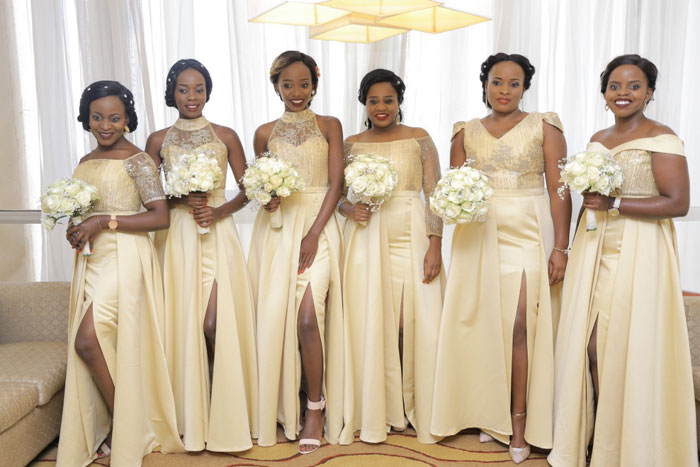 Your cake was a beautiful. Where did you get it from and at how much?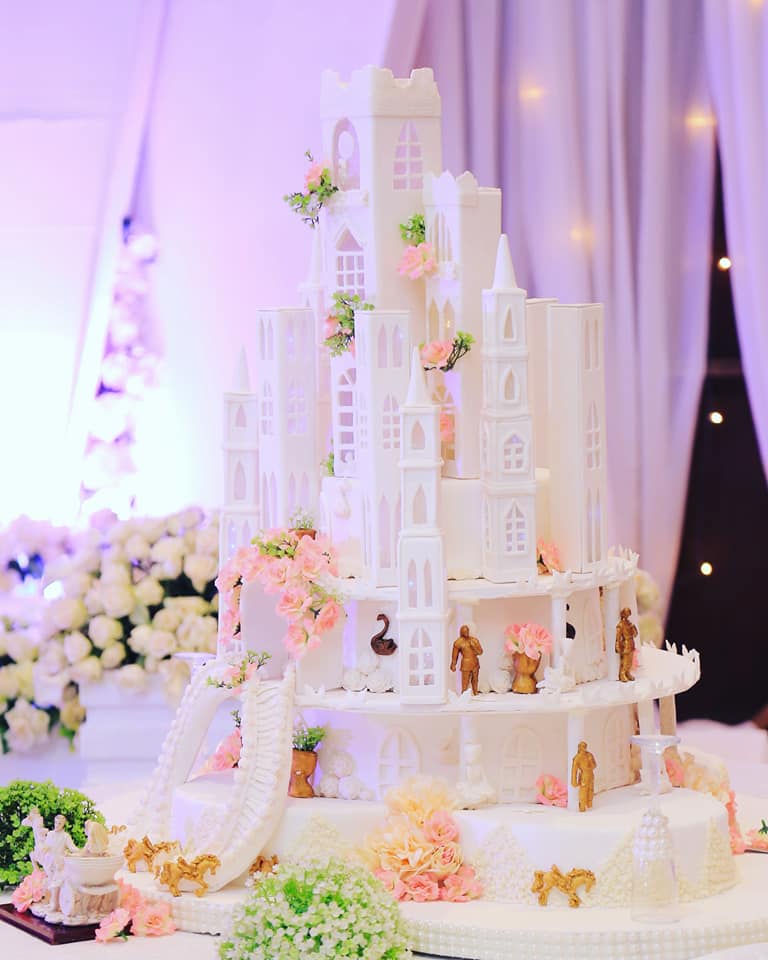 My cake was made by Sheeba's palace.
Was it real to the least detail?
Nicole: Yes, most definitely! All those high points on the cake were made by icing sugar. It was a fruit cake and tasted nice as well. I still have it at home. It can last a year. The older it gets, the better the taste. Oh, plus she put lights inside the cake. It looked heavenly.
Why did you choose a castle for a wedding cake?Nicole: I wanted a bit of royalty for my wedding. In my head, I felt like me and my man had had a fairy tale [giggles]. It was a dream come true. I was getting married to the man I love. I wanted the castle cake and trusted that my service provider would pull it off.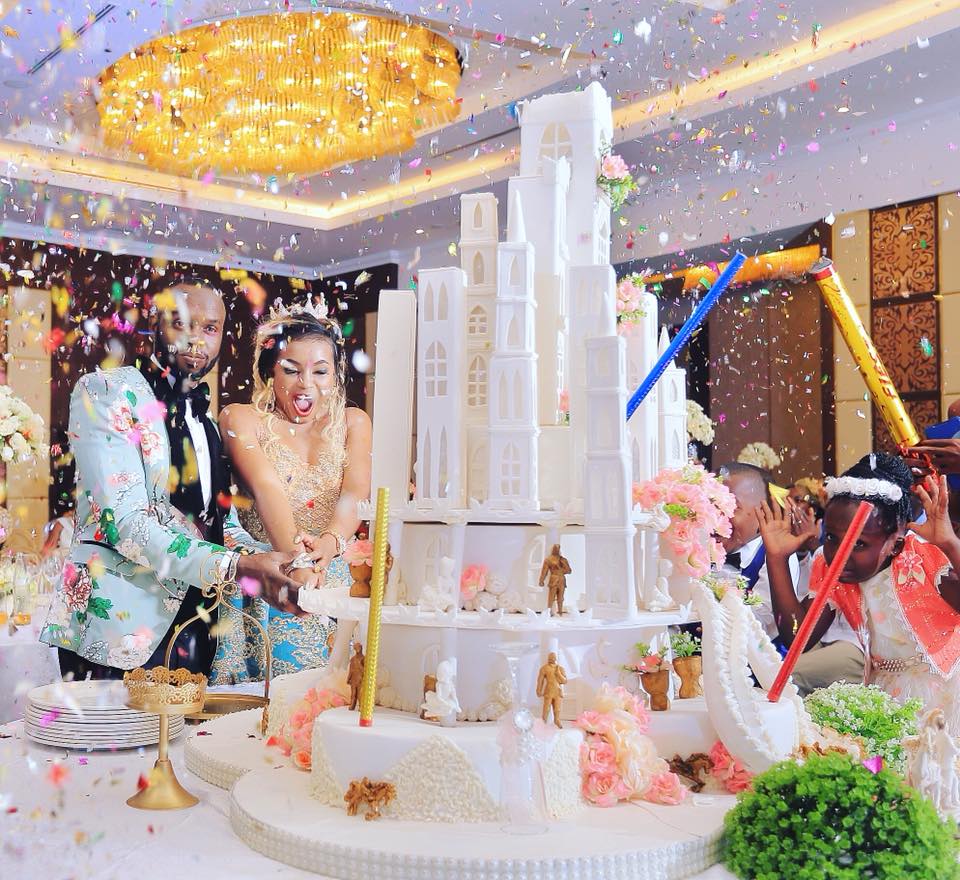 How much did it cost?
Nicole: shs4 million. She gave us a good price. We are good childhood friends.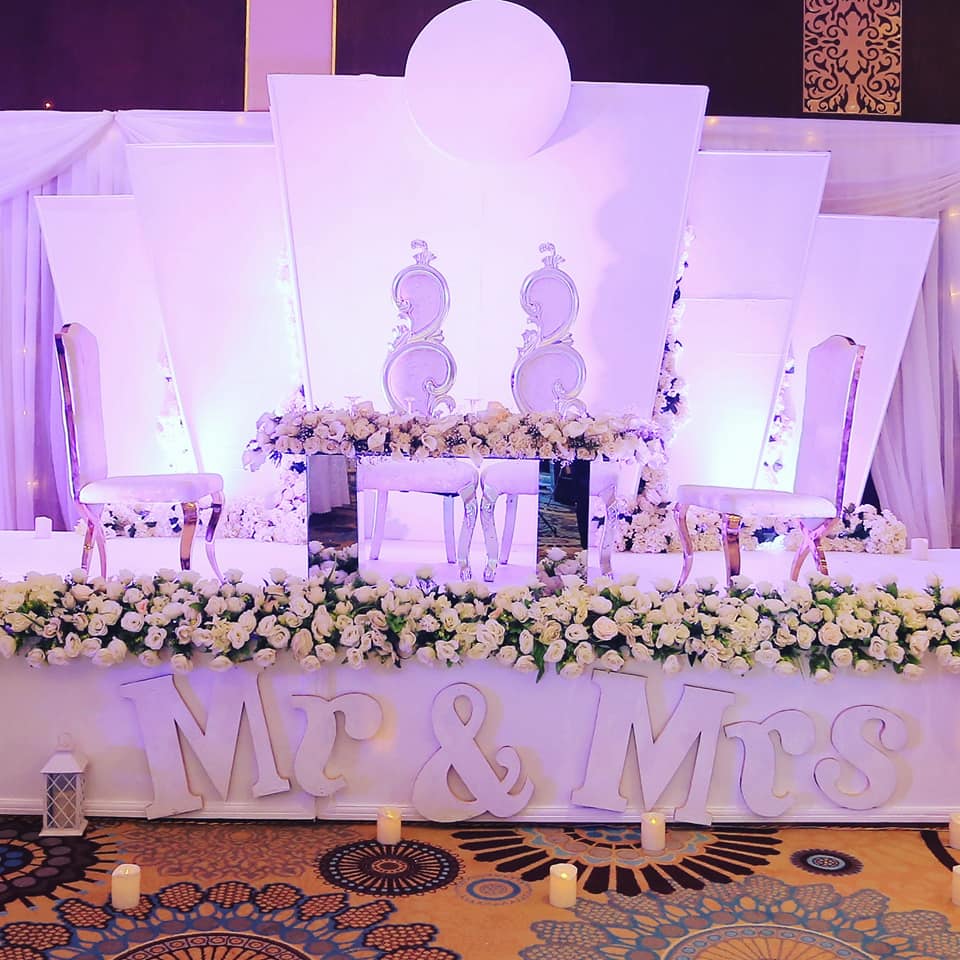 Who made your décor?
Nicole : Suki events.
It looks beautiful. How much did it cost?
Nicole: Oh, I am not comfortable pricing every item.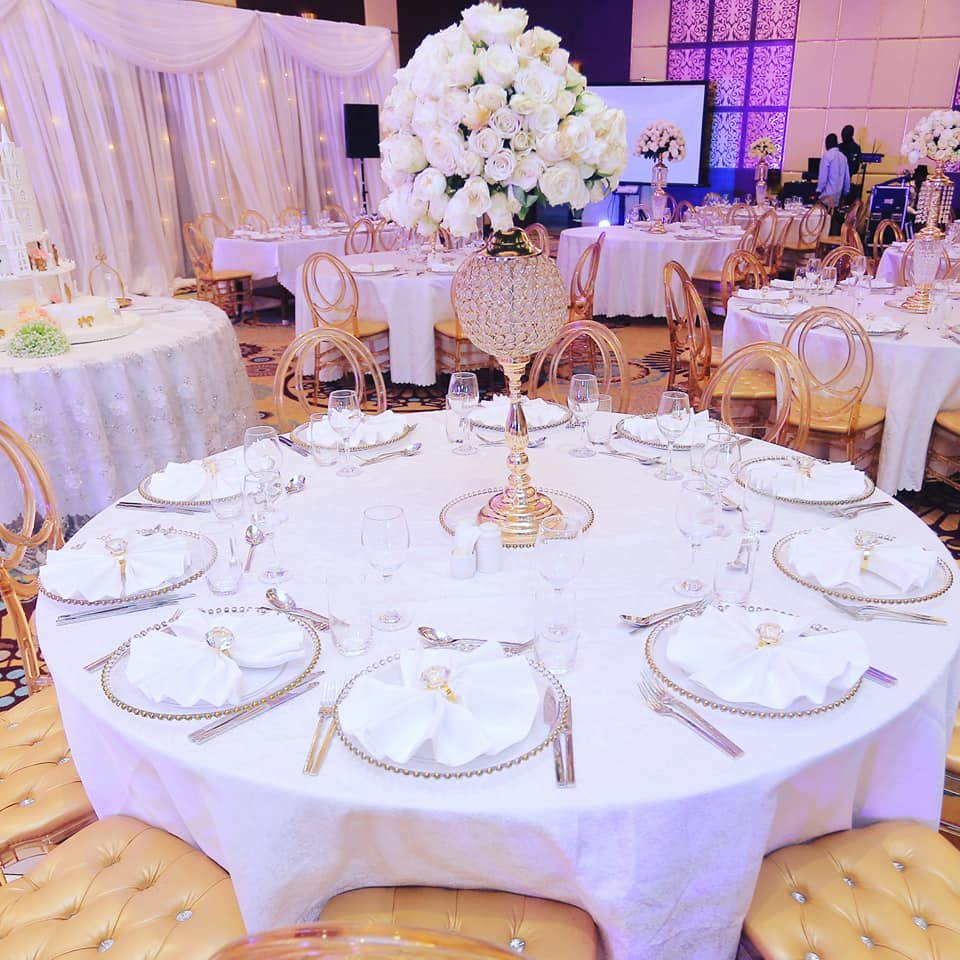 But that's the first question that anyone seeing it will have.
They have the name of the service provider. They will go and check out their different packages.
The groom.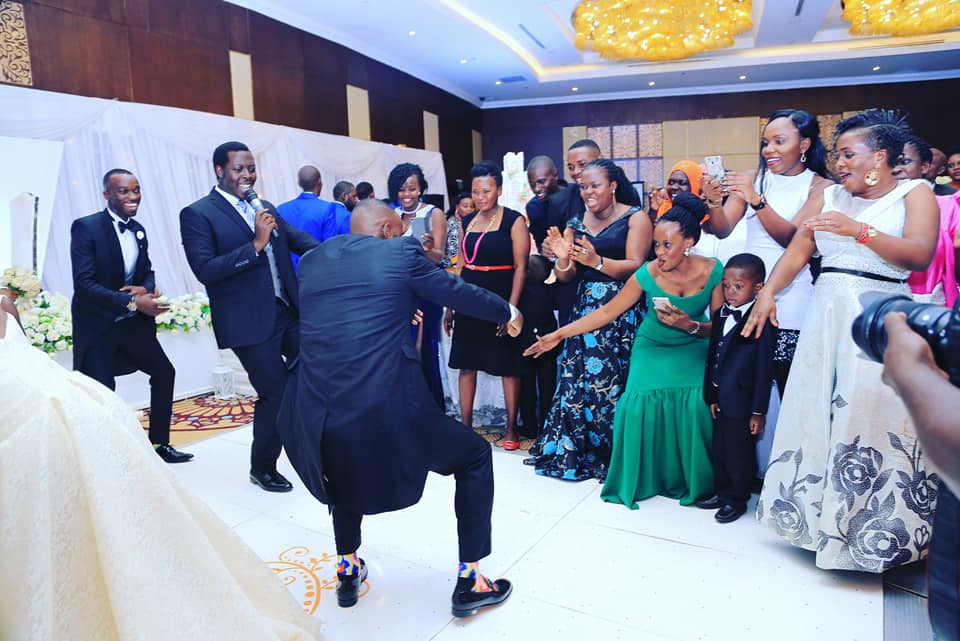 Sula, the first thing I noticed about you were your happy socks! What was the inspiration behind them?
Sula: Never thought much.
 Really?!
Sula: I just wanted happy socks and Gucci shoes and that's what I got.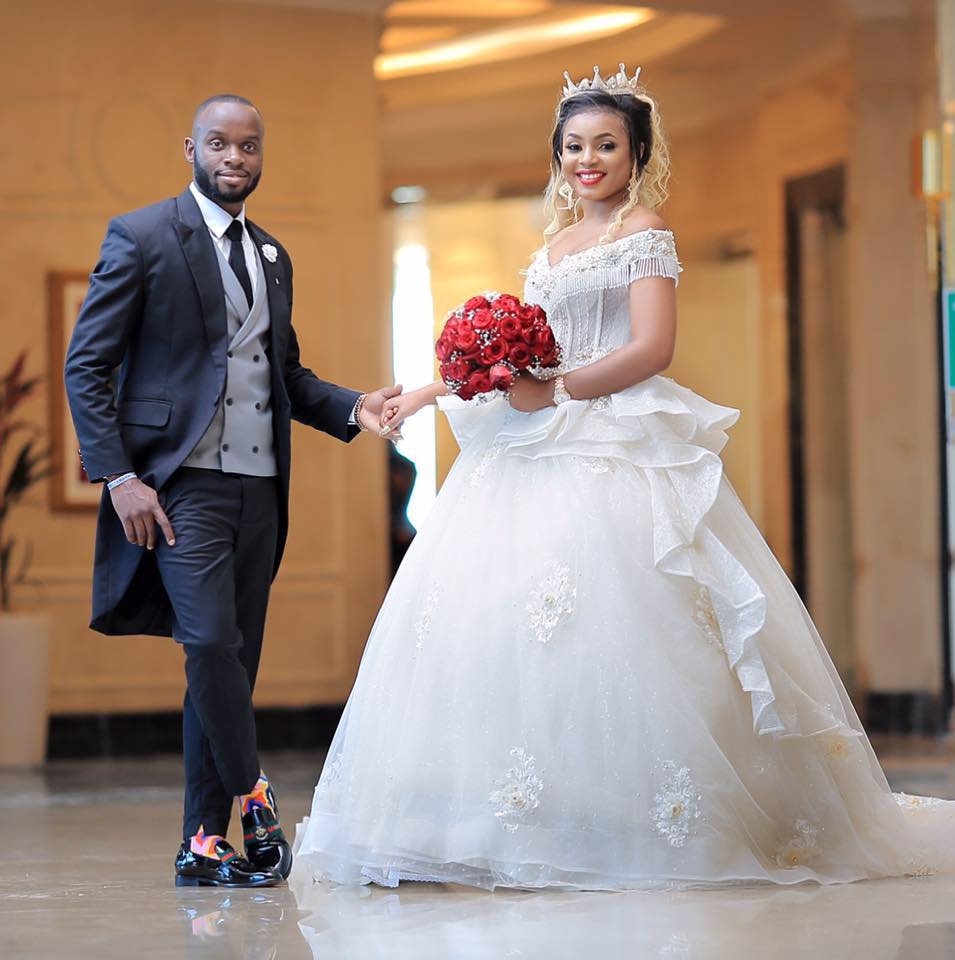 And the suit?
It was inspired by David Beckham's suit to the royal wedding of Prince Harry of England and Megan Markle as you may have noticed.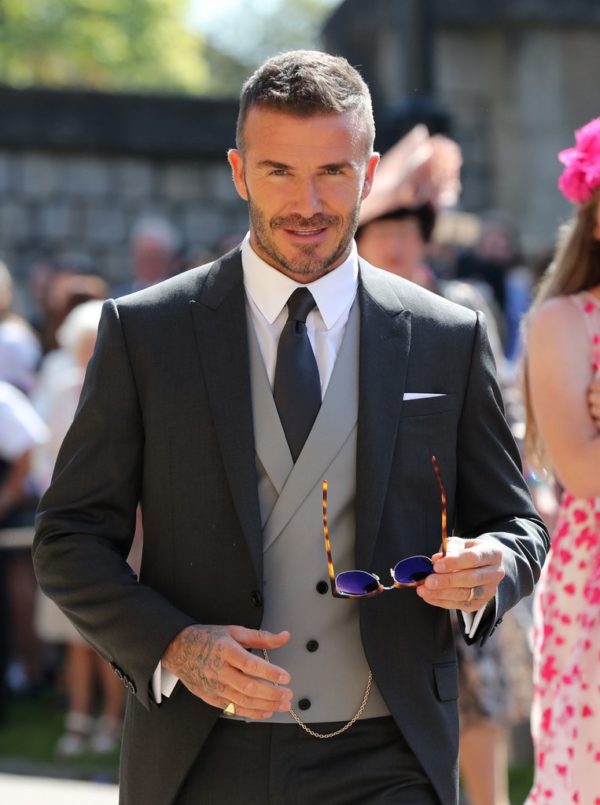 Where did you get it from?
Sula: It was custom made by The Creative Hub.
What advice do you give a person  who also want to get married and make a grand wedding like yours?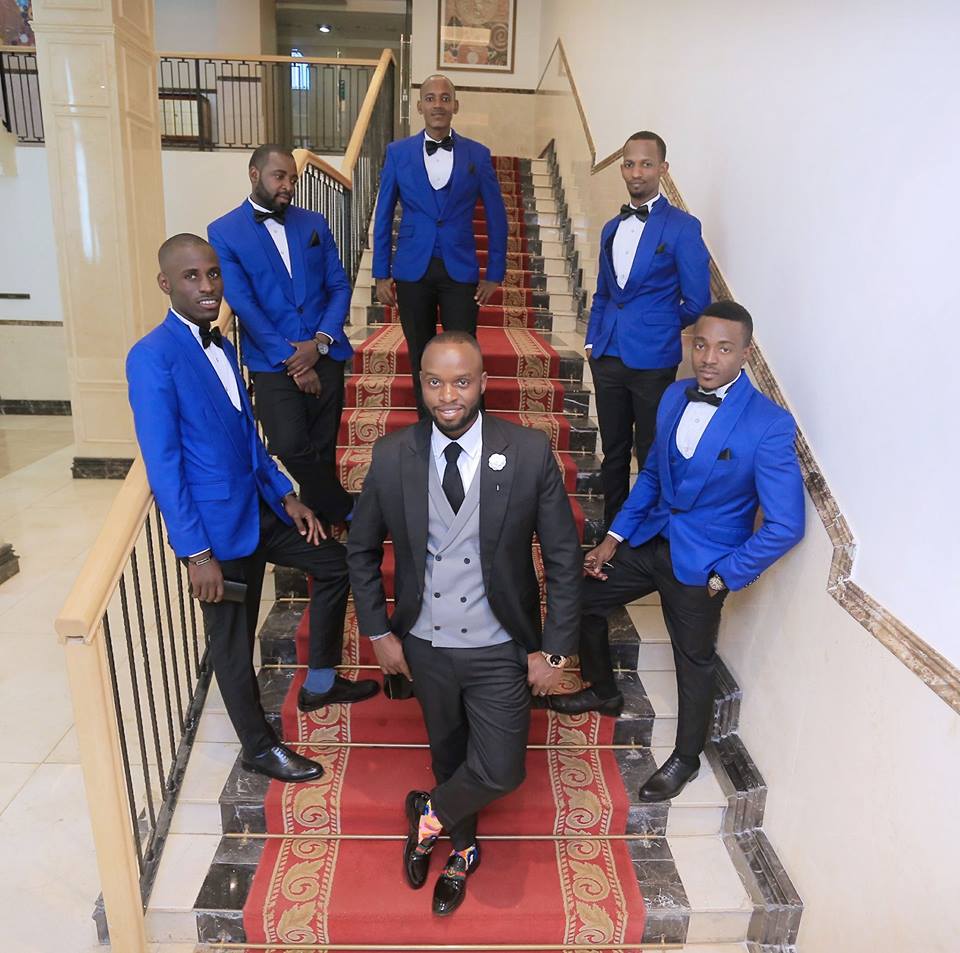 Sula: Men should always look out for a woman who has values and loves God genuinely.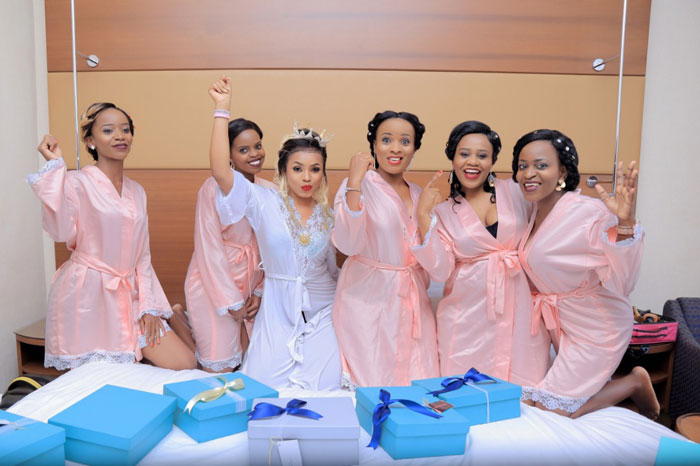 Nicole: Trust God. Trust His timing and trust the one he picks out for you. Don't rush anything. At all stages trust God.
From My Wedding Team, we wish you a happy marriage