Celebrated radio presenter, Marcus Kwikiriza exchanged vows with  three year  girlfriend Lois in a simple but colorful ceremony beach party on Saturday 13th October, 2018 in Zanzibar.
The function was which attended by  by Stanbic Bank Managing Director Patrick Mweheire, NBS TV CEO Kin Kariisa, Uganda's Ambassador to Tanzania Richard Kabonero, businessman Bob Kabonero, Susan Muhwezi, Gaetano Kaggwa among others.
After the ceremony, guests were treated to wines and whiskies at the plush Diamonds La Gemma dell'Est in Zanzibar.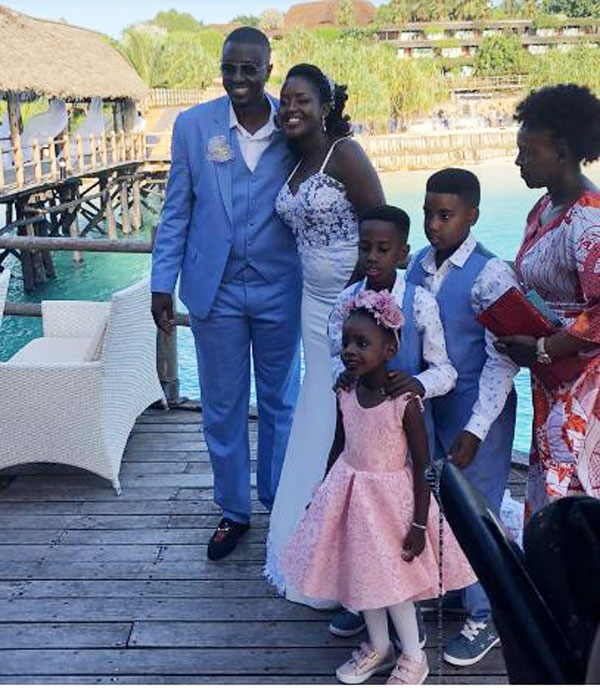 If like Marcus, you  decided to have your dream wedding abroad. How do you make sure everything goes smoothly? To ensure that there is no disaster, here are a few things you should keep in mind.
If you use the services of tour operators or destination wedding co-ordinators, they will worry about at least some of these things for you. If not, it helps to appoint a trusted friend—perhaps your maid of honour—to help you take care of these critical points. Whatever the case, we strongly recommend exhaustively researching your destination as a first step. You will want to know what to expect in terms of weather, food, culture, language and everything else before you invite an army of your friends and relatives there. In addition, keep in mind the following:
• Your passport should be valid for more than six months from your intended date of travel, to be on the safe side. Make sure you understand and satisfy any visa requirements—as well as notifying your guests, if you're going to have them, well in advance.
• Consult the country's embassy or consulate for information about the legalities of getting married there. Make sure that your marriage abroad will be recognized in Uganda. Also find out if there is minimum residency stay (or other requirements) before a couple is allowed to marry there.
• Check into whether your documents will need to be translated in that country's official language. Also, if your wedding certificate is in a foreign language, you may want to have it translated. You may also need an interpreter for your vows!
• Ensure you know well in advance whether your country requires or recommends certain vaccinations or medications (remember that some must be taken days or months in advance of your visit.) Note that some countries require proof of certain vaccinations for entrance. It's a good idea to take along a first aid kit as well with basic medications.
• Get travel insurance and know how foreigners can best access currency in your chosen country. Make sure you carry enough cash for contingencies and carry it somewhere safe. In case of emergency, you don't want to be stranded in a far off country!
• If you hire a wedding planner in the country of your choice, be cautious. Many such service providers can be contacted online, but fraud is rampant.
Check their credentials and ask for references. You don't want to lose your entire wedding budget to a con man!
• The golden rule of weddings abroad is to plan early. To avoid mishaps, get written confirmations or contracts from all your service providers from your hotel to your DJ.
• Don't forget the camera!