Shanitah Kyewalabye, a house wife introduced the love of her life, Stephen Mbidde, a programs producer at KFM, Nation Media Group (NMG) Uganda  to her parents in Mwelwelwe off Semutto road. This was after a period of four years. The couple has been blessed with two beautiful children and to them, this gave their relationship  meaning. Unlike many functions, no mutwaalo (bride price) was asked of Mbidde in the letter from his father in-law.  Christine Katende captured the details of what happened on the introduction day and how they managed to make it a success.
Traditionally, the consent letter indicates the kind or how much the bride price (omutwalo) should be but the one you were given didn't. How did that happen?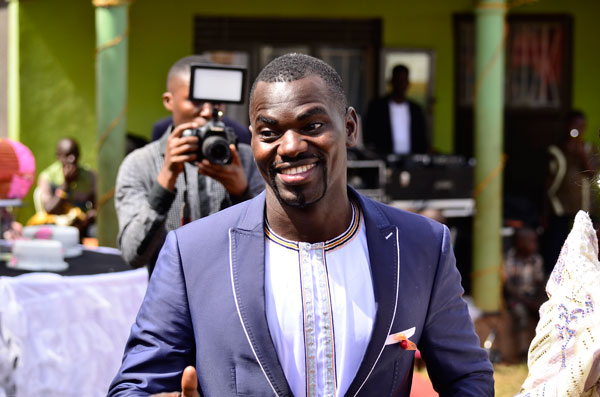 Stephen: I sincerely can't tell why it wasn't indicated. But unlike some families where the man is put under pressure, Shanitah's family has been too good to me. I was never put under pressure after the initial visit (kukyala). When we slated the introduction date, they were happy and very ready to receive me. Because I was so close to them, her father did not know what to ask for given the kind of relationship we have. It's then that they held a meeting to discuss the issue of bride price. According to Shanitah, one of the family members suggested that maybe I take a flat screen (television) but this wasn't written or specified in the consent letter I received. It's like they gave me a chance to choose what I thought was befitting. I ended up taking a flat screen television as bride price (Omutwalo). The fact is that they did not want to burden me; they were very ready to receive me with anything, something unusual in many families. I also gifted her grandmother with a sofa set, dining table and a water tank.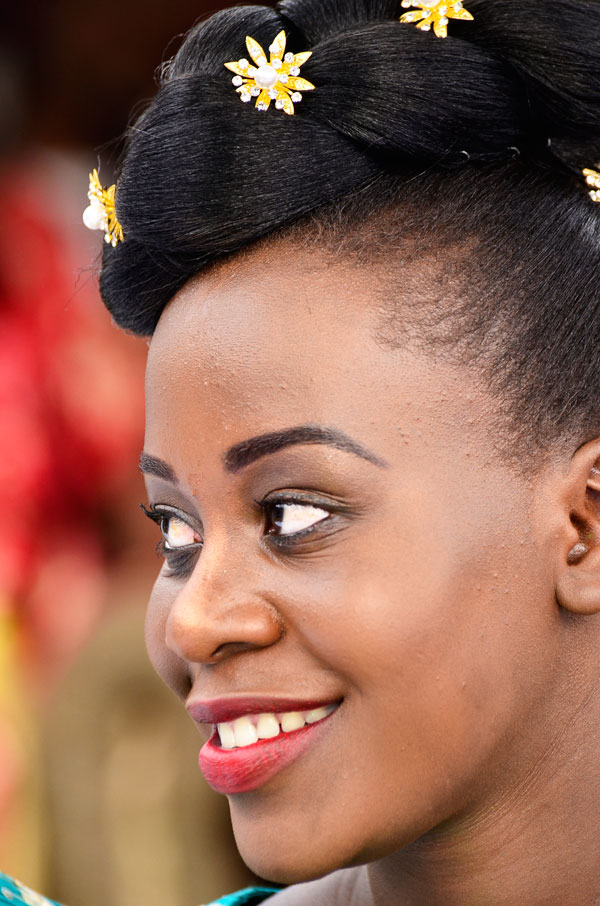 What signifies that her family consented your staying together?
Stephen: As it is in church, we also signed a certificate that certifies our marriage traditionally or customarily. We had a traditional marriage were her parents, her auntie, I and herself signed. It is that certificate that will be presented to the church as we intend to wed. We can also present the same certificate because our marriage is recognised by the law.
Tell us about how you met Shanitah.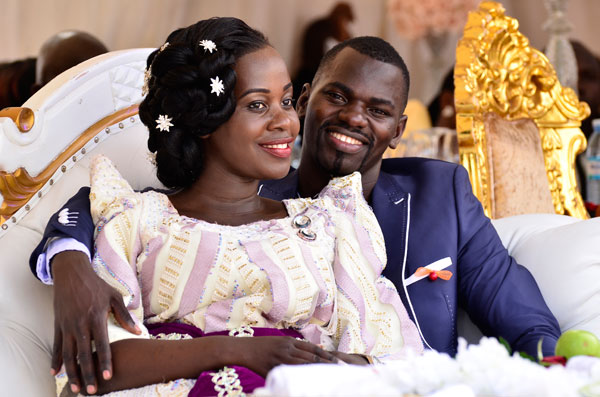 Stephen: I met Shanitah in August 2014 at my place of work. She was among the young beautiful hardworking and intelligent girls that had turned up for the KFM radio promotion that ran for one and half months. We worked together closely for some time, but the more I interacted with her, I realised she was the woman who would be my wife. I fell in love, she was so different from the rest.
Shanitah, what was your reaction to his vibe?
Shanitah: He changed the mentality I had of all men being players and I realised that he was a Seventh Day Adventist just as I am. That and many other things I noticed during our conversations changed the way I felt about him. He then proposed and asked to meet my parents, something no other man had done for me. This showed how serious and determined Stephen was to love me. Also that stimulated my feelings for him to-date.
What do you love about each other?
Shanitah: He has a very good body. I loved the way he treated me. Stephen would cook for me and wash utensils something uncommon in men. Most men would want it the other way round. Stephen is indeed special.
Stephen: Shanitah is developmental, punctual, resilient, hardworking, committed and beautiful with sparkling eyes.  I also appreciated the fact that she is a Seventh day Adventist.
When was the kukyala?
Stephen: It was on March 1, 2015 and it's when she moved in with me.
How has it been like the four years you have stayed together?
Shanitah: We have been able to expand our house and put up rentals which has increased our income. We are planning to construct another building.
Stephen: The four years have been years of development, God also blessed us with two children Sunshine Sydney Mulungi and Shiloh Sky Kwagala. And the fact that we have kept in love and understanding each other, I give the glory to God. I am also happy that we managed to have our introduction.
What has challenged you most during this period?
Shanitah: The only challenge is my son falling sick, we have been in and out of hospital but I thank God he is now okay.
Stephen: Dealing with people's perceptions has been challenging but we normally ignore and move on for we know what is on the ground. The other terrible challenge was when our son fell sick a week after he was born. It was so tormenting but I thank God for providing money for his treatment and the courage for us to endure, he is now okay and we are living happily.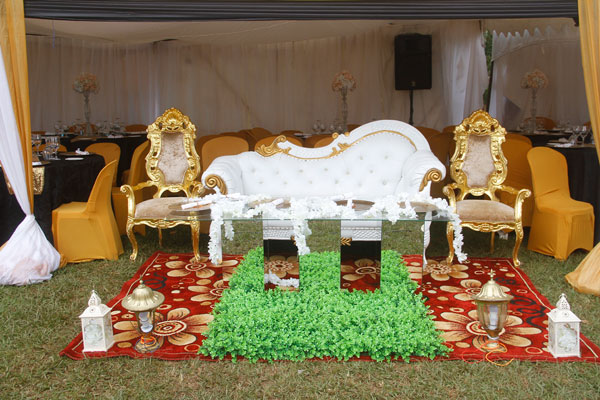 How was the D-day?
Shanitah: It was massive, I loved the decor, my outfits, and the weather, it was so cool.
Stephen: The weather was okay. I loved the food, entertainment, the guests were smart and the decoration was so beautiful. I also loved the fact that my bride looked so beautiful, I liked her outfits, she was so elegant. Sam Gombya was also there to entertain the guests.
How did you manage time given the fact that the people you had to travel with were coming from different places?
Stephen: After agreeing with my father-in-law that the function was to be between 12pm and 6pm on Sunday, I collected all the gifts and kept them in one place. We wrapped and packed everything on Saturday awaiting travel on Sunday. The following day (D-day) we started loading the vehicles by 7am. I also requested the people I was going with to be in Matugga (meeting point) between 10.30am and 11am, which they did. It was a few minutes' drive to Shanitah's home from our meeting point. Our function ended by 6.30pm.
Who did you choose for the decoration and music?
Shanitah: Sophie Gombya was in charge of the decoration, she charged me Shs3.5m. The music was by Sound Kings at Shs700,000.
What do you attribute the success of your function to?
Shanitah: Having the right service providers and good people around me contributed much to the success of our function.
Stephen: I was determined. I also started clearing and depositing on different items I had to go with ahead of time. We identified some trusted people where I deposited money in the early days. We had covered almost 80 percent by the time we shared our intentions to friends and other family members. The preparations we made internally of  getting the right service providers like the decorator, music, the cultural performers and the food made our function successful.
What challenged you most during the preparations?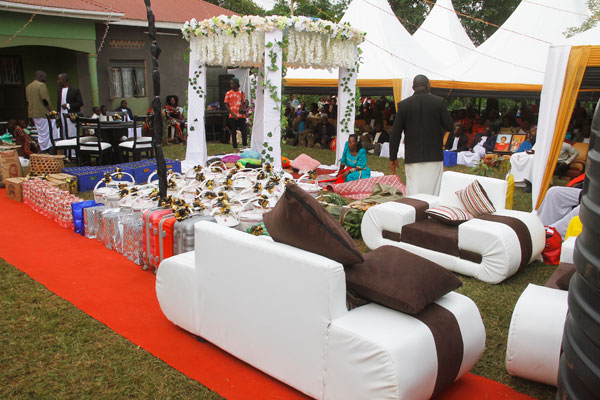 Shanitah: I remember getting messed up by one of the people I approached for gomesis. The lady selected nice gomesis, but they did not match my complexion which she did not tell me. I deposited Shs500,000 (hiring) but fortunately when my makeup person requested  to see them, she advised I get others because what I had chosen earlier could not work for me. I had to look for other gomesis from Kushona Fashion Designers where I hired two nice gomesis at Shs300,000 each. These are ones I used at the first and second coming-out.
Stephen: The toughest challenge was keeping my wife on track because there are times she felt things were getting tough but I had to always come in with words of hope and encouragement given the stress she had. I was very sure we would pull it off because we serve a living God.
How many preparation meetings did you hold?
Stephen: I did not hold any introduction meetings but God helped us manage. My friends and family supported us a lot. Apart from a few instances where I had to go fetch the money from different individuals, other people sent in their contributions through mobile money or through a friend especially my place of work.
Where did you get your kwanjula attire?
Stephen: I agreed with my best man Herbert Zziwa to make special orders for the kanzu's at Shs150,000 each. I had a new pair of shoes at Shs80,000. We also decided to hire the suits from Kushona Fashion Designers at Shs180,000 each.
How did you decide which emcee to represent you?
Shanitah: I liaised with Rev George William Mayanja who connected me to Fred Kasasa, he charged us Shs400,000.
Stephen: I knew Rev. George William Mayanja and I had seen him at a friend's function, he was so good which prompted me to take his contact. He also has a very good command of Luganda. He is well versed with the Buganda culture, religious issues and very humorous. He charged me Shs350, 000.
How did you choose what to wear?
Shanitah: I had three gomesis and a changing dress. Cream and purple, gold and green, and a hot pink dress for cake. I however considered my skin colour complexion. I am dark skinned so I couldn't have something too bright or dark. I also never wanted to put on colours most brides have worn especially in the recent past. And since the gomesis could cover my feet, I decided to have one nice pair of shoes which my makeup artist bought from UK at Shs150,000. This one pair of shoes blended well with all the gomesis and was very comfortable. I actually had different hair styles per outfit.
How much did you spend on the salon? 
Shanitah: I was charged Shs700,000 for both makeup and hair. The lady changed my hair style three times.
How did you blend the jewellery? 
Shanitah: I did not have jewellery because it is not allowed in my religion. I was however advised to blend the body hugging changing dress with some jewellery that my auntie gave me as I prepared to move out.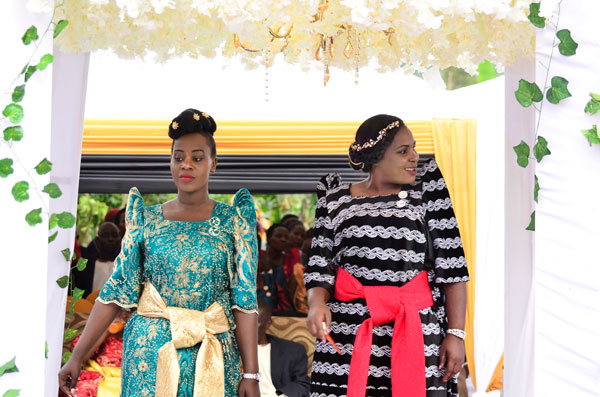 Who was your maid of honour? 
Rose Najjemba was my maid of honour due to the fact that she is mature, and has been there for me. She is also a long-time friend. She is among the very few friends I have.
How did you choose who to invite? 
Shanitah: I invited my friends. My grandmother also invited everybody she thought would support her financially. It's only my father who printed cards, saying he could not invite his workmates verbally.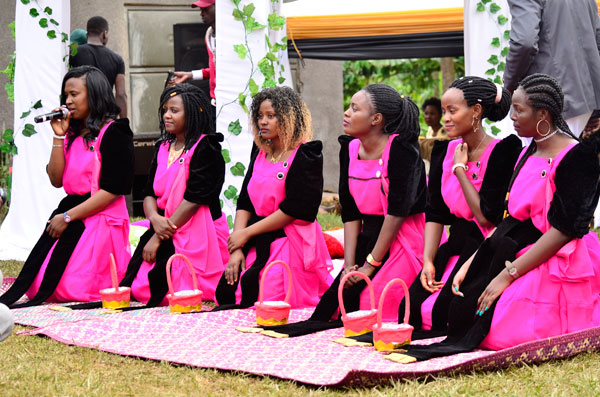 Now, when are you planning to wed? 
Stephen: We plan to have our wedding two years from now. It is because we want to have it as a mega function and this needs good planning.
What was enclosed in her suit case? 
Stephen: A watch, perfume, chocolate, a handbag and a gomesi. I accompanied all that with a sweet letter.
How are you going to keep your relationship going strong? 
Shanitah: Putting God amidst everything we do. Invest more especially in real estate. I am going to love him more and take care of my children. I pray no one comes in to disrupt our happiness.
Stephen: I am planning to give her more time especially when children start school. And that's the time she will resume work because we had initially agreed that she stays home and takes care of the children. We are also planning to acquire more land where we can construct a well-spaced home.
Was there any word of advice given prior to function? 
Shanitah: My grandmother got me a ssenga who cautioned me to always be clean, hardworking, understanding, supportive and creative. She even went ahead to emphasize that my marriage is in the bedroom.
Stephen: It wasn't counselling but encouragement from church elders to push on with the preparations since we had been together for some time.