By Mercy Geno Apachi
The boda-boda business in Uganda has been dubbed many names including a 'broke' man's job, an entity for the school drop outs, and a den of thieves among other things.
True to one of those names, Mr. Francis Mukasa Mukisa, is a primary seven dropout working as a boda boda rider. However, he did not allow the cliche attached to his job define him. He has achieved a lot in this business and among his achievements is winning over the woman of his dreams and giving her the grand fantasy wedding she deserved.
Francis works in Mukono and met his wife Olivia Nakato in the wee stages of his business in 2014 when he did not own a motorcycle of his own.
"I knew a friend who owned a boda-boda company and he agreed to loan me a bike of Shs6 million, for me to start my job," he narrates.
The couple also shared the same church, Mukono Deliverance Church which Francis attended loyally (although he never served in church). Olivia, was in the church choir and her beautiful voice got him immediately smitten. He joined the church's community outreach team to get closer to her as it was one of her usual duties.
"My wife is a beautiful, hardworking woman and she still sings like an angel," Francis compliments her.
Olivia completed her S.4 before calling it quits with school. She accords her acceptance of Francis to his patience. According to her, he was not the type of man who sees you one day and asks you to visit him the next.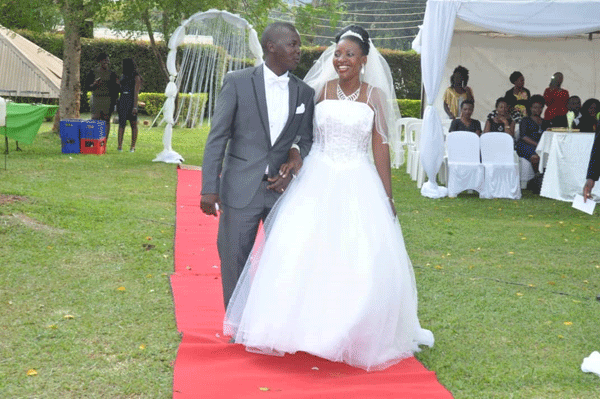 Wooing Olivia
Olivia used to work at Formula Feeds when Francis noticed her. His low self-esteem delayed him from approaching her. The 33-year-old attributes his cowardice to the fact that he was incapable of sweeping her off of her feet with fancy expensive gifts as most women prefer and he owned no "serious" property such as a car or house.
"How could a respectable woman like that begin to fall for a mere poor boda-boda rider like me?" he asks. Click to read more…