By Christine Katende
Timothy Alfred Wandabwa, a sound technician at Uganda Christian University, Mukono met Aidah Nyamwiza, a banking officer in 2011. Timothy first ran into Aidah one morning at the Uganda Christian University dining hall where they had gone for breakfast. They started talking that day. Incidentally,  the two were both computing  students and members of the chapel choir. Towards the end of that semester, Timothy decided to waste no more time, he secured her number and their communication was set even during the holidays.
Lucky for Timothy, he was ahead of Aidah by a semester, so she would come to him for consultations. This drew them closer. Around May 2012, they grew fond of each other and Aidah even chose Timothy as her prayer partner after choir rehearsals.
But Timothy had bigger intentions for this prayerful girl and in November 2012, after a worship night he revealed his secret.  Aida accepted to date him two days later, cautioning him never to break her heart.
"I had started feeling different about him. One of my course units was business computing, I used to ask Timothy for help with assignments and choir moments kept us close.  I hid my feelings for him because I wanted him to profess his love first. I feel it is not proper for a woman to make advances on a man. When he proposed, I accepted," Aida reveals.
They made their relationship public the same year.
Six years later, at Church of the Resurrection in Bugolobi, they were joined in holy matrimony. Their wedding was presided over by the Rev Canon Dr. Rebecca Nyegenye. They later had a reception party at Garden City Food Court. Their choice for a reception area was based on its ample parking space, capability to hold a capacity of their 250 guests, good lighting and enough rest rooms.  A good view of the golf course was also an added advantage.
They tell the rest of the story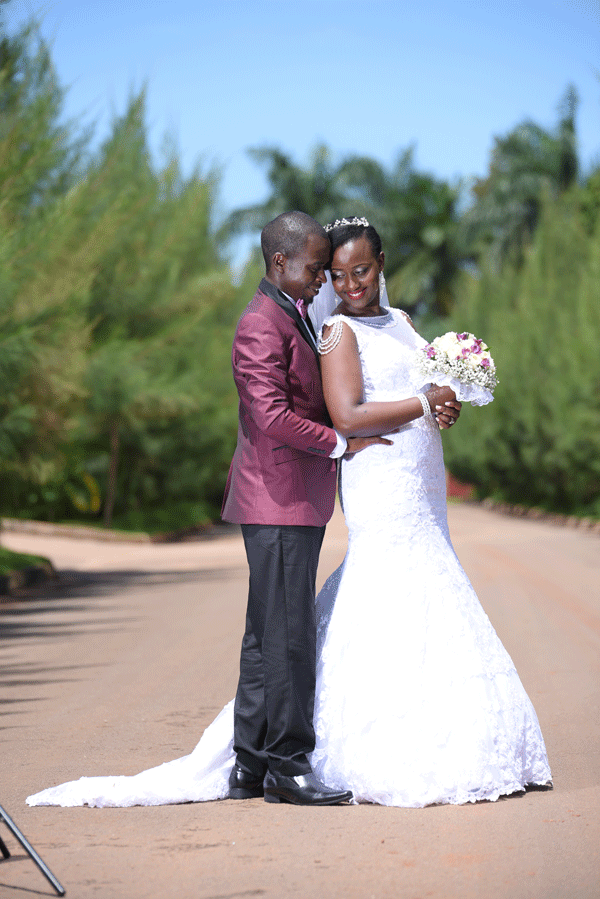 What attracted you to each other?
Timothy: Her seriousness and beauty attracted me. Also, Aidah is focused and committed.
Aidah: His anger management, skills; he is calm, patient, committed, hardworking and God-fearing. Also, Timothy is respectful.
What was it like to have a public relationship at university?
Timothy: The moment we made it public, we had to be accountable for anything we did. I used to interact with so many people given the nature of our course and my responsibility in the choir. We however had to get more serious with our leadership roles.
Aidah: Timothy respected and loved me genuinely, this helped me to stay focused.
 How were the six years of dating?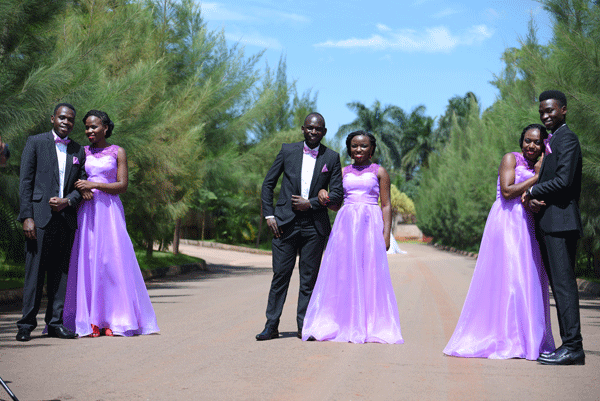 Timothy: I got chance to know her better. We used to conflict on different things such as why calls went unanswered but we stuck together. We were accountable to my parents who always ask me about our relationship.
Aidah: Our friendship always kept us together even after arguments. We always talk things over, and move on.
Tell us what you wore.
Aidah: I hired a fitting white gown at Shs1m for church from Sisters Bridals. For the reception, I changed to a tailored dress with an African touch at Shs250,000. I only bought one silver pair of shoes at Shs150,000.
Timothy: I wore a maroon jacket with a black collar and black trousers. My suit was tailored at Shs400,000.
Break down the cost you incurred for reception
Aidah: We used Shs4m for the decor. The service provider also gave us chairs, tables, and a red carpet.
The food was Shs 15,000 per plate which cost a total of Shs3.5m.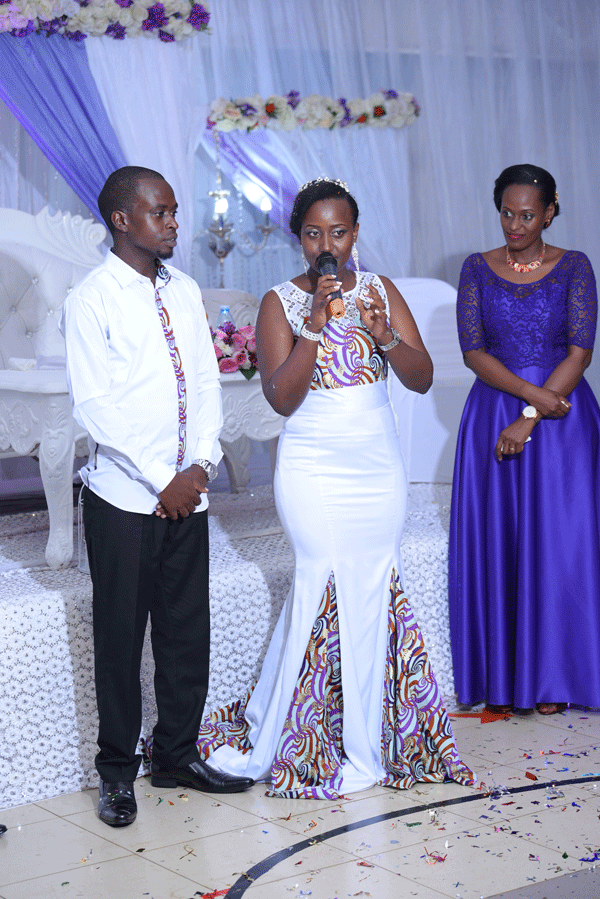 What vital aspects stood out for you in your premarital counselling?
Timothy: The counsellor emphasised communication, being open and to always put God in everything.
Aidah: Working as a team in everything, be it house chores or finances. We have different temperaments, weaknesses as well as strengths. We have to introduce faith to our children.
What did you like the most about your wedding?
Timothy: The photography and music. The DJ and live band did well.
Aidah: The cake was well presented, decorated and sweet. The decor was also fabulous not forgetting the changing dress and dance.
 What were your challenges?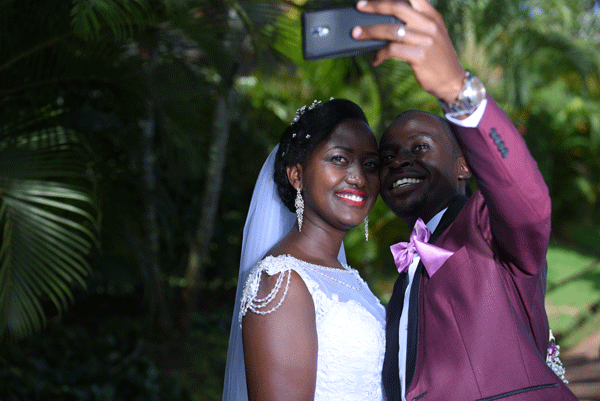 Timothy: Mobilising funds and attending meetings. My wife was working upcountry which hindered her attendance, this meant that I had to be available all the time. I also remember the times people never turned up for the meetings, People gave their contributions towards the last  day. We looked for good service providers who offered the best at fair prices.
Aidah:  I was based upcountry but, I give the glory to God that we managed to pull it off.
Were you disappointed in any way at your wedding?
Timothy: Despite the communication and arrangements I had made prior, the food service provider came late yet I did not want guests to wait for long.
Aidah: The food delayed yet guests were hungry and some were from upcountry.
How interesting was your honeymoon?
Timothy: We went to some hotel in Entebbe. I enjoyed the outings we had and walking in the sand by the lake shore. I loved every moment with my wife. She was free and more open.
Aidah: We also had a boat cruise and nice fish.
Given a chance to re-do your wedding, what would you change?
Timothy: Honeymoon. I would go to a place where we can have different activities such as hiking, boat cruising and forest walks.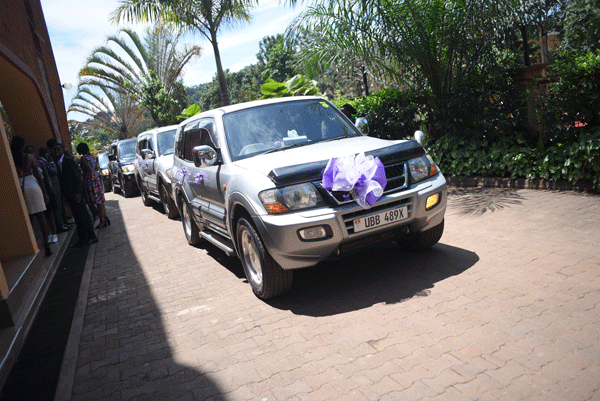 We wish Timothy and Aidah a happy marriage.