Dorene Namanya tells the story of how one bride's quest for her dream gown turned into a nightmare.
Unlike some girls, Neena, now 32, never dreamed of her wedding day when she was little. Later, as a single, working girl with friends and a busy life, she didn't bother fantasizing about what she'd wear when her Prince Charming finally arrived. For Neena, an accountant with a public relations firm in Kampala, such notions were silly fantasies propagated by the West. Until she got a man she was sure about, she told herself, she was not going to engage in idle matrimonial day-dreams. Well, as luck would have it, she met a man. Before long, Neena found herself knee deep in wedding meetings and guest lists. And to her dismay, she actually reared up a little when, surfing the Web one day, she spotted an image of the gown in which she knew she would walk down the aisle. Hurriedly, she downloaded the picture of the dress—a white satin number with a full lace skirt and a linear gold pattern running diagonally from waist to hem—and set about finding the tailor that would re-create her dream dress right before her eyes.
As with all wedding-related issues, there was no shortage of recommendations coming from friends and relatives, all who swore they knew the very best person for Neena to use. And that is how one of her married friends brought her to Viola. The friend, who had once hired Viola to make her a changing dress, swore that she was the next best thing after Vera Wang. Phone numbers were exchanged, and the next day, Neena was on the phone to the tailor.
She recalled: "We met up at her office in downtown Kampala, a decent enough two-room tailor shop with dresses of different designs and colours hanging from the wall —some of the dresses she had sewn, I thought. I found a bride-to-be and her bridesmaids trying on some of the gowns Viola had designed and sewn for them. They looked nice and I was immediately impressed. I knew there and then that Viola would be the woman that designed my dress." And the best news was that she was dirt-cheap! Excluding costs for the material, Viola agreed to sew Neena's dream wedding gown for a mere Ush 200,000. "I was ecstatic!" she said.
With three months to go until the date of her nuptials, Neena walked home feeling happy and secure in the knowledge that the most important part of her wedding was taken care of. The months whizzed by and in the chaos of wedding planning, Neena pushed the gown to the back of her mind—except for an occasional phone conversations in which Viola, in a calm voice, assured her that everything was going according to schedule. "Don't worry!" said Viola—and so she didn't, and instead moved on to sorting out the menu, the music for the reception, the church booking and the budget. June 23rd, 2007 in Neena's diary was marked in big etters: "Viola's. Fitting gown." She remembered, "I was so excited as I headed over to Viola's store to see my dress for the first time since seeing it in the magazine that day."
Upon arriving, however, Neena was made to wait at reception for more than 15 minutes, apparently because the tailor was busy. "When I finally got to see her, I saw the material I had given Viola for my dress just lying there cut up but not a stitch in place! I was shocked! How could it be that that lying there was the dress I had come to try on?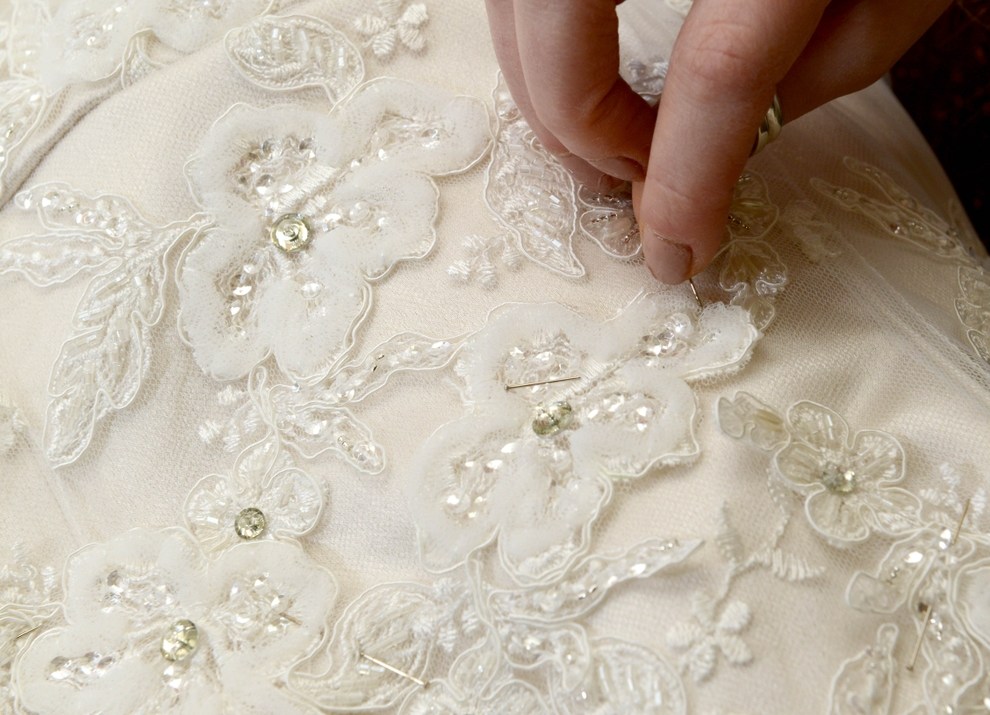 "As she now gathered, Viola had never even really begun on Neena's gown. Apparently, she had been overly trusting in thinking that the tailor would work without her constantly dropping in to check on the progress. Viola apologized profusely, pleading business and that she had lost track of time. She promised that in a week's time, the gown would be ready for fitting. Needless to say, as she made her way home, Neena was far from the happy bride who had initially visited the shop that first time. Still, she told herself that things would be fine. She was getting married, after all. She again became consumed with other wedding planning issues and before she knew it, the week was gone. "This time though, I called Viola first to ensure that this time I was not making a wasted trip to her shop," Neena said. "My calls went unanswered for a while, and when finally she picked up, she told me that she had gone to the village to attend to her sick mother and she would not be in that day." Neena went to the shop and sure enough, Viola was not there—though everybody seemed to have conflicting stories about where she had gone.
One of the attendants said she had gone for a burial; another said that her daughter was sick. Viola phoned the next day and told Neena the dress would be ready for fitting on the following Friday. By now, the bride-to-be had just three weeks left until her wedding day and she was getting worried. Still, Viola's repeated assurances that her dress would be ready in time calmed her down a little. And sure enough, Friday rolled around and Neena was finally able to try on her wedding gown. The dress, looked OK, but it still required several major adjustments. The detailing had yet to be sewn on the skirt; the bust and waist needed altering, among other things. Neena thought that at this point, she was taking a smart precaution when she lied to Viola that her wedding date had been moved up by a week. When that day came and the dress was still not finished, Neena decided to be glad she'd given herself an extra seven days and figured it had to be finished in time.
Anyway, there was no time to worry; Neena and her fiancé were now consumed with 11th hour preparations. Two days before the big day, Neena headed one more time over to Viola's shop to pick her dress. Imagine her shock when she discovered that the tailor hadn't touched the gown since Neena had last left. The panicked bride screamed and raged and threatened not to leave until her dress was finished. All through the day, Viola worked and tweaked and fitted the gown. Things were beginning to look up. Eventually, Neena felt somehow satisfied that Viola was finally on course. Surely, she thought, the tailor would not abandon the dress now, with all the work she had put in. With last minute wedding tasks beckoning, she agreed to come back early the next day to pick up the dress. Perhaps because of her impending nuptials, she was feeling magnanimous and trusting. After all, the gown was almost finished. Her previous disappointments were quickly forgotten.
According to Neena, she arrived at Viola's the day before her wedding only to hear the tailor to implore her to "be patient." There were, she said, some remaining small adjustments that needed to be worked on. Neena said there was no time and told her that she would take the dress now, whatever shape it was in. But Viola wouldn't hand it over. "I am not one to have my bride walk down the aisle in a shabby looking gown" she told her. By this time, Neena was truly desperate. "I was crying and on the edge of a nervous breakdown. I called my maid of honour and she came and picked me up and took me home to rest.
Viola asked us to forgive her, and she would make it up to us. In fact, she would deliver the dress to the salon we were going to have our make-up done early in the morning, before church." Naturally, Neena was skeptical, but at this point, what could she do? "I agreed and made her swear to deliver my dress on time and perfectly done," she said. "She swore she would."
On the morning of July 28th, Neena remembers, "I woke up too relaxed and excited for a girl that did not have a gown ready, but this was my wedding day and I was not going to let anything get in the way of my happiness." Later, she thought God himself must have given her that sense of inner peace. "Whatever happens," Neena told herself, "I am going to be a happy bride." Sure enough, by 11 a.m., Viola had yet to show up at the salon. She was not picking up her calls and eventually appeared to have simply switched off her phone.
Church was at 1 pm. Just past midday, Neena walked calmly to her car and got in. "I drove to the first bridal shop I got to, and without anybody giving me unsolicited which I did not want to listen to at that time anyway—picked the first dress I laid my eyes on."  The dress fell a few inches above Neena's ankles, but it didn't matter anymore. "All I could think of was walking down that aisle to my husband, with or without my dream dress," she said.
To this day, Neena says she hates her wedding pictures and never shows them to visitors.  She has never attempted to call Viola again, not even for a refund. "I never want to set my eyes on her," she said, adding that she wouldn't wish her dress debacle on any bride.
Still, Neena still looks back on her wedding day as one of the best in her life. Even without the dream gown. Perhaps she had it right from the start. What good's a dress—no matter how beautiful—without a loving, devoted groom? And that part she had.