By Gabriel Bbuule
In the recent past, the idea of wedding receptions was rigorously tied to the couple's home, parents' home or church yards. Today, wedding parties are not just splendidly organised but also staged in several venues including the beach, gardens, rooftops and halls.
Ethel Eseri Nabulime, an event enthusiast, argues that a hall is presumably the best choice for a wedding since it offers a calm environment and a cool atmosphere, making your event memorable.
Ethel who also performs during weddings says that a hall helps to give out clear sound during live musical performances, more so if it happens to be sound-proofed.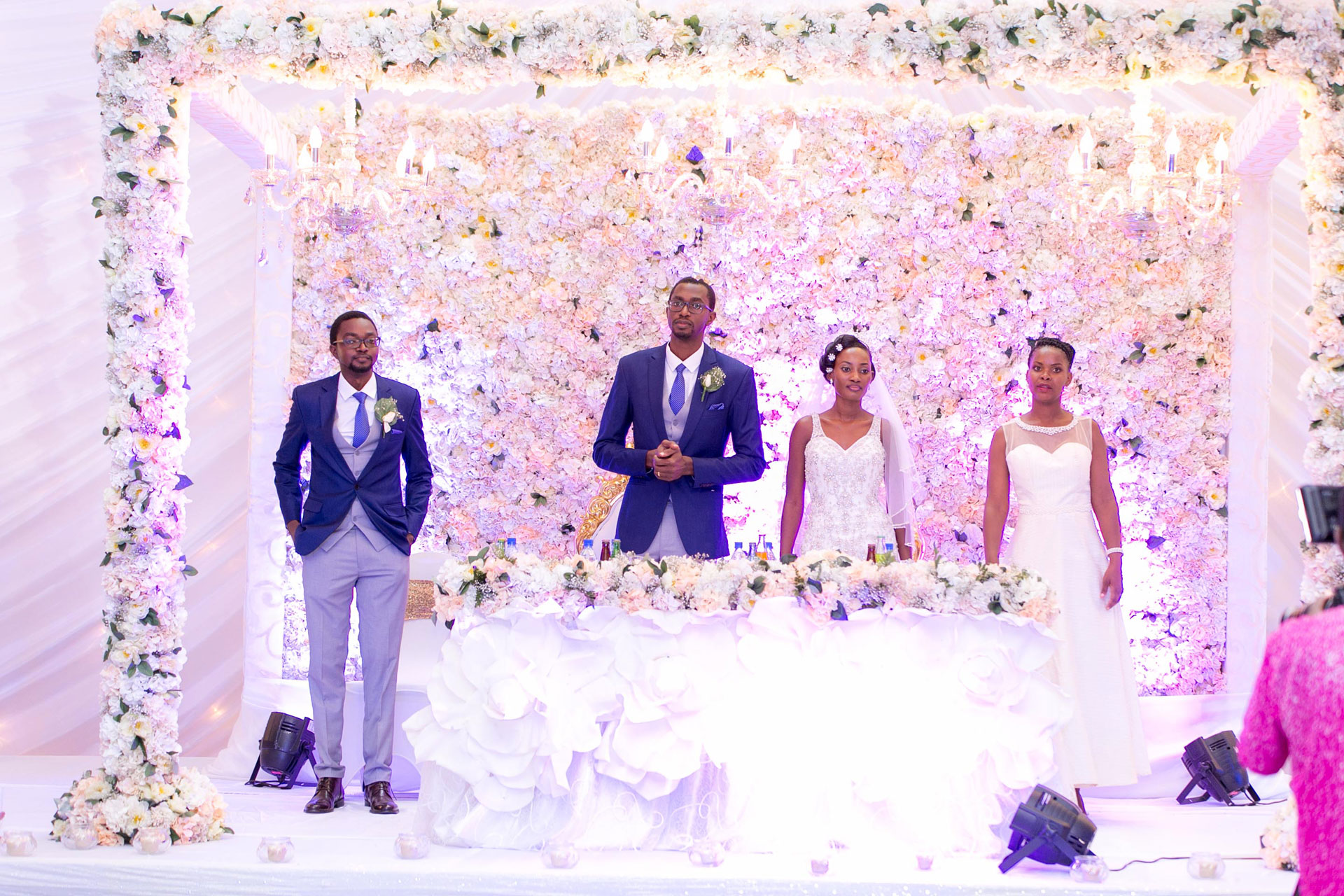 "Live performances are becoming synonymous with weddings and you find that sound gets distorted most times when people perform in open spaces. So it is better for a person to opt for a hall depending on the plan and budget," Ethel explains.
However, she cautions that a hall can sometimes be a bad choice if the number of guests go higher than its capacity.
John Ssenyonjo, a business man who had his wedding a year ago in a hall, believes that it is one of the best decisions he made during his wedding preparations, as it came with a number of advantages.
He says that besides coincidentally escaping the rain that poured on his big day, halls come with a couple of opportunities, with many providing extra services like chairs and electricity which saved him the burden of hiring a generator.
He reveals that, having planned to use a projector for live streaming and showing their memory lane as a couple, he found all equipment catered for in his hall package unlike the open place where he had been told to hire.
Like John, for those who think that a hall is the best venue for your special day, there are many halls to choose from. Most people assume every hotel or church with a hall allows hosting wedding functions but the reality is some halls are not open to the public.
My Wedding took a look at some halls in Uganda that will make your day pop.
Sharing Hall Nsambya
Situated in the heart of Kampala just near clock tower, the Nsambya Sharing Hall multi-purpose hall is suitable for not only graduation ceremonies, training workshops, seminars, public lectures, music concerts but also wedding receptions with a sitting capacity of 800 – 1,000 people depending on the sitting arrangement.
According to management, clients are assured of chairs, a stand-by generator and a large secure parking yard with all refreshments at a fee.
The hall charges about Shs650,000 from Monday to Thursday.  Fridays will see you parting with Shs800,000 while on weekends and public holidays, you will be charged Shs1 million.
Pope Paul Memorial Hotel
For those who would need a photo-shoot near a lake shore, this hall is a convenient option because it is located near the Kabaka's lake.
The spacious hall is located in Rubaga division, and is within a range of several churches including Miracle Centre Cathedral, Rubaga Cathedral and Namirembe Cathedral among others. This means that your church can be near your venue to help save time and transport costs.
Kati Kati Africa
Situated in Kampala, Kati Kati offers an alternative for people who prefer a small number of guests.
Kati Kati offers four restaurants, two bars, a conference hall and a tennis court. The lush lawns nurtured carefully at the centre facilitates banquets, also accommodates an open air restaurant. Ample parking is available to patrons.
Uganda Manufacturers' Association (UMA) Hall
Located in the heart of Kampala on Jinja road, UMA is among the most sought after wedding venues with a lot to provide including a big parking space for hundreds of cars.
According to management, UMA Exhibition Hall is open for weddings at a fee and being an indoor venue, it doesn't go against the KCCA regulations that guide entertainment events.
UMA Hall is spacious and comes with a bar and restaurant to serve your guests.
Hotel Africana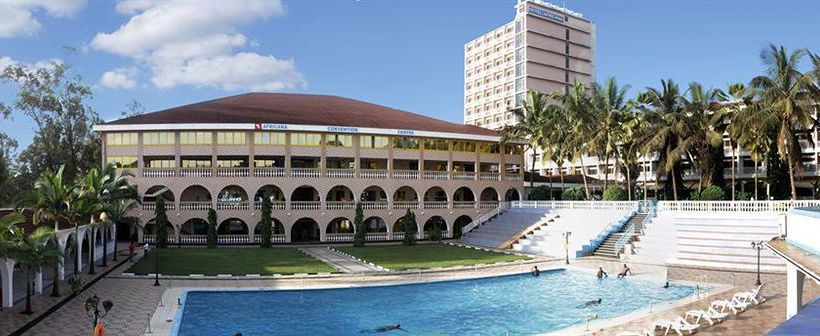 Hotel Africana is liked by many people because of its accessibility and good service and cuisine.
The hotel has over 14 fully furnished, air-conditioned conference halls with seating capacities ranging from 20 – 3,000 participants, so you are most likely to find one that suits you.
Halls at Africana have free internet access for your weddings guests to enjoy.
Unlike some halls that tend to be unfriendly during hot weather, Africana's halls are effectively air-conditioned with projection, lighting and audio lines.
Serena Conference Centre
Serena Hotel Kampala also has a number of halls one can have their wedding in. They have stylish interiors which can be good for your photography, creating a comfort for the guests with dramatic surroundings and culinary delights.
It should be noted that Serena's Victoria Hall is arguably one of the most prestigious event venues in Uganda accommodating at least 1,500 people. Other halls include Achwa, Katonga, Nile, Crane and Turaco.
Sheraton Hotel Kampala
Sheraton Hotel is also much loved for its parking space and gardens for photography.  Sometimes couples choose to enjoy a photo opportunity on its roof-top.
At this hotel, you'll find a range of versatile spaces from executive boardrooms to ballrooms and conference spaces.
Colline Hotel, Mukono
Colline Hotel sits in Mukono, along the way to the famous "Source of the Nile" in Jinja and is also only 21 kilometres from Kampala City centre. It comes with an atmosphere of harmony and tranquility, far away from the city's maddening crowds and noise.
Other halls include:
Kampala
Mengo Teachers' Cooperative Society Hall (Mengo Teachers' Hall)
Nalule Arcade Conference Hall
Shree Lohana Community Hall
Makerere College School
Makerere University Main Hall
Kiswa Community Center Multipurpose Hall
Makerere University School of Pharmacy Conference Hall
Mapera Church Hall
Fairway Hotel & Spa
Savana hall
Sekyana Hall
Kampala Capital City Authority Head Quarters
Fairway Hotel & Spa
Golf Course Hotel
Hillside Plaza Hotel
Hotel Triangle
Kabira Country Club
Nexus Resorts Hotel
St Kakumba Chapel Children's Hall
Dolphin Suites
Kabanyolo Main Hall
The Mackinnon Suites Kampala
Munyonyo Commonwealth Resort
Freedom City
Arua
Tropical Suites on Arua Hill
Heritage Courts Hotel, on Mvara road
Desert Breeze Hotel, on Mvara road
White Castle, on Arua Nebbi Road,
Arua Public Primary school ground, Arua town
Christ the King Primary School Ground
Nebbi
Leosim Hotel on Nebbi-Pakwach-road
Royal Atlas, on Nebbi-Paidha Road
Media Center ground
Moyo
Moyo Multi-purpose located
Nasera Suites on Moyo-Adjumani road,
Mandela II on Moyo-Senior Road
Adjumani
Adjumani Multi-purpose Hall
Dubai Resort Hall
Zawadi Hotel on Adjumani-Gulu road
Jinja Town Hall
Victoria Nile Hall
St Andrew's Church
St James Church
Jinja SSS Main Hall
Walukuba Community Hall
Bugembe youth Center Hall
Budondo Sub county Hall
Mafubira Sub county Hall
Fort Portal
Kagote SDA Hall
Mountains of the Moon Hotel
Soroti
Widows Hall
Lions Club Hall and Recreation Centre
Masaka
Patel Shamji Hall, Masaka Town
Mubende
Our Lady of Fatima Catholic Parish Hall, Mubende Town
Kasenyi Church of Uganda Hall, Mubende Municipality
Lwengo
Jolet Hall, Kyazanga Town
Kiboga
Ebernezer Hall
Kiboga District Hall
Luweero District
Gilead reception hall, Luweero Town Council.
Fatima Hall at Kasana-Luweero.
Luweero Diocese Guest House Hall, Luweero Town Council
Networth Hotel Reception hall, Wobulenzi Town Council.
Mukono
Nkoyoyo hall at Uganda Christian University
Mpigi
Ani Yali Amanyi Hall,Mpigi Town
Butambala
Bulo Sub County Main Hall
Lira
Pauline Annex,
Saint Lira Hotel,
Days Inn,
291 Suites
Nazareth Family Centre.
Gulu
Gulu Senior Secondary School Hall,
St Pope John Paul II College Hall,
Gulu University Main Hall
Mbarara District
Lake View Resort Hotel-
Kamukuzi Division Generation Suites-Kamukuzi Division
Carol's Reception Centre-Kamukuzi Division
Palm World –Kamukuzi Division
Mwengura Guest House-Kamukuzi Division
Mbarara Catholic Social Center-Kamukuzi Division
Kosiya Hotel –Kamukuzi Division
Hotel Spannet-Kamukuzi Division Igongo
Culture and Country Hotel- Biharwe Division
Mizabibu Gardens-Biharwe Division Star Gardens-Kakoba
Division Uncle Speed's Venue- Kakoba Division Agip
Motel-Kakoba Division
Asamar Hotel-Nyamitanga Division
Palm Heights-Nyamitanga Division
Nyamitanga Resort-Nyamitanga Division
Wagga Resort-Kamukuzi Division
St Francis Counseling Institute-Nyamitanga Division
Children's Peace Park-Kamukuzi Division
Mbarara University Inn-Kamukuzi Division
Bushenyi District
Flagship Piaza-Central Division
Tuzza Hotel-Central Division
College View Guest House-Nyakabirizi Division
Trust White Hotel-Central Division
Crane Resort Hotel-Ishaka Division
Betiina Resort-Central Division
Peak Hotel-Central Division
Relax Resort-Nyakabirizi Division
Motiver Grand Suites-Central Division
Hotel Capricorn-Central Division
 Banda District
Resort Gardens-Bufunda Division
Palm Gardens-Kagongo Division
Hidiscus Lounge-Kagongo Division
DA Green-Kagongo Division
Hill View Gardens-Bufunda Division
City Bite-Kagongo Division
Green Orchards Bufunda-Division
Etic Lounge-Bufunda
Division Joben-Bisheshe Division
Big Zone-Bufunda Division
Rukungiri District
Rukungiri Inn-Eastern Division
Riverside Hotel-Eastern Division
Okapi Inn-Western Division
Town View Gardens-Western Division
Heritage Motel-Southern Division
Palm Royale-Southern Division
Gesso Inn-Western Division Platinum Motel-Buyanja Town Council
Ntungamo District
Jerusalem Tree Cottages-Western Division
Tourist Resort Kyahweire-Eastern Division
Ankole Resort and Spa -Central Division
Trek Savannah-Western Division
Ntungamo Resort Hotel-Western Division
Sheema District
Kyarimanya Resort-Kabwohe Division
Senevin Gardens-Kabwohe Division
Clinka Gardens-Kabwohe Division
Kanungu District
Savannah Resort Hotel-Kihihi Sub County
Two Stars Motel-Kihihi Town Council
Kambuga Cottages-Kambuga Town Council
Rovins Gardens-Kihihi Town Council
Mariba Inn-Kihihi Town Council
Kanungu Resort-Kanungu Town Council
Kabale District
White Horse Inn-Central Division
Cephas Inn-Northern Division
Kirigime Guest House-Southern Division
Rose Gardens-Southern Division