By Jimmy Kwo
A Roman Catholic priest has suggested the church should remove partners of Christian couples unwilling to commit to matrimonial marriages and offer them to bachelors willing to do so.
The Vicar General, Gulu Catholic archdiocese, Msgr. Mathew Odong said this on Saturday while presiding over the holy matrimony of Uganda People's Defence Forces (UPDF) 3rd Division commander, Brig. Richard Otto Owili to Deackline Ayo Oguti at Christ the King parish Church in Kitgum town.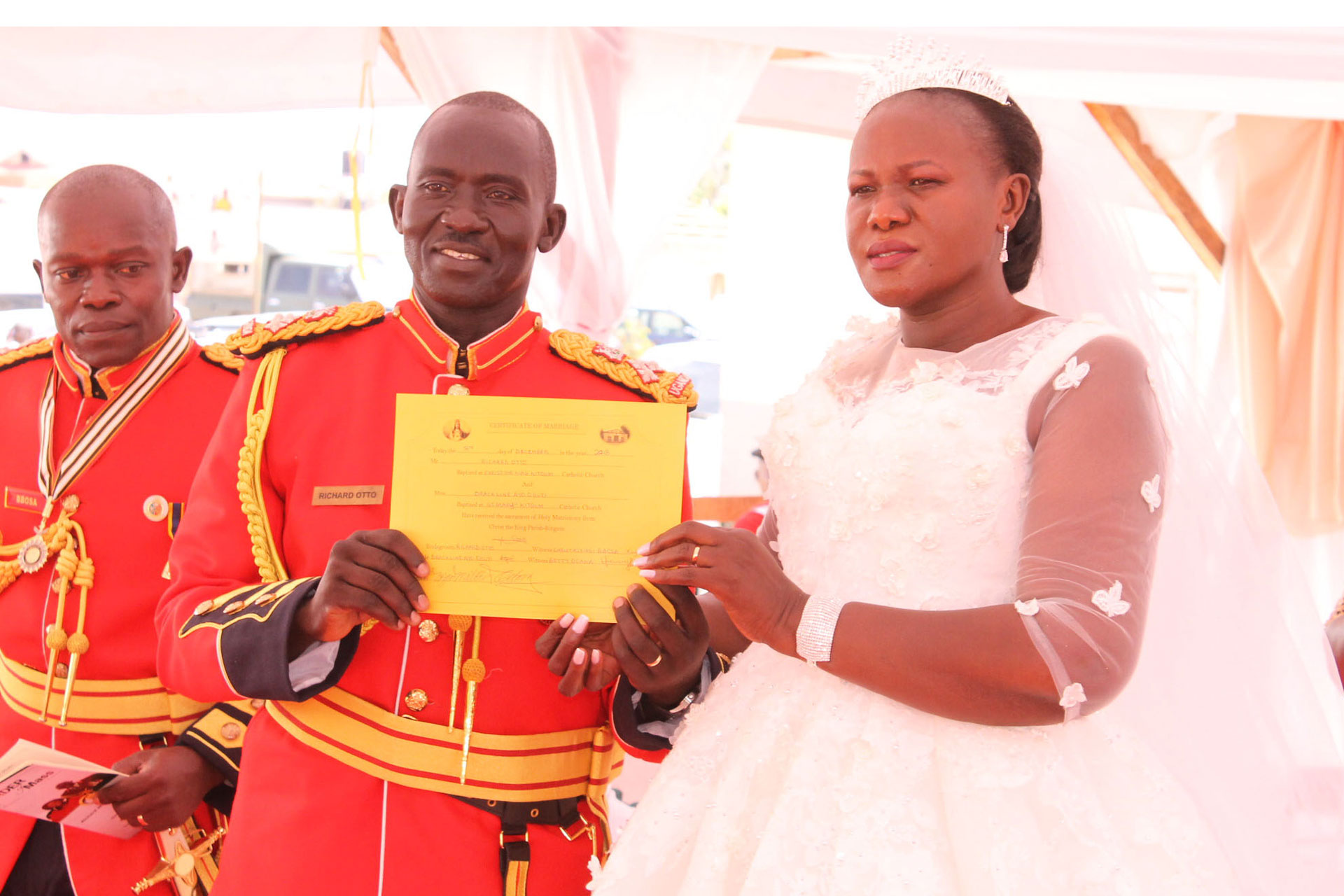 He added that it is the duty of religious leaders to make believers reach heaven through holy marriage in churches.
"In my opinion, for those who keep on postponing their (holy) marriages, the leaders of the church should improvise a way of dealing with such people," he said, stressing that a church wedding was what God intended for human beings.
Msgr. Odong said there are many lubot (Luo for bachelors) around who cannot get suitors to wed in the church yet there were some men leaving with women they don't want to officially wed.
"So if you don't want to, the best is to take away your wife and give them to lubot and we bless them," he said to amidst a wave of prolonged laughter from the huge congregation spread under tents and trees in the church compounds.
Speaking later at the reception, UPDF 5th Division commander, Brig. Michael Kabango said the proposal of the main celebrant to deprive unwed men off their companions, threatens the very "centre of gravity".
"He is attacking our centre of gravity. So, Richard, thank you for showing the way. I don't want to lose my centre of gravity, so I am next," Brig. Kabango said to his now married comrade.
The regimental wedding, said to be the first of its kind in Kitgum, attracted quite a huge crowd keen on watching the pomp, elegance and the ceremonial drills akin to a military wedding.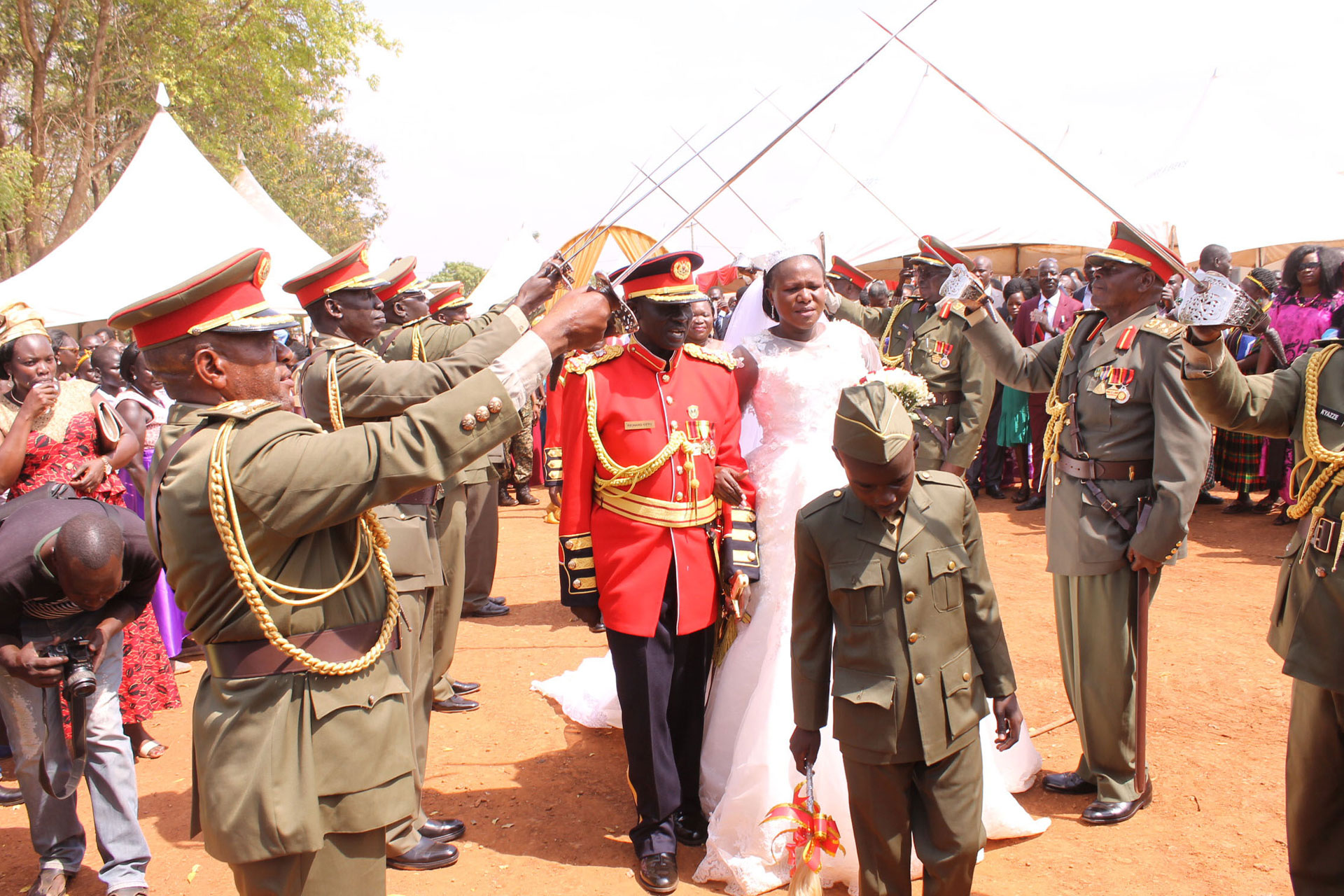 Sword bearers made up of several Brigadiers bedecked in ceremonial army uniforms, standing about a metre apart and facing each other, forming an arch with their swords and clinking their blades rhythmically as the newly wed marched under in unison to the sound of band music from the UPDF band, was one of the much talked about part of the drill.
The guest list from army gave the impression nearly all the top army generals -led by Chief of the Defence Forces, David Muhoozi – were in town. There were several Generals gracing a wedding of one of their own.
Also present was the chief guest, minister for disaster preparedness Hilary Onek, NRM party secretary general, Ms Kasule Lumumba and her deputy, Mr. Richard Todwong, MP from the army, Karamoja and other parts of the country.
Gen. Muhoozi, as did, Brig. Kabango before him, heaped praises on Brig. Otto as a well-groomed, discipline, an unassuming, a well-sorted fine individual who always accomplished his assignments with distinctions.
"He is unassuming. You never hear Richard talk about his accomplishments yet his accomplishments are very loud," said the CDF, adding if anybody deserved praise for the return of peace in Acholi, it was Brig. Otto.
He said the newly wed Brig, who undertook various missions in Central African Republic, DR Congo, South Sudan, Somalia and northern Uganda, always did his task satisfactorily.
The wedding was also made colourful by Karamojong dancers from Kotido district who competed for attention with the bridal teams, elegantly dressed in their traditional costume.
Fireworks was also fired into the dark cloudy night at Uganda Martyrs Centenary Kitgum Primary School, the venue of the reception to crown the wedding.