By Joan Salmon
Straight out of university with no money at all, Paul's family advised him against marrying Caroline until they were financially stable. However, he went ahead and married his best friend, knowing that God would see them through any situation they faced.
Meeting
In the mid-90s, Paul and Caroline Sentamu were in their Senior Six vacation and youth pastors in their respective churches. It was the activities therein that drew them to each other. "Paul was an amazing actor and although I was not into acting, with time, I enjoyed watching him on stage and started attending almost all acting events where he was performing. With time, he became a family friend even though he was closer to my elder sister, Christine," Caroline recalls.
In 1997, they met again  at university where they were both studying Social Sciences. Paul says Caroline's character was exceptional for while she was beautiful, she was very simple, loved God, was organised and straightforward. "Also, despite coming from a rich family, she was down to earth which really made me want to know her better," he says.
On the other hand, Paul was open, something Caroline found refreshing because he broached topics she sometimes felt shy to talk about. "He was also simple, not stingy and really caring," she says.
After his mother's demise, Paul's future seemed bleak thus he delved into petty jobs such as trapping grasshoppers, electric wiring and several petty jobs to make ends meet. With such hurdles, he had to take dead years making a three year course last five years. To this day, Paul says he was only able to finish university because of Caroline who encouraged and helped him through all hurdles.
On the other hand, Caroline's family was also getting financially strained so Paul had to step in.
"This gave us time to learn more about one another because marriage before school was impossible. Being open, we always discussed at length in terms of desires, and expectations. We also made time for fun such as visiting the beach at the weekend," Paul says.
Having enjoyed five years of a close relationship, you would expect a smooth transition into marriage. However, Paul and Caroline were not immune to hurdles of marriage.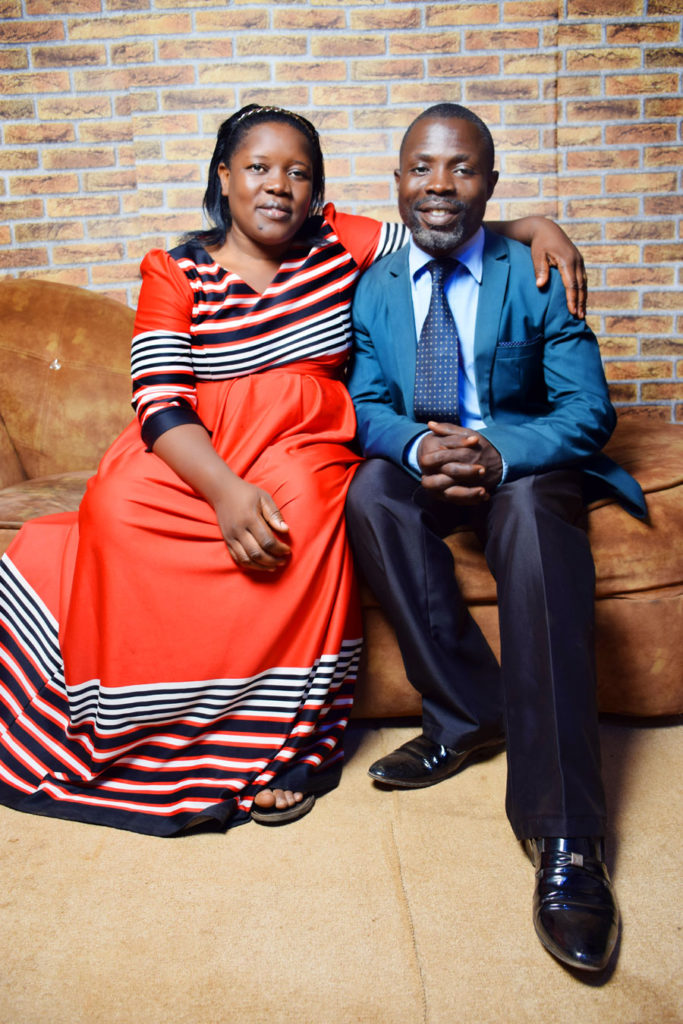 Challenges
Against his family's advice, Paul married Caroline right after graduating from university on October 26, 2002.
"Coming from a poor family, they did not support this, advising me to instead live with Caroline until we had made enough money to afford a wedding. However, being Christians and pastors, we knew we had to do the right thing and despite having almost nothing, several people offered support. We had a good wedding to the point of it featuring on Top TV," Paul shares.
He adds that in the first years of marriage, they struggled a lot to make ends meet.
"However, because we loved each other very much, we knew that we had to work together to make our marriage a success. Caroline would take on several jobs and would bring home whatever she earned. I also earned some money from my electrical wiring and other duties. Together, we would plan how to use it. We also opened a small snack shop where we worked tirelessly to improve our incomes," Paul shares.
Paul says that owing to the lengthy courtship, they had already overcome the hurdle of getting to know one another. "It was more of coming to stay in one house and continuing with our lives. Although it was not all smooth, our love for each other always bridged the gap. It was easy to ignore small issues and look at the big picture instead," Paul says.
Family hurdle
Family can sometimes become a marriage breaker and Caroline almost fell prey, listening to her family and prioritising them over Paul.
"One time, I travelled to my village for Christmas holidays and only called my husband to tell him about it. He was angry because we had not discussed it and ended the call with caution that I never return. When I returned, he was bent on his decision and it took the intervention of our close friends," Caroline says adding that after talking about it, they agreed that every decision had to be made together. From being a youth pastor, Paul started pastoring his own church, Christ Like Church, which being nearby home became a thorn because members knocked at their door at any time.
"While some genuinely needed assistance, others were opportunists. Many even came with the aim of creating misunderstanding and conflict in the marriage. They also usually asked for financial support yet we were not in a good place ourselves, something they never understood, many believing we did not want to help them," Caroline shares. However, with time and counselling from their pastor, many learned to allow the couple privacy and also respect their family time.
Handling finances
Paul believes what makes a man succeed is trusting in God and not your strength. "God has brought us success because we did everything together and were always truthful. Aware that we now had to depend on each other, we developed trust and confidence in each other. With this, God has lifted us up, helping us buy a car big enough to accommodate our growing family, Paul says.
Advice

Paul says the value you see in yourself is what will determine your future lifestyle. "It will determine the spouse you get. Where you meet your spouse also makes all the difference. For example, it is hard to find someone decent in an indecent place. While there might be an isolated case, it is uncommon," he says.
Caroline urges young people to use spiritual rather than physical eyes because many young people consider looks but not the heart which is a leading cause of disappointment. "That said, marriage is godly and beautiful if done at the right time with the right person. Once married, she says, there is need to understand that you are different and not perfect, so forgiveness as well as commitment to one another is important," Caroline says, adding that issues must be solved immediately to avoid keeping a record of wrongs.