NTV Uganda News Anchors Raymond Mujuni and Rita Kanya are officially an item. The news of the couple's engagement broke the internet yesterday at 9:49pm when Mujuni posted,
JUST IN: The most beautiful girl in the world said yes to my most difficult question pic.twitter.com/85EoRJi1Gn

— Mujuni Raymond (@qataharraymond) April 15, 2021
The tweet was shortly followed by another from Kanya stating,
"Every road led me to this YES!"
Every road led me to this YES! pic.twitter.com/uqyDmwsCJ9

— Rita Kanya. (@Rita_Kanya) April 15, 2021
The couple's news has caused a stir on Twitter with many congratulating them, while others have started a banter about dating a workmate.
Fellow news anchor Andrew Kyamagero congratulated the couple saying,
She said yes. Congrats to @Rita_Kanya and @qataharraymond upon this milestone. 💜💜💗💗💚💚💚 pic.twitter.com/Nacxdp9alN

— Andrew Kyamagero Omuntu Wawansi. (@kyamageroandrew) April 15, 2021
He later posted a photo of the couple in black and white, an indication that close people in the newsroom knew about the couple's relationship. He captioned the photo, "Owo'mutima omunaffu wakuffaa."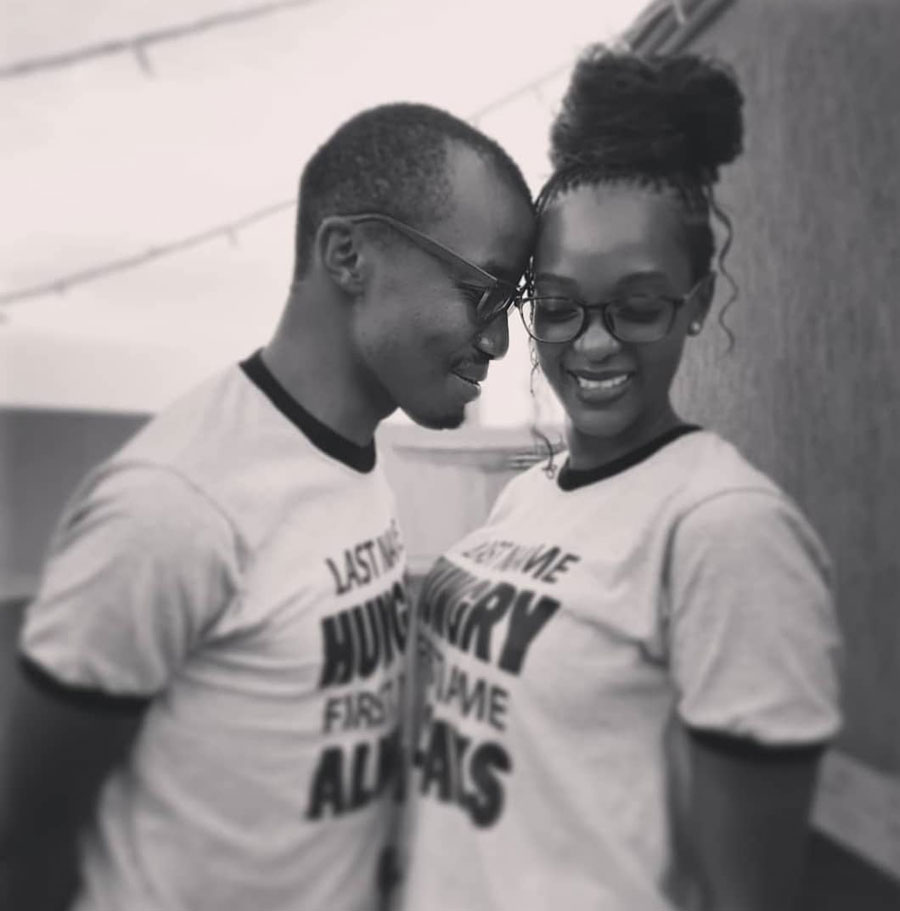 Nation Media General Manager Editorial, Daniel Kalinaki Tweeted,
Rita, Raymond come see me in my office on Monday morning. Bring your parents or guardians. https://t.co/NjWQMZZHSV

— Daniel Kalinaki (@Kalinaki) April 16, 2021
To this, Kanya joked whether she should be escorted by both or one parent.
Other colleagues that have congratulated the couple include Linda Ddane, Fardidah Nakazibwe and NBS' Solomon Serwanja,
I would have loved to say it in a more poetical way but then again, I remembered that he is one of my favorite writers and I don't think I can write better than him. But let me just say congrats to you my brother @qataharraymond and @Rita_Kanya on this great milestone. pic.twitter.com/ulyi3UoAuf

— Solomon Serwanjja (@SolomonSerwanjj) April 16, 2021
Fun comments from Tweeps
Rita Kanya and Raymond both work at NTV , the reason I might be single is I keep it professional at work maybe . pic.twitter.com/M230u8Ztem

— KERA (@Kera_legendary) April 15, 2021
Welcome to NTV Weekend Edition my name is Ritah Kanya Mujuni.

The I can't date a workmate: 👇👇 pic.twitter.com/xegTqKMaAF

— #Mesut256 🇺🇬 (@elioda_n) April 15, 2021
Soon on ntv
"I'm raymond mujuni and I'm rita kanya,let's take a SHORT BREAK and we'll be right back"

Ugandans: pic.twitter.com/Bz5kBqPNEj

— LuziraBoy (@ZenjiSimon) April 16, 2021
Twittter user Jude Mugabi has been famously known to have a crush on Kanya. He hasn't been spared the jokes either.
What Jude used to tell Rita before Raymond proposed pic.twitter.com/ekNqECnDMR

— King Solomon 👑 (@solomonkibz) April 15, 2021
When Jude finds Raymond at wandegeya traffic lights pic.twitter.com/zBU7NwFX7A

— Sheikh Travor Ug ♓🇺🇬 (@the_travor_guy) April 16, 2021
Jude explaining to UOT what Raymond did to him after proposing to Rita pic.twitter.com/Qng7kGUec0

— King Solomon 👑 (@solomonkibz) April 15, 2021
Congratulations Mujuni and Kanya.