By Christine Katende
Joshua Opio, a procurement officer at ministry of Finance and Cranmh Sayuni, a housewife, after cohabiting for two years wedded in 2018. The lovebirds shared the story about the journey of their love life.

How did your journey start?
Joshua: We met in 2015 at a friend's graduation party. The graduate was a brother to our mutual friend. I picked interest in Cranmh and I got her number the next day. We started with a WhatsApp message but the friendship grew with time. I used to buy for her mobile Internet bundles. The different outings we had three months after connecting were meant to please her as I lay my strategy before dating. And because of that, the response to my proposal took minutes. She moved in 2016, and I proposed marriage in April 2017. We wedded on December 8 2018.
Cranmh: I met Joshua in 2015 the time I was working at URA in the records department. My first glance at him was at a graduation party, he was charming. I remember leaving the party with different man's contacts except his.  The next day, a friend called inquiring if she could share my number him. Joshua started chatting about business-related matters.
What happened on your first date?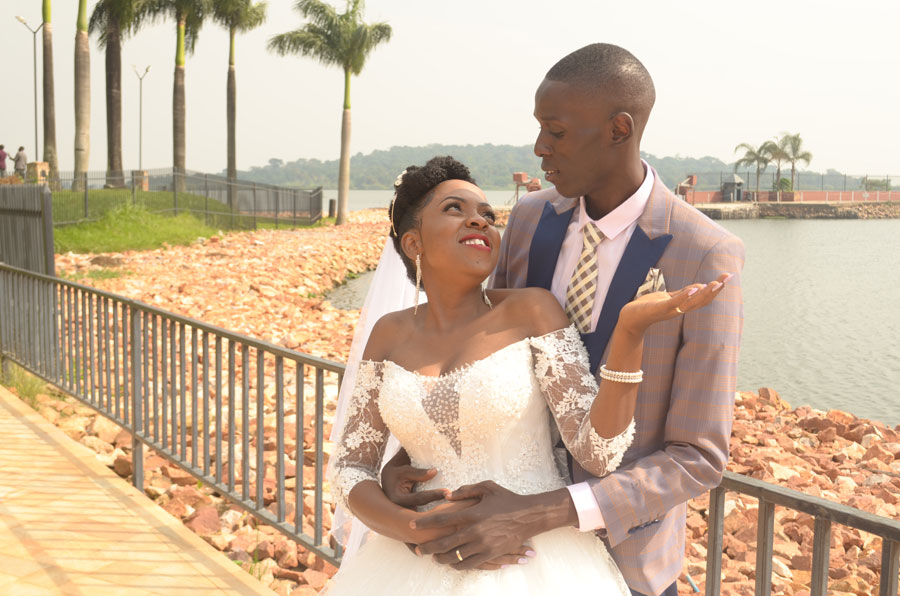 Cranmh: It was on a Saturday evening, we bought a pizza from Ntinda and drove to Kololo where we sat and had a talk and ate the pizza. I made it clear that I was not dating for fun but marriage. I told him my expectations, dislikes and likes.
Joshua: I did not expect much since we aimed at knowing each other more. I took her for nails treat because she needed to look better.
How was the marriage proposal?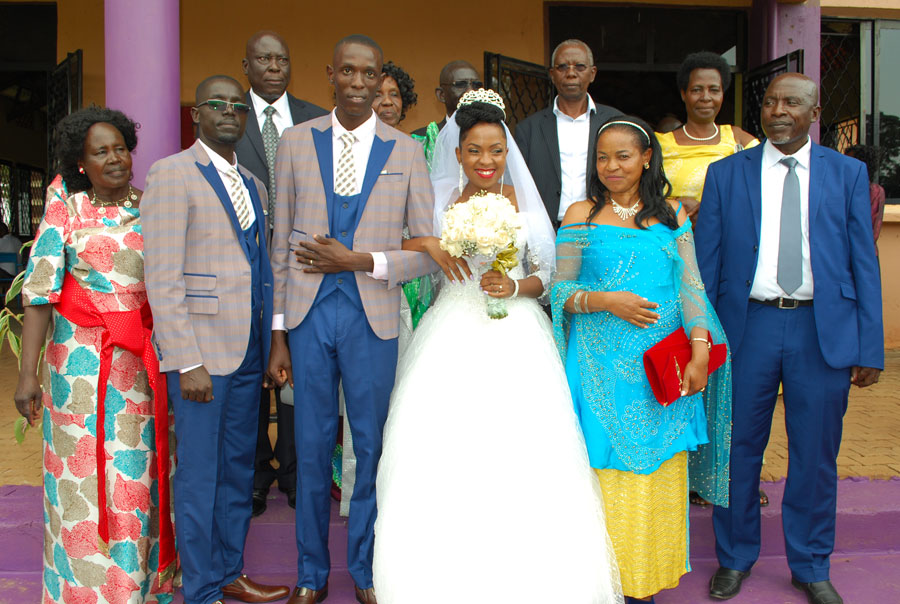 Joshua: I organised it with Sarah Zawedde that evening she had slated a show. I invited Cranmh's friends who convinced her to attend, later Zawedde called both of us, she sung before I knelt to propose marriage.
How did it feel?
Cranmh: I was about to chuck him when he proposed. I thought that he was not serious because wehad stayed together for some time without any sign of us getting married. However, the proposal caught me unawares. On a bended knee, in front of a crowd, Joshua gave me a ring asking for my hand in marriage, it only took me a few minutes to say yes.
What was the centre of attraction?
Joshua: She is kind, beautiful, understanding and God-fearing.
Cranmh: Joshua is God-fearing, he used to take me for fellowship, he has a good sense of humour, caring, honest and humble.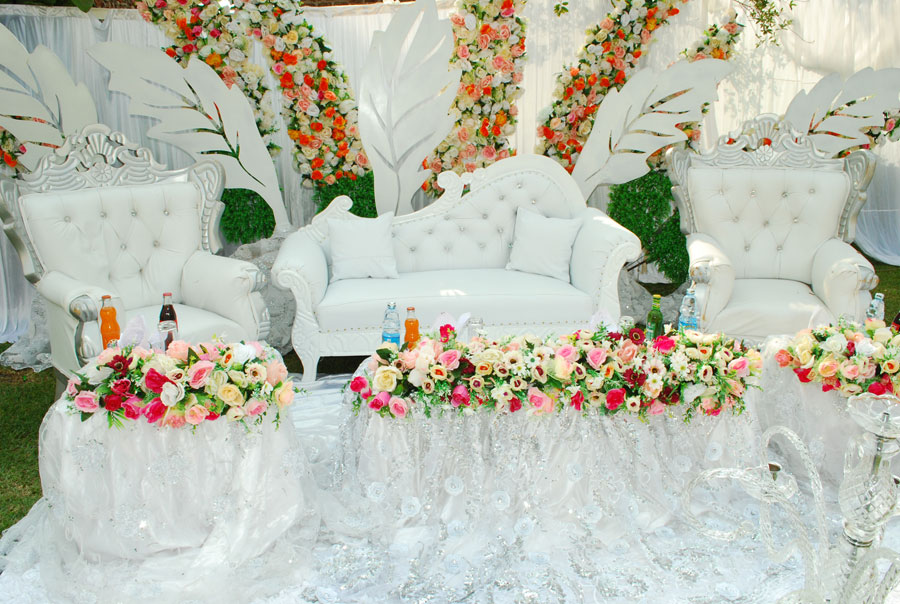 Where was the wedding?
Joshua: We held the wedding at Gospel Assembly Church, Kampala and later hosted more than 400 guests at Ruth Gardens in Kisaasi.
Why Ruth Gardens?
Joshua: Proximity and most of the venues I had initially wanted were booked. Most of the family members had used Ruth Gardens before. The venue cost Shs1.9m.
Which cars were used for the bridal convoy?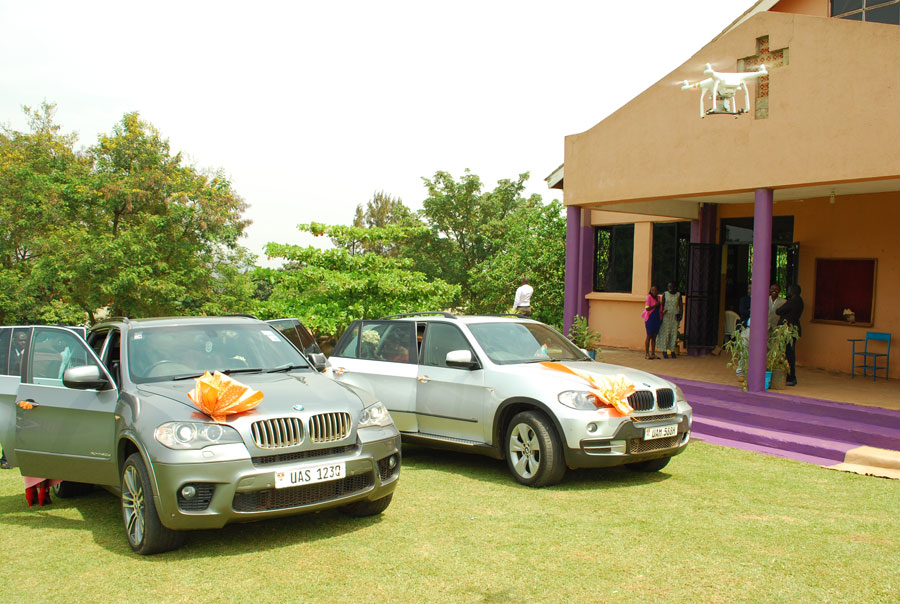 Joshua: We used three BMW X5, I just love that car, it is comfortable and executive.
How much did the deco cost?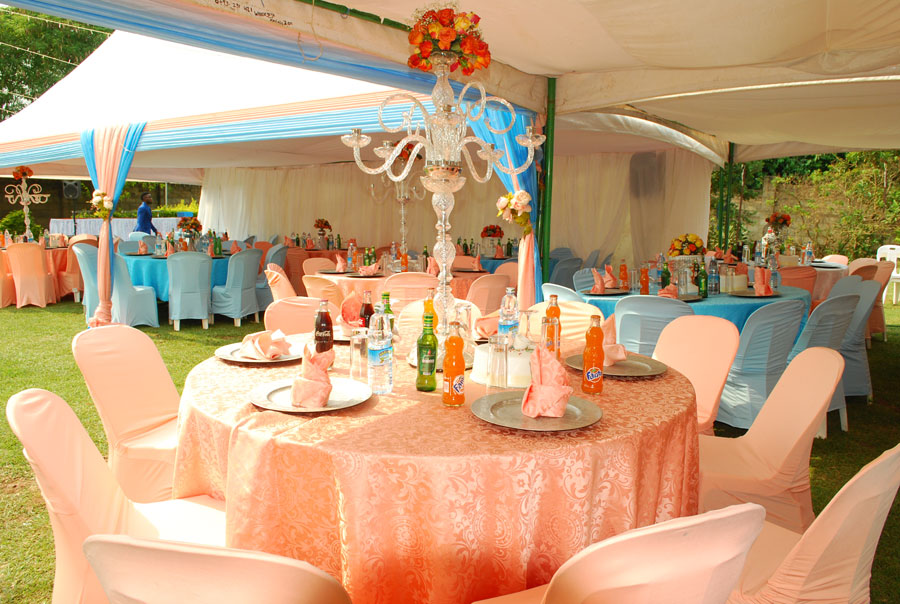 Joshua: It was marine blue and peach, we were charged Shs4.5m which was cleared by my sister.
Why that theme colour?
Joshua: Her maids had peach and it would blend well with the other colours I chose.
Which rings did you use?
Joshua: They were white-gold with a silver lining from Rex jewelleries at Shs400,000 a pair.
How much did the wedding cake cost?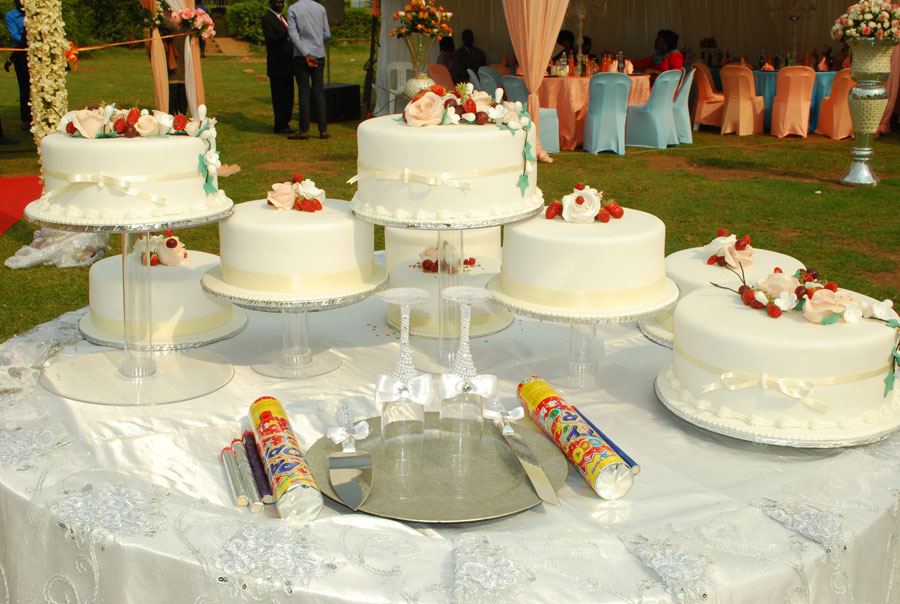 Joshua: The cake was baked by Faith Kyasimire, a friend at Shs3.5m. the cost also covered the 25 cakes that were placed on each of the guests' tables.
How much did you spend on food?
Joshua: We used Shs5.4m including labour .
Which suit did you use?
Joshua: I had an already made suit, a peach checked jacket, a blue trouser and a blue waist coat at Shs350,000. The shoes and accessories cost Shs15,000.
Who were these people on the entourage?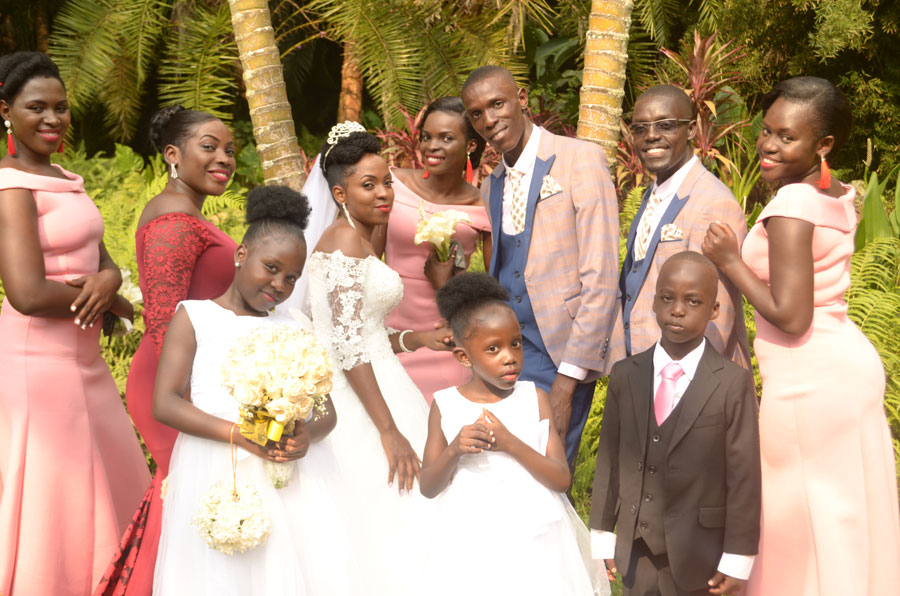 Joshua: I had no groomsmen apart from the peg boy. My best man was Stephen Olanya, a close friend, a confidant and my youth pastor, he is my role model as well.
Cranmh: I had three maids, one is a friend and my cousins. My maid of honour was Agnes Tayebwa. She is a close friend and my prayer partner.
How was in charge of photography?
Joshua: Photography and Videography was covered by Power of God Events Management at Zai Plaza in Kampala.
Any disappointments on your day?
Joshua: We had initially got the bridal cars free of charge but at some point, one of them broke down incurring an extra cost of Shs350,000. We also had issues with the certificate since the pastor who was to officiate the wedding was caught up, the service was pushed an hour ahead. This change made some of the guests leave since they had to attend other functions. Missing them was really hurting. Apart from the car that broke down, another bridal car where the maids were got involved in an accident as we headed for the reception. This delayed us and we nearly walked to the reception without them but thank God, they pulled through and arrived at the venue.
Cranmh: My makeup artist did not turn up. I resorted to the woman who styled my hair, she did a wonderful job.
Did you have any fears?
Joshua: Given the kind of reception (outdoor) with us in the open, I kept worrying about the rain since it had rained all through the week but God held the clouds till the function was done.
Cranmh: My fears were about my ex turning up. I was also scared of the rain since we never had a gazebo. The decoration we opted for could not allow us sit under a shade.
What is your wedding memorable moment?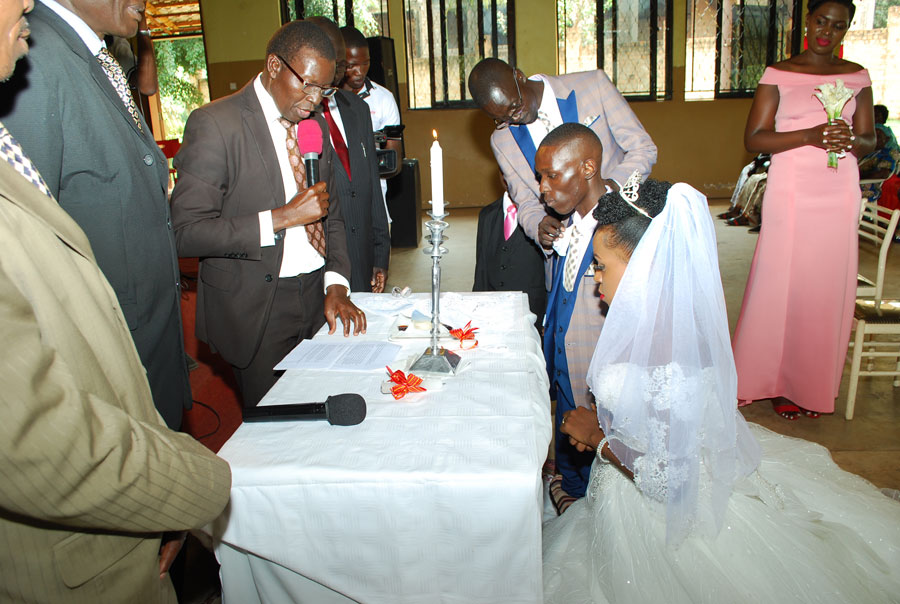 Joshua: When the pastor mispronounced her name, it sounded more like an Indian name and surprisingly when I glanced at her, she looked like Indians.
Cranmh: My husband's awesome smile.
What about the most exciting moment?
Joshua: People commenting about my smartness made me feel proud and confident.
Cranmh: Seeing a smile on every guest's face at the reception was beautiful. And when Joshua's grandmother walked to me, danced with me, ululated, showing how happy she was excited me a lot.
Do you remember any challenges during the wedding preparation?
Joshua: The fact that my wife did not open up so well disturbed me a lot hence leading me into digging for ways to get the money she needed.
Cranmh: Some of my trusted and close people failed to fulfil their pledges at the last minute, it disturbed me a lot especially when it came to asking Joshua for money to clear what he knew was sorted already. It was a lesson, never to trust anyone.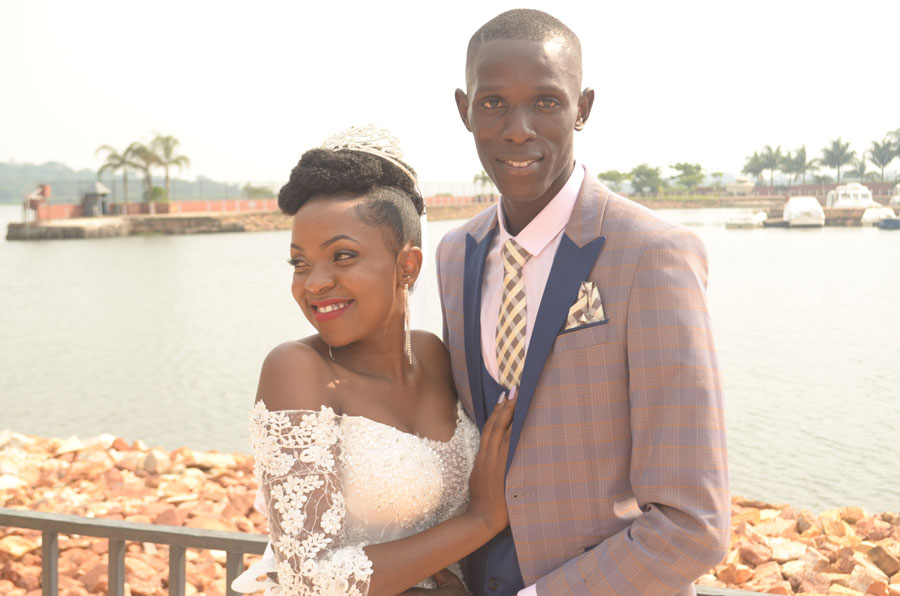 How important was premarital counselling?
Joshua: Since we had been staying together, I thought counselling was a wastage of time, I thought I knew it all but as the sessions went on, I realised I was wrong. The counsellor talked about so many things, including being patient and good communication. The counsellor hit on something that we had been through that was about to ruin the relationship. It was so good because of the enlightenment I got.
Cranmh: Being patience and learn my husband and being appreciative, among others. The counsellor also mentioned the fact that my marriage is not only all about sex, meaning I need to do more as a woman. He also emphasised on the need to be more prayerful.
How exciting was your honeymoon?
Joshua: It was not so exciting because we had to move with our baby hence hindering us from doing certain things. I however had time to rest and relive off the stress.
Cranmh: Despite the fact that we had moved with the baby, my visit to Sipi Falls was a sight to behold.
Where prices of items hiked due to Christmas, did it affect you?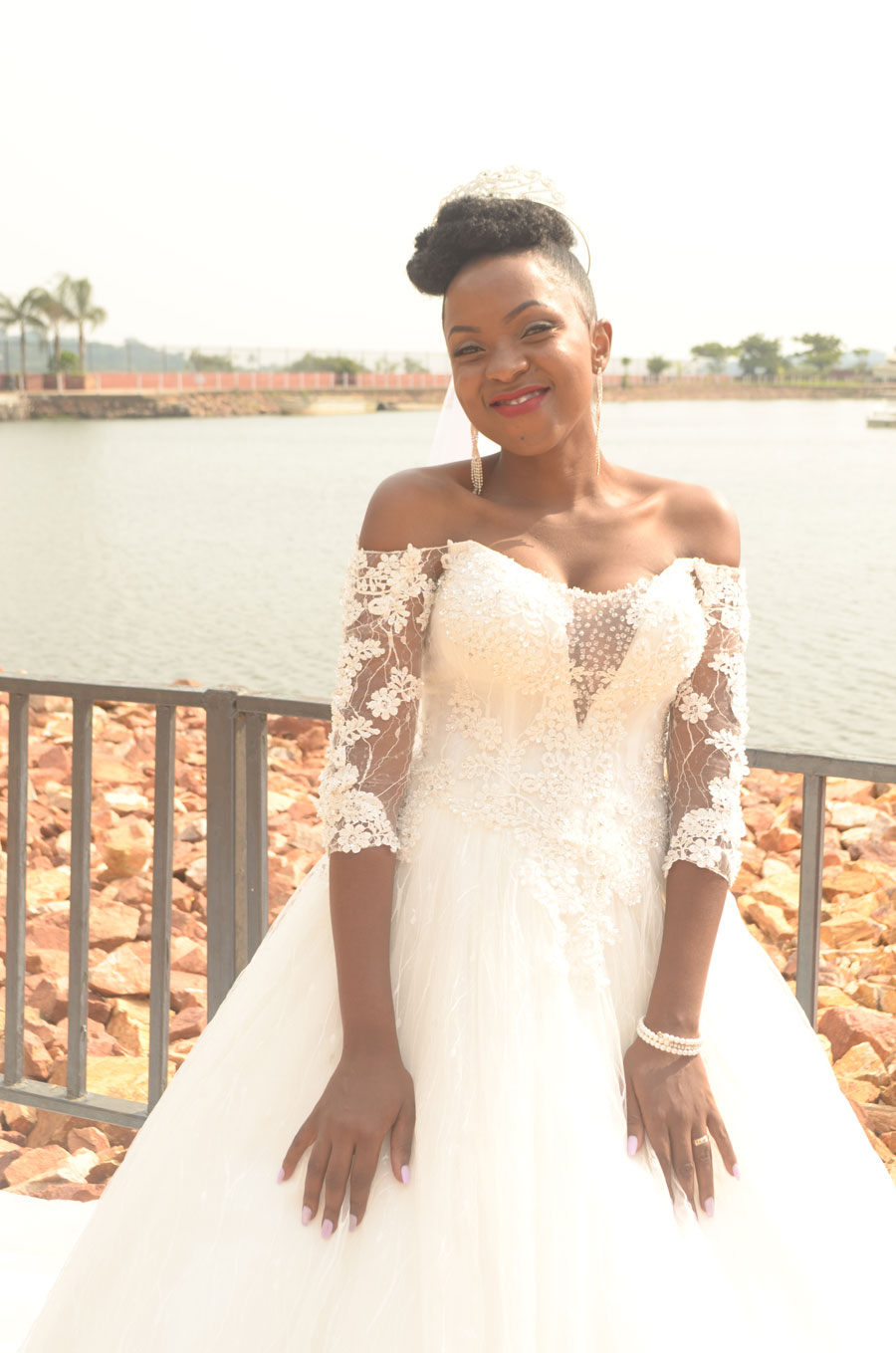 Joshua: All the service providers were paid early and there was no chance for them to change what had been agreed on.
Cranmh: December is a month known for weddings and Christmas as well, this affected my budget a bit. The cost for most of the materials was hiked compared to the previous month.
How did you plan your honeymoon?
Joshua: I never planned, we spent the two nights at the hotel in Kampala, then travelled to Mbale, got a hotel on arrival, checked in, had super and breakfast the following day. We only paid for a few days we were to spend there. We used to move out for lunch and super then return to the hotel at night. We really wanted to work within our means.
Planner
Bridal corner
Just to be creative, the Opios opted to have decorative chairs in the opening than a usual gazebo couples have.
Food time and the little ones
Since these are children, at food time, always remember to cover them with at least a cloth to avoid staining the clothes with gravy.
Bridal shoes
Unlike other braids who purchase different pairs of shoes for their wedding day, Cranmh opted for one pair that blended well with all the dresses she had.
Details
gown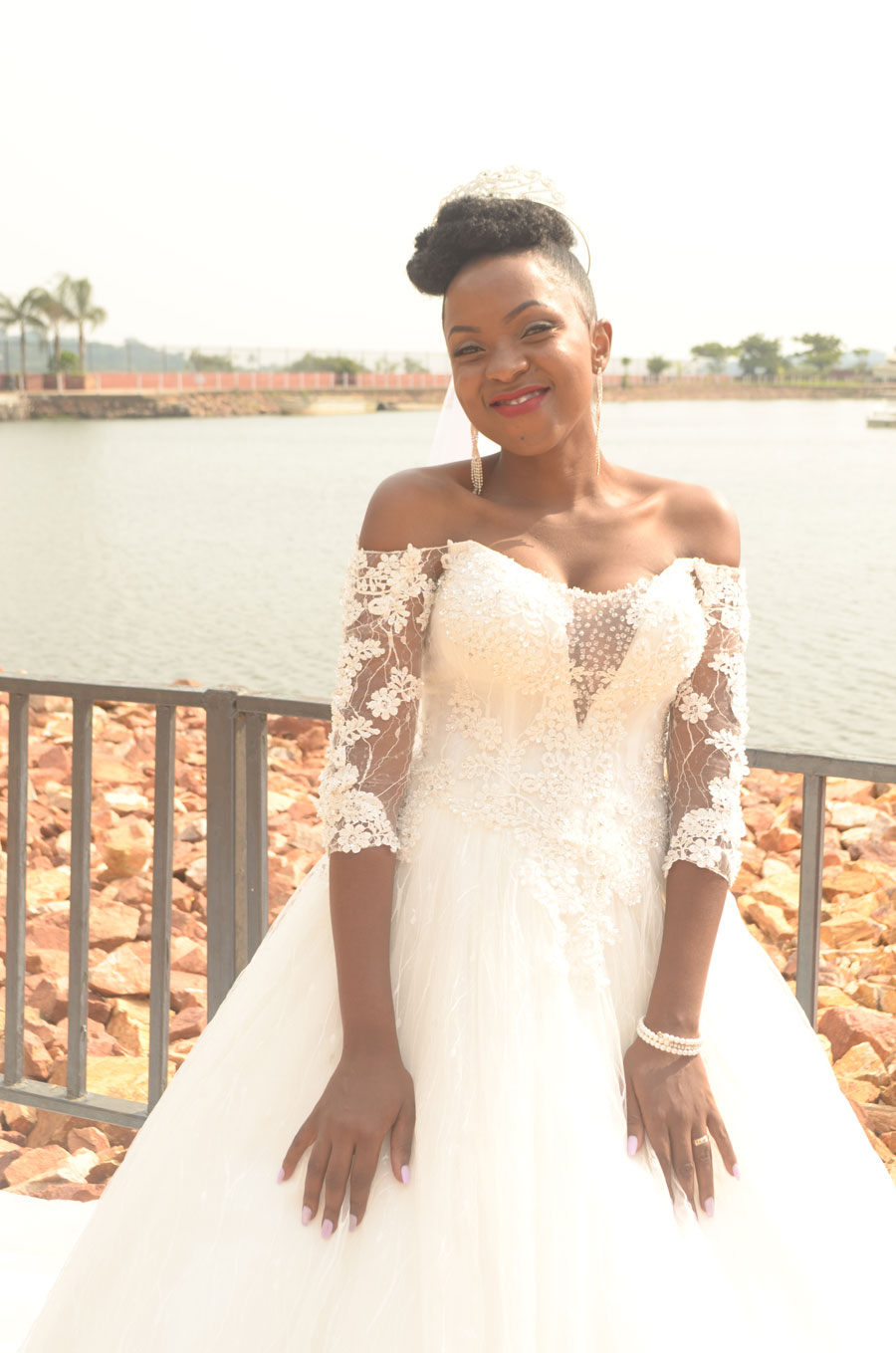 I wore a pure white ball gown with a long trail that I hired at Shs1.7m. I changed into a long off-white striped dress which I tailored at Shs350,000. I used one pair of silver shoes for both dresses. Because she had a busy gown, Cranmh chose to only have danglers for the gown.
Maids
While choosing maids Cranmh, focused at the things they had in common plus her relationship with each of them.
Hairstyle
Cranmh worked with her natural hair and the simple style she had blew out her the beauty in her, the salon cost her Shs200,000
Tit bits
Date: December 8 2018
Groom: Joshua Opio
Bride: Cranmh Sayuni
Church: Gospel Assembly Church, Kampala
Reception: Ruth gardens in Kisasasi
Wedding cake: Shs3.5m
Guests: 400
Wedding cost: Shs20m
Rings: Shs400,000
Cars: BMW X5
Decoration: Shs4.5m
Theme colour: Peach and marine blue
Food: Shs5.4m
Photography: Shs2.2m