By Claire Balungi
Society has labelled failure to find love by 30 or so, a terrible life crisis. They will keep questioning why and how you have not found love in your more 'youthful' days. Well, faith has taught some to wait on the Lord, and all glory to the Most High when a person finds the favour of love after they've long transcended their youth.
Here's the story of a Nigerian woman who said, "I do" at 48.
Ladunni Idowu and her husband, AIgbovu Giwa-Osagie met when she was 47. She had patiently waited for her true love to come by, as she honourably served the Lord. She'd been part of a mature singles' WhatsApp group and often encouraged friends to take up their callings with courage. She had her fair share of singlehood and sometimes shared her tales with one of her friends, Ifeanyi Omeni.
In 2019, Ladunni's story of singlehood changed. She shared her special message in their WhatsApp group which had been formed to welcome singles who waited and hoped to follow the path of righteousness to achieve the success they desired;
Ladunni wrote;
"I, Oladunni Idowu, finally found love at 47. Join me in appreciating God for his faithfulness and mercy. Indeed, delay is not denial."
This lucky woman later got married to her husband at 48 and became Mrs Giwa-Osagie. She got pregnant 49 and begot a seed of joy almost before she celebrated her 50th birthday on 25th June, 2021. The couple decided to name their baby boy, Osarumuwese which means "The Lord has done me well."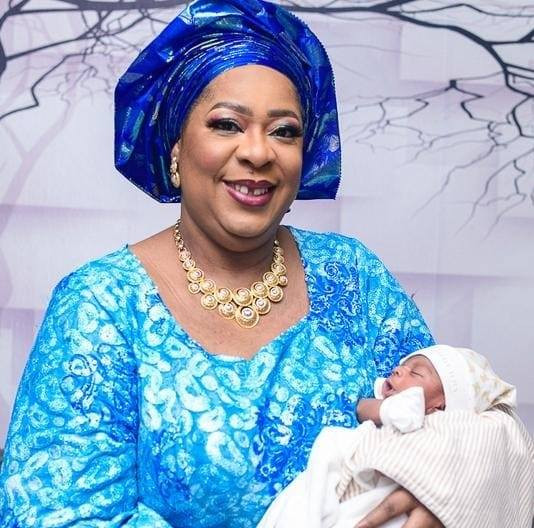 Ladunni's friend, Ifeanyi Omeni had this to say, "Ladunni's marriage to Aigbovo Giwa-Osagie, whom I call the husband of the year, is an encouragement to those Christian sisters who are beckoning at compromise, because they feel that God has forgotten them and they want to 'help' themselves."
On the Day of Dedication of her son at White Stone Event Centre in Lagos, Ladunni's husband stated that while many men complain of headaches caused my women after marriage since he met her, he stopped having headaches once he married his wife.