A man's success has a lot to do with the kind of woman he chooses as his wife.
Diana and David Kamaali chose to "mature" their seven years of dating with a millennium celebration and in 2000 declared their love for each other in a traditional marriage witnessed by their mentors and council of elders led by Dr David Kazungu, then Ambassador of Uganda to France and Eng Patrick Batumbya.
Twenty years down, and with three children from their marriage 'probation', they made it official in 2020 at Namirembe Cathedral. Their vows were presided over by the Archbishop of the Church of Uganda Samuel Kazimba assisted by Bishops Wilberforce Luwalira of Namirembe Diocese, Samson Naimanhye of Busoga Diocese, Samuel Egesa of Bukedi Diocese and Patrick Wakula of Central Busoga Diocese.
Ambassador of Uganda to Turkey Stephen Mubiru and head of Human Resource Novic Group of Companies Rachael Sekagiri were best man and matron respectively.
Because of the Covid-19 pandemic, the scientific do had limited but quality representation from across the divide.
These included Busoga Kingdom's Prime Minister Dr Joseph Muvawala, as well as Esther Mbayo and Moses Kizige ministers of Presidency and Karamoja respectively. Guests were later hosted to a sumptuous reception at Pearl of Africa Hotel where the couple had their one-week honeymoon under love and marriage isolation
"Our marriage is blessed and Biblical five bishops, 40 guests at the reception, white colour theme, the seven years of dating and patience when divided by the 21 years we have stayed together account for the three products of our love," Kamaali describes their long-lasting and blissful marriage.
Last weekend they held their one-year anniversary luncheon in the same hotel and checked in to Namirembe Guest House for a three-day marriage retreat.
"Covid-19 gave us an opportunity to live closely, rekindle our love, trust and responsibilities and we realised like never before that we made the right choices gifted and blessed by the Lord.
What they have learnt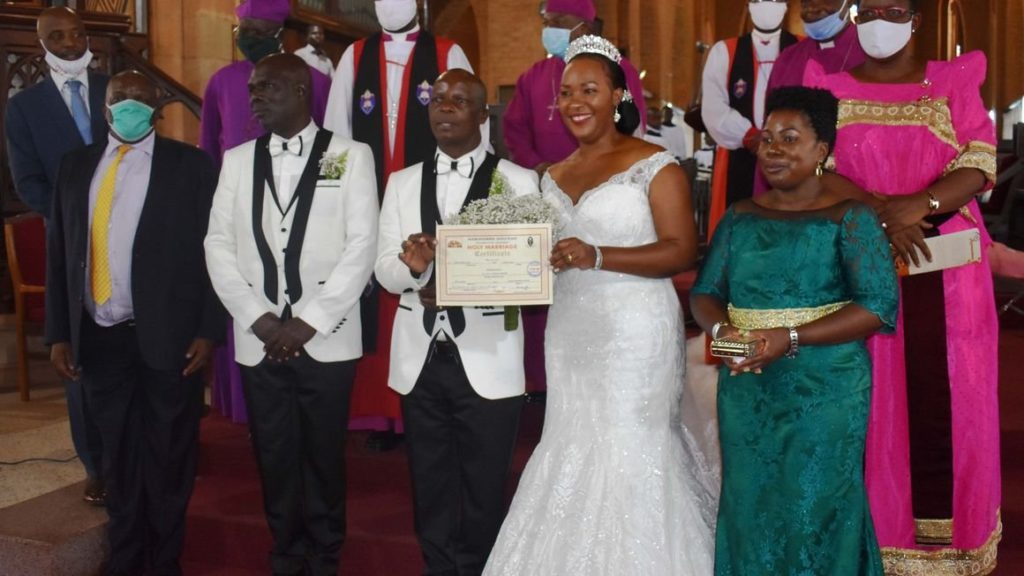 David 'spotted' Diana during a district children's event when she, as the head girl Kamuli Girls, presented a moving poem about the 'Girl Child'.
He was the headboy at St John Bosco SS Kamuli then.
They later met at university where they both offered Social Sciences. They would share space, again in the Administrative Law lectures at Law Development Centre.
The family relations between Diana's mother and the late Livingstone Isabirye, David's close associate facilitated the initiation of the love relationship
"I envisaged my dream wife and 'heartbreaker' as a brilliant and beautiful woman who would be the mother to brilliant children. Diana had these and so I followed her patiently like a sniper. I have not regretted," he adds
David reveals the 21 years have brought out the caring, hardworking, industrious and perfectionist values in Diana. When he lost his job at Parliament, she supported the family singlehandedly including keeping the old parents happy. The children did not lack anything and did not realise he had lost a job.
Diana loves it all saying under her lock and key is a handsome, understanding and generous gem who is always there appreciating and responsive even when nagged.
"Daudi is too generous and hardworking and always wants to help. This, I attribute to his humble background. He has a soft spot for vulnerable persons and keeps and values friends," Diana explains. Click to read more…