Hopeful Kizito Wasswa and Phionah Nanteza Kuteesa kwa Mukama met at church in 2014. Phionah served in the church deaconry while Hopeful served in the youth department.
"At church, I used to mind my business. Phionah was a deaconess and she used to be part of the team that cleaned the church for Sabbath. One Friday evening, a girl wearing boots passed by me and I was amazed by her taste in shoes. That is where the spark was ignited from," says Hopeful.
He did not make a move but he started looking around to see if she still wore boots. In 2015, Phionah joined the youth ministry where Hopeful was an instructor and he got to know her name and contact details but he did not call her.
"I was not the kind who got a girl's number and got all over her. I took time to get to know her. She is open, a trait that has kept our marriage," says Hopeful.
One day, they had visited a certain church and Phionah got curious about Hopeful's long beard. She asked him why he had such a beard. His response was that people in the Bible also had such beards.
The strangers
One day Phionah had gone out with some friends and he called her but he did not identify himself.
"I was not ready for jokes, so I switched off the phone. He called again a few minutes later and I recognised his voice. We started chatting in August 2015. We were just friends for about three months without a physical meeting," she says.
Phionah always asked Hopeful to be open and that if he was uncertain about his choice, he would still choose among the many girls.
"I did not want to be surprised so I gave him options but he was committed and told me to stop showing him other girls. There was nothing else I needed," she recalls.
Hopeful says he knew what he wanted.
"I neither wanted to be too fast nor too slow. Phionah ticked my furture wife qualities and I knew what she wanted. Then she came up with the idea that we start making investments together," he explains.
On Christmas of 2016, the duo discussed the dates for their kukyala, introduction and the wedding. Since they had been investing together, they had saved some money for the events.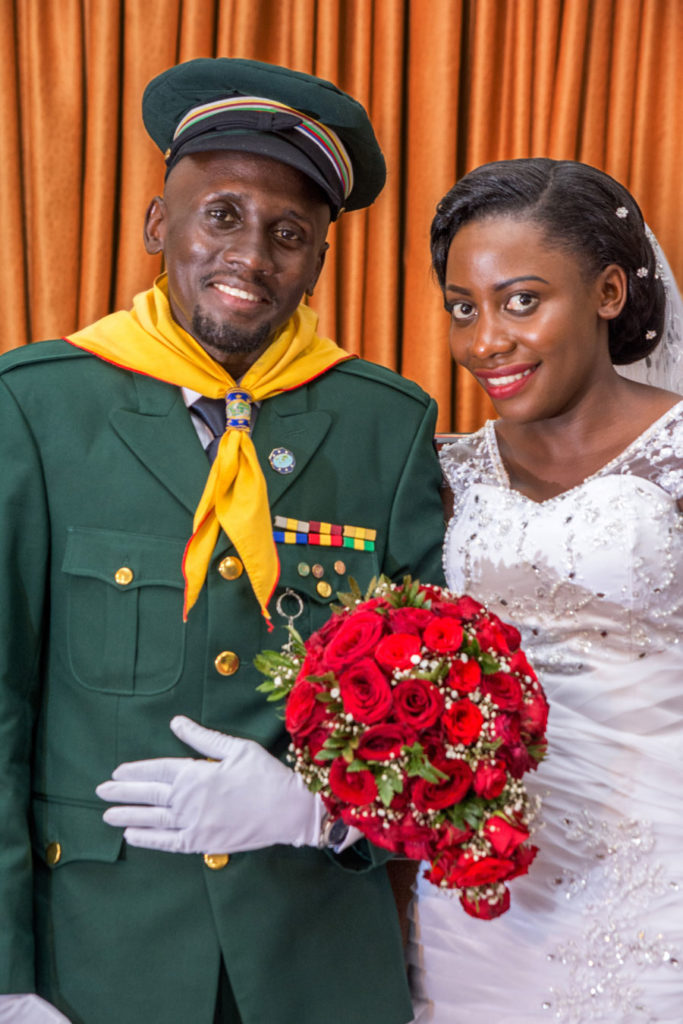 The wallet
To cut costs, the couple had their reception in a hall where they were offered chairs, tables, public address system, a night at the hotel and breakfast for a couple at Shs 2.8m. They were allowed to bring food. The cost of the cake was Shs3m, décor at Shs 2.8m and food at Shs4m. Phionah's cousin offered her a mermaid white wedding gown and most of their service providers were known to them.
Preparations and the D-day
On the eve of the wedding, Hopeful went to church, held the last meeting and at about 8pm, he went to pay the last installment for the bridal cars.
"I have always wanted to drive in a limousine since childhood. I had to do everything in my means to have that car for my wedding. When I finally got the money, I went for it and considered the wedding done. I had no happier moment than driving in a limousine," he says.
Phionah had her hair done on the wedding eve to ensure punctuality for the church service.
"When I was sure everything had been sorted, I went to my grandmother's home which is near the church where we were going to be wedded. There, relatives had organised a farewell party for me and most of them went to sleep after midnight," she recalls.
Best moments
The guard of honour impressed Phionah.
"As a member of the youth ministry, church members of the master guide club saluted us in their uniform. I felt so honoured," she recalls.
Unfortunately, the decor service provider had promised to provide a gazebo and a certain type of glasses but did not deliver.
"If we had a chance to redo the wedding, we would have another DJ," Hopeful says.
The lessons
Hopeful describes marriage as a game of thrones.
"In marriage there is always someone who wants the throne so you have to fight to keep it," he says.
Phionah has learnt to take one day at a time.
"There are times when there are ups and downs, sacrifices but you choose to be happy. I am thankful that my husband has accepted who I am. I work upcountry with our little baby and he lives in Kampala with the older child because his work is around town. We utilise all the holidays to get more intimate, " Phionah says.
Date: June 11, 2017
Groom: Hopeful Kizito Wasswa
Bride: Phionah Nanteza Kuteesa kwa Mukama
Main celebrant: Pr Rogers Kaggwa
Church: SDA Najjanankumbi
Reception: Equatorial Hotel
Budget: Shs25m
Guests: 600