On 27th December 2018, the good Lord granted two wishes of a one James Muhindo. On that day, Muhindo stood in a small church in Bwera, Kasese clad in a suit with an African bowtie. Suddenly, the sound of Jeff Buckley's Hallelujah filled the room as the love of his life, Charity Ngabirano glided towards him.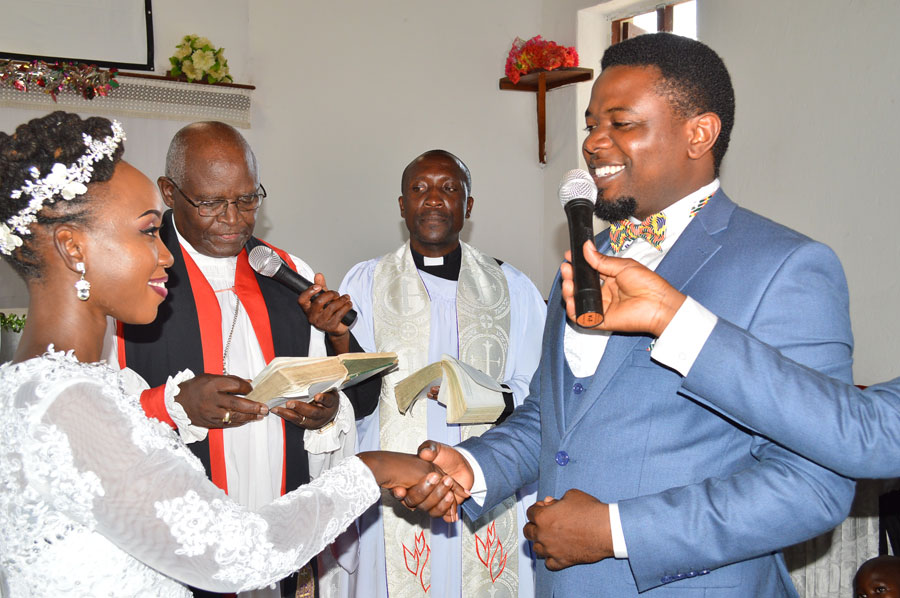 "It felt like I was dreaming. I kept looking at people. It was like I was watching proceeds of a movie," James reveals.
Retired Bishop, Zebeddee Masereka officiated the couple's union. For anyone, it was the common marriage procedure, yet it meant more to James. The Bishop had officiated his confirmation so many years ago, but he wasn't taking Holy Communion anymore after falling short of one of the requirements.
"When you have a baby, you stop taking communion, until you are married. I wanted to renew this covenant with God ushered in by the same person who had confirmed me."
The couple later hosted over 2,000 guests in Kasese town for their reception.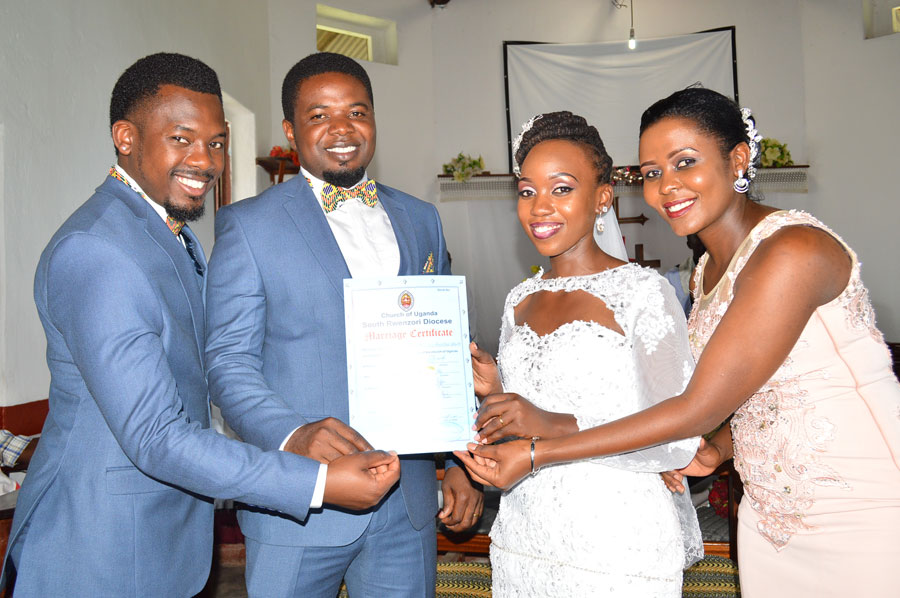 Charity, an employee with the Uganda Law Society, and James, the national coordinator at Civil Society Coalition on Oil and Gas live in Kampala, yet they decided to have an upcountry wedding. Charity knew it meant a lot to James for that is one thing he often mentioned in passing, so when the time came, Kasese it had to be.
"A man takes his woman home to his people. I had to. That is what it meant for me to feel well married."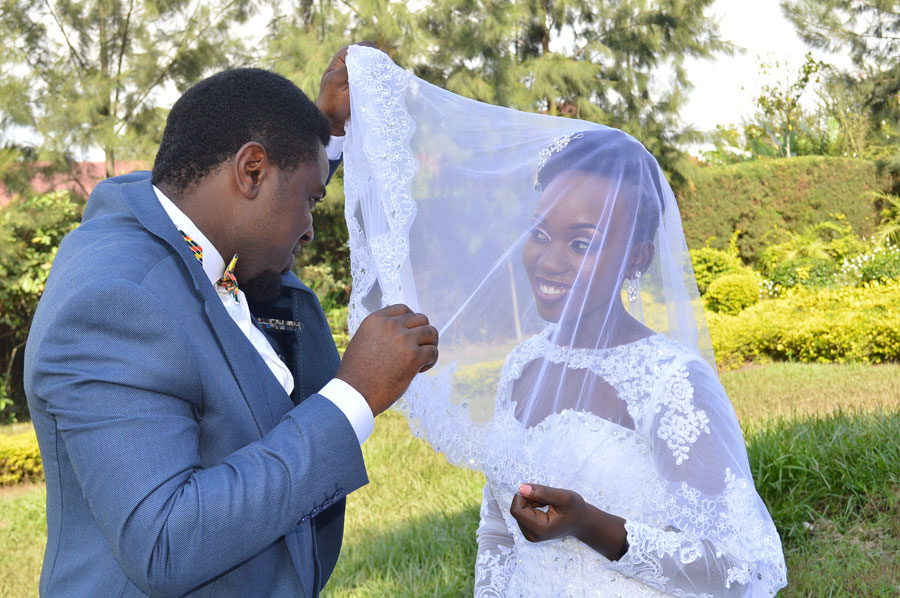 Courtship
James and Charity met at the Law School fellowship, Makerere University. He was a year ahead of her. From 2012-2018, the two never attached words to what was between them, not even when everyone around them talked about what the relationship was turning out to be.
"We were special to each other. We were not hiding it but neither were we defining it. We had a love relationship," James reveals.
But by October 2018, the couple were finally getting a definition for what they shared. They were going to be husband and wife.
The wedding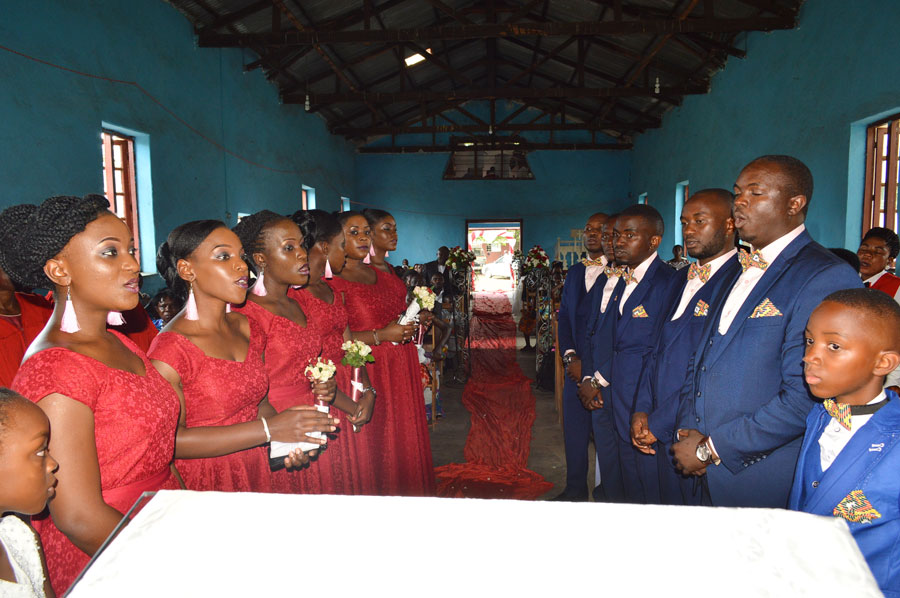 James says his dream wedding was getting married in church and driving his wife off to the honeymoon. The reception was never part of his ideal wedding, however, because he comes from a big family, it was inevitable that he would have to have a reception, and a large one at that.  He explains how his wedding ended up having almost 2,000 people.
"When we have family meetings, the gathering is between 400-700 family members. My father is a leader who also has many friends. So we figured that was already 1,000 people in Kasese. Adding Charity's family, her friends and mine, the estimation of the guests to budget for was about 2,000."
After the couple had the estimates, they had to figure out how to plan a wedding in Kasese with Charity working miles away in Arua and James working in Kampala. They decided that planning earlier was the secret to getting the work done. Thus, in October, three weeks after Charity's give away ceremony, they started to plan for their December wedding. The couple tells the rest of the story.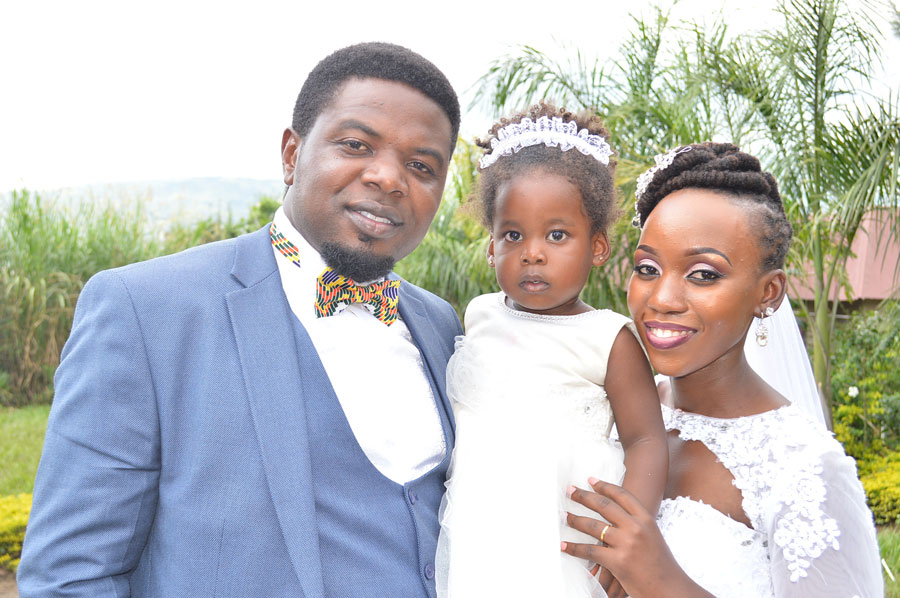 How did you go about planning the wedding when you are miles away?
James: We made two wedding preparation committees, each organising their meetings. One was in Kasese and the other in Kampala. My uncle Paddy Mpabala manned the meetings in Kasese, while Steven Sebbaale chaired those in Kampala. The secret for having successful meetings was choosing well-seasoned meeting chairpersons for both.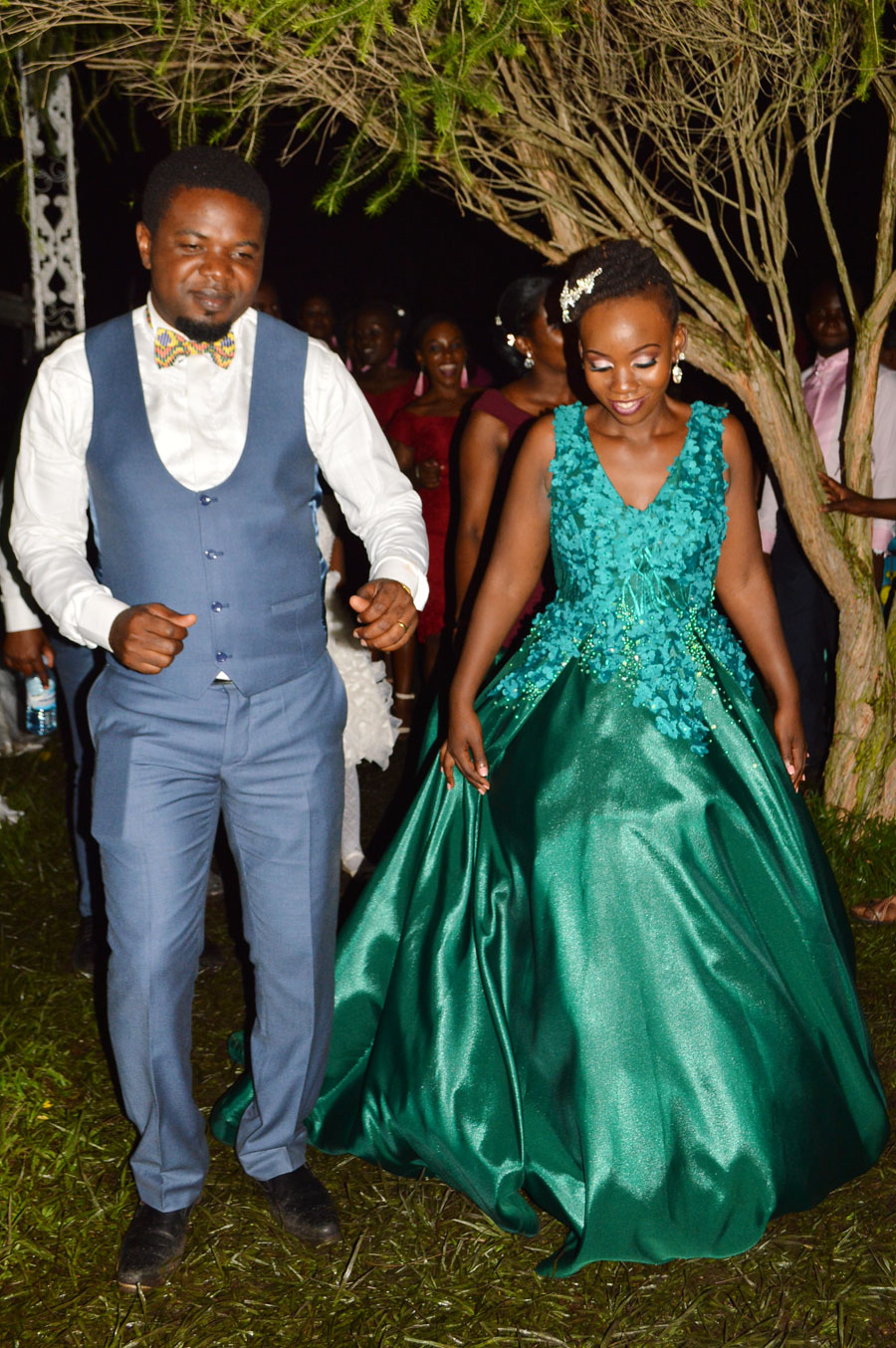 Did you attend the meetings in either places?
James: I mostly attended the Kampala meetings. I travelled to Kasese only twice and yet all went well. I accord my wedding's success to having a supportive family. Whenever they were taking care of something and money was needed, we would send it to them because they spearheaded the organisation.
Charity: I had to travel to Kampala every Friday for the meetings as I also kept in touch with the people in Kasese.
Was Shs36million enough to take care of 2,000 guests?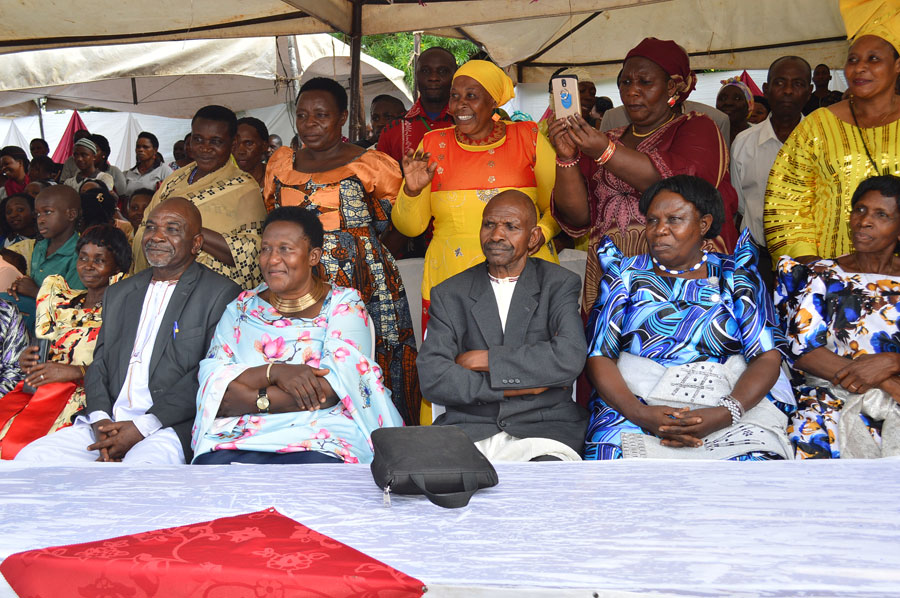 James: Our budget was just sufficient and with village service providers, the services were not very expensive.
As a couple that comes from the city, did you not feel the need to use city service providers for quality assurance?
 James: We did not blindly choose people. We used testimonials from our friends, however, we did not personally contact the service providers. Family exclusively helped on that.
Cake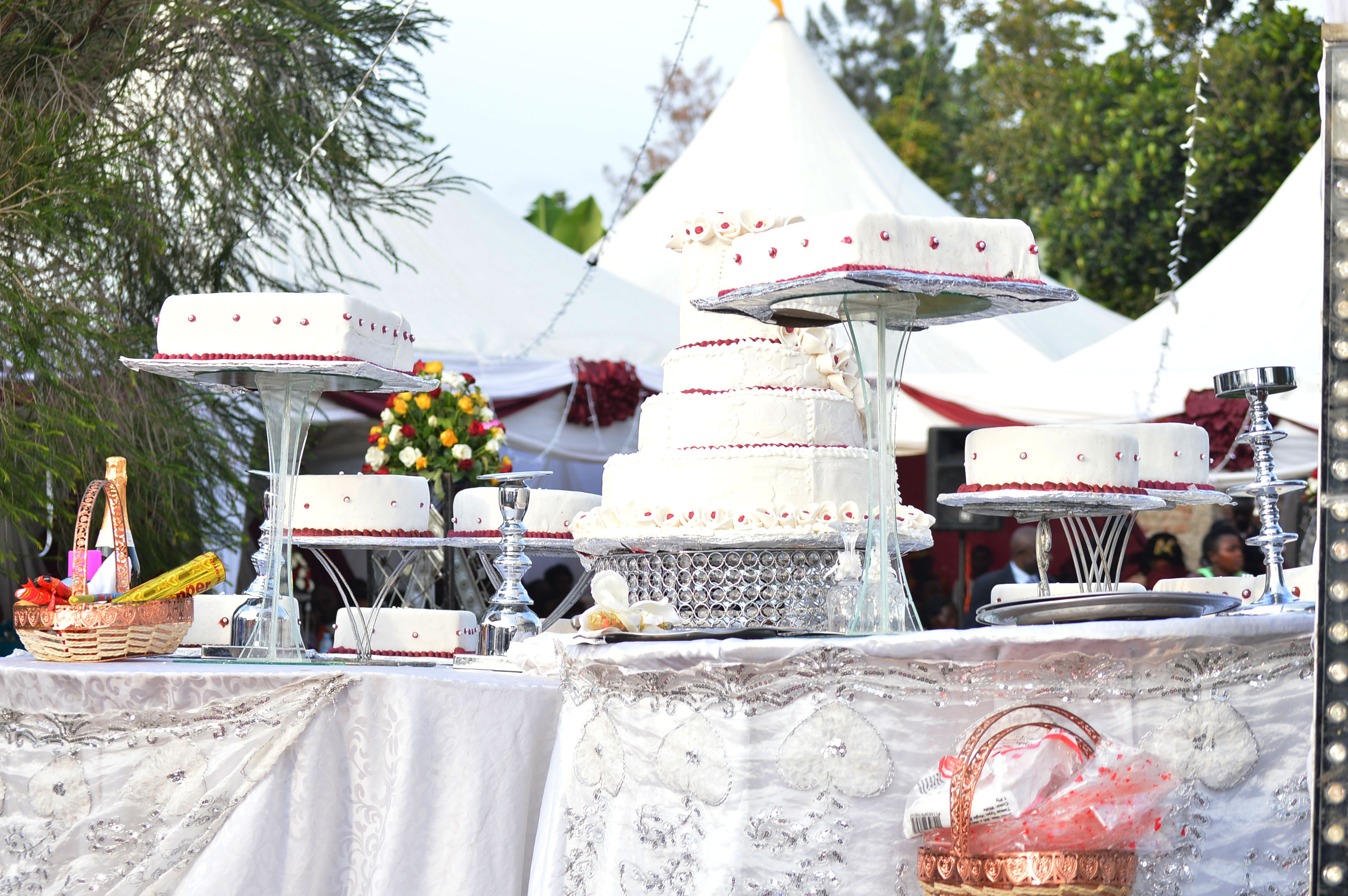 Charity: We wanted a baker from Kampala but being in Arua, we gave a Kasese baker a chance. They made a sample and we paid for its transportation to Kampala. When we tasted it, we realised it was good enough. This saved us from having to transport the cake from Kampala and running the risk of damaging it.
Food
 James: Kasese people are reputable for their cooking skills, so we felt safe with them. We bought all food items so that we only paid the cooks for the labour which was a lot cheaper.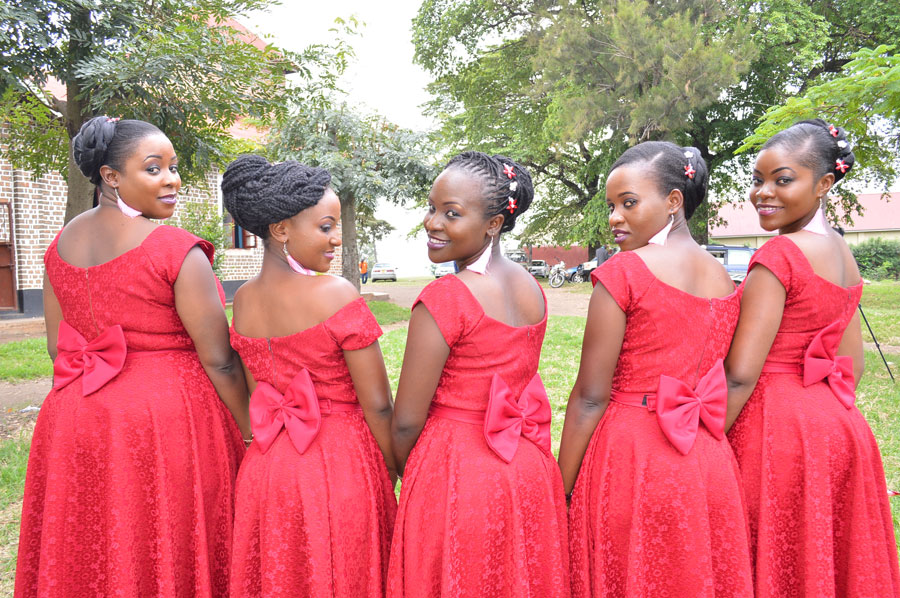 Decoration
 Charity: We took a bet on decoration and trusted the service provider chosen by our Kasese meeting. We gave them our theme colours.
James: There were many natural roses and I love flowers. The decoration surpassed our expectations, even after a heavy downpour.
 Makeup and hair
 Charity: I styled my dreads in Kampala five days to the wedding. My makeup was done in Kasese by a makeup artist who had also worked at my friend's wedding earlier.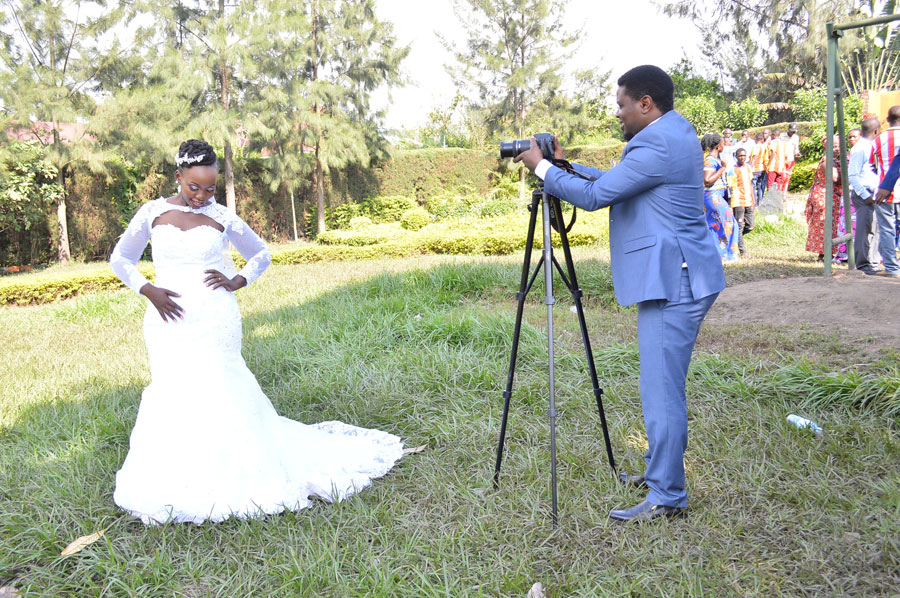 Where and how did you choose your gown?
 Charity: I travelled with my gown from Kampala. After trying on many gowns, I didn't like the Cinderella gowns, so I choose the mermaid style. I also wanted to show off a bit of shape after losing some weight.
How did you manage guests that came from afar?
 James: Charity's family was coming to the wedding from Kabale, so we reserved two hotels beforehand. One hotel was reserved for Charity's family and another for Charity, her maids and my groomsmen. Whenever a guest came, we would show them where to check in depending on where they were booked. However, we had more people than we had expected come in. Those were extra costs that we had not foreseen.
For how long did you book the hotels and how much was the cost?
James: We booked the hotels for two nights at a rate of Shs45,000 per day. In total we spent about Shs2.8 million on accommodation. The guests had to sleep there on the eve of the wedding and on the wedding day night so that they could travel the next morning.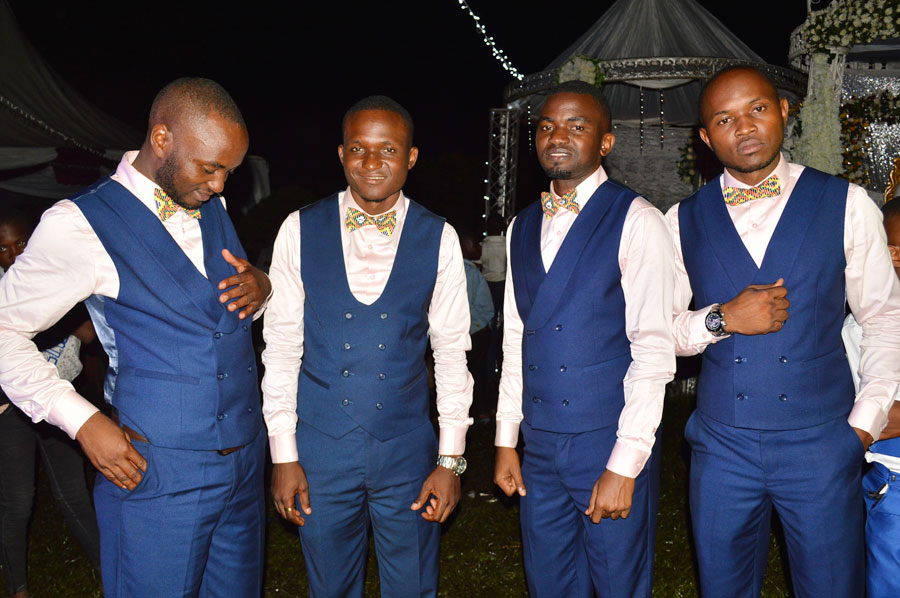 How did you handle those extra costs?
James: In Bakonjo tradition, when they give you an invitation card, it doesn't come with a pledge card. People respond by bringing back the invitation on the wedding with some cash in it. That money is for the couple to start their home, but it helped us reconcile with those things we had not covered in our budget. We ended up spending Shs38 million, a Shs2 million surplus of our budget but because of that money, it did not affect us.
Any advice to couples that are yet to marry?
James: To guys worried about money, I want you to know that once you decide to wed, a way will come for you to fund it. Just name a date. The story that you should have half the budget is not quite the issue. Just keep it within your means. The wedding is not for your friends or family and neither should it be like someone else's. It should be unique to you.
The couple is now living in the peace of belonging that they say comes with being legally married.
"We send our thanks to family and friends. It is seven and a half hours from Kampala to Bwera so I was very happy to see that people turned up for us," concludes James.
More photos