By Maria Immaculate Owechi
When it comes to organising a wedding ceremony, couples have the choice of either planning for a simple or extravagant function.
The ones who hold extravagant weddings are usually held in high esteem in society compared to those with simple weddings. This is because some people think that simple weddings are for those who lack sufficient finances to throw a mega party.
Susan Kayeny, a wedding planner partly agrees that some people organise simple weddings because they would want a function that fits their budget by concentrating more on the important details. On the other hand, she says there are couples that have the capacity to fund a grand wedding party but prefer something small and intimate with close family and friends.
Kayeny explains that many people find wedding planning stressful, so they would rather focus on the things they can organise by themselves.
Renzioni Hills, a Ghanaian wedding planner based in Kampala also adds that simple is just a relative word because a simple wedding can cost Shs100m.
He explains that the simplicity can be in terms of certain details on the budget, not necessarily the entire wedding ceremony.
Whatever reasons you may have for wanting a simple wedding, we bring you some details which you can consider while focusing on the aspect of simplicity.
 Cut down on the guest list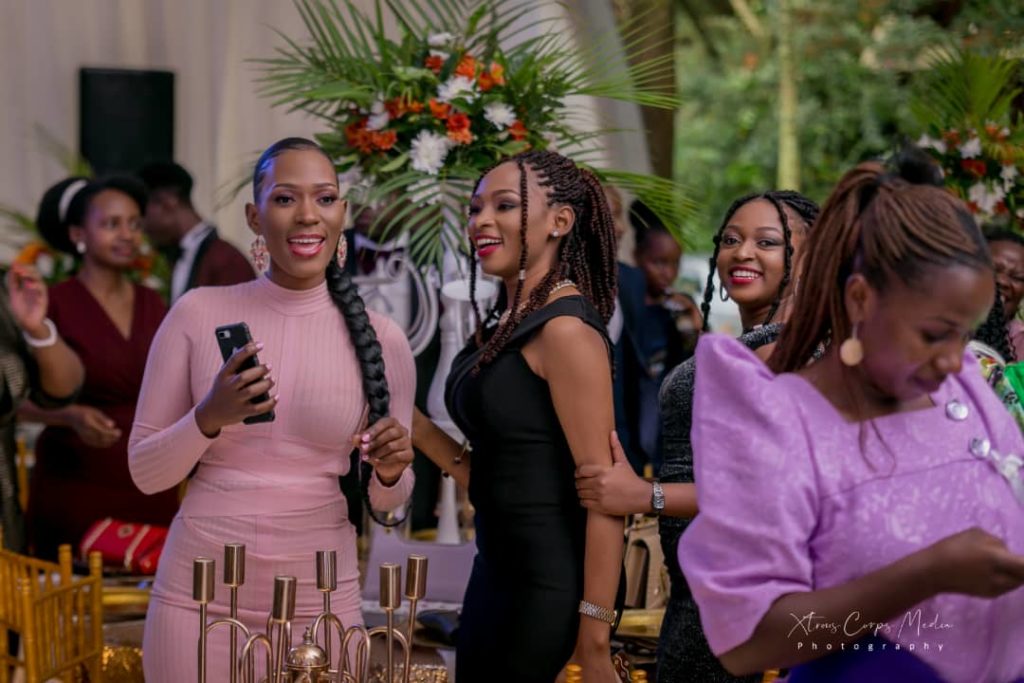 Cutting down the guest list to a manageable number makes it easy to plan for the other details. The advantage of having a few guests is that you can easily move around and have a one on one recognition of your guests.
Yvonne Kemigisha, an interior designer shares how her sister in 2016 only invited 20 people to her wedding that took place at Emin Pasha Hotel, Nakasero.
She said it was lovely and intimate, "Since the guests comprised mostly of close family members and friends, we felt comfortable interacting amongst each other," Kemigisha adds.
Have no or fewer entourage members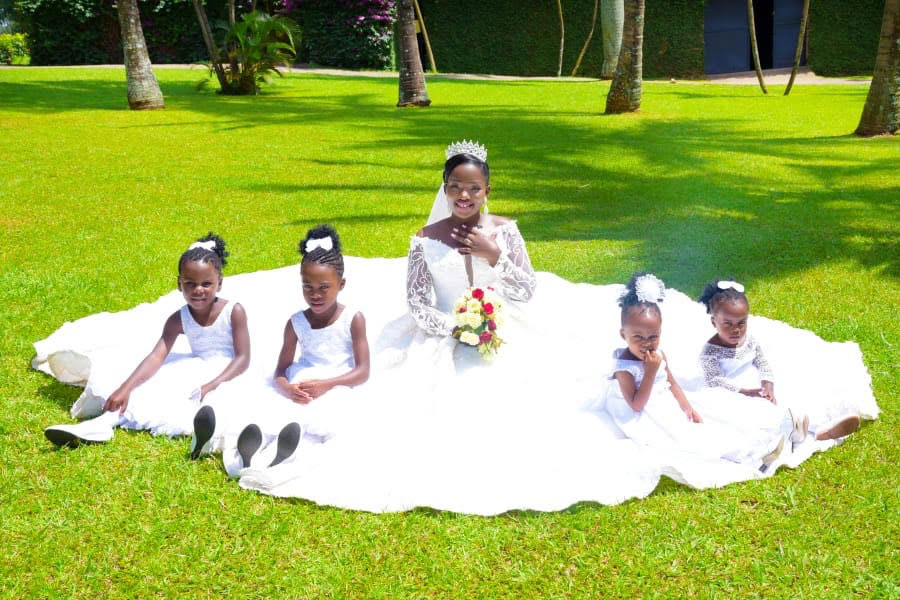 According to Renzioni, a couple can simplify their wedding entourage by opting to have a few or no entourage members.
He explains that sometimes a big entourage can be hectic to coordinate.
On October 31, 2019, Nicholas Arineitwe, 32, a visual artist and Florence Najjumba, 28, a teacher at Qamar High school, Bunamwaya held a simple wedding without any entourage members.
They said they only requested some two close friends to step up when it came to signing the marriage certificate.
The officiating wedding venue
For someone who isn't excited with the idea of exchanging vows amidst multitudes. You can keep it simple by inviting a few family and friends to be witnesses.
In November 2019, Kasese songstress Heli Loyce Agaba, famously known as Heli Esli, secretly tied the knot with partner Sunshine Melody, CEO Kanta Group of companies at St Paul's Church of Uganda, Kasese.
They decided to keep it simple by only inviting 11 people to witness the exchanging of their vows.
Kayeny reveals that this is also common with court weddings where the couples keep it simple by having a few people witness the legalisation of their marriage.
Have both ceremonies at the same venue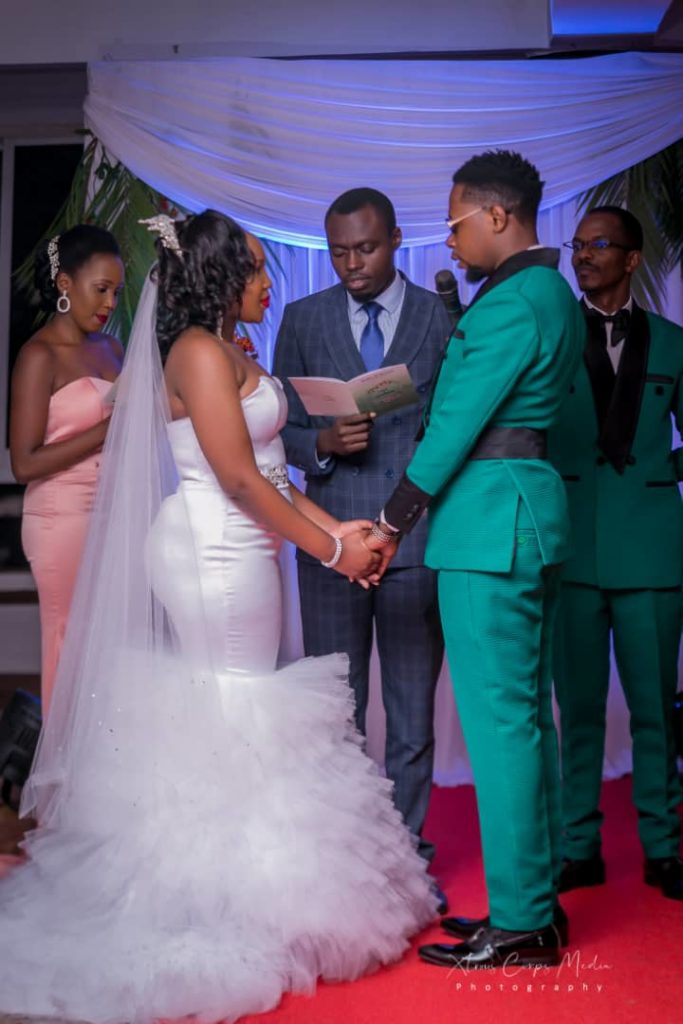 You can simplify the hustle of paying for two venues by having both your religious and reception venues conducted in the same place.
Both the wedding ceremonies can take place in nice venues like gardens, hotels, halls, beaches or some destination place.
Renzioni Hills explains that having both ceremonies at the same venues is simple but can prove to be pricy if the venue is at a high-end hotel or a destination location.
He gives an example of a wedding set to take place in Zanzibar where everything will be priced at international rates regardless of it being in a neighbouring country.
"I always tell people that travelling to Zanzibar is more expensive than to any part of the world. You have to be prepared to hit a budget of $10,000-$20, 000," Renzioni reveals.
Keep the decorations simple
Simplicity can also be with details of having a few decoration details around your venue.
Winnie Kirabo, a decorator with Luxury florist reveals that some clients prefer keeping their decoration classy by having minimal flowers or centerpieces used.
Kirabo further advises couples who want simple decorations to ensure first that the selected venue does not need a lot of details to look nice.
She gives an example of hotels which usually have their own décor in place and the decorator only needs to add a few personalised details like welcome boards, plus a little unique décor for the couple's table.
Keep the entertainment simple
Having only a DJ playing music for your guests is also a simple form of entertainment. This cuts on the costs of hiring a singer, live band or traditional dancers.
Some couples have resorted to using their own home stereo equipment just in case they are celebrating their wedding party at home.
Keep the outfits simple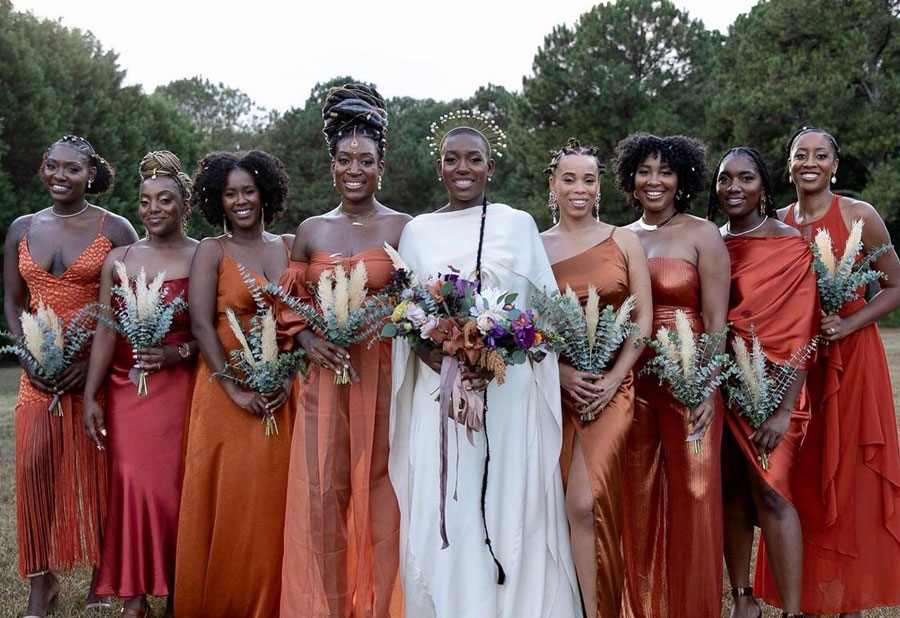 If the traditional ballroom gown isn't just for you, there are other alternatives that can make you comfortable.
Brenda Mutamba, a designer with Destiny Bridals in Entebbe reveals that today's brides prefer simple wedding dresses like tea-length, trumpet, column, mermaid and sheath.
She recommends both brides and grooms settle for customised wedding outfits that can fit the simple designs they desire.
For the men, if you are the type who doesn't like wearing full suits, there is the option of ditching it.
Last year in December, a workmate who is into causal outfits managed to still look elegant when he kept it simple for his wedding day with a two-piece suit, a white shirt but with no tie.
Keep the hair simple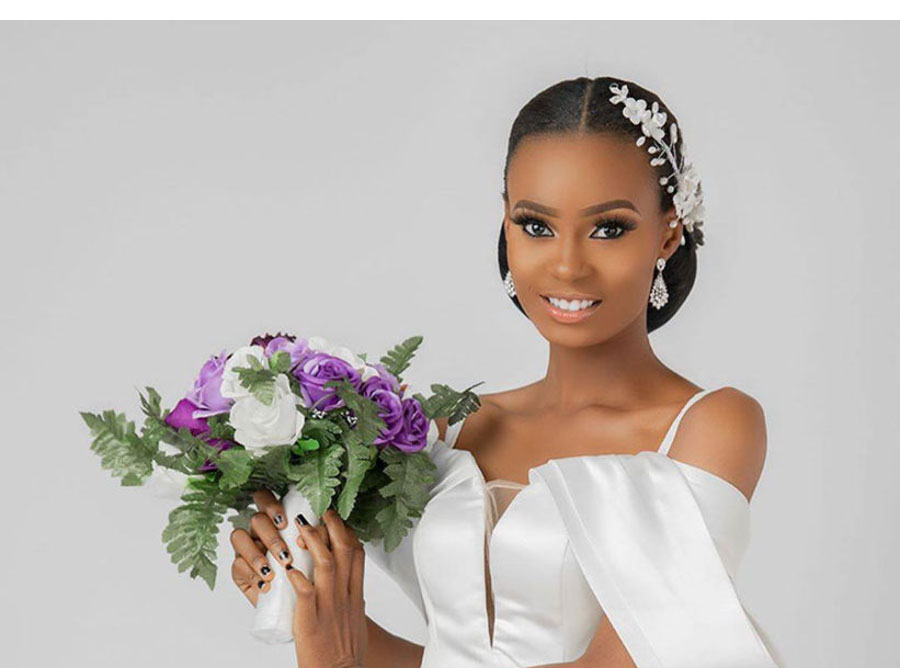 These days any hairstyle can work for a bride's wedding ceremony as long as it is styled and accessorised well.
The latest simple trend is of women rocking their simple short hair for their wedding ceremony.
Last year a city commercial model and fashion designer Rachael Naijuka aka Tania Rakeri amazed online users with her bold bridal hairstyle.
Rakeri went for a short hair look and revealed that she spent Shs20,000 only on styling.
Keep the make-up simple
Simple or everyday make-up is a preference for some brides compared to having a bold look.
"Simple makeup is usually requested for by brides who are not the make-up type but would want to look a bit different on their wedding day," says Aisha Abubaker, a make-up artist with Nubian Looks. "There are others who are afraid that they will look horrific if their bold look is not applied well."
Abubaker elaborates that the simple make-up can be composed of a little powder, lipstick and drawing the eyebrows.
She adds that natural make-up is another form of simplicity for those who prefer not to tamper with their natural looks.
Keep the accessories simple
If the bold, chunky or sparky jewelry doesn't work for you, keep it simple with minimal accessories.
Mutamba says in cases where there are a lot of busy details or glitter on the bride's dress, we usually encourage them to keep the accessory bit simple.
"Actually minimal accessories are considered classy, so don't be afraid to pair your look with only stud earrings, a bracelet or small chain necklace," she says.
Keep the menu simple
Food is usually among the most expensive items on the budget but you can keep it simple by foregoing a full course dinner. This is can be by choosing a few key dishes, all of them simple, and left it at that.
In August last year, Shafic Senabulya, CEO of Lane Production and Joyce Biira, a Dental Surgery Assistant at Pan Dental Surgery held a lovely civil wedding ceremony.
Since the reception was for only close family members and friends, they decided to have another after-party for those who missed out where they treated their guests to goat roasting and drinks.
With these tips, you can dive to fearlessly turn your dreams of having a simple wedding into a reality.