By Claire Balungi
"I love you so much, Joshua. You're my best friend."
-Love, Stella
A tear of joy
On July 30th, it was all vows and promises of love at Serena Kigo. Walking down the aisle was Stella, to none other than her honey, Joshua. It was a lovely day as she can't throw away the memory of their first dance to a song the band played with words she sings as if trying to relive that splendid evening, "When I found you". Caught in the magic of the moment, Stella shed a tear and Joshua said to her, "Honey, it's okay. You look beautiful. Just enjoy the moment and I love you."
Let's draw our minds back to the start of Joshua and Stella's beautiful journey;
Dating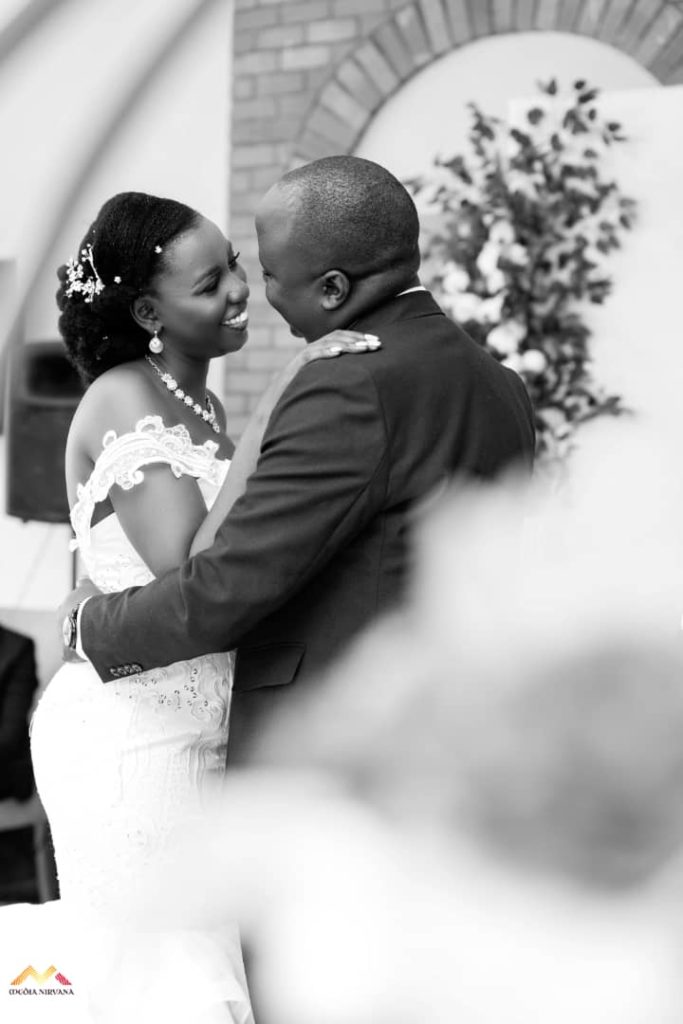 "I met Joshua in 2017 and we shared a casual, almost distant friendship. There was no sign that anything huge would ever come up, we were in ministry and our friendship kept going." Stella recounts.
Yes, some beautiful stories do have silent beginnings. Joshua took a major step someday in 2019; he treated Stella to a beautiful breakfast after church at one of the best restaurants in town. No, he said nothing about his intentions that day.
It was after they'd parted that Joshua called to check on Stella and one day, he asked to meet up with her again. Was he going to say something this time?
Yes, Joshua confessed to feeling things for Stella and here's what she said in response, "You are a loving and good person." The story goes on…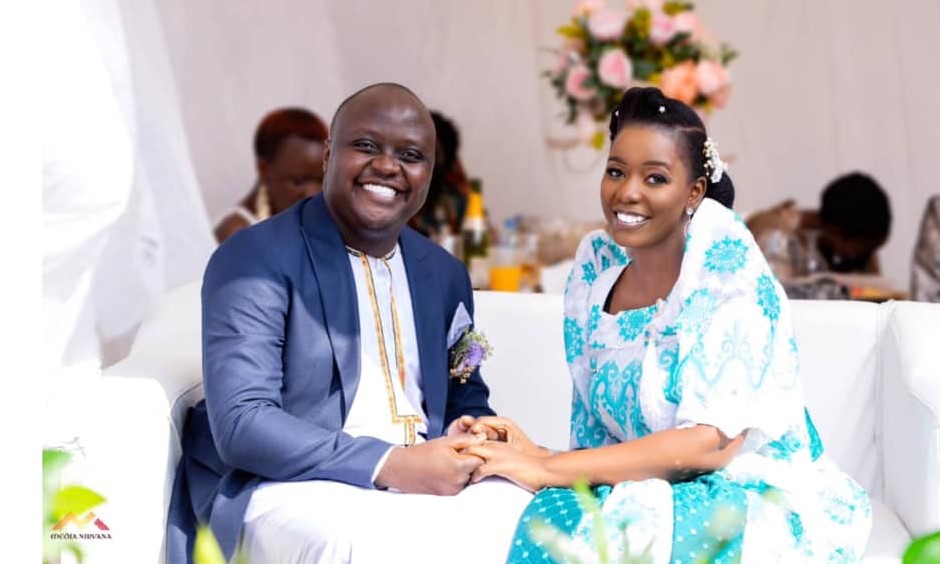 Stella had watched Joshua from a distance and decided to take some more months watching, understanding and getting to know him. In her heart, she knew she wanted someone like him; a true friend who just loved her and not one who acted out of pretence.
After about 6 months, they met again at his birthday and Joshua's interest in Stella had never washed out. He said it again… that he loved her. This time, Stella said it back. "I love you too, Joshua" Like that, the two would reach a new height on their climb. You may want to say Congratulations now, but hey, we're not yet even at their wedding.
The couple started dating officially in 2019. "It was beautiful, a candid love, he was real, open… My Joshua would guide me in my work duties, he was there when I was stressed and when I lost my dad. He was the first person that called me, he was very sad but his presence made it a good moment, he did come through. He's a friend I can lean on. I said, Yes! I have found someone I can walk this journey with." says Stella
Coming together
Joshua did not propose to his girlfriend. The couple talked about their union in a mutual way. "I didn't want the proposal. It would come with a lot of attention and I didn't want any of that. It didn't matter whether he proposed or not, I'd given him my heart and he'd given me his word. He'd been true to his word, he'd kept it all through those years even when he told me about how he felt and I was still trying to take it slow. With all the care and love he'd showed me, being there every step of the way, I knew in my heart that Joshua was the man I wanted to love forever."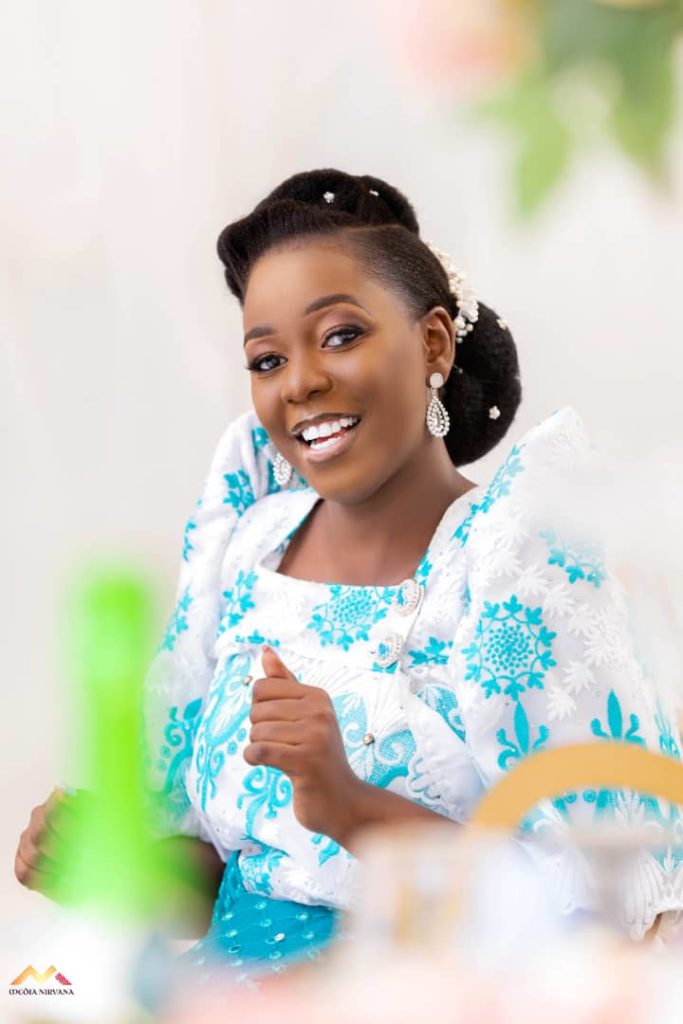 Introduction
Joshua and Stella had their introduction on July 24, 2021. They had started planning for it at the start of the year. When the lockdown was upon our nation, with only one month to their introduction, shopping and preparation became a little hard. The arcades were under lock and key but Stella's sister saved the day. She sent her material from abroad and her clothing was put together 3 days to the function. She got some traditional wear from Images at Oasis Mall which was open.
On the day of her introduction, Stella kept peeping to check if her sweetheart had come. She got locked up in the room and she was refused to peep through the window. "I couldn't wait to see him. Usually people disappoint their friends but my Joshua had told me three days ago, "Honey, I'm coming. I want to make you so proud and I'm going to look exquisitely handsome for you." I was so happy to see him."
Guests always delay but, Joshua and his escorts arrived at around 11:45am yet the set time was 12:00 noon. It was a lovely small function of about 40 people including the service providers who also never disappointed.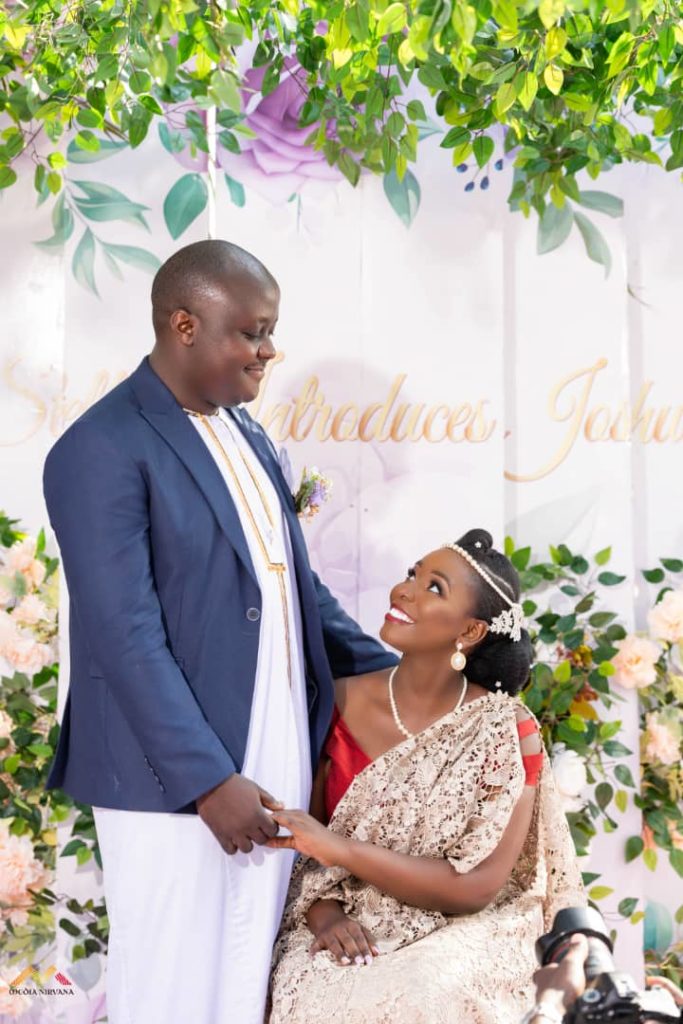 "One of my favourite moments was when Joshua was brought in to have some food. He saw me and started smiling. We both never stopped smiling at each other. The uncles and siblings inside advised that I get sent away in the meantime because they thought Joshua and I wouldn't be able to eat together. They said we were just loving ourselves.
Another beautiful time was when I moved out in my gomesi the first time. It was awesome. I had never seen my sweetheart dance. Before I even reached him, he got onto his feet and danced so lovingly towards me. Oh he was so happy, we danced and danced and enjoyed the moment. It was so beautiful.
Wedding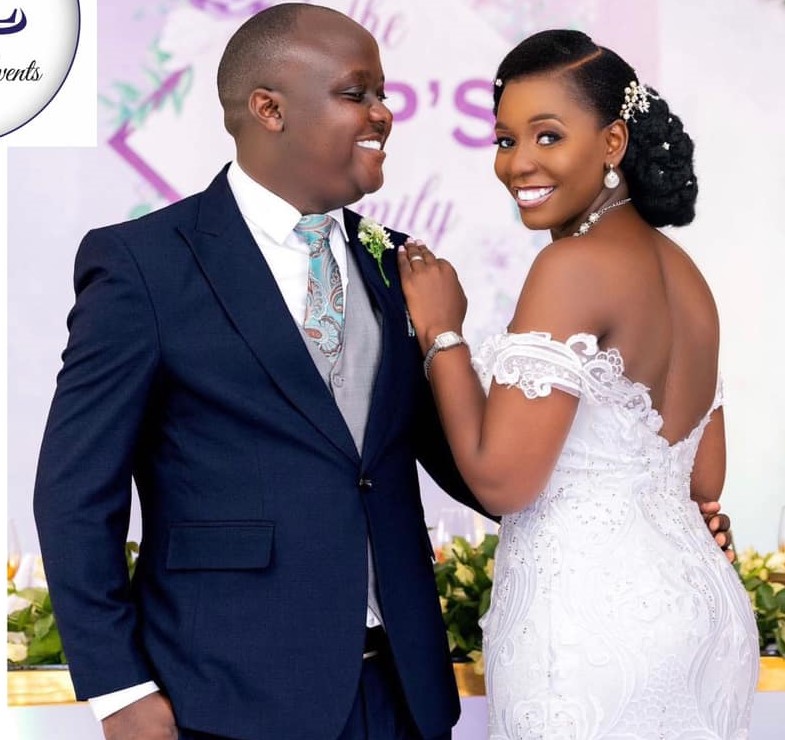 Initially, Stella had wanted an outdoor wedding for its simplicity and good breeze but Joshua was a little scared, he kept saying, "Honey, what if the rain comes and hits us, and then your dress and makeup get messed up, I don't want to see you sad. I don't us to start carrying in chairs in the middle of our occasion."
The couple booked a hotel in town and had a huge space prepared since they'd started preparing before the lockdown and had been planning for 200 guests or more. When the health situation in the country worsened, they had to tailor a plan that would suit the occasion. Movement had become hard and they wanted to be conscious about the health of their guests. They had to cut their guest list to about 35 and Joshua suggested that they get a new reception.
Most of their wedding planning was done virtually with the help of family and friends. Stella and her tailor ordered some of the material for her gown as well as some other wedding equipment online. Their family asked them what they wanted and did their best to make them a simple but beautiful wedding as the couple had wanted. The couple stuck with service providers from their introduction since they had interacted with them and the service providers had an idea of the kind of service that Joshua and Stella wanted.
Joshua's sister managed to get the couple a new venue at Serena Kigo. Their wedding had been slated for 31st July but since most hotels in town had been booked for that day, Serena management asked if the couple could push their wedding date a day earlier, which was Friday 30th. Together with their families, they agreed.
The couple finally tied the knot at Serena- Kigo at the fountain. They later received their guests down at that marina, by the waters and treated them to lovely music from the saxophonist, Michael Kitanda whose beautiful melody graced the occasion and left guests dressed in smiles. Stella's friend even gifted them a full band… because of love.
"I thought about my initial plan and I was like, uuuh it's working. Remember I'd wanted an outdoor wedding for church and here it was! The fountain, the water, it was beautiful, I could see myself walking down the steps going down to the marina and looking at things from a far while I was up there. Moreover, there was no rain. Joshua and I had had a phone call the night preceding our wedding day, we prayed about everything including the weather and it all turned out perfect."
Happy people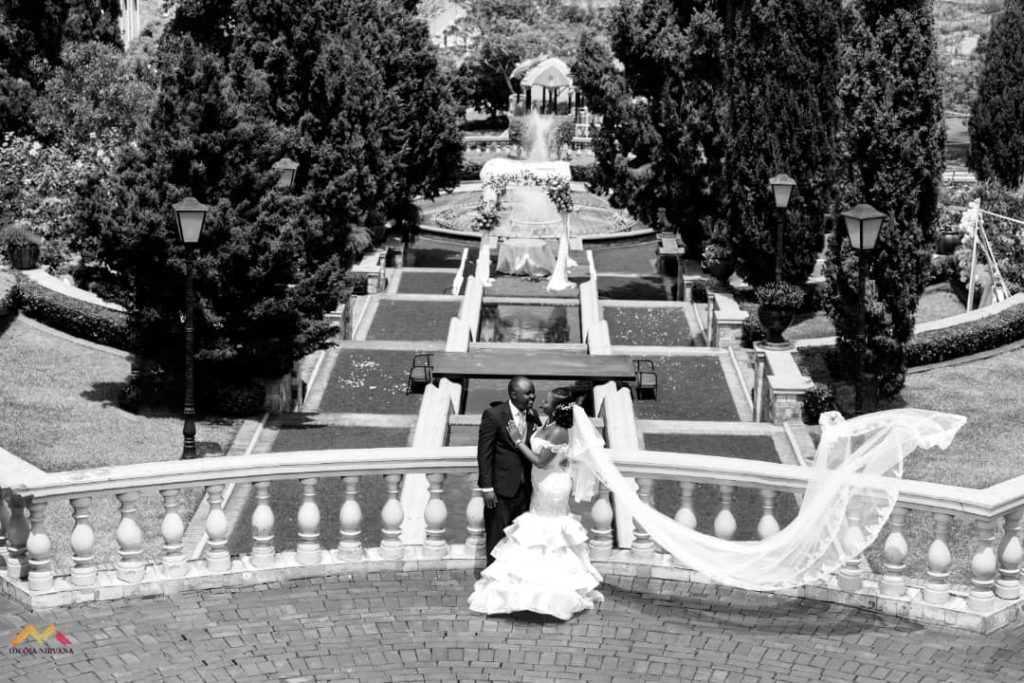 "When I started serving cake, everyone was happy. I shed a tear which was partly for my parents who were not around. I said a little prayer, Father, thank you for this happiness, where mum and dad are, I know they're happy'. It was beautiful seeing our family and friends happy.
My sweetheart sang me a beautiful song from his heart and I danced for him. It made him smile." remembers Stella.
By 6:00pm, the guests were doing their final dance and departing. The newly wed couple had time to joyfully say goodbye to their guests and off they left for their honeymoon.
"Ever been there and miss your mum and dad but you find all their love in your husband? Joshua has given it all to me; friendship, brotherly, sisterly husband love and more… I found it all in this one person. I love you so much honey."