By Claire Balungi
They couldn't have asked for a lovelier day! On July 30, 2021, Fiona Felista Tendo walked down the aisle of Namirembe Cathedral to find her groom, Kennedy Kisitu Tusuubira looking as handsome as ever. With a sincere heart, she publicly consecrated herself to him, giving him her heart, body and love. He did the same and with rings as a sign of their commitment, the couple sealed their covenant with God.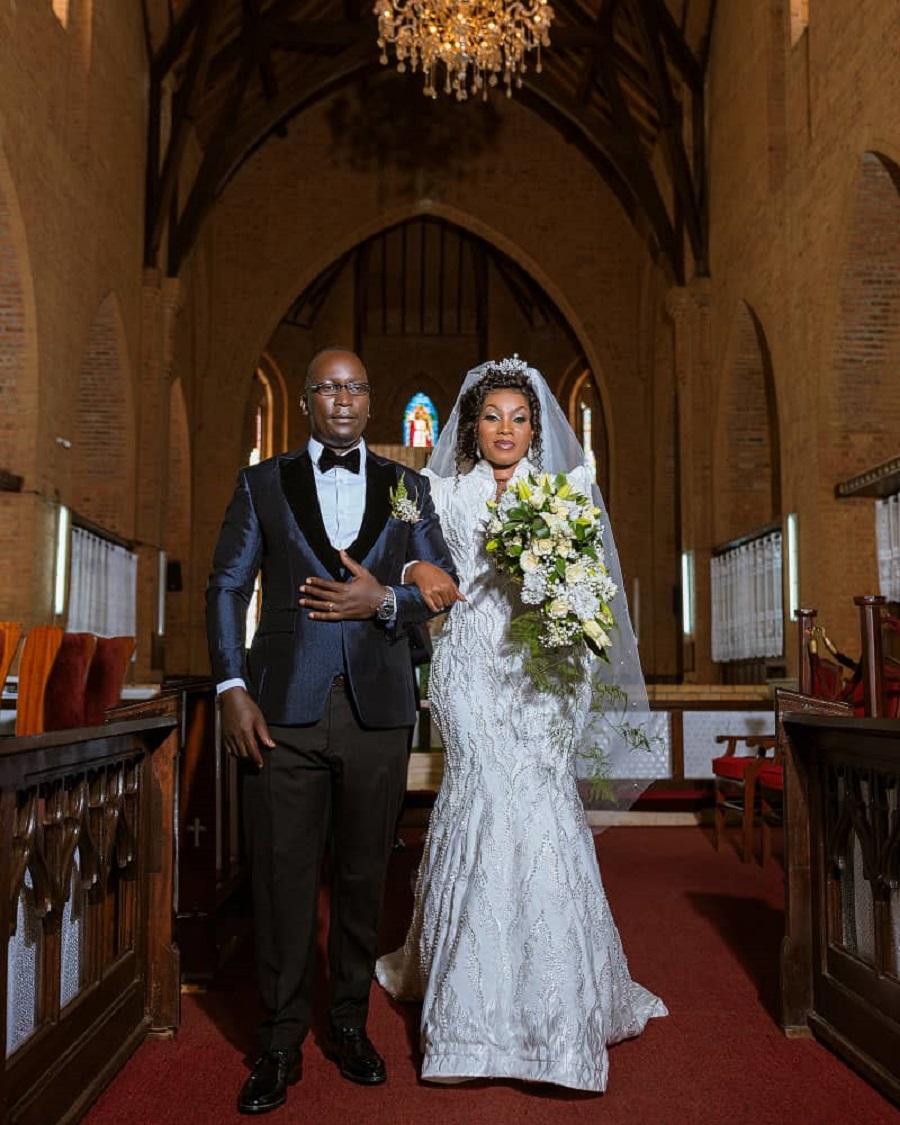 This was almost it for the day as the reception for the couple's wedding had been planned for another day. The wedding invitation card clearly stated two days for their occasion to be complete; July 30 for the church vows and August 7 for the wedding reception.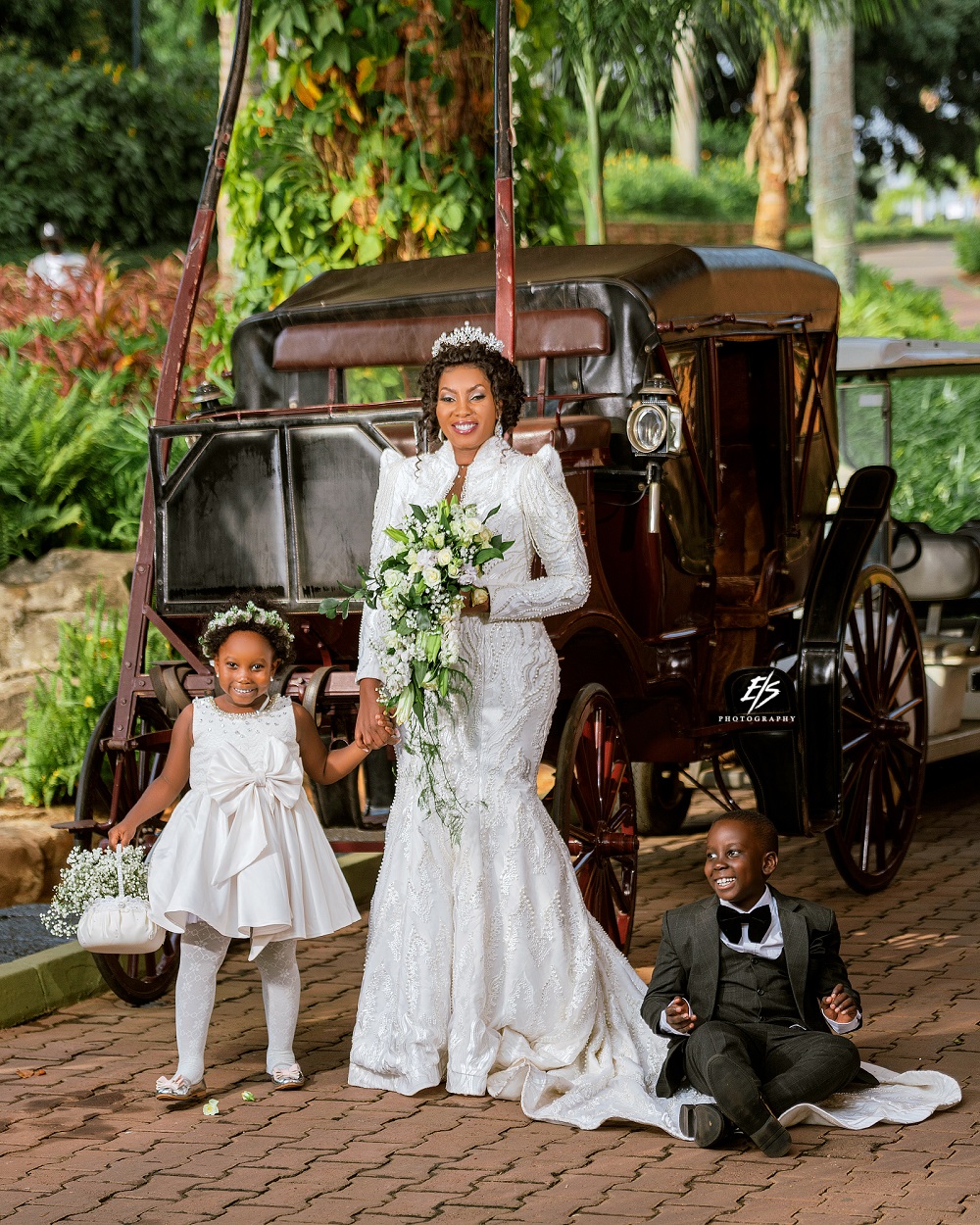 After saying their vows, the couple went to Munyonyo Speke Resort Hotel for a photoshoot and a special intimate lunch with their entourage. The 25 guests who had come to church to share in their happiness were left enjoying a great meal at Namirembe Guest House, a place near the Cathedral where they were wed.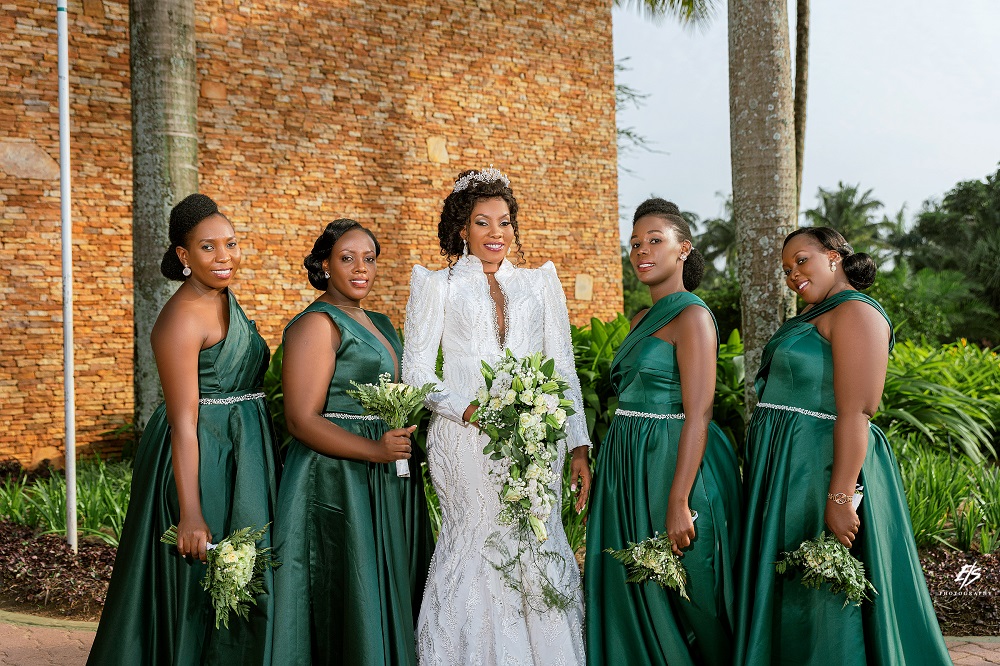 Fiona says they had expected they'd be in for a brief and inflexible celebration if they had chosen to have their reception on the day of saying the vows, " Guests would be worried about curfew restrictions so the ceremony would be rushed. Another day was therefore a perfect option for the reception."
Reception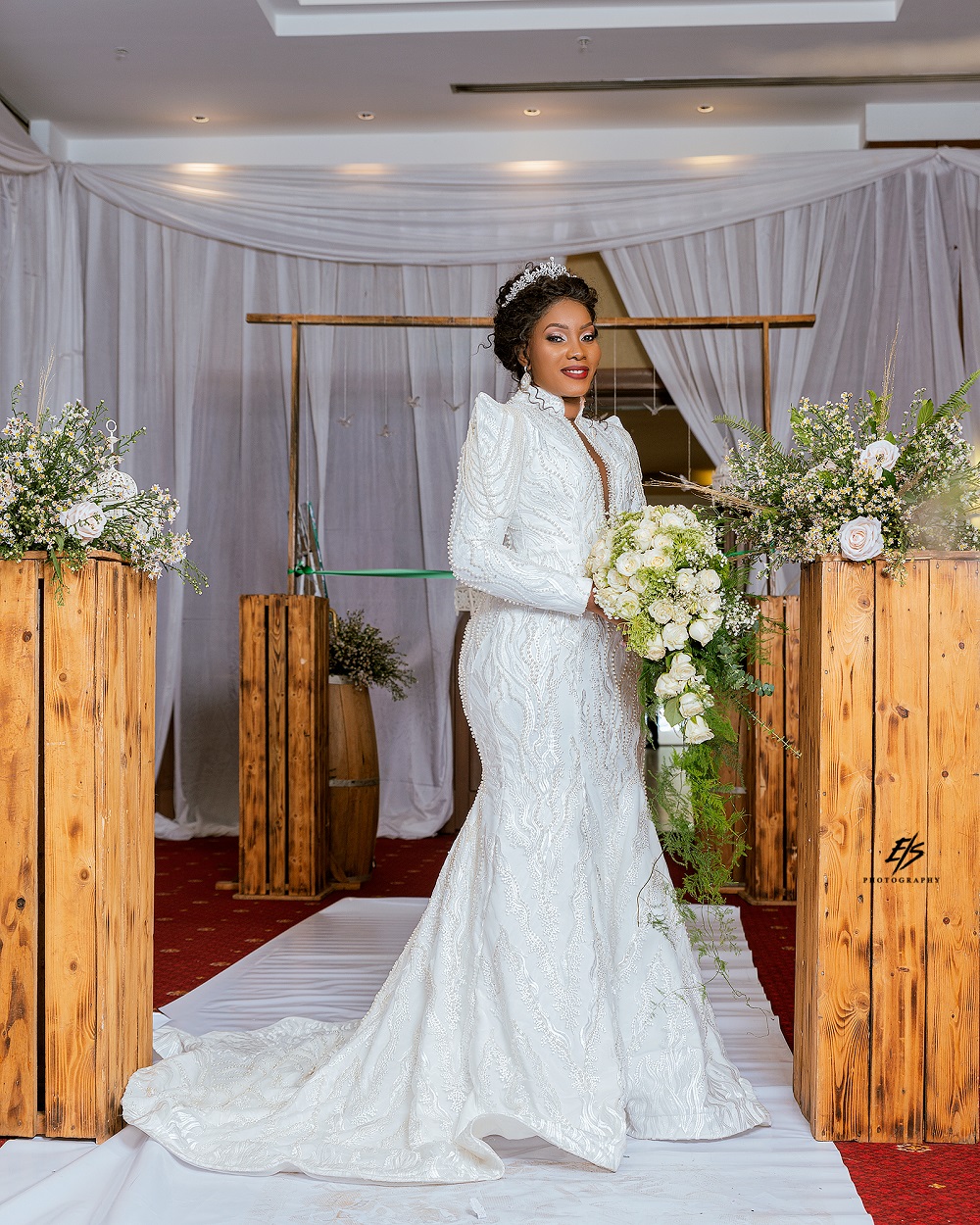 August 7 finally came. A room at Sheraton Hotel lit with floating candles and lanterns on the guest tables. There were burrows that held green flowers and glass filled with water. White roses made the list too. The photo booth was rustic with mirrors and oh boy did they pull off a rustic theme! The reception started at 2:00pm and ended at 6:00pm. At the reception the couple wore their church clothes again but later had a change in attire.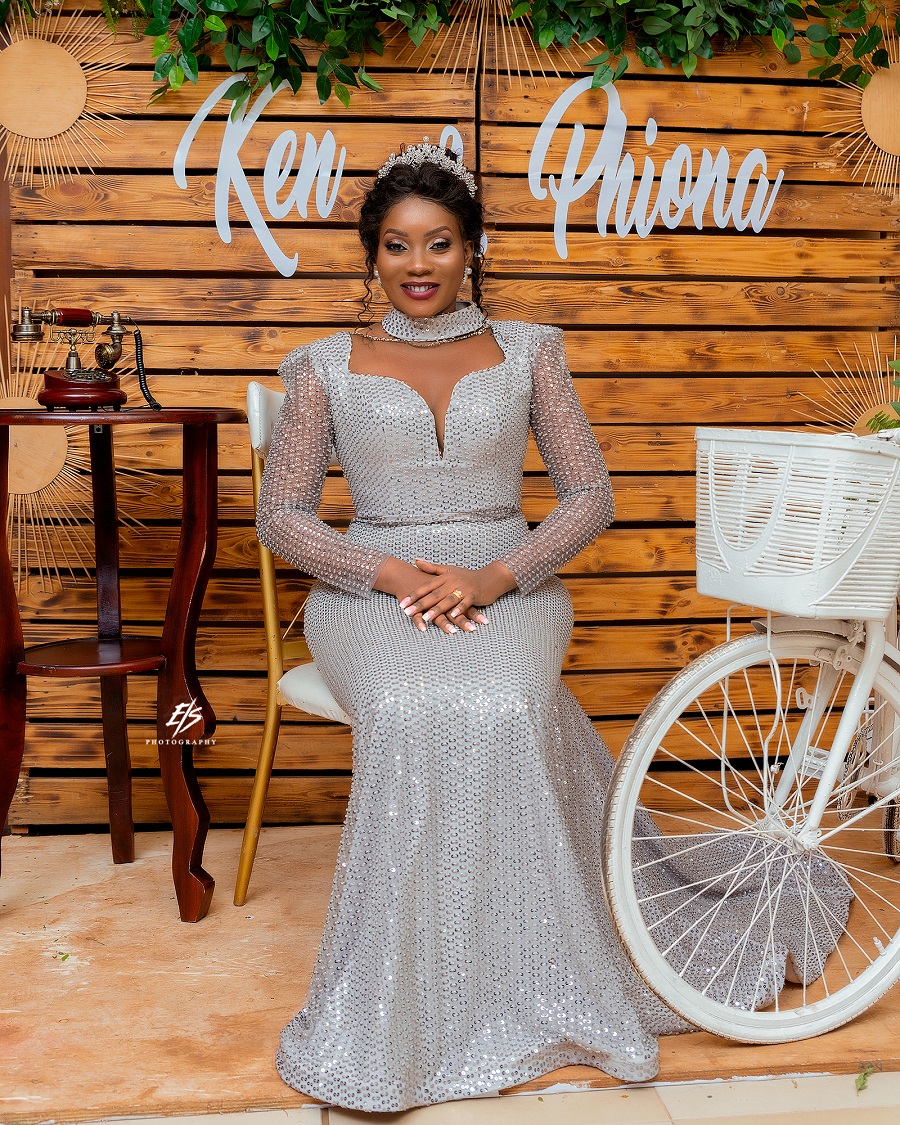 Fiona handled the wedding preparation since Kennedy was not around. She had no wedding planner and often had to browse the internet for ideas. For a long time ago, Fiona had admired and wished to have a rustic theme for her wedding. Pinterest had always been her go-to for ideas and she wondered if any decorator in this country would pull off a rustic-style décor.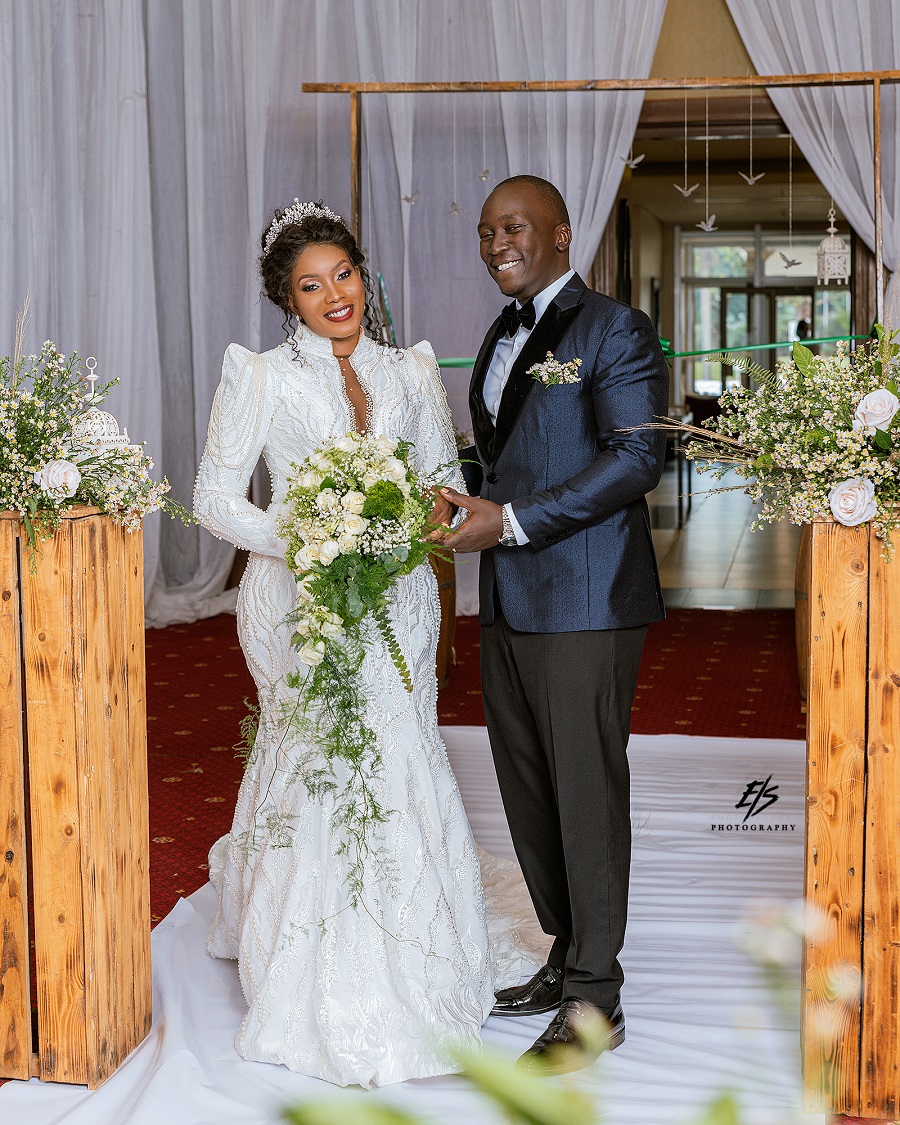 Her husband-to-be referred her to a decorator. Fiona shared her ideas with the decorator who in turn advised her.  With two minds joined together, the bride's dream of a vintage wedding with a rustic touch was achieved.
Attires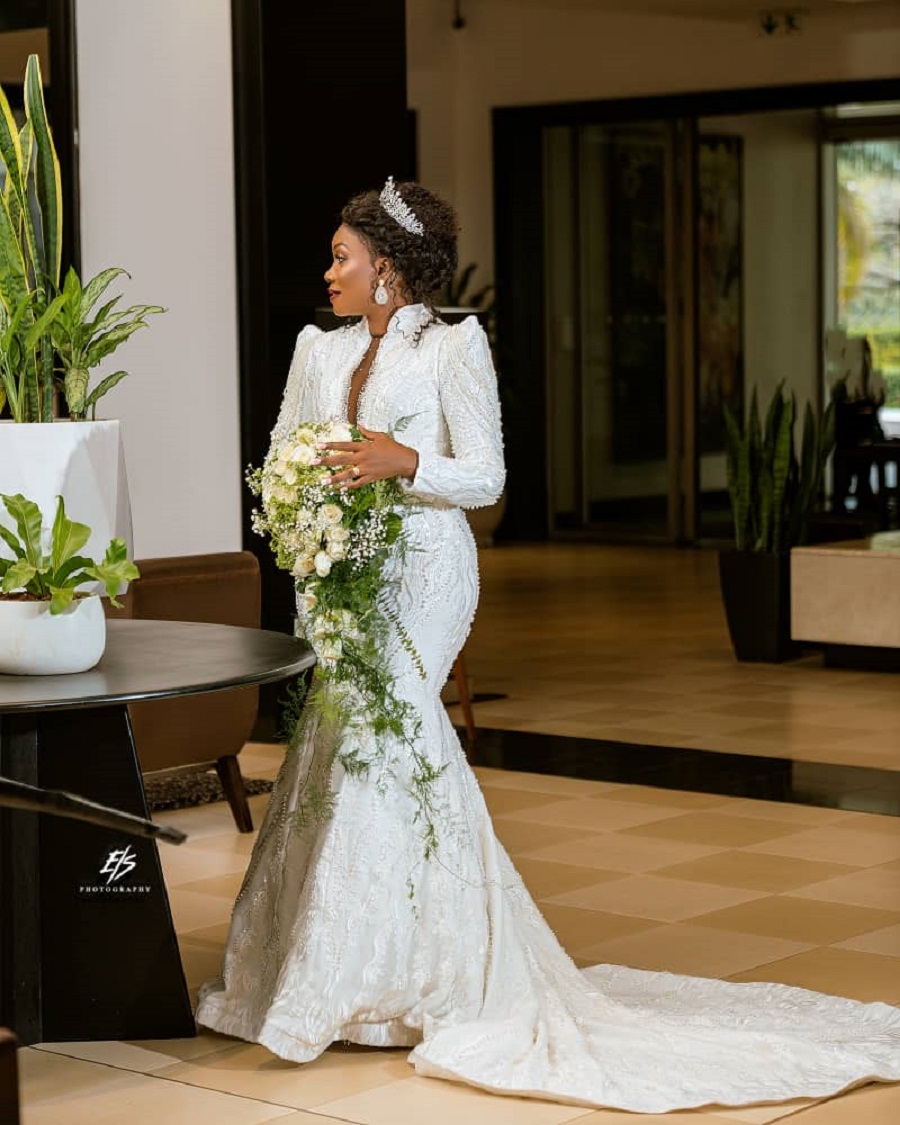 Fiona's wish was to wear a vintage gown adorned in pearls that almost took the shape of the traditional gomesi. She'd have to get a custom-made gown. Her tailor advised on what would compliment her body and got to work while Fiona did the very easy job of worrying whether her gown would finally look as she wanted. Luckily, on trying her dress, it was everything she hoped it would be. The gown cost her Shs 5m.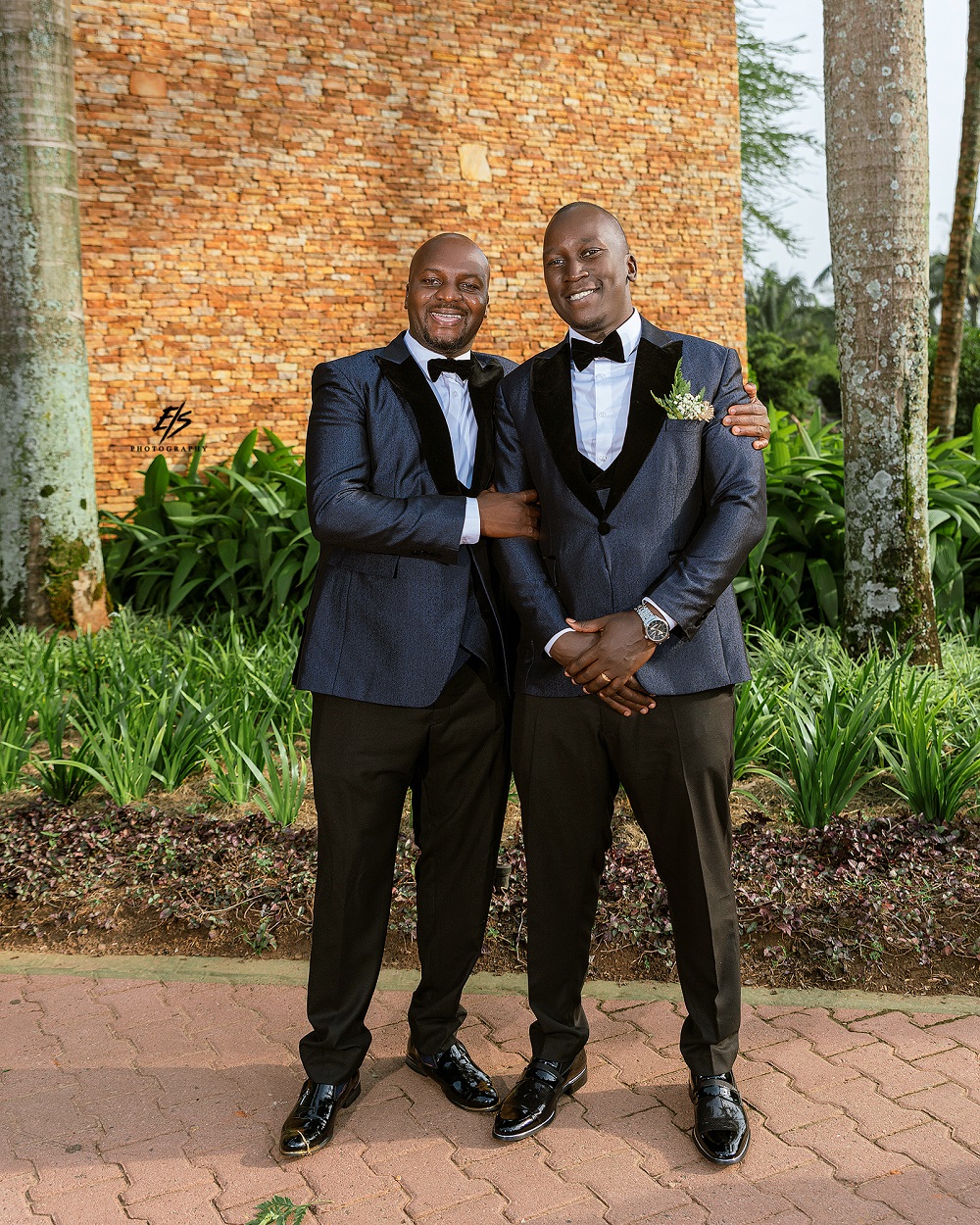 Kennedy returned a week to the wedding and helped himself to the remaining cocktail of preparation. Someone referred the couple to Tony Sekabembe, a tailor who made Kennedy's suit ready in three days at Shs600,000 They had no wedding meetings but a WhatsApp group whose members overwhelmed them with generous contributions.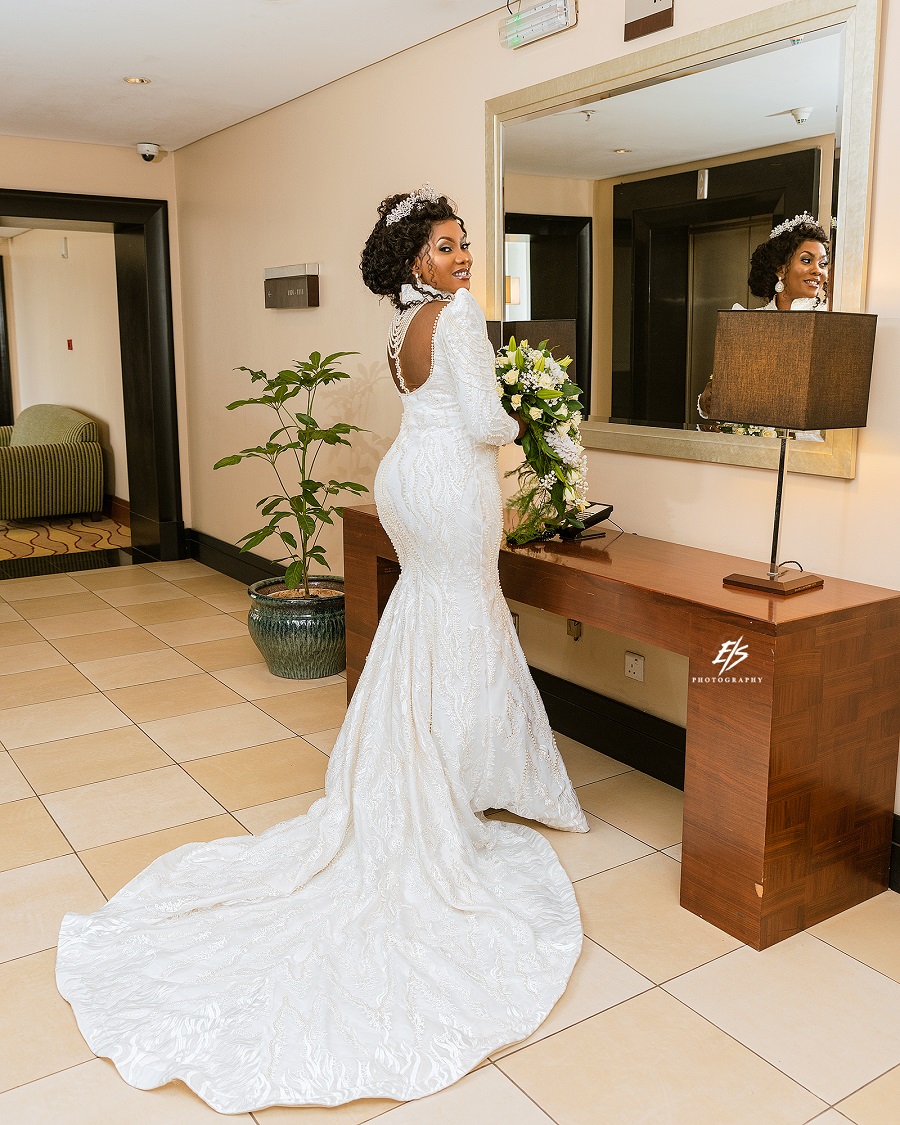 Challenges during wedding organisation  
As adversity makes no appointments, Fiona caught COVID-19 a few weeks to her wedding, from around June 18 to July 12 during the lockdown. She had to be dashed to hospital on a police car since she had no sticker and it was an emergency. Upon reaching the hospital, she realized she couldn't stay there… every passing minute, someone was being referred to another hospital and others were coughing too much. Fiona went home and had a doctor administer the medicine to her. Luckily, she healed in about 2 weeks and was soon on her way to the blessed sanctuary. She confesses that it was such a trying moment.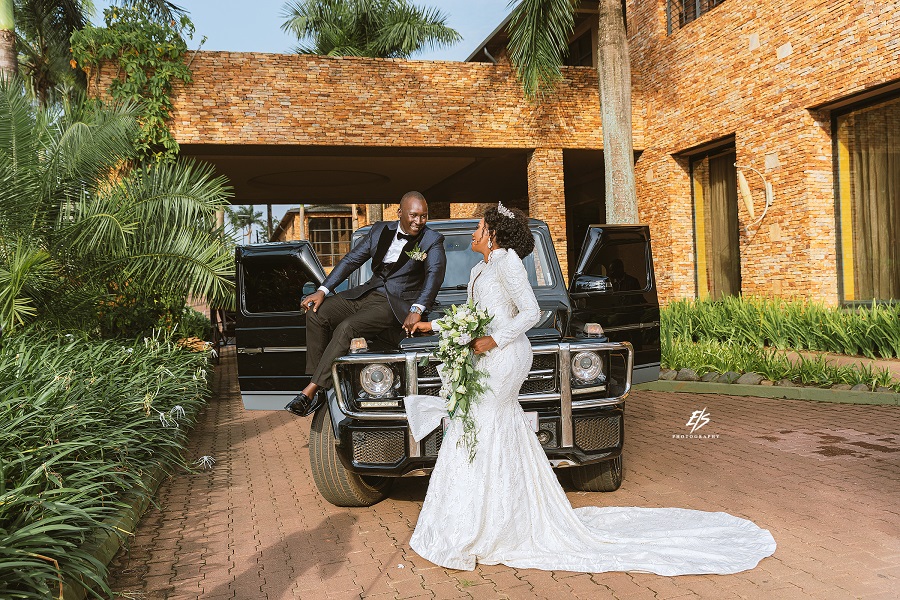 Kennedy and Fiona decided to have their wedding after the 42-day lockdown. They hoped that transport would be opened by the President then. Their friends and family would finally be able to come to their wedding reception. Kennedy had been so exasperated by Fiona's health condition that he insisted on having the wedding celebrated with whatever number of guests the situation would allow. Under no circumstance was he going to hold off the union with his beautiful bride.
How the couple met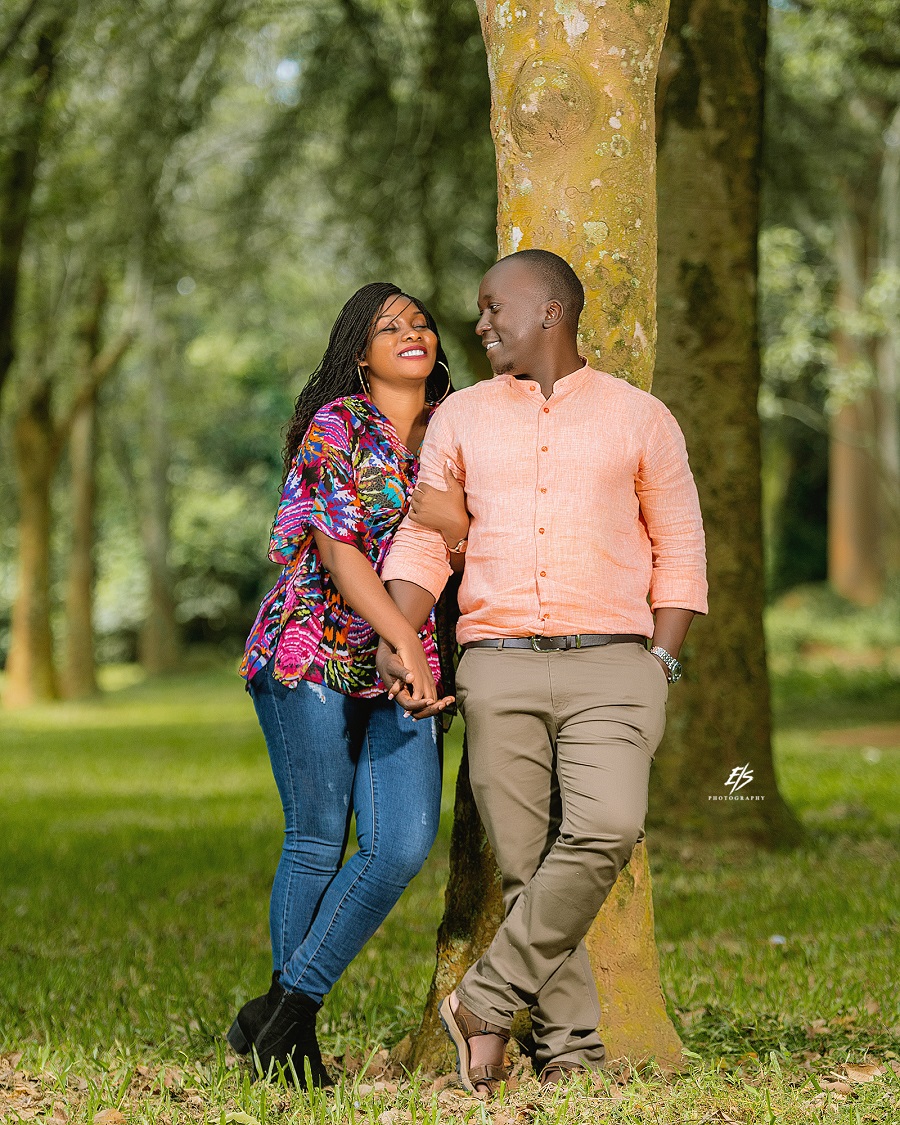 Kennedy and Fiona met at a function in 2012 and shared a friendship that slowly turned into a sentimental love affair. After the function, the two got to chatting via SMS. One day, Kennedy stopped texting her. Just like that! And this bothered Fiona. On hearing from friends that he had moved to another country, she hurried to Facebook to find him. He apologized for not telling her about his exit from the country. She learnt that he was in the United States of America. Their suffering communication was healed by 'Hangouts', a popular chat platform at that time, and he made sure to call her every day.
In August 2013, Kennedy returned on holiday and their relationship hit a rise as they started to think of staying together. In 2014, the couple had a lovely son and a beautiful baby girl came along in 2016.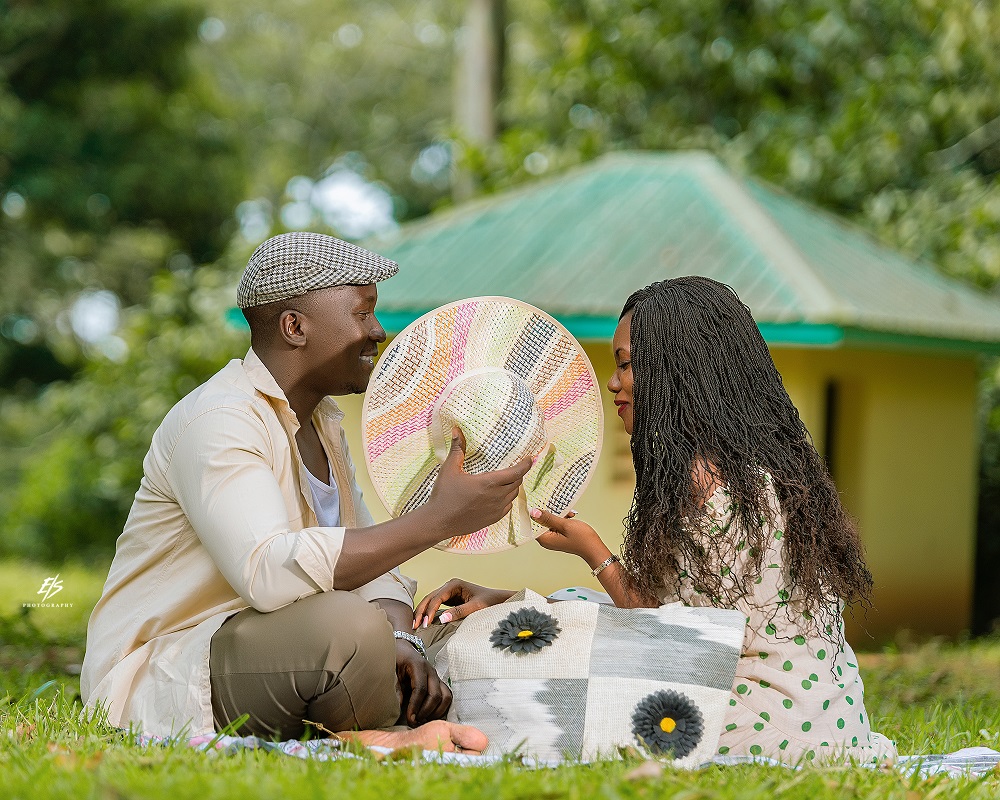 Kennedy proposed to Fiona at her office in 2018. He called her workmakes and Human Resource Manger  to inform them about his plans. Fiona says she was so happy and grinned broadly when Kennedy came in and went on one knee. Her friend with a camera managed to capture the moment.
"My proposal was very humble yet so special," she says.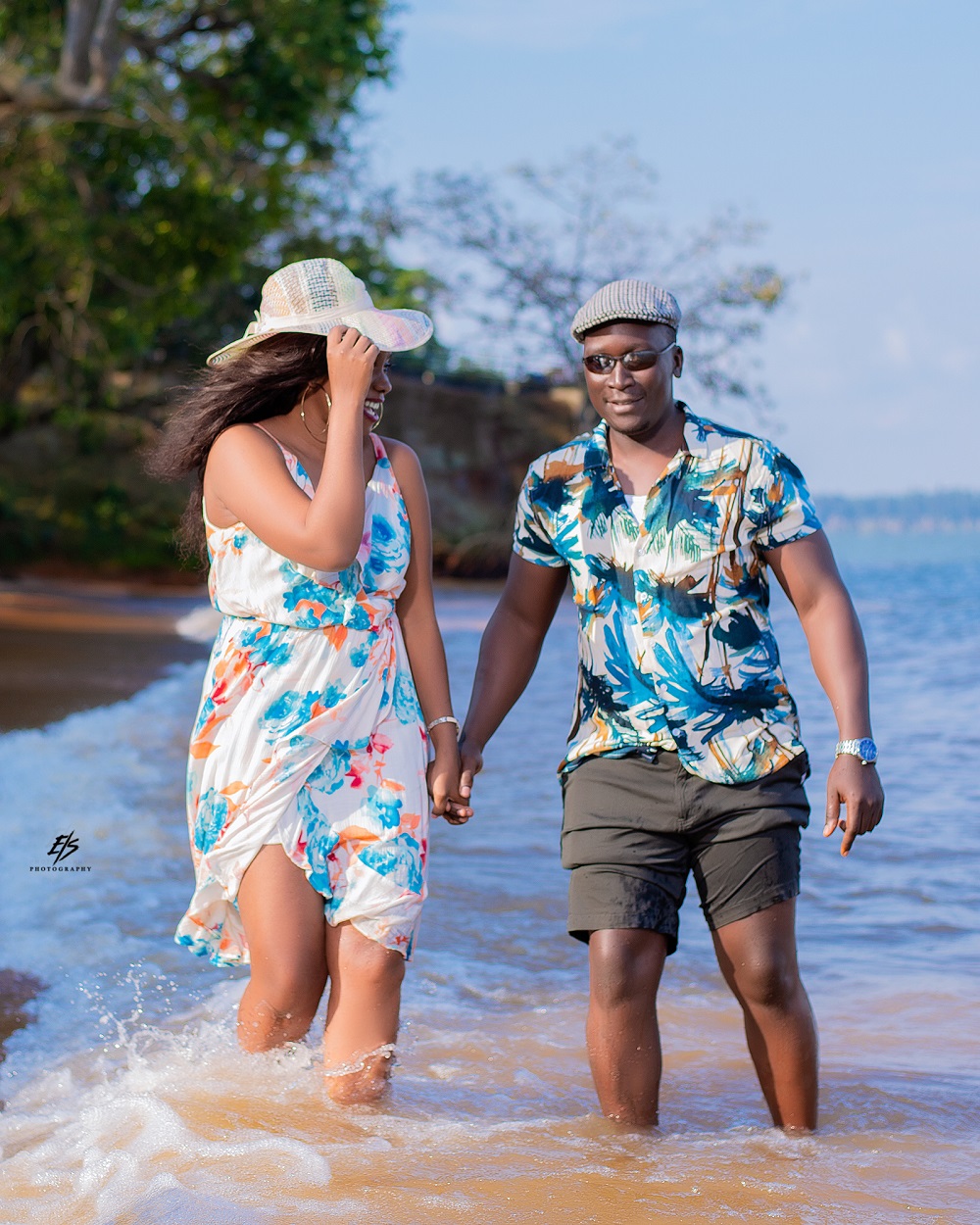 The following day, Kennedy visited Fiona's father's home in Namugongo for kukyala. Later, a traditional wedding followed and all this has brought us here to this beautiful story.