By Rashim Nabanja
September 11, 2021, will always be a day to remember for Eliud Kihara as he exchanged vows with the love of his life, Purity, a woman he met on Facebook.
According to Tuko, a Kenyan website. Kihara narrates that the two met way back in 2018 with just a 'Hi' on Facebook. A few days later, Kihara decided to ask for her contact so that he could add her to a WhatsApp prayer group. At the back of his mind, he knew he wanted more than just adding her to the group but he decided not to make a move until a week later when he slid into her inbox.
The two started having late-night chats until Kihara shockingly found out that Purity was already in another relationship.
"I got a little agitated because she was dating. she posted on her WhatsApp status another man holding her by her waist, I was mad and I ended up calling her "Ng'ombe hii navenye nakupenda" meaning, "You cow, I love you" that was the first time she knew I loved her."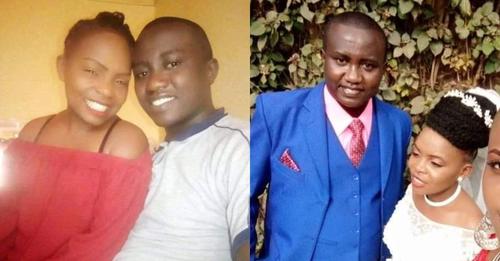 Kihara was also in a relationship but he says it wasn't working, so he decided to confess his love for Purity.
The two unfortunately went silent on each other until in June 2020 when he landed on her friend request on Facebook. They exchanged contacts again and begun afresh.
Few weeks passed by and it was Purity's birthday but Kihara didn't make it to the invite list.  because Purity had already invited another guy she was seeing. She worried that they fight if Kihara came.
"I was the first one to wish her a happy birthday, but I never attended. I promised to give her my love, kumbe hata sikua kwa hesabu (she didn't have the same feeling for me)."
As a blessing in disguise, Purity fell sick immediately after her birthday and it came to be that Kihara was there with her in the difficult time.
"I nursed her for a week doing everything for her, from cooking, washing, etc without even touching her," he said.
Due to the kind heart that Kihara had shown, Purity decided to give him a chance.
"We started living at her place since I was staying at my workplace. Three months into the relationship nilikua nishalipa hadi (I paid) dowry. Love is sweet now we are married and enjoying life together," he narrated.