By Claire Balungi
The year was 2016 when Ivan Niwagaba stumbled upon a beautiful photo of Mercy Tayebwa on a mutual friend's WhatsApp profile. If a friend wanted to show you off then, the gesture would be to hang your photo as their WhatsApp display picture. Ivan was stunned, he went ahead and asked after Mercy and requested for her telephone contact. This was the beginning of an exceptional love story.
Mercy says she never received as many calls from anybody else as she did from Ivan. Following the myriad telephone conversation, one day, Ivan was "in the area" and decided to meet Mercy physically. She was in her first year at Makerere University Business School at that time. "My first impression of him was that he was a quiet and reserved person, lol, he has since proved me wrong," she confesses. They'd soon become quite an intimate little pair as they had let their friendship wash over them. They started to go out and before long, they were loving each other as boyfriend and girlfriend.
In August 2020, Ivan took the road of honour and proposed to his girlfriend on a surprise baby shower that he'd organized with the help of her friends. Mercy was very heavy at that time and she says most of her friends knew not about it since she didn't go out much owing to the lockdown and its restriction on movement. Ivan invited her to a weekend lunch-out which she agreed to.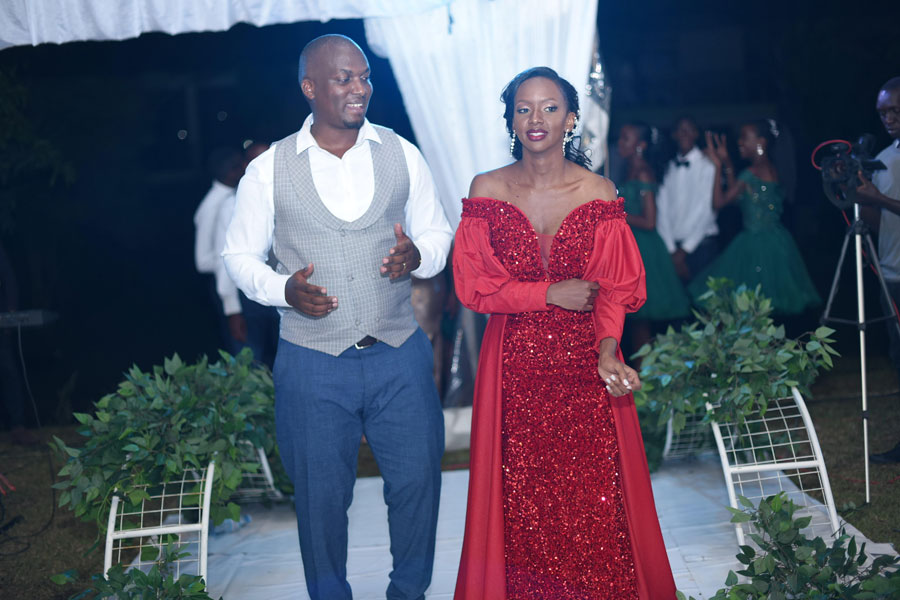 Traffic jam was upon them, and all the while Mercy wondered why they didn't do a place closer. Ivan had fallen hard for his own plan, so he insisted on the long drive.
To Mercy's recollection, the venue assumed the setting of a baby shower, and she was right. It was her surprise baby shower. Gathered was family and a few friends. But it was more than met the eye; it was also the day Ivan had chosen to ask Mercy to be his wife. "I'll never heal from it," swears Mercy. "Yes," she said to Ivan, when he presented his question. It had been a long time coming, and here they were… officially engaged.
Five months later, the couple had not discussed any dates for their special union celebrations. Ivan would wake up one day in January 2021 and suggest to Mercy that their wedding be around April. She did not take him seriously so she reserved her interest up until February. Ivan was bothered by her indifference so he secretly asked a friend to inquire from her about why she showed no interest.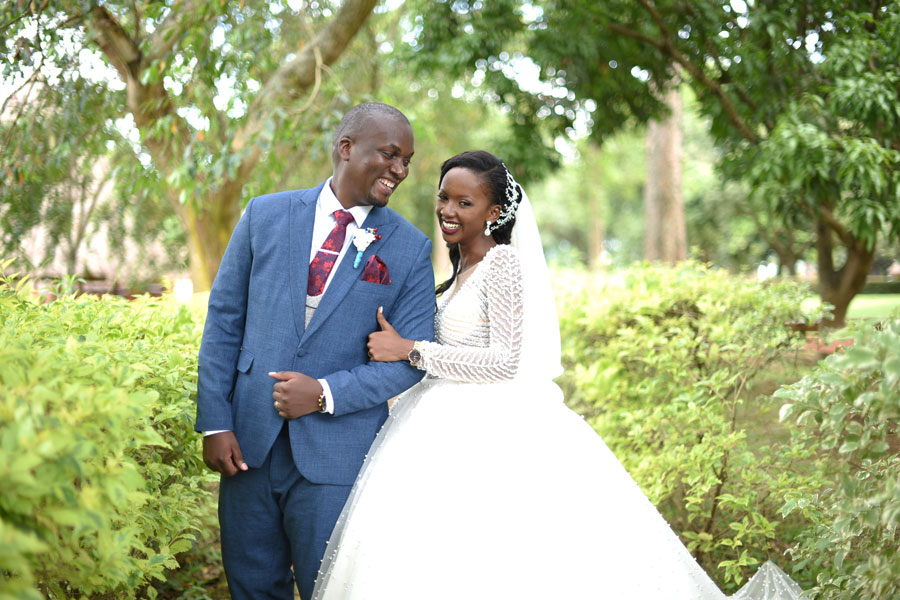 Wedding preps
Because Ivan is always on the move, all Mercy had was herself for the most part of the wedding preparations. A blessing in disguise it was, as Mercy is a perfectionist who often found herself showing up everywhere on her own, making things happen. She was her own wedding planner. However, she'd soon get overwhelmed by the process. A committee to handle the preps was formed. The couple was also supported by friends. "We started with almost nothing but we have such a support system! And also; the grace of God was and continues to be sufficient," admits the bride.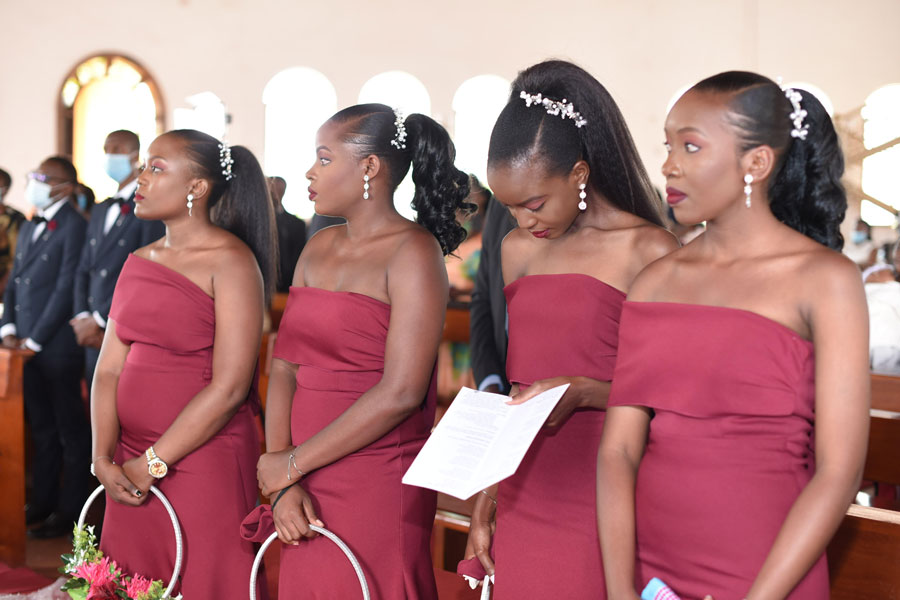 "Our friends' involvement was something I found most fascinating in our wedding process. I can't forget how they were there for us. It was overwhelming! To date, I get emotional thinking about it. I think I'd underrated them." Mercy tells.
She created a WhatsApp group for her entourage and let them choose the dress style and colour they were comfortable with; they chose burgundy and Mercy then linked them to a good tailor in town.
Wedding Day
On May 1, 2021, Ivan and Mercy officially gave their lives to each other as husband and wife before friends and family at St Luke, Ntinda. Mercy remembers the moment she was amazed by the first glance at her Ivan. He was stunning in a suit. "He looked so handsome, smart and everything in between," Mercy reminds herself, adding, "The vows in front of the people that we love, the signing of the marriage certificate… It made me realize everything was real."
The couple's reception was at Arch Apartments. There, they shared joyful and leisurely moments of love with their guests who made about 400 in number. It was quite a banquet, with a mouth-watering dessert of their 4-tier cake that they had got at Shs3.5 million along with 15 other cake pieces.
The lovely couple danced to A-Pass' Nkwagala. As was the groom, the bride was so excited, she talked so much when it was her time to give a speech, in spite of the fact that she isn't quite the talker. It's surprising she didn't shed a tear, "My emotions usually stay on the inside," jokes Mercy.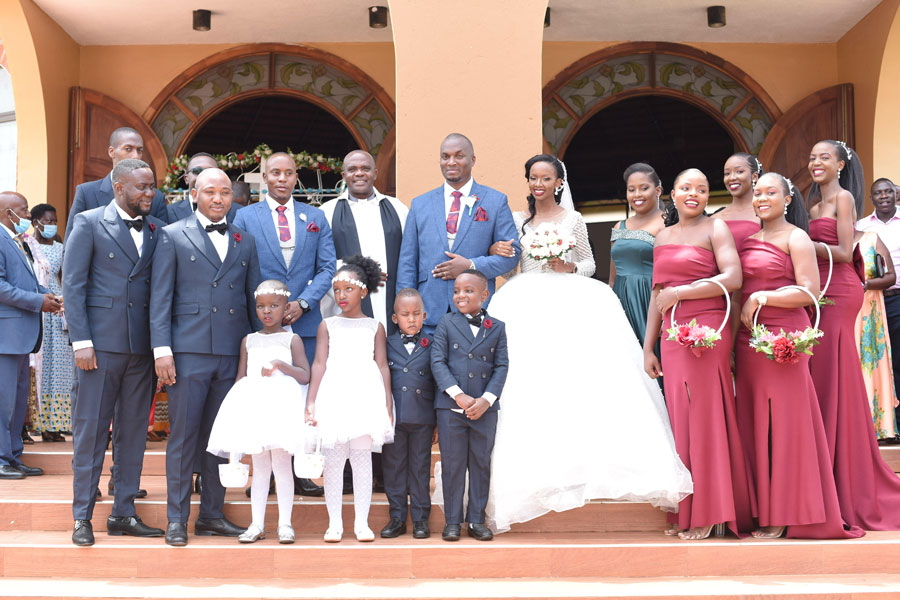 The lovely couple is now flying in their new bubble, comfortable and ready to take on life with courage and in love. Mercy says, "What I love most about my husband is that he's a hard worker and he's smart. I love how he loves our daughter and how he loves me too. He's good-looking, caring, loving, kind, soft-spoken and he respects people. In 20 years, I pray we shall be happier than we are now, having many kids (I know he won't agree with this haha) and successful in what we do."
Asked what advice she'd give to her just-married-self, Mercy says, "Patience, Patience, Patience."
Ivan and Mercy are excited about their new journey.
We wish them love and delight.