By Phiona Nassanga
Other than singing together in the parliament chaplaincy choir and engaging in a number of charities, Simon Mugisha, a former news anchor at UBC and Gloria Jane Asiimwe did not know much about each other. When they prayed for life partners God led them to each other. Phionah Nassanga shares their love journey.
In 2018 at the parliament chaplaincy, Simon Mugisha and Gloria Jane Asiimwe went about their business. They had always looked forward to meeting for mass and other church-related activities every Tuesday but the two never seemed to engage outside these circles.
"I knew Gloria as an active choir member who sang tenor. As the treasurer, I had to send monthly updates and reminders to each members about different activities and membership obligations as well," Simon recalls.
Gloria says working in the same institution, though under different departments she would once in a while meet Simon in the corridors and exchange pleasantries. They say this continued for years, however, during the different church outings Simon noticed something special about Gloria.
"She was with her friends, but her smile melted my heart. It was a smile of satisfaction," he recollects of their first almost close meeting.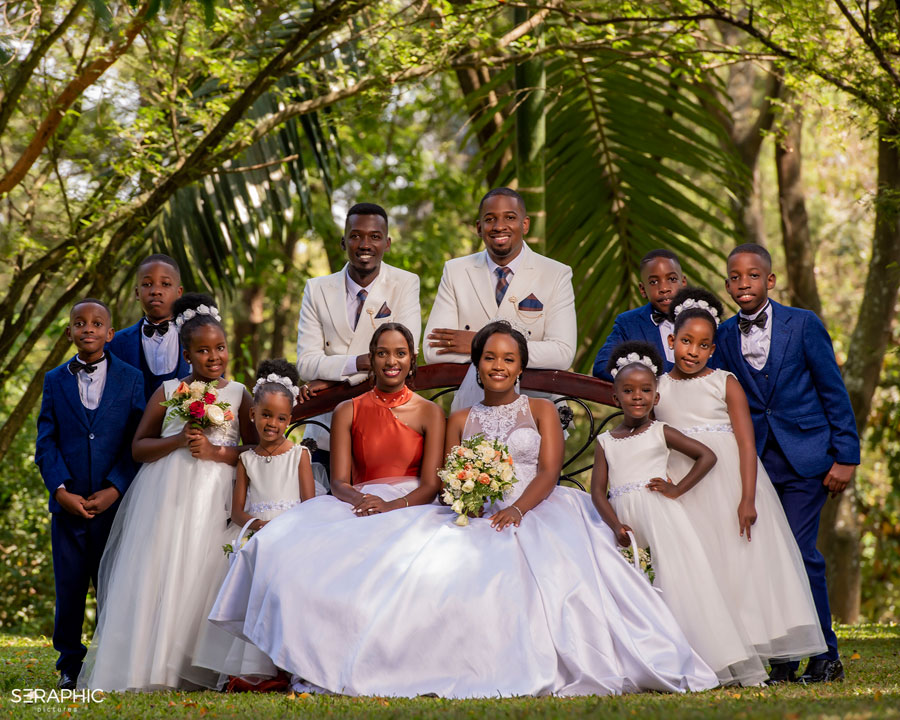 Match-making
Simon thought it would stop at appreciating her smile, but he was wrong. Other than attending Tuesday holy Mass, he eagerly looked forward to the next week to catch a glance at Gloria. And on days she missed Mass his eyes were glued to the chapel entrance hoping to see her.
"Somehow I would be restless, but I restrained myself from making a phone call to find out why she had missed. I imagined it would raise many questions," he says.
Meanwhile, he chose to keep calm and hide his feelings for Gloria. However, March 2021 proved otherwise when Allen Birungi, a mutual friend in the choir chose to play the matchmaker.
"I had known Simon and Gloria for some time and from my observation the two had something in common. I felt they would make a nice couple," Allen says.
Simon says at some point Allen asked him, 'what do you know about Gloria?' The question took him by surprise, but he answered:
"She is nice, interactive, kind, beautiful and has a nice smile. I did not know why she had asked such a question, but when she smiled, I read between the lines and quickly added that I was not sure," Simon recounts.
It was not long after Allen asked to meet Gloria.
"Allen and I rarely talked about personal issues, but there was a time she sent me a WhatsApp massage requesting for a quick meeting. This surprised, but I promised to ring her once I was at office," she shares.
As promised they met and Allen asked Gloria, "how is your boyfriend doing?"
"Which boyfriend," Gloria replied.
Noting that this was a conversation she had never held with her.
"I had done my research and knew Gloria had no boyfriend, but wanted to hear it from her," Allen confessed that she had found a prospective suitor for her.
However, Gloria did not buy into the suggestion.
"Let the person find me." But, Allen insisted.
"You know the person I am talking about, he is nice and believe me, you will like him," she said revealing his name."Did Simon send you to tell me this?" Gloria asked.
"He did not and please do not tell him I came to you. But all I want is the two of to be together," she pressed on.
"If Simon is interested he will come to me," Gloria recollects their conversation.
The ball rolls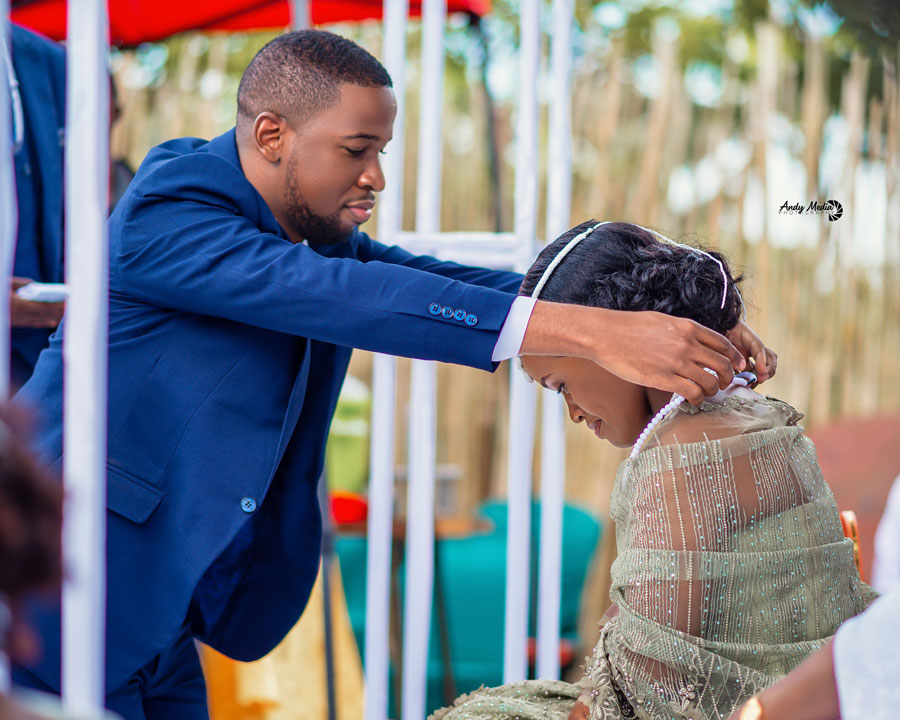 "When Allen approached me, little did I know she had as well reached out to Gloria. And to ensure that this worked out each time we met, she would ask: "How is Gloria?"
On March 26, 2021 Simon sent his first message to Gloria that was not church-related. This sparked off the conversation and they have never looked back.
"All the messages he sent were reminders of church-related activities. But this one was different and I had to reply," says Gloria.
Allen got to know what was happening between the two in April when they went on their first date, then she got invitations for their introduction ceremony and wedding.
Despite Simon showing interest in her, Gloria says he was shy to profess his love.
He says his love language is actions.
"All my actions towards her were an impression of my love for her."
Ready to settle
"It had not been long after I had broken up with my girlfriend and was asking God to bring someone of the same faith as myself and was ready to settle for marriage. I should say by the end of last year's lent season, God had answered my prayers," he says.
Meanwhile, Gloria had been in a relationship two years before meeting Simon. She prayed that the next man in her life walks her down the aisle.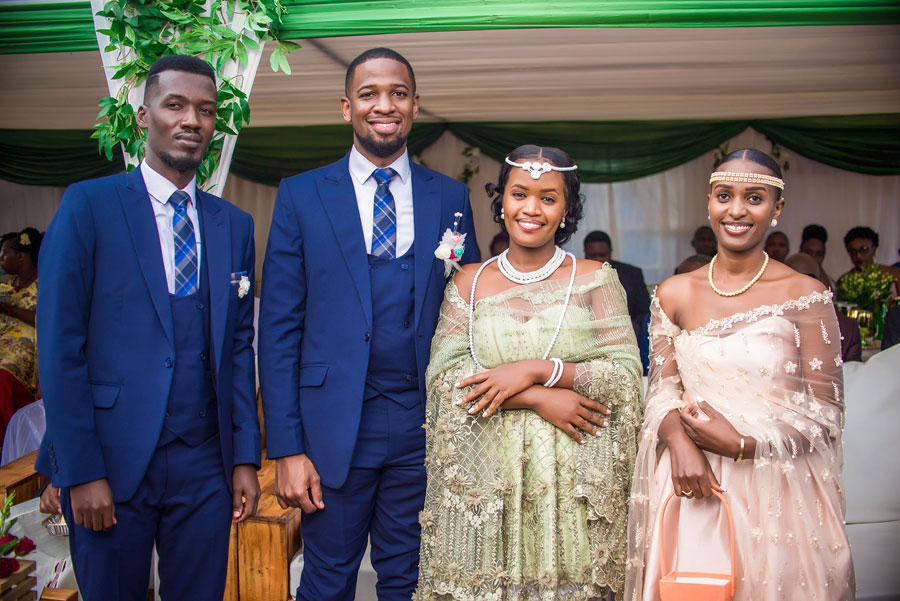 On the first date, many couples are trying to know each other better, but Simon and Gloria talked about wedding essentials such as the kind of suit, the gown, and type of rings to have for their wedding. And by May 1, 2021 the couple went to Our Lady of Africa Mbuya to book their wedding date.Simon proposed to Gloria on her birthday, July 27.
"Initially, I thought it was just a birthday celebration and as my friends were congratulating me, Running to you by Chike was played. On turning round, Simon was standing at the extreme corner with one of his friends as I walked towards him he knelt and proposed," she remembers.
Tying the knot
Simon and Gloria wed on December 11, 2021. The two were joined in Holy Matrimony by the Rev Fr Vincent Birungi, the priest that baptised Simon.
"Entering church and my parents walking me down the aisle, wearing my dream gown with a backdrop of the, Here Comes the Bride was a dream come true. It was as exactly as I had envisioned my wedding day. It was so emotional seeing our guests clapping and having five priests ready to bear witness to our day."
The couple's entourage comprised only children.
"I chose children because they are easy to control. You have a say on their make-up, hair, dress code, and they are organised.
Throw back
Given chance, the one thing I would change about my wedding day would be my hair. When make-up was done to its best somehow I got excited and never paid attention to my hair. I only realised that there was something wrong with my hair when I looked at the photos after our wedding.
Titbits
Groom: Simon Mugisha Tumwine
Asiimwe
Church: Our Lady of Africa Mbuya
Priest: Rev Fr Vincent Birungi
Church wedding: December 11, 2021
Traditional wedding: November 27, 2021
Photography: Kush Events