Bride in waiting is the diary of Noelyn Nassuuna who is engaged to be married in January  2023.  In it, she describes her journey to the aisle, sharing the ups and downs, and the joys and frustrations of planning her wedding.
By Noelyn Nassuuna
I'm back here to cry out about the frustration that comes with giving gifts to relatives. I know it's not me supposed to give out these gifts but even still, I feel it's extravagantly too much. Most people say that the more gifts a man brings on the introduction day, the more respect he earns. I find this a very unfair judgment.
In my culture, as a Muganda, on the introduction day, my husband-to-be is supposed to give gifts to my aunties and uncles as an appreciation for raising me.
This week, I drafted a list of uncles and aunties that we need to give gifts and to my surprise, the aunties are  50. This is funny. I don't know if I just have too many aunties or if it's what every other girl has.
"These are too many," I told my mum.
I think people who have played an important role, touched you, or lifted you in ways an adult should have are the ones supposed to be gifted.
However, she insisted that once you give one, you have to give all the others that are close or in the same lineage. It saves the bad-mouthing from the people that don't receive anything.
I now feel pity for Henry who has to go through this heavy expense especially when the prices of everything have gone up. In most cases, these aunties are given gomesis that range from Shs 30,000 to 50,000.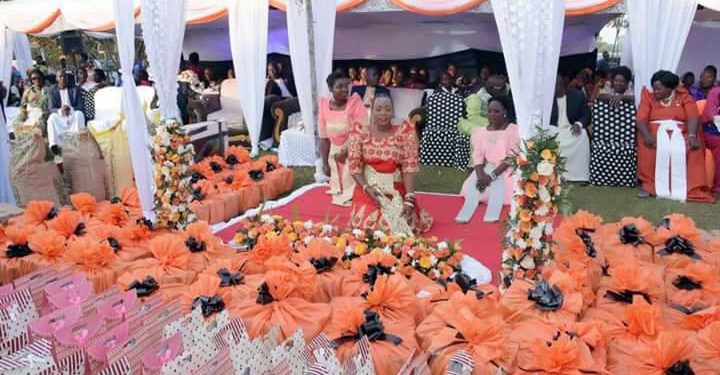 When I informed him about it, he said he doesn't mind because as a man, he has to fulfill all the requirements asked of him before taking his wife.
"If it is a requirement that I must fulfill, then I have no issue with it. I just need to plan early enough and see that I can get everything on time," he said.
I am also hopeful that the list will go down as days move closer because according to my family, it is not a final one, something that gives me some relief.
Aside from that, this week I decided to meet up with three people I think will do good decor for my introduction. From my sister's functions, I learnt that I will need to have a contract with every service provider at least they do shady work and they don't want to be held accountable since there is no evidence.
When I told one of the people that I met, he said he can't sign a contract and for me, that was a no because if you can't sign a contract, then it means you are not ready to deliver what we discuss and you don't want to be held accountable.
For the other two, they were both willing to sign the contracts, and lucky for me, they both have events next week and I will pass by to see their work(aside from what they do online) before picking out the very best.
Since decoration is the most expensive thing on my budget, once it's cleared and I agree with the service provider, I'll then go ahead and do my dress hunting.