By Desire Mbabaali
As you (bride-to-be) run up and down in preparation of your wedding-ensuring everything goes as you mean it to, you will be working closely with people from your family, organizing committee (if you didn't hire a wedding planner) and definitely, your bridesmaids who are as worried as you are that your day goes perfect.
"However, because of the pressure to get everything done, as a bride, you are often tempted to feel entitled and that everything should be about you. It is okay to feel that way, I also did very often, but knowing that the people around me helping in the wedding preparations also had a stake in the wedding kept me considerate," Sheilah Mulumba shares her experience being a bride.
Like Shiela tells, you may want to look your best and have everything done as you wish, however, though you are the center of all this, there are considerations and compromises every bride has to make to be able to work amicably with her different teams.
Allow your self a degree of flexibility when it comes to bridesmaids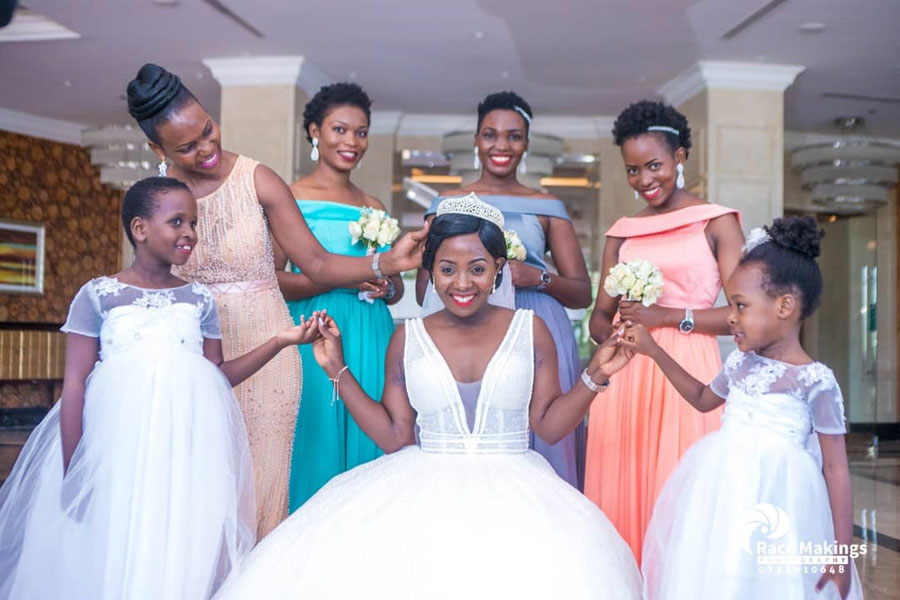 You are going to work with your bridesmaids from the day you choose them to be your special ladies until you are done with the wedding. But like it is the case with working with a team, it goes without saying that making decisions with your special ladies about different things like dresses, shoes, hair, makeup is one of the challenging things.
"I learned the hard way while preparing my wedding. I showed the maids the dresses I wanted, and they seemed like they were okay with it, little did I know that they didn't like the dress, only to see them not bringing their money to buy the dresses. I recalled a meeting, and this time around, I wanted to hear what their genuine opinion was. Though I had my tastes, I let them make the decision. I only told them to get something that was beautiful and decent in the colours I wanted, and then things started moving again," Ritah Tumusiime shares her story.
While working with your bridesmaids, allow yourself a degree of flexibility because sincerely, though it is your wedding, it is their money too.
Mary Kirabo a bridal stylist and designer notes that since different people have different body shapes, and tastes, you can have a group of your maids putting on a different fashion. Even when it comes to things like shoes and hairstyle, you can just emphasize the colours you want but not uniformity.
Think about the financial implications of your attires to your bridesmaids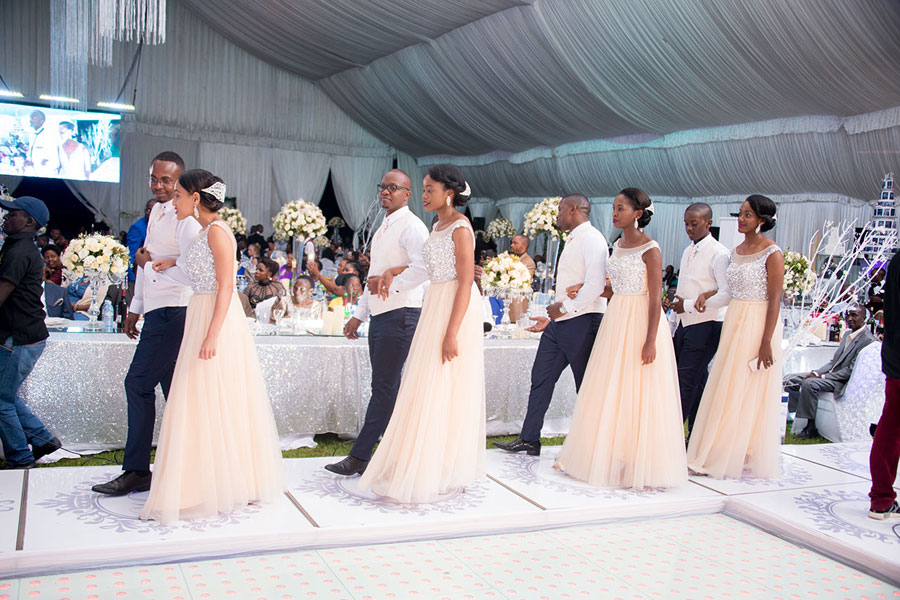 It is easy to assume you are giving your brides an opportunity, however, choosing very extravagant attires might be inconvenient for some.
"You always have to think about the financial aspect too, especially if you are not dressing your maids up. Get a dress/ dresses, shoes, accessories and services that are within their financial reach," she adds.
Additionally, whenever you have a meeting with your bridesmaids, think about their feeding especially if you are going to spend the whole day moving up and down for clothes and other things with them.
Lend a hand too
It is understandable that as a bride, you might be running on a tight budget, but often, chipping in to lend a hand financially to your bridesmaids is something brides should consider. It is your way of giving back to them.
"Offer to for example pay their manicure or pedicure, and when possible, their hair or makeup costs," Kirabo says.

Transport and accomodation to the saloon on the Eve of the wedding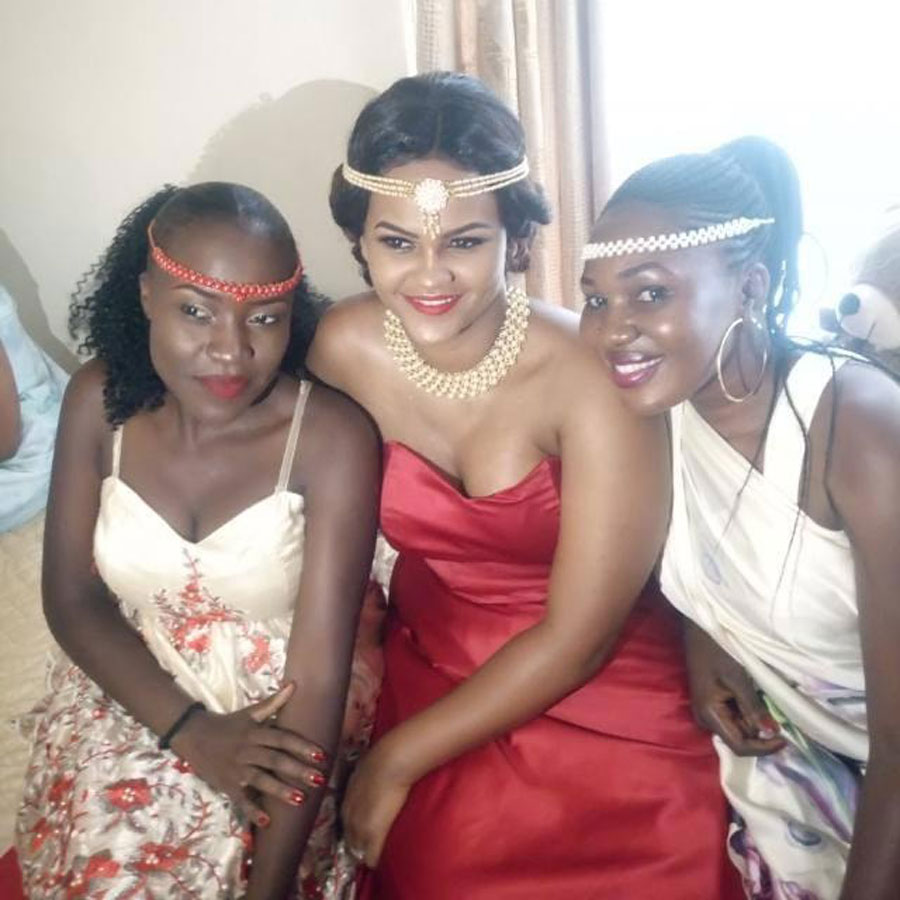 "I had the eve and day of my wedding planned out with my bridesmaids. To avoid any delays to the saloon and to church, I asked all my maids to spend the night at my house with me. In the morning, we had breakfast before leaving for the saloon, but we also had a budget for lunch for all my entourage after the photoshoot. I didn't want then gloomy and starving as I walked down the aisle. But I also had children on my entourage, so it was the right thing to do," Hannah Namusisi explains how she handled her maids on her wedding day. Ensuring that your entourage is fine and comfortable is one of the ways to enjoy your great day.
Timing activities
During the wedding preparations, you will have a lot of activities to do with your bridesmaids and so, it is important that you consider your team's other engagements like work. "Sometimes, not everyone can turn up when you have these meetings or other things you may want to do with them, so be understanding about it. If you can have half of them around, that is good enough. But also, don't have too many meetings. Only meet when you have to with your maids. Social media has made things a little easier and you can use these platforms to make joint decisions from where ever each of them is," Kirabo advises.
Other bridal parties

Today, marriage and weddings are associated with other parties and celebrations like bridal showers, wedding meeting launches, bachelorette parties and others.
"People within your different circles may have a number of parties for you, and it is understandable to want to drag your bridesmaids to each of them. If you are successful at that, good and well, but don't expect all of them to attend. Again, cut on the number of parties you want to have, especially if you want people to finance them," Maurine Birabwa, a wedding and events manager says.
Be advisable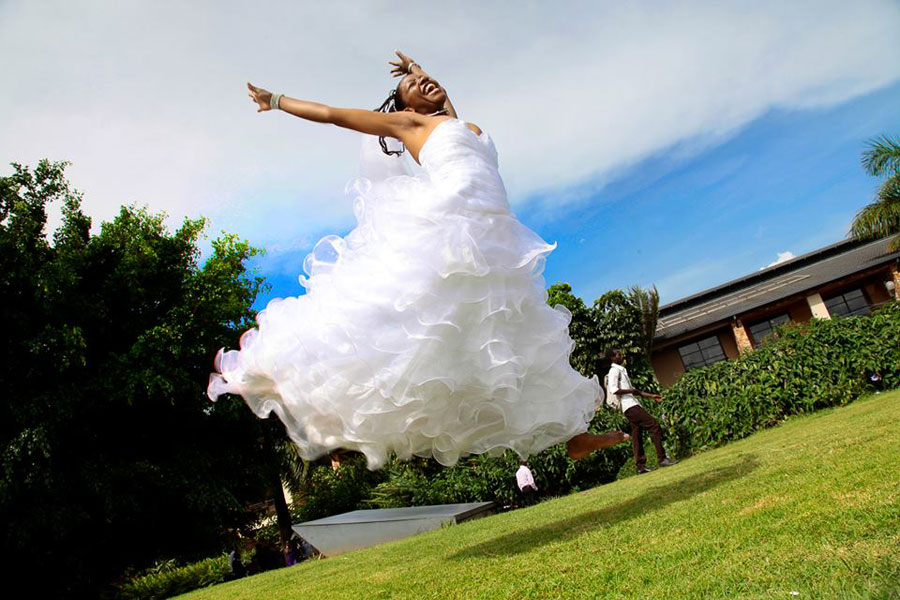 "Your spouse is among the people with whom you will be organizing your big day closely with and thus, among the people whose opinion should be sought and considered. From the word go, I decided I would never make any decisions without knowing what he thought, even when he wasn't going to be the one to foot the bill. I kept my husband in the loop about everything that was going on and the changes that would come along as we prepared our wedding," Sheilah Mulumba says. She recalls a time she had to make what she refers to as one of the biggest compromises during her wedding.
"You know how brides are very crazy with their wedding dresses? Well, what I wanted to wear on my wedding was exactly the opposite of what my husband wanted. I wanted a strapless wedding dress; he wanted a dress with sleeves. I also wanted to buy my wedding dress, but he thought it wasn't necessary. It sounds easy, but we conflicted over the issue seriously, until I had to consider his opinion, which helped," she shares.
Maurine Birabwa, a wedding and events manager shares that when it comes to dressing, cake, décor, cars, venue among others, brides tend to tightly hold onto their decisions and wants, even when they may not be the best ideas. "However, as you make decisions, always pay attention to your general budgets, and learn how to prioritize and forgo some things especially if you can go without them." She says.
Finally, take all the sound advise you can get but don't forget that all advise is not good.  Decide what to go with and what to ditch for ultimately, it is your day.