By Gertrude Mutyaba
Pastor John Arinaitwe of Calvary Temple in Kyotera District and Resty Kisakye a businesswoman exchanged their vows at Masaka Full Gospel Church on November 17, 2018. Resty used to adress Arnaitwe until something in their relationship changed. The two told us about their journey to marriage.
When and how did you meet?
John: We first met eight years ago at a youth conference.
Resty: We met in 2010 during a conference which was organised by our church and we developed a friendship. We had no intentions of getting married.
When did the two of you become so close?
John: In 2016, I started dating Resty through frequent phone conversations and sometimes meeting out for serious discussions.
What made her the woman of your dream?
John:  Because she is beautiful and God-fearing; some of the good qualities of a good wife.
What made John the man of your dream?
Resty: He is humble and loves me. I felt we would make a nice couple.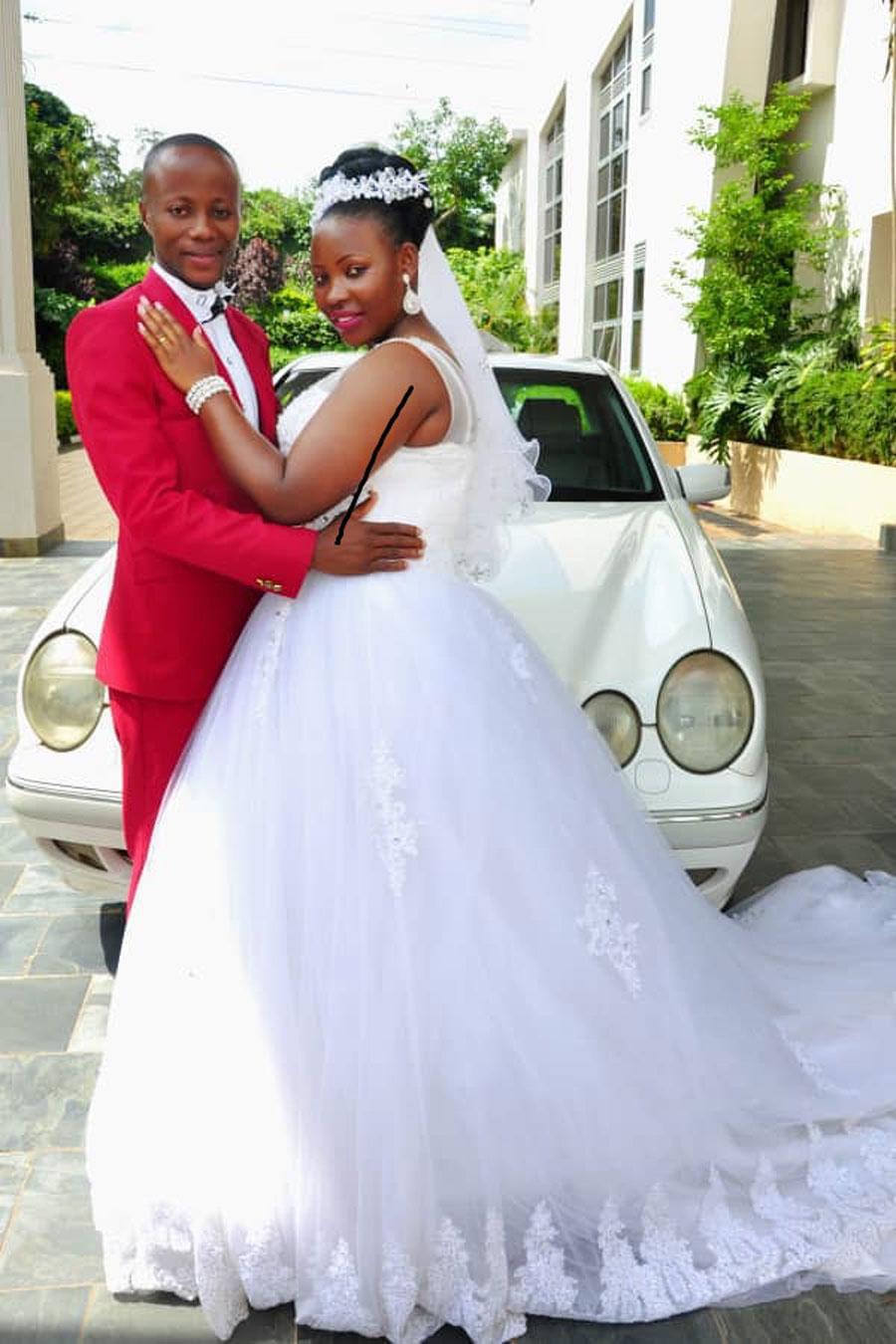 At what age did you get married?
John: I was 30 years old.
Resty: I was 24 years old.
Did John propose to you?
Resty:Yes. He proposed to me. He took me out on a date but he never knelt down but just humbly asked me.
How did you react?
Resty: I got scared and ran to my pastor Olivia to consult her about
it since all along I used to address John as my uncle.
Why did you address him as uncle and when did you stop addressing him as that?
Resty: John was always a gentle man and a principled person, so I did it to give him respect. Even though we are married, I sometimes mistakenly address him the same which hearts him.
What was the budget for your wedding and how did you raise funds?
John: We had a budget for Shs17m and we raised funds through our own savings, friends and family.
What were the most expensive items at your wedding?
John: Videography, decoration and food were the most expensive items.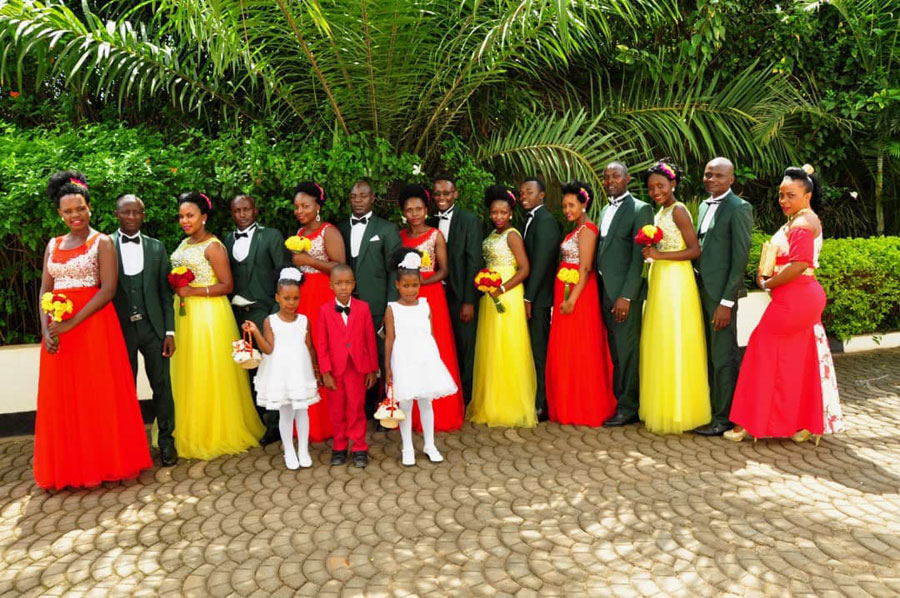 Did you involve a wedding planner?
John: Bishop Elidad Nyanja acted as a wedding planner because he had some skills in preparing weddings and he was our advisor throughout.
What was your theme colour?
John: Our theme colour was pink because it is one of Resty's favourite colours.
What were you doing on your wedding eve?
John: We held our introduction.
How did you handle the fatigue from the previous day to your wedding day?
John: Our Organizing committee was very understanding. It gave us time to rest and prepare for the next day of our wedding.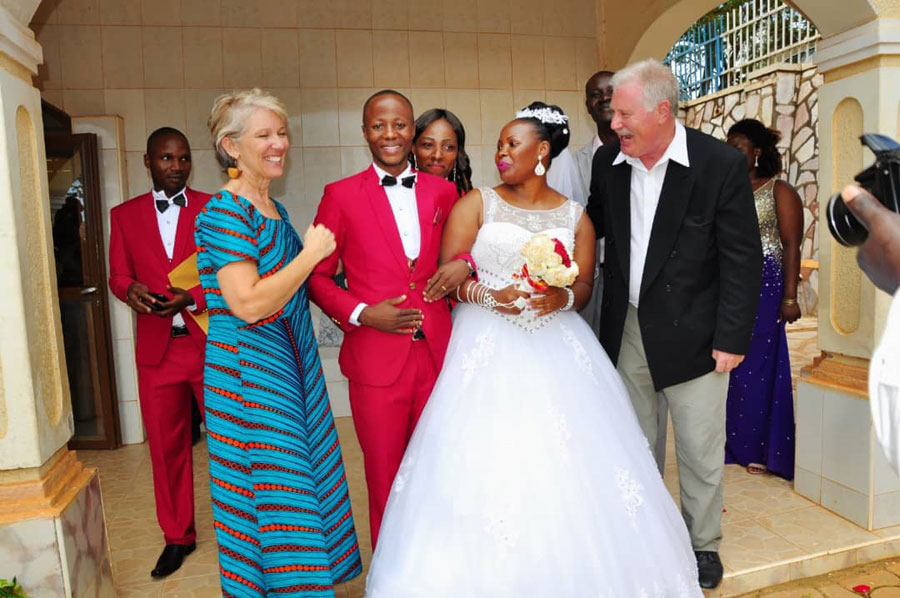 What was the most exciting moment?
John: My wife was very happy throughout the entire wedding.
Resty: Our guests came in big numbers.
Did you go for premarital counselling and who was in charge?
John:Yes we went at Masaka Full Gospel Church and Pastor Paul Elijah Kisakye was in charge.
What lesson did you learn from it?
John: I learnt the importance of communication in marriage. I learnt that I have to appreciate my wife in whatever she does well.
Resty: Being patient with my husband since we all come from different
backgrounds. The pastor also taught me that I should not speak ill of my husband in public.
How many guests did you have?
John: We invited 600 guests.
How did you come up with the guest list and how did you invite them (by cards or by phone calls)?
John: The organising committee and family members decided who to invite and invitation was by cards and emails.
Where did you buy your rings from?
John: We bought them from DM, a Catholic church shop in Masaka. They cost us Shs40,000.
Are the rings gold, silver or diamond?
John: They are diamond.
Which car type did you use for the bridal convoy and why?
John: We hired a Mercedes Benz model 2000 and Toyota Harriers because they look nice.
Which gown did you wear?
Resty: I wore a Cinderella gown which I hired from KK Bridals Masaka at a cost of Shs800,000.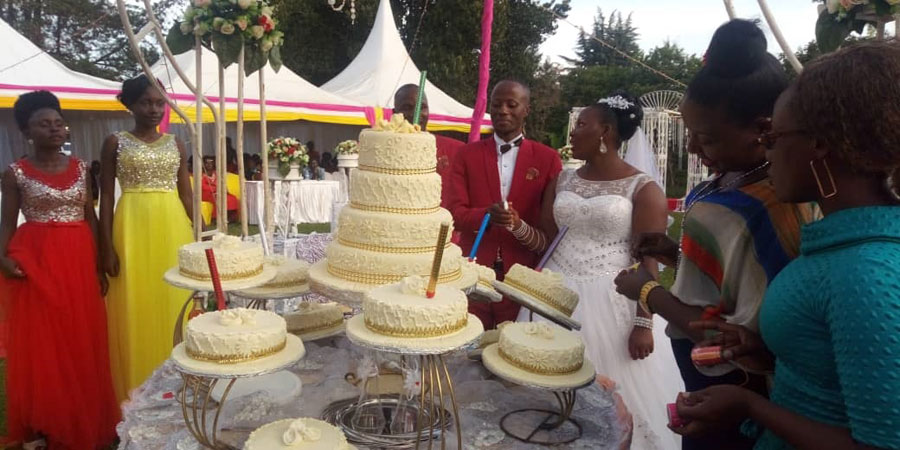 How big was the wedding cake?
John: We had four big tiers and 12 small ones which cost Shs1.2m.
What flavors did the cake have?
John: It had Vanilla and strawberry.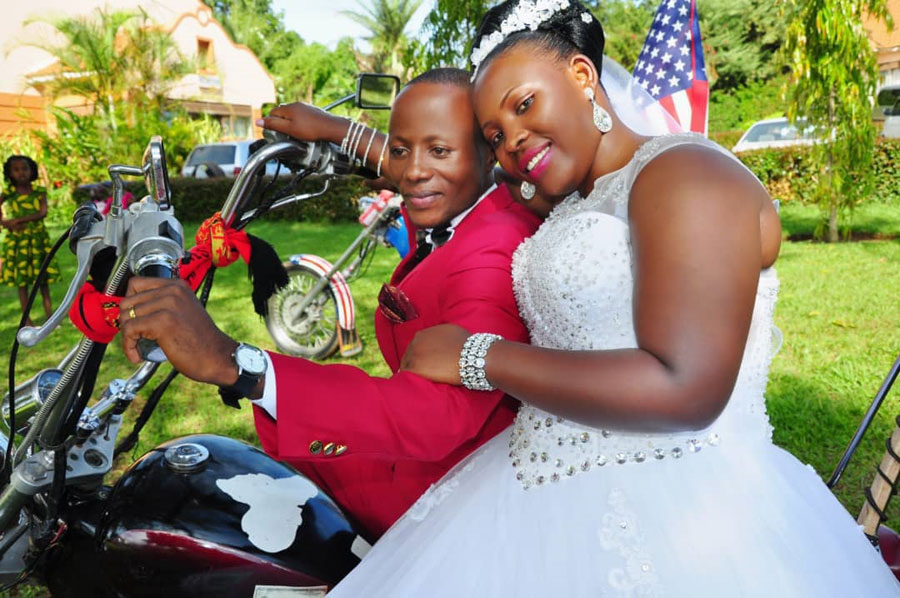 What was your photo venue?
John: We used Brovad Hotel in Masaka because of the unique setting. It cost us Shs2.5m
Titbits
Date: November 17 2018
Groom: Pastor John Arinaitwe
Bride: Resty Kisakye
Officiant: Pastor Elijah Paul Kisakye
Church: Masaka Full Gospel Church
Salon: Tasha Bridal Salon-Masaka
Budget: Shs17m
Reception: Nabisere hotel
Photo venue: Brovad hotel-Masaka
Guests: 600