Kenyan businessman Manu Chandaria has formalised his marriage with wife, Aruna Chandaria after 64 years in a simple ceremony at the attorney general's Chambers in Nairobi.
The couple that has been traditionally married decided to have their marriage legalised in a civil ceremony on Friday, July 19.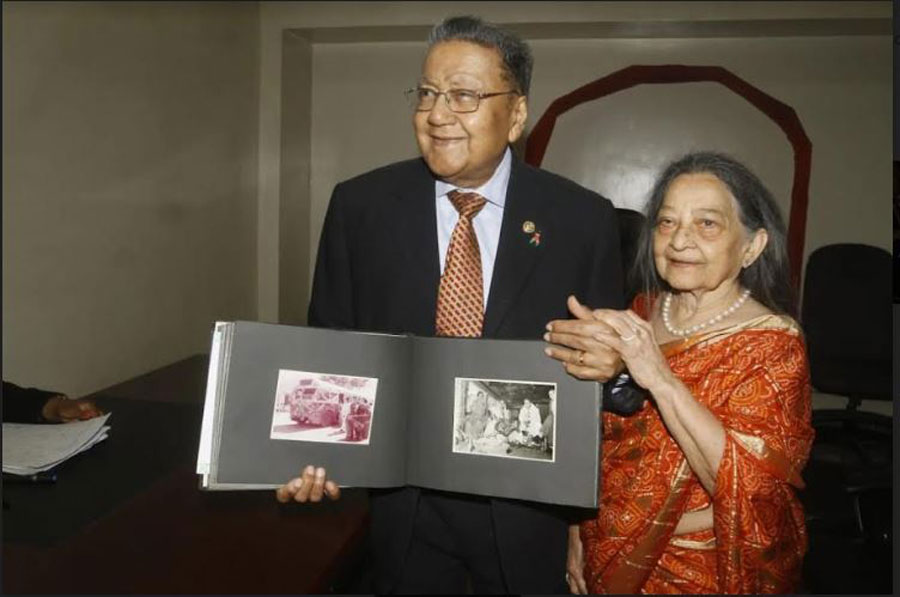 The 90-year-old businessman looked elegant in a simple black suit and a tie with patterns of gold, orange and maroon. He adorned his coat with a small badge made using Kenyan national flag colours.
His 85-year-old wife wore a lovely orange and gold sari accessorised with a pearl necklace.
The two smiled shyly like teenagers as they exchanged their wedding rings and after their vows were finalised, the newlyweds shared a passionate kiss.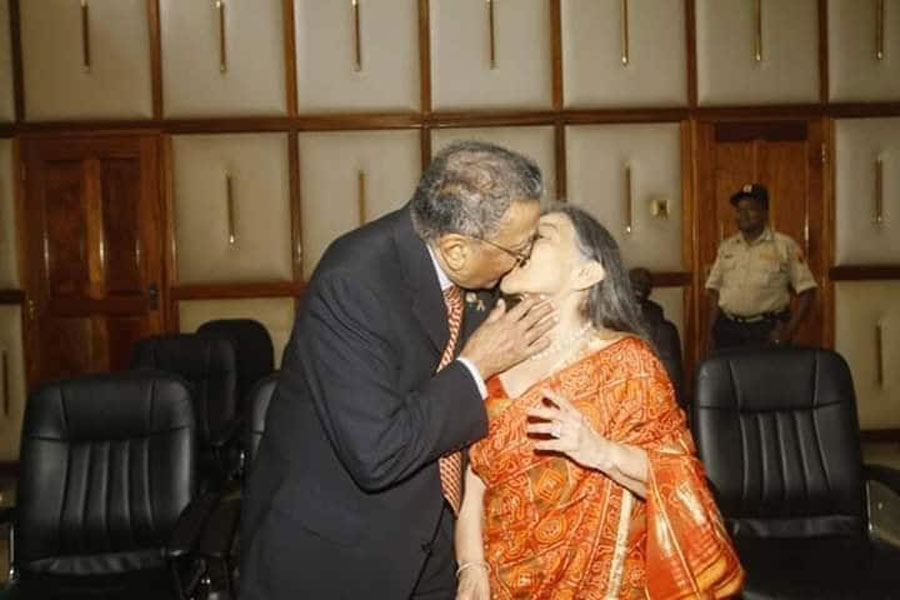 In an interview with Kenyan's website, Tuko.ke.co, the billionaire shared on how they have managed to keep their love strong for all these years.
"64 years is a long time and the only reason as to why we have lasted is because of give and take from both sides and consideration for each other," he shared.
"Love drives off after a period of time, but consideration of each other always makes life a possibility. She is 85 and I am 90 but she has the last word," he added.
The billionaire is known to prefer living a modest lifestyle which explains his simple wedding ceremony despite having the capacity to throw a lavish party.
The couple met years back in Kenya when Chandaria's elder brother got married to Aruna's elder sister. Their families were also doing businesses together which drew them even closer to each other.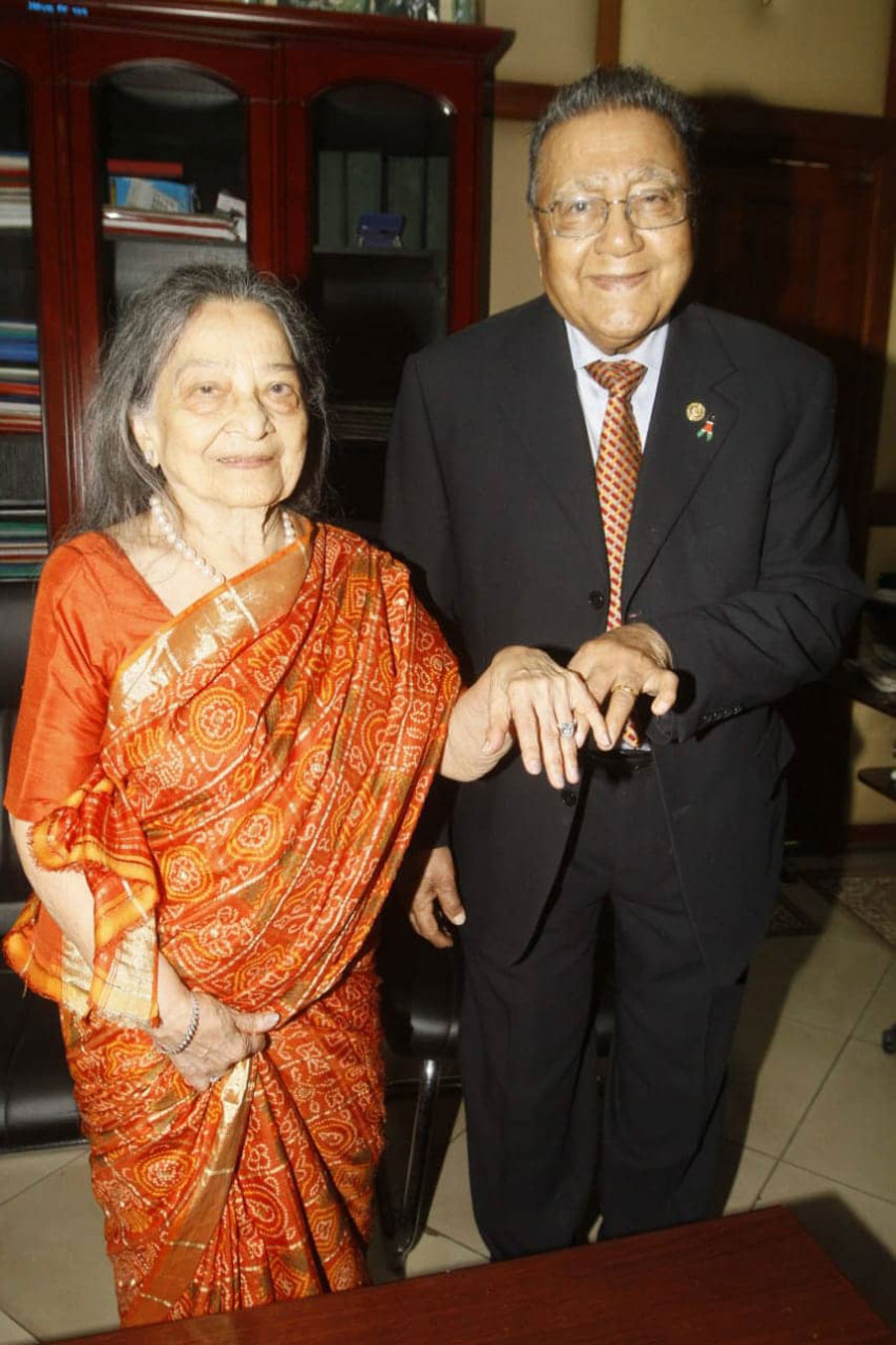 During World War II, they got separated when they had to return to India, but reunited again in Kenya in 1952.
Social media users were inspired by the elderly couple's bold step to have a wedding with many flocking their online pages to congratulate them.
One inspired user posted, "Waaoh congratulations, was beginning to get worried that we haven't formalised ours at 10years kumbe ni mapema bado."
Another added, "It is never too late to make it official."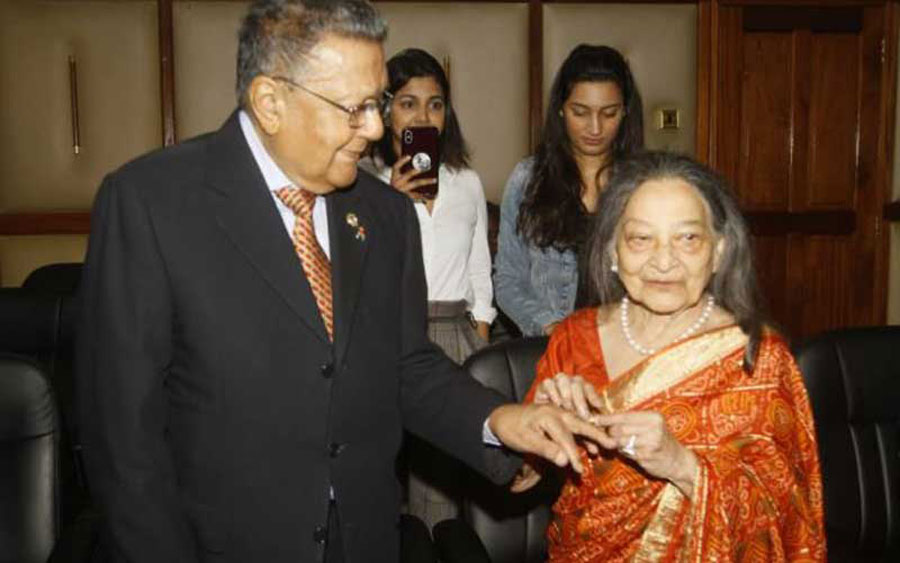 Then another gave her view on the benefit of getting a legal marriage document. She wrote, "The wife has been given a legal backup of the vast wealth of tycoon, saving her from tycoon family dispute over wealth in case he dies.  Indian widows suffer setbacks over ownership for lack of papers since their weddings are religious and specialised marital gifts, which are not recognized by law are usually what is given to them."
Like Indians, in Uganda many traditional marriages, although legally recognised are rarely formalised with a legal certificate. Every couple should formalise their marriage. It is never too late.  If the Chandria's did it, you too can.