Haruna Africa Nseko, a businessman, wedded Ruth Doreen Mutebe, an internal auditor affiliated to Umeme Ltd, a few months after they met. The lovebirds shared their story with Christine Katende
How did you manage to pull off the wedding  without calling for meetings?
Ruth: We did not hold meeting due to the limited time we both had. Instead, we created four WhatsApp fora, for family and friends for each one of us and one for church members. Each forum had a chairperson who provided answers to every inquiry. The selected committees were dedicated, our duty was only to post the budget on each of the fora. People sent their contributions by mobile money, through the bank and others called us to pick up cash.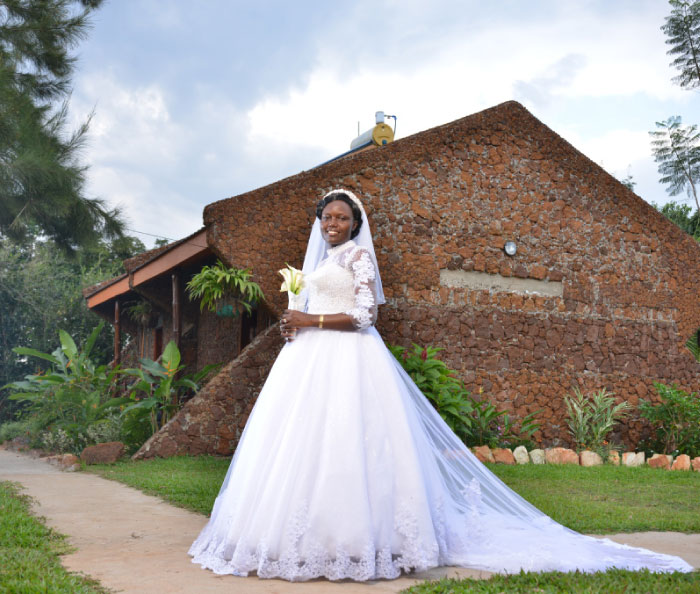 How did you get to know Ruth?
Haruna: We are Christians who pray from Nakasero Local Christian Assembly Church. I met Ruth at the beginning of this year after  service.
Why did you choose Ruth?
Haruna: Her beauty struck me. She had all the  qualities I ever wanted in a woman. Ruth is mature, God-fearing, educated, and intelligent.
What was it like approaching the woman of your dreams?
Haruna: I got her number and sent a WhatsApp message in the evening. I wanted to see how she would respond and she was polite. I, however, unveiled my marriage intentions in March but she never responded. She instead postponed the talk and continued with work. This did not deter me from checking on her until she accepted a date.
Ruth, what was your reaction to the persistent calls and texts?
Ruth: I was the chief internal auditor at Barclays Bank  when I met Africa but my tight schedule could not allow me time with him. He would call me at the exact time I told him to. I responded to his proposal after three months. On our first date, I listened more than I talked.
What then took you long to respond?
Ruth: I was not sure if I was making the right decision. So, I needed time to do due diligence, understand and get to know him better.
After the three months, what did you feel like after her consent?
Haruna: I cannot quantify the pleasure, I was so happy and I vowed to love and make her the happiest woman on earth. I have since that day tried to live to her expectations.
What attracted you to him?
Ruth: Africa was determined to love me irrespective of the circumstances. He is a Christian, stress free, honest, intelligent and down to earth.
How was the wedding?
Haruna: Fantastic, everything happened as planned. My wife had the best gown and shoes with a beautiful smile.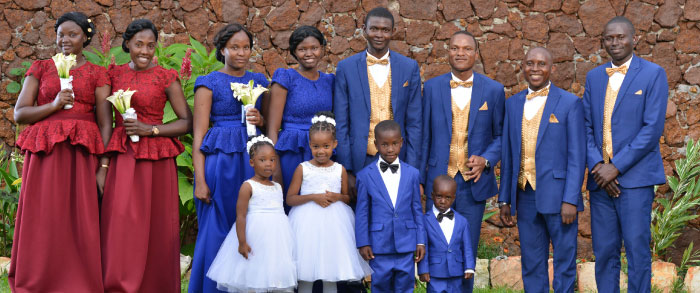 When and where was the wedding?
Haruna: On August 18, 2018 at End Time Message Church in Kiyunga, Luuka District. We later hosted more than 700 guests at Civil Service College in Jinja.
What was your wedding  budget?
Huruna: Shs50m
How did you manage to collect the funds?
Ruth: We used a priority approach. Whenever funds came in, we settled the most crucial item.
Huruna:  My wife and I funded our wedding budget up to 90 per cent, while friends and family gave us the 10 per cent. We knew what we wanted and that gave us a proper reason to look for good service providers.
How long did you prepare for your wedding?
Haruna: Three weeks after the introduction. The planning started when we agreed on the dates, right from the pre-visit (kukyaala).
How did you choose the committee members?
Ruth: We considered closeness and relationship. They were our trusted and good friends. These were committed and willing to do everything.
How did you plan for your guests?
Haruna: After establishing the number of chairs we needed at the venue, we spent Shs6m on food. We opted to buy the food among other stuff then paid for labour.
Why did you wed in the village?
Haruna: Kiyunga is my home village where most of my relatives live. I did not want to inconvenience them with travelling to Kampala.
Ruth, did that go well with you?
Ruth:  Yes, we had a discussion about it and chose to move the reception closer, with  Jinja as the central point. Jinja was convenient for guests from Kampala and surrounding districts.
What was the most expensive item on the budget?
Ruth: Decoration, which cost Shs7m. This included tents,  and chairs.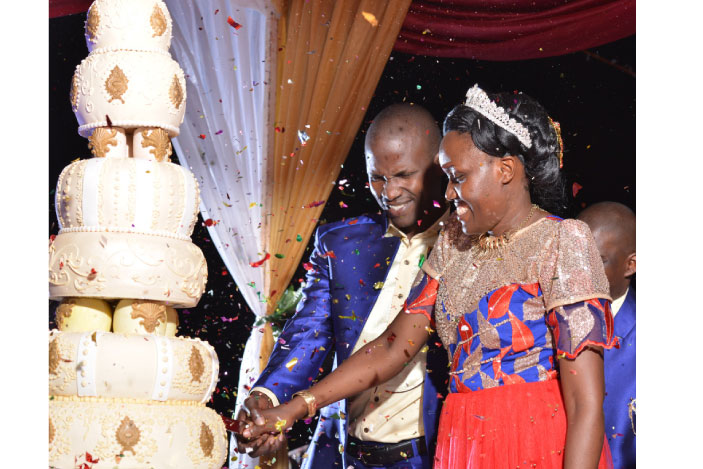 Which cake did you have?
Ruth: Fruit cake, red velvet and brown chocolate at Shs4m. The centre piece was fruit flavoured, the give-away tiers were a combination of flavours.
Why gold rings?
Huruna: Gold is pure and durable. We bought them at Shs5.6m from Radha Jewelleries at Sheraton Kampala Hotel.
Ruth:  Gold is more appealing than silver.
Which cars did you use?
Ruth: We used black and silver Range Rovers, which we hired from Kampala.
How many invitation cards did you make?
Ruth: We only printed 70 paper invitation cards, which we gave to parents. The rest were e-cards which were sent by email. This was more convenient in terms of delivery.
What gown did you wear?
Ruth: A white Cinderella gown. Haruna sent a picture of the gown he wanted me to wear, I just made slight modifications to make it unique. I changed to a multicoloured fitting dress that was tailored at Shs1m. I had two pairs of unique shoes I ordered from China at $100 (approximately Shs 370,000) each.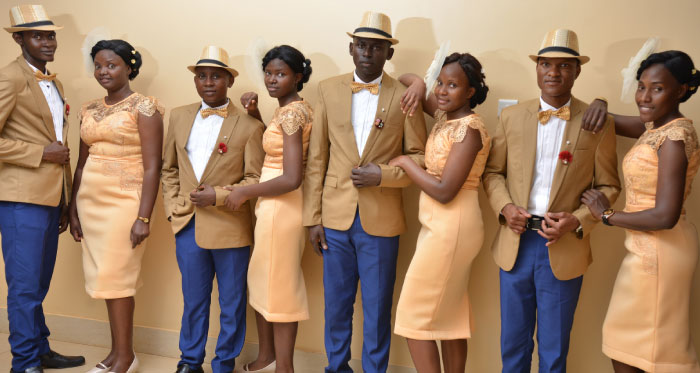 Who was your maid of honour?
Ruth: Lora Kasamba, a good friend with whom I'm comfortable. I was her maid of honour, she is mature and knows what I like.
Tell us about your attire?
Huruna: It was my special day, so I needed to have the best. I really loved my blue suit which is a unique colour that blends  with my complexion.
What excited you most on your wedding day?
Haruna: I was delighted when we were pronounced husband and wife. Also the time she introduced herself as Ruth Doreen Nseko and when the choir sang a special song (Tunulira abagole) for us.
Ruth: Seeing my childhood dream come true; having my father walk me to the altar. The time we were declared husband and wife.
Did you have any fears?
Haruna: No, I was waiting to give Ruth a standing ovation.
Ruth: No, I was confident of what I was going into and the person I was going to spend the rest of my life with. I knew everything would be well given the committed team we worked with.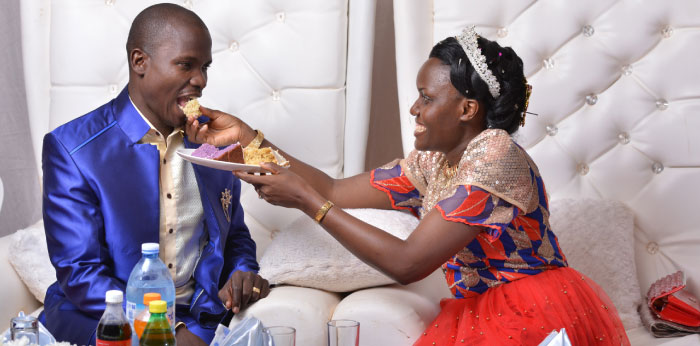 Any disappointments?
Haruna: The driver who was supposed to take people for kasuze katya switched off his phone, subjecting us to look for him, which delayed the programme. Also the bridal car drivers  asked for an extra Shs500,000 yet we had earlier paid for full service.
Ruth:  Kasuze katya cost us four hours and we ended up arriving at the reception at 5pm.
What challenged you most during the wedding preparations?
Haruna: We had little time yet we had to make sure that everything was fully executed. This involved a lot of movement from one place to another, which is also tiresome.
Ruth: Everything on my side required my attention yet I had little time. I, however, gave appointments to different committee members I would meet at different times. For example, the women who bought my shoes in China, I had to be online for discussions no matter the time differences. This way, I managed to get what I wanted.
How important was premarital counselling?
Haruna: We had two counselling sessions. I was told that I can never rule Ruth but the word of God in me can do so. I only have to love her wholeheartedly and sacrifice everything to her  because she is the only one that represents me.
Ruth: Although there was a structured session, I got counsel during the wedding preparation. I learnt that, no matter how busy I get, I have to take care of my husband because he is my first born. Also, marriage is sacred and Godly.
Your advice to people  preparing to wed?
Haruna: Put God first, get involved in your preparations to avoid disappointments.
Ruth: Be in constant communication with your fiance, be open and honest. Manage the service providers jointly.
A happy marriage to you from MyWedding team