By Desire Mbabaali
Meeting someone in a simple, yet beautiful way, followed by an equally simple wedding isn't a combination you find any day.
But this is what happened to Efi Koelewijn and Joseph Matsiga. After two years of praying at University Community Fellowship (UCF), Efi, a community psychologist and baker decided to join the worship team and had to talk to the choir director, Joseph, to do that.
That was the first time she talked to her now husband, the communications person at UCF although she had been seeing him on stage before.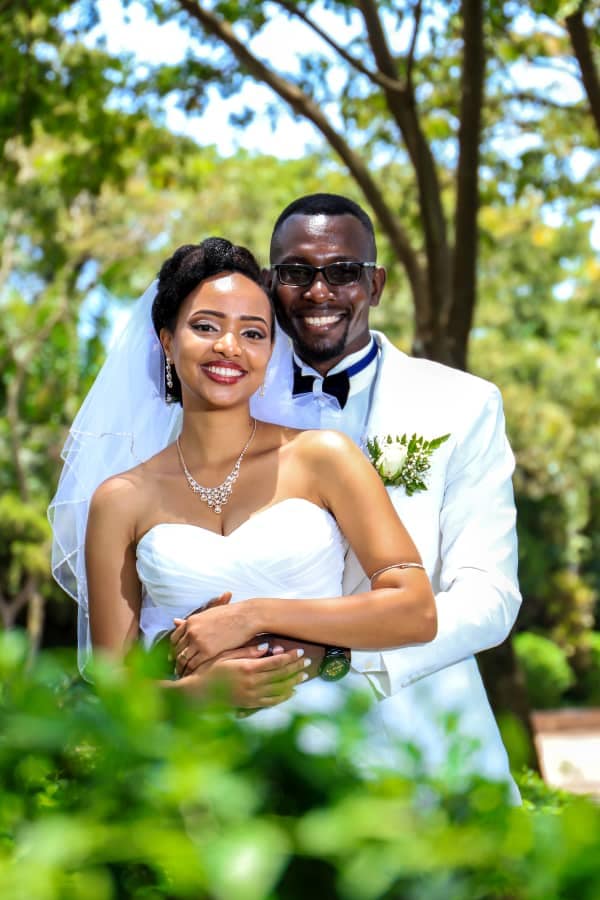 "We became friends and then everything went pretty fast. Two months after, we were in a relationship," Efi reveals.
"When we got together, we had total conviction and we knew the direction to take. The goal wasn't to hang round, we were focused on doing everything right, being together and getting married," Matsiga emphatically states.
A year and eleven months after they met, on September 22, the two tied the knot at Makerere Full Gospel Church, Makerere.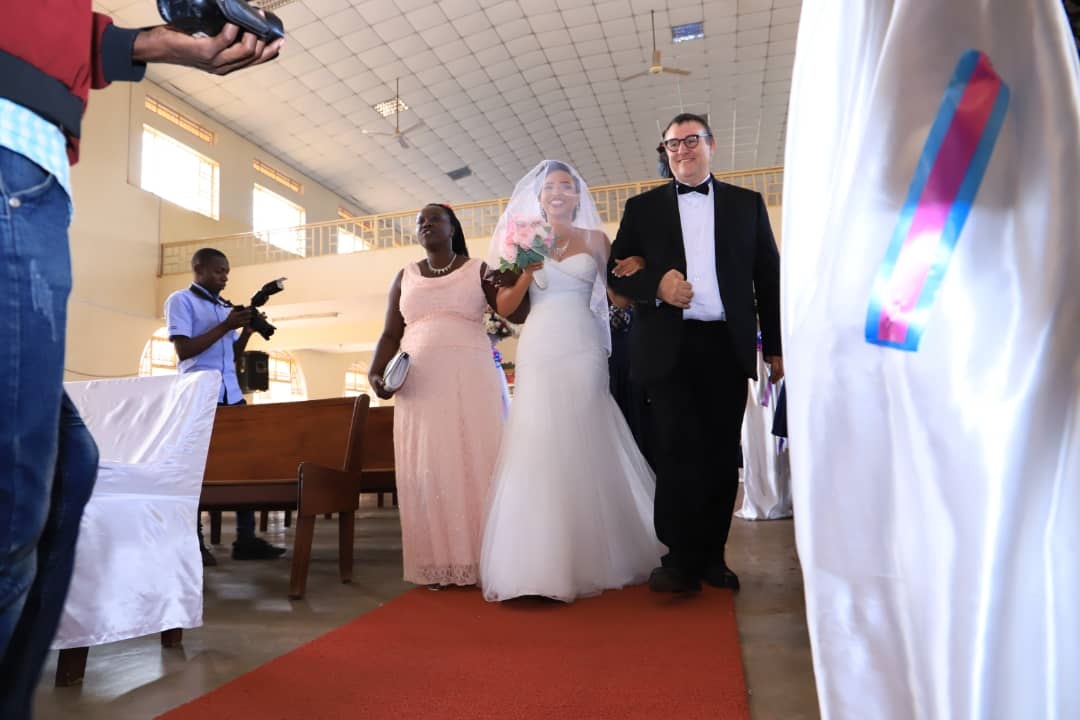 We live in a time when having mega weddings is the new normal. However the Matsigas decided to keep their wedding simple, uncomplicated but cosy. That said, having a simple wedding doesn't have to mean having substandard things. What it calls for however is setting priorities and sticking to them. This is the story of how the Matsigas went about their wedding.
"What I wanted for our wedding was that it would be simple yet warm. A few close people – family, friends, who have been there through our walk in life," Efi explains. On the other hand, Joseph dreamed of a mega wedding.
"I knew I had no money because I was straight out of school and I hadn't saved for the wedding. I didn't want us to strain ourselves because I knew we had a life to start after the wedding. But again, I am not a big showy person and yet that is what he wanted," she explains.
"In my head, I wanted this humongous, mega wedding but meeting her and talking over it made me start asking myself questions of why I wanted this. So we eventually got on the same page and decided to keep it simple. However even in the process of keeping things simple, there were certain things I really wanted to see happening and yet she didn't see it that way," he says.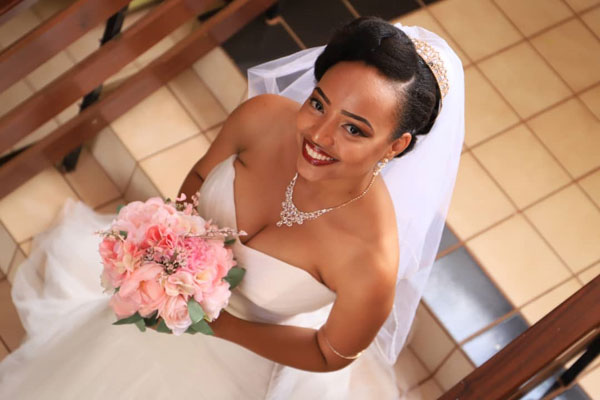 The compromises
"Compromising and crossing over to what she had in mind was a bit of a problem we had through the preparations. One of the biggest issues we had was with the wedding venue," Matsiga admits. Whereas he wanted an outdoor wedding reception, Efi wanted an indoor wedding in a hall.
To find a common ground, they settled for having their reception at Fairway Hotel in Kampala. "But even at the hotel, we went for the least expensive offers on the list," Matsiga points out.
However, two weeks to the wedding, the hotel management changed the deal they had with them and needed the couple to throw in an extra Shs10,000 per plate. "I wanted to change the venue but we weren't successful. She suggested we have the reception at UCF, but I had my own reservations. So we stayed at Fairway Hotel, but reduced our guest list by half – from 300 people to only 150," he adds.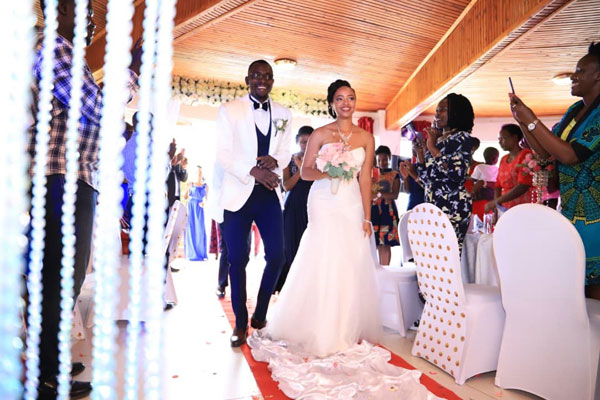 Capitalising on friendships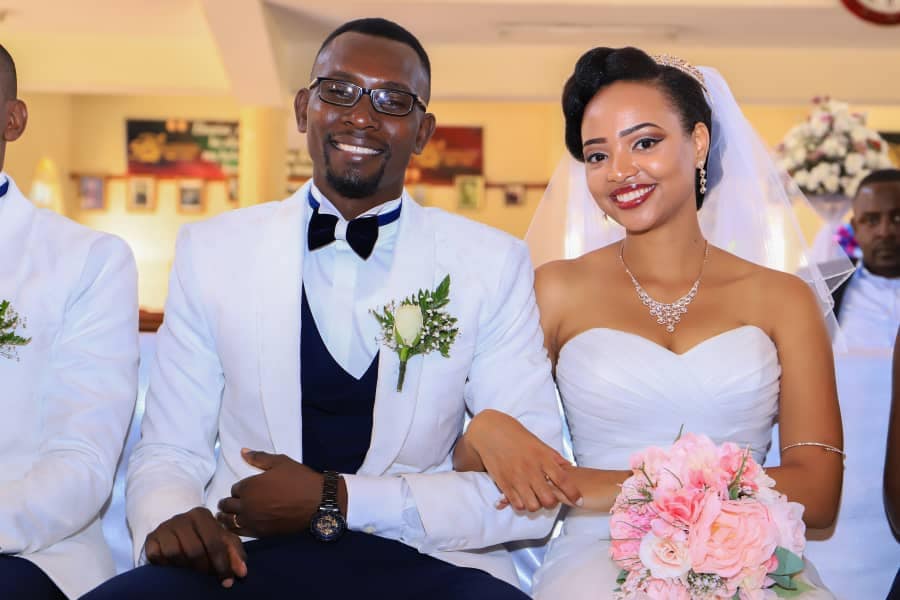 Among things that helped the couple keep costs down was being strategic on hiring friends and people they knew. "For the videography for example, I have a friend who does videography and photography so he agreed to work for us with the little money we had and as for decoration, we got a service provider who does it for our church. We were very strategic and very open that we really don't have a lot. So, we were working at a friendly level," Matsiga shares.
Joseph sings for his bride at the wedding
https://www.facebook.com/grace.koelewijn/videos/2280039185358741/
Prioritising and cost-cutting
"Our final guest list had 150 people. We gave the hotel Shs50,000 per person and those who came to the reception and weren't on our guest list, took soda and cake. We didn't spend any extra cash on food," Matsiga confides.
When it came to the cars, Efi says they had an entourage of 14 people and so they needed about four cars. "I wanted us to get cars from friends, but Joseph wanted Benzes and to strike a balance, we decided to just hire two Benzes at Shs150,000 each and borrowed other cars from different friends we knew," Efi says.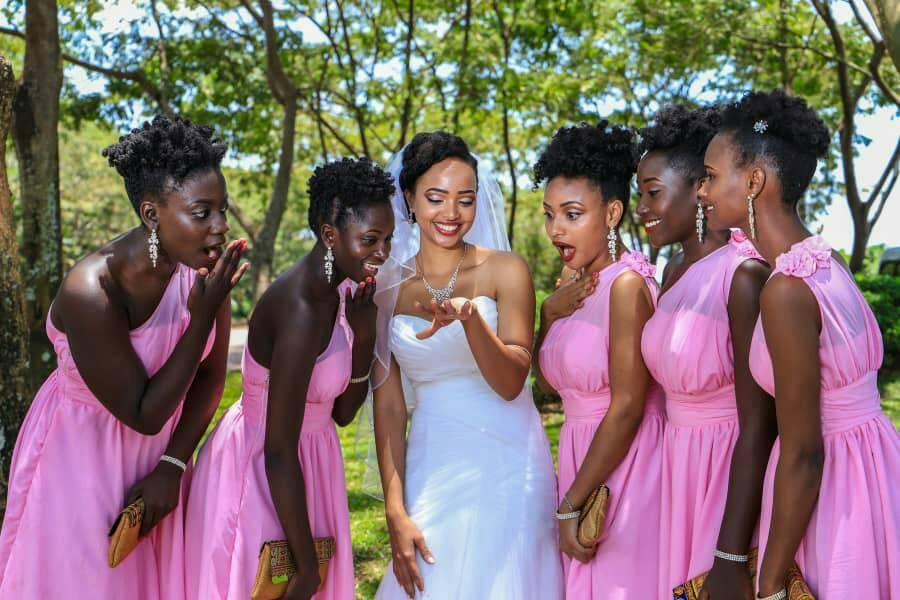 Matsiga notes that they also made it a point not to go overboard with the attire. "When it came to me and my best man, we didn't go for very expensive suits. We got a tailor who knew what he was doing, we looked for nice colours, blended them together and made beautiful suits. Everything together cost over Shs900,000 but not over Shs1million," says Matsiga.
Making use of discounts
As for the bride, she bought her wedding dress in the US while visiting a relative. "We went looking for gowns, and managed to get them at a discount. My gown was at $500 (about Shs1.9million) but I got it at $250 (about Shs900,000). I also didn't want a changing dress, so that's all I put on," she says. The rest of the entourage took care of their attire.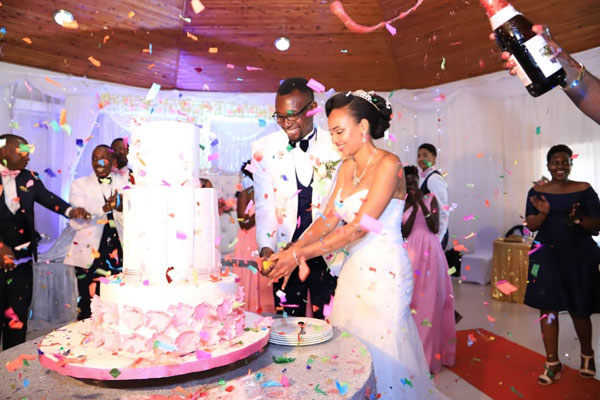 The couple also got the rings at a discount from the US for Shs250,000 a pair.
The cake cost Shs1.5million – a three tier cake cost Shs1million and seven other give away cakes cost Shs500,000 also made by a friend.
For the venue, they just paid for the food which was Shs50,000 per plate, and the hotel gave them chairs, tables, food and drinks.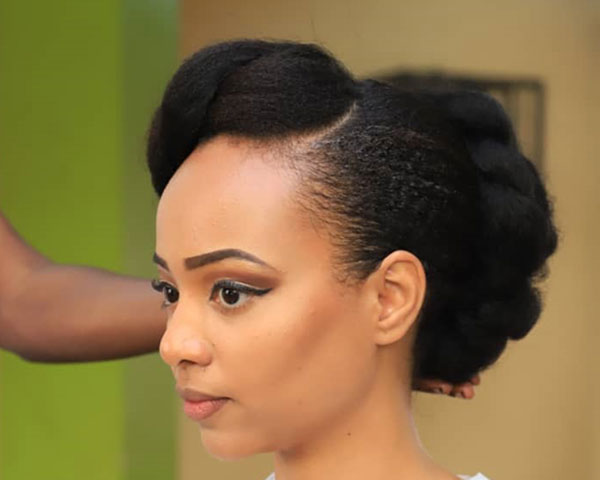 The saloon cost the bride Shs300,000. "We did the nails ourselves, the night before the wedding because I was so busy during the day and I forgot to go the saloon. We walked around looking for a saloon, but all places were closed so, we went to a beauty shop, bought artificial nails and my matron and I painted our nails the night before the wedding," Efi shares.
Tying the knot was at 10am, reception started at 2:30 and it was done by 6pm. We took the pictures from Munyonyo Speke Resort. "We went to Full Gospel and they charged us a church fee of Shs650,000 but refunded us Shs100,000 because we kept time," Efi says.
Friends helped cover costs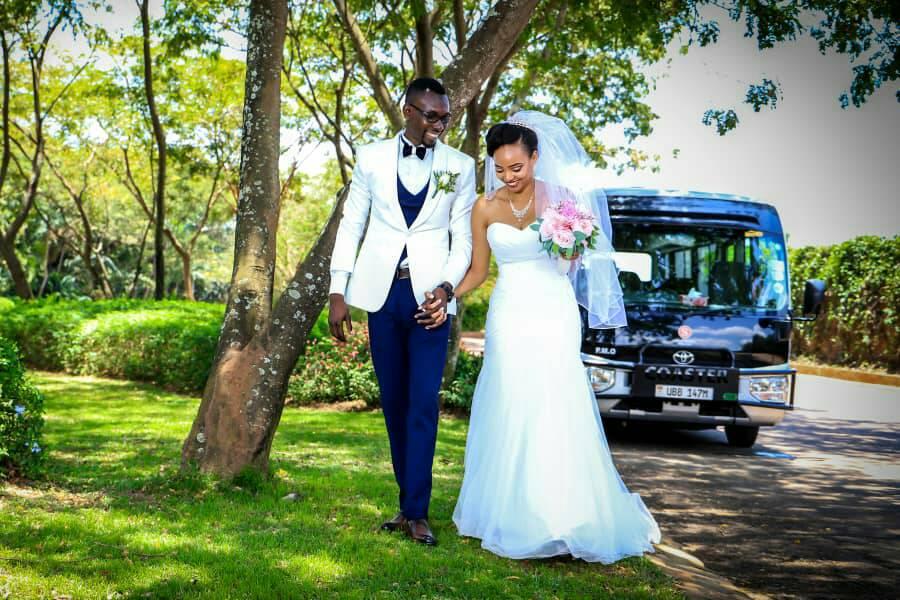 For the music at the reception, Matisga says, "I had friends that we used to play music with, so I just brought a few of those to play live music. One was playing an acoustic, the other singing and one playing the saxophone. I just gave them transport and money for hiring machines which cost Shs400,000 and they kept us entertained," Matsiga says. For the PA system, a friend from church who owns an events company gave the couple equipment for free, and that is what they used at the reception.
This was also the case with makeup. "I have a friend who does makeup so she did our makeup for free – the entourage and myself. It is such a blessing to have friends that do a lot of different things," Efi says with a smile.
"As for our honeymoon, we wanted to go to some particular place, but we decided to save and do that later on when we put our monies together. So, for honeymoon, our parents asked us which place we wanted to go and we chose a quiet place that was not very expensive as long as we were together," Matsiga explains
Budget wise, the couple worked with between Shs10million to Shs13million.
A good chunk of this money was got through the wedding meetings they had. "We used to have two meetings in every week – one in town and the others at church on Sundays – and we did this for over a period of five weeks, making it a total of 10 meetings. Contributions were about 80 percent and the rest was from us," Matsiga says.
They however noted that they experienced tremendous amounts of pressure from friends and family about how they wanted to see their wedding. "When people talk, you reach a point when you just say 'Okay,' but in the end, it was my wedding and I did it the way I wanted it to be. For example, I remember my mum wanted me to have a changing dress but I put my feet down. I had a pretty gown, and I wanted to wear it till the end," Efi says.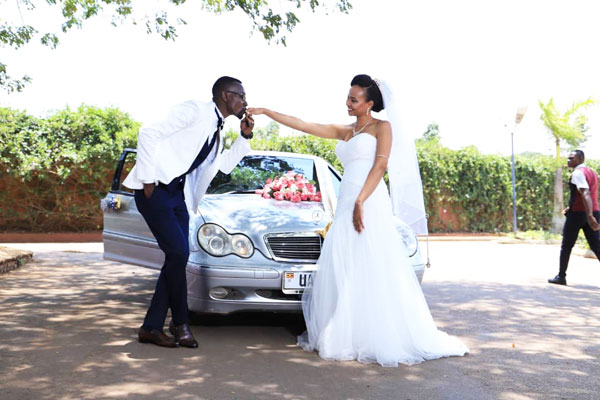 "Generally, I would say there was pressure, from friends, family, and the bride. But both of us had things that we didn't compromise with till the end. The only things we compromised about were those we sat down and had a conversation about and afterwards decided on," Matsiga states.
The couple's story shows that it is indeed possible to have a wedding that does not cost too much as long as you plan, prioritise, and work with friends who have skills or things they are willing to give you at a small fee or for free.
My Wedding team congratulates the Matsigas.