Caleb Kyazze, managing director at Race Makings and Justine Kabiite, a seamstress and data base designer tied the knot in March 2018. They promised to stay and cherish each other till death does them apart. CHRISTINE KATENDE captured the details.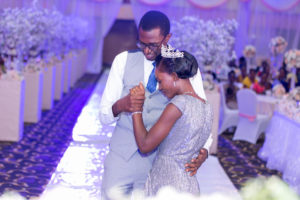 How did you get to know each other?
Caleb: It was on Women's Day 2016 during the Women's Day conference at Omega Healing Centre in Namasuba that I first saw Justine. I kept seeing her during the Sunday church services. She was also one of our clients at Adella Salon. Being a seamstress, I later asked her to make for me a shirt. I got her number to enable me check on her as well as the progress of my shirt. Due to the several adjustments that were supposed to be made on this very shirt, I used it as an excuse to see her more often. As time went by, I exposed my intentions towards her though she openly turned me down. This gave me more reasons to pursue her. We remained good friends who would once in a while go for outings. Apart from her being beautiful, I appreciated the fact that Justine was a kind-hearted person and was not money-oriented as many girls are today.
Justine: My first day to see Caleb was at church though we didn't talk. I later met him at Freedom City the time I had gone for a lunch date with his mother. The third time was at campfire at church and it's when we exchanged contacts. We kept the communication as friends not until he told me about his intentions. I turned his first attempt down because I had just broken from a relationship and I wasn't ready to start again that early.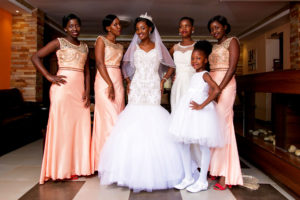 How long did it take you to propose again?
Caleb: It was after a month. Although she accepted we lived separately till a month ago after our wedding. This was a love (relationship) proposal where I made my intentions clear for I did not want date for fun. I then proposed for marriage four months later at Protea Hotel in Entebbe. That was around August 2017.
How did you react to his proposal?
Justine: At this time, I was ready after knowing who he really was. Caleb is open, down to earth, understanding, loving, caring and a God fearing person.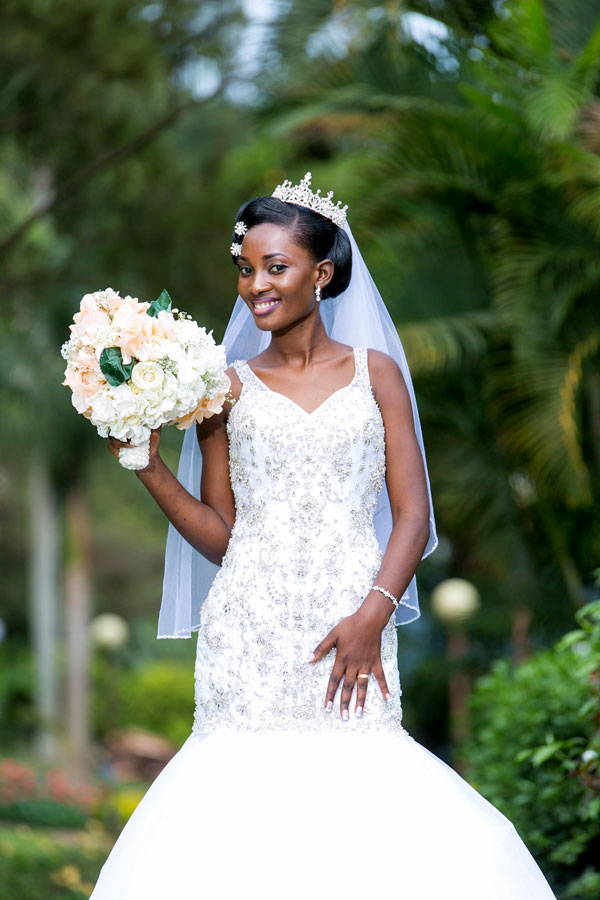 When then did you set off with the wedding preparations?
Caleb: We started off with the preparations for both the introduction and wedding in November 2017 though it became intensive immediately after the introduction. Both functions were a month apart. We introduced on February 24, 2018 and the wedding, on March 24, 2018.
Did you hold wedding meetings like it is usually done?
Caleb: We did not hold public meetings, it was only the family, I, Mum, Daddy and siblings. This would normally happen at night after supper. We gathered just to see what had been cleared or pending. My brother was in charge of photography since we used our company [Protea Hotel] and my sister was in charge of the entire programme. We had a full month after the introduction but then we focused much on the service providers like checking on the decorator, cars, cakes, entertainment among others.
Justine: We did not have meetings either. However, my family sat and decided on what to offer me individually. They also contributed financially and cleared all about the maids.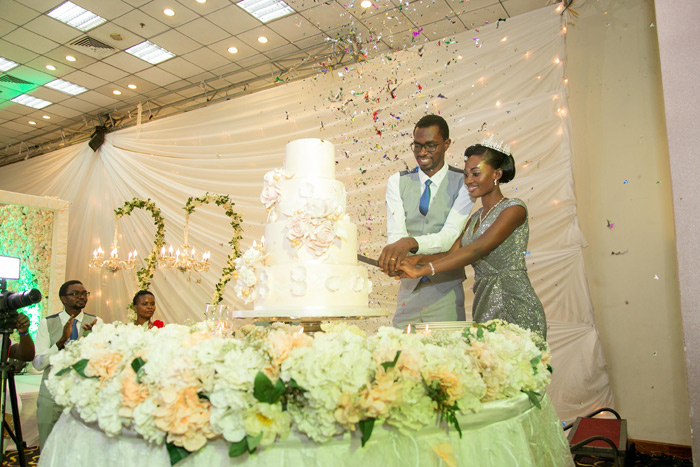 What challenged you most during the wedding preparations?
Caleb: Given the so many designs on the market, settling down with what to wear was a bit challenging. I did not want to have what many grooms have worn before.
Justine: Looking for the gown, the changing dress and maids' wear challenged me a lot. I had initially wanted to have a Cinderella gown given my body size. Although I had downloaded pictures form the internet, I moved to different places, even outside town but failed to get my taste. I later tried Sister's Bridal along Kampala Road and where I was advised to try on a fitting gown. Fortunately, from the many I tried I got a white fitting gown (trumpet fashion) with ivory stones that looked so nice. This cost Shs2m [for hire]. I started looking for the changing dress two weeks to the wedding, but after a long hassle, I got a nice grey dress with silver glitter at Shs1m.
Due to the several adjustments that were supposed to be made on this very shirt, I used it as an excuse to see her more often. – Caleb
How did you choose what to wear?
Caleb: I and Justine borrowed different designs from the internet (pinterest). After gathering enough photos, I consulted my brother Raphael Kasule, a fashion designer who finalised for us what to wear. I and the best man settled down with blue coats and grey trousers. Surprisingly, I didn't pay any penny, my brother gave me an offer. It's only the groom's men who paid for their suits.
Justine: I did not really look at any specific attribute, my focus was on getting what would look good on me. I fancy beautiful things. It's until I got what looked good that I settled. I had one pair of silver shoes that I used with both dresses at Shs50,000.
Where was the wedding?
Caleb: We wedded from Omega Healing Centre in Namasuba and Pastor Lincoln Serwanga from Liberty Christian fellowship in London officiated the wedding.
Where was the reception?
Caleb: We hosted our guests at two different venues; Omega Healing centre in Namasuba and Hotel Africana in Kampala where we paid Shs5m.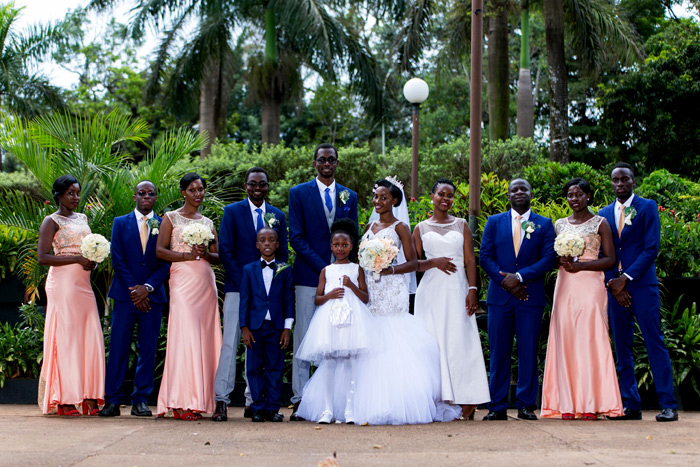 It's very rare for a couple to hold two receptions, how did it come?
Caleb: We had very many people but we could not afford to host about 2,000 people at Africana so we decided to have two venues. We hosted 400 guests at Africana and about 600 at church reception. However, we only cake at church then proceeded for garden pictures and later Africana. There were no speeches apart from one from the Pastor Micheal Kyazze, senior pastor Omega Healing Centre.
Which kind of cake did you have and why?
Caleb: We had two cakes because of the two reception venues. At church we had a five tier cake (coconut and vanilla flavours) baked by Sara Cakes at Shs2m. At Africana, we had a 10 tier cake in red velvet, chocolate and fruit flavours. This was baked by Abigail Confectionaries at Shs2.7m. We wanted the guests at Africana to have a different taste.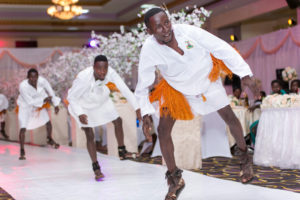 How did you choose the flavours to have?
Caleb: We did a cake tasting four days prior to the wedding and chose the best flavours.
How much did the decoration cost?
Caleb: The decoration for both venues cost Shs10m. It was done by Lady Jamelia of Showtime's Ltd.
What was your theme colour?
Justine: I went with peach, white and gold. All are beautiful and unique colours.
Which kind of rings did you have?
Caleb: Gold, it's an old classic. We bought them from Rhada Jewellery at Sheraton hotel at Shs1m each.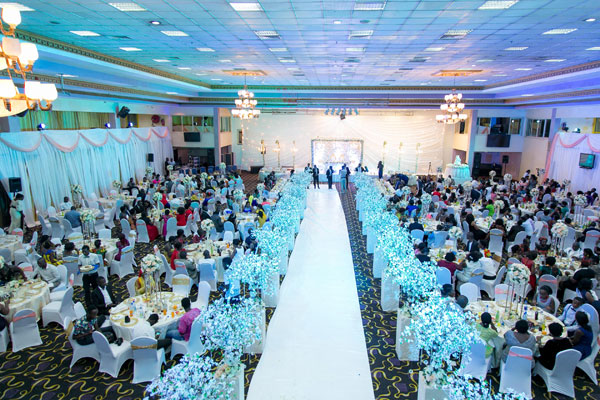 Looking at cars, which type did you use?
Caleb: Given a small entourage, we decided to have four Jaguars, (a golden coloured as the lead and three blacks) from Floben at Shs350,000 each. We went in for Jaguars because they are available as compared to other types.
Which kind of entertainment did you have?
Caleb: They were two groups; Crane Performers as the main entertainers at Shs3m and Canaan Gents
How much did the wedding cost in total?
Caleb: Shs50m.
How did you manage to collect funds?
Caleb: It was a collective effort from family and friends. Many of the people who we gave invitation cards sent in their contribution before the wedding because I circulated the cards a month to the wedding.
What excited you most on your wedding day?
Caleb: We looked so nice in our suits. The decoration was nice and the performers did a great job.
Justine: The decoration was on point. I also looked so nice and beautiful in my trumpet grown.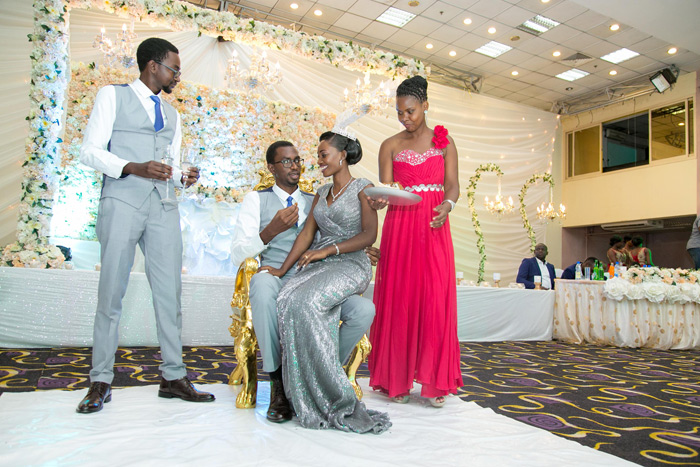 Do you remember getting any disappointment?
Caleb: Nothing much apart from the fact the service started a bit late as we waited for the officiating pastor who was coming from London. The entire programme was pushed an hour ahead. This made me uncomfortable but we had a backup in case he had failed to make it.
Justine: The Pastor's delay to arrive at church made me over stay in the car. The too much heat in the car made me really uncomfortable. He however arrived and the service started which relived me of the heat.
Did you have any fear?
Caleb: Nothing, I was in control.
Justine: Walking to the altar when all eyes on me but God gave me the courage to walk along side my father.
How useful was premarital counselling?
Caleb: To be respectful and having a friend who is a lover. Good communication alone is very sufficient without love and respect.
Justine: Understand my partner, making him my best friend. Respecting him as my husband and being submissive.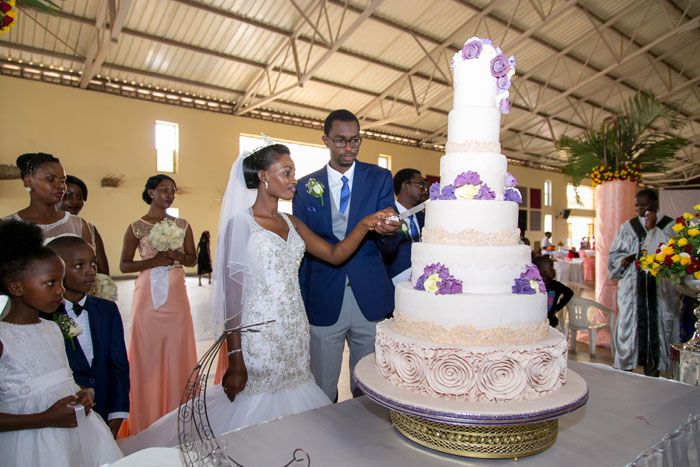 What excited you most while at your honeymoon?
Caleb: We went to White Sands Hotel and resort in Dar es Salaam for three days. It had a very nice scenery. I really got time to know her better. We had some good fun.
Justine: Traveling together and having a good time with my husband. He taught me how to swim. 
How would you advice a friend that is getting married soon?
Caleb: Prepare early to allow you get different options. Do not strain yourself, work within your means, a big wedding doesn't necessarily mean a happy marriage.
Justine: A wedding day comes once in a life time, so do what satisfies your heart. Do not let anyone choose anything for you. However, consider the advice that comes up as you sometimes need to adjust like on the type of gown, among other things.