By Esther Nantambi
After moving back and forth with authorities at Watoto Church, and later suing them for stringent requirements, Michael Aboneka held an outdoor wedding with a special license from the Uganda Registration Services Bureau (URSB). He however had a bishop officiating his marriage, signifying that his marriage was still centered on God.
Although no media was permitted at his wedding, he has spoken to My Wedding and gave clarification about his big day.
When asked why he had an outdoor wedding, Mr. Aboneka explained that from the beginning, his desire was to have an out-door  wedding which would be officiated by a pastor from Watoto Church until their marital requirements ruled it out for him. He explains that he could not have a wedding done by individual innovations (Watoto wedding requirements) as opposed to constitutional provisions.
"Those requirements are unconstitutional in my view and as such, I didn't have to submit them!" he exclaims adding, "I did a wedding which didn't ask me for any of those things. In this country we still have men of God who believe in people's causes." He went ahead to thank Bishop Churchill, the officiant of his marriage for his brevity.
"I appreciate the Bishop who took the courage to wed me according to my comfort and wishes. We need such men and women of God in this country who respect rule of law," he commented.
When asked how he got the bishop who didn't ask for marital requirements which most churches ask for, Mr. Aboneka informed us that Bishop Churchill is a liberal man of God: "He understands me as an activist and he is happy that I keep asking questions."
He says in Uganda, many churches won't even marry a couple out-doors; he encourages them to embrace changes in tradition and support their own as long as their ventures are legal.
In regards to whether Aboneka drew special detailed contracts for each service provider stating repercussions if the services provided were not to the agreed standards, Aboneka confirmed that indeed every service provider signed a contract with him.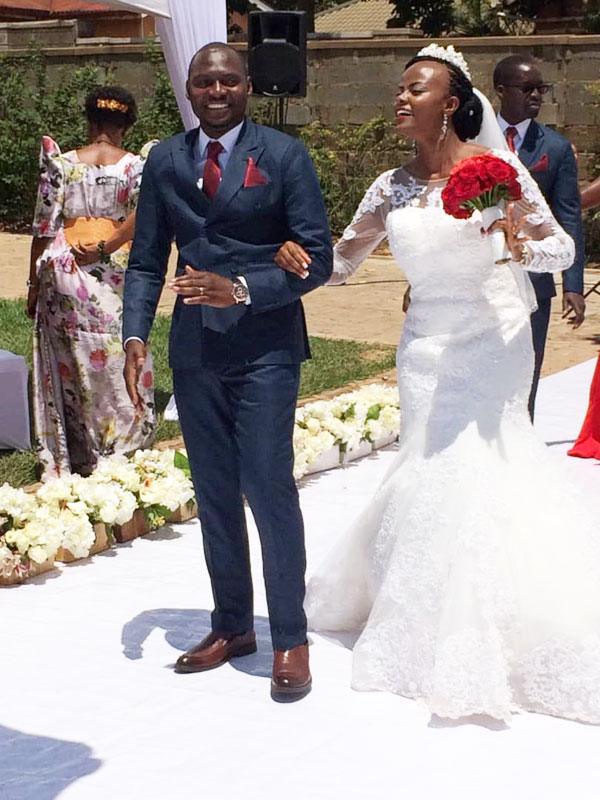 Status of the case
Michael Aboneka's case against Watoto Church which questions the lawfulness of wedding requirements needed for a person to marry in most churches is still in court.
"The petition is a public interest one and the court will pronounce itself soon on the questions we put before it. Let's wait for the hearing of the petition and its outcomes," Aboneka  commented adding, "I didn't bring this petition for enforcement of rights, but rather interpretation of the Constitution as the Constitution enjoins anyone to bring to its attention any matter. There is therefore no matter overtaken by events. Lets wait for the court to make decisions."
How was it possible to get married in the gardens?
If you get a special license from URSB, you can be allowed to marry in any place of your choice. You will pay Shs300,000, where one of the parties to the marriage is Uganda or a refugee, in addition to the following requirements as stated on the URSB website.
An intending couple should appear in person before the Registrar of Marriages for their district for an interview.
The intending couple should come with the following:
a. Proof of citizenship for example a passport or national identification card
b. An LC 1 letter to prove residence for at least 15 days in the district in which the marriage is intended to be solemnized.
c. A passport size photograph
e. Registered marriage affidavits that conform to Section 10 of the Marriage Act
e. In case of foreign citizens, a letter from the Civil Registration or Vital Statistics Office of their country confirming that the party is not married.
The intending couple should fill a Notice of Marriage before a Registrar of Marriages (indicating their names, marital status, age, occupation and place of abode) and get assessment forms to make payments at any bank of their choice.
Alternatively, a client can exercise the self-assessment option by logging on to the Uganda Revenue Authority (URA) website at www.ura.go.ug
The Notice of Marriage is published on the Registrar of Marriages' notice board for 21 calendar days.
If there are no objections to the notice of marriage, the ceremony takes place after 21 calendar days but not before the lapse of 90 calendar days. Marriages are celebrated from Monday to Friday, between 10am and 4pm, The parties appear with two witnesses before the registrar who performs the ceremony and thereafter issues them with a marriage certificate.
If there is an objection, a caveat is placed and the matter is referred to court for settlement.
(Fees Payable: Shs260,000 – where one of the parties to the marriage is Ugandan or a refugee).