By Zadock Amanyisa
All my life, I have hated spending too much on parties, not because I was poor, but because I see no sense in spending lavishly on something that lasts for a few hours.
My name is Zadock Amanyisa, aged 28, a born again Christian confessing Jesus Christ as my saviour. I work at West Ankole Diocese in the Province of the Church of Uganda as an Information and Communications Officer. I am also a freelance journalist at Monitor Publications Limited.
I am married to Mrs Ruth Amanyisa and we have made six months in marriage. I met Ruth in 2015 at a youth fellowship at All Saints Greater Bushenyi COU, Bushenyi town and we agreed to be friends but it later grew into a relationship.
In July 2017, I proposed to Ruth and she accepted after two days. That Christmas holiday, she had to break the news of our intention to marry, to her guardians (Ruth lost both her parents as a child) but she got nervous and didn't. I encouraged her to go back and tell them. When she did, they were happy and accepted our union.
We went through all traditional steps and scheduled our wedding for April 28, 2018.
The wedding I desired
I wanted something small but smart. I wanted to produce only 50 invitation cards but some circumstances dictated that I make more. My parents wanted to also invite their friends to my party, implying that the number of cards had to increase. I finally produced 80 cards for guests. This would translate into having 160 guests because each card invited a guest and his or her spouse. I made a provision for 40 other people leaving me with a total of 200 guests to plan for.
I called some friends to join me and we put up a budget for the day. We prepared an estimate of Shs15 million  although I had earlier wanted to have one of Shs9 million.
Forming and disbanding preparatory meetings
 I had chosen a senior citizen and friend in town to be my chairperson.
We had the first meeting which attracted 23 people. The meeting formed an organising committee and also discussed the budget. What shocked me during the meeting was an attempt to raise my budget from Shs15 million to Shs21 million. These budget estimates left me melting because I wanted something small.
I later engaged two friends with whom we agreed to plan a small but smart function as I desired. From my engagement with them, we cut the budget to Shs5.67 million.
When I presented the budget to some committee members, it looked funny and I became their laughing stock. Some of them said I was not going to succeed but I gave them a deaf ear. I hated the idea of being stuck with loans after the wedding day so I stuck to what was relatively achievable. I engaged my chairperson and treasurer about my decision to suspend preparatory meetings and they supported my idea so we suspended the meetings.
Dealing with a small budget
By the time I disbanded the committee and suspended meetings, I had collected about Shs3 million in cash and Shs2 million in pledges. This was a good beginning for me.
A close friend referred me to Tuzza Hotel in Bushenyi as a reception place for the wedding. The hotel has a spacious grass thatched conference hall with round tables and chairs and a sitting capacity of more than two hundred people. They would provide a separate tent where food would be served.
Their food prices also ranged from Shs20,000 to Shs35,000, inclusive of the usual traditional food like matooke, rice, kalo, vegetables, meat, chicken, groundnuts and a drink. I felt happy because I saw God touching my hand.
We agreed on the packages where I chose a plate of Shs20,000. I booked the venue for April 28 and paid 75% of the required fee.
From there, I started bargaining with different service providers to help me get the cake, wedding gown, public address system, salon service, decorations, photography, and others. While bargaining, I made sure every item did not go beyond Shs250,000 and God did it for me. Most of the service providers were my friends in town who wished me well.
I would get the money, book and report to the chairperson and treasurer to keep them updated. Though I had disbanded the executive and suspended preparatory meetings, I didn't do the work alone.
A week to the day, I had cleared 99.9% of what was required to make our day colourful.
My wedding day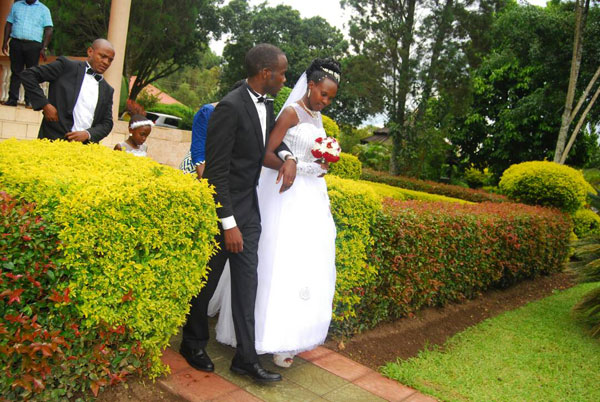 The Friday before, a few friends, family and myself went for the introduction and give away function at Ruth's home in Nyabubare, Igara, Bushenyi and Ruth was given to us.
I couldn't wait for the few hours till the D-day! I didn't sleep well because of anxiety and excitement.
On Saturday morning, I got up and prepared myself to go and pick the bride from her home. It was such a good morning! No one has ever felt like me on that day. I magnificently went, picked Ruth and took her to the salon, then proceeded to go prepare for church myself.
At this time, people from different ends of the country had started arriving at All Saints Greater Bushenyi Church of Uganda to witness the exchanging of vows.
A few minutes after our arrival, melodious hymns started playing inside the church. We slowly matched in for the service. Saying our vows stood out for me; I saw heaven coming down as I exchanged vows with my bride. The service was led by Rev. Can. William Twinamatsiko, the Greater Bushenyi Archdeacon. Rev. Can. Arthur Atwiine, the West Ankole Diocesan Secretary, officiated the wedding.
After the service, we were driven in a convoy to Tuzza Hotel. We took some photos at the hotel in the rain but it was worth the fun. They had to tell us we were late for the reception, in order for us to leave the place. We were enjoying ourselves immensely.
Food was served on arrival but to be sincere, I didn't eat well because of excitement and anxiety. I wanted to know if my guests got enough food which was confirmed by someone.
After having lunch, we matched into the reception venue where all eyes were on us. What amazed me was the way my fellow journalists created an arch at the entrance holding newspapers. It was glorious.
Our wedding, done with a small budget was graced by the Bishop of West Ankole Diocese, Rt. Rev. Johnson Twinomujuni; Minister of general duties in the office of the prime minister, Hon. Canon Mary Karooro Okurut; Minister of Science, technology and innovation, Hon. Dr. Elioda Tumwesigye; and the Buhweju County Member of Parliament, Francis Mwijukye among others.
I heard guests praising me for having organised a good function. I also heard speakers, one after another encourage young people to emulate my style. You have no idea how good I felt. After the ceremony, I left with Ruth for a place I will not disclose.
A small budget helped me save
The following day, I met our treasurer who handed over Shs2.9 million as the balance! Since I had already cleared everything, this was a bonus for us. We had our honeymoon at home instead of spending the rest of the money on it.
We used the money left over to start an urban and backyard farm. We built a rabbit hatch and stocked it with exotic and traditional rabbits; constructed a poultry house and stocked it with chicken; and also bought sacks and car tires, which we filled with soil and established a vegetable garden. The business has grown since then and it's our side income six months later.
I encourage my fellow young men and women not to spend expensively on weddings. Don't do something because people want you to do it, but rather because you can and want to. There is life after that wedding day, which you won't enjoy with banks knocking at your door.