By Carolyne B. Atangaza
Most of us feel safe going with the flow, doing the norm. And a wedding with its usual stress is nowhere one wishes to rock the boat. So we just grin and bear the exorbitant cost that can be avoided. But did you know you can actually have a stunning wedding décor without flowers? Nunu Barigye, an event planner from Revel Décor Uganda says flowers are mostly used in wedding decor to add glamour because of their pretty and soft look but can be easily replaced with other styles and objects.
"Planning a wedding without blooms still requires a "wow factor" in order to liven up the place, you do not want to end up with décor that makes your happiest day dull," Barigye observes.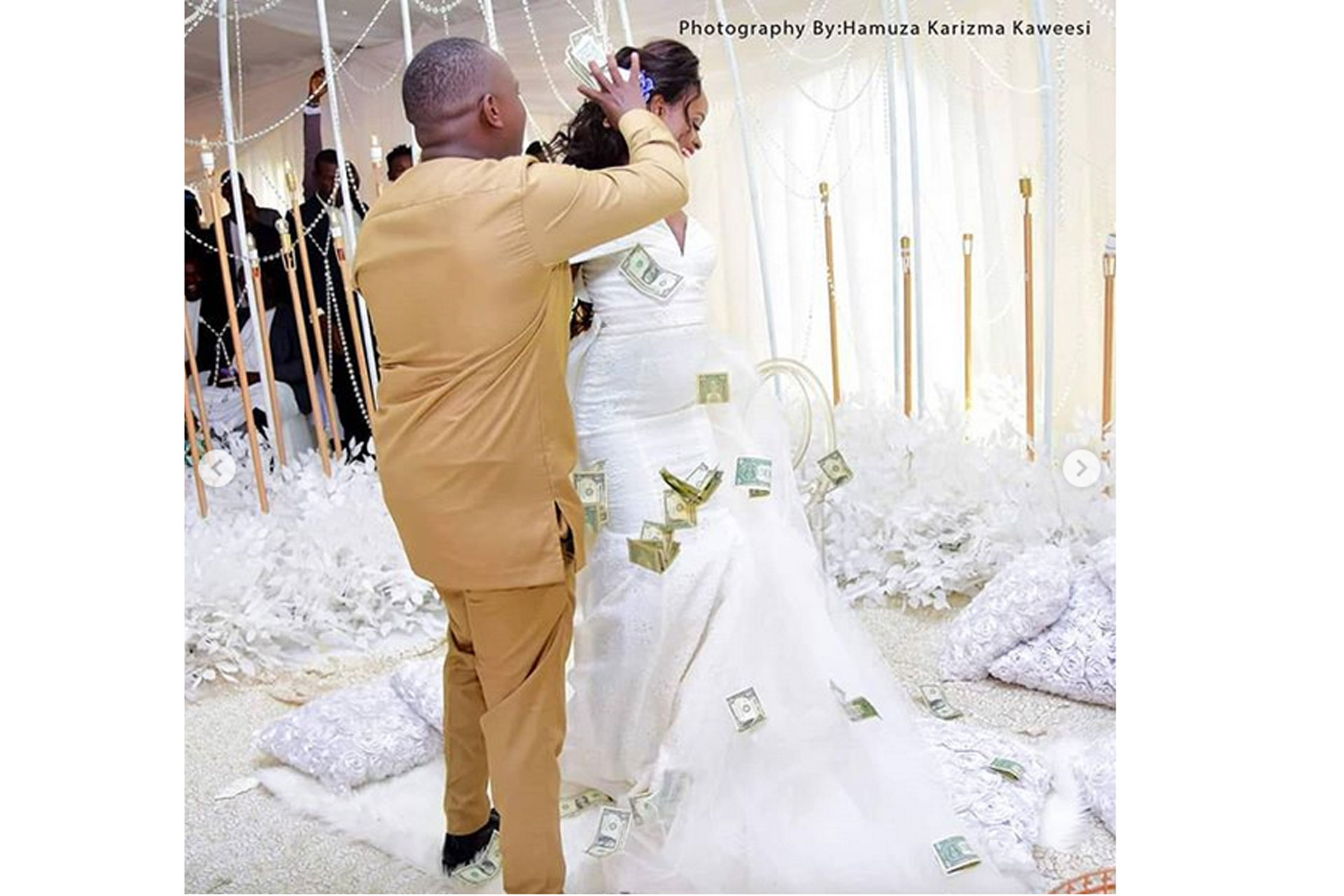 She further notes that if a couple opts to forego flowers then they must find ways to create visual interest and to take the attention away from the obvious lack of flowers. "By varying shapes and textures of plants and other natural elements one can create beautiful décor without flowers," Barigye explains.
Monica Lakor, of Achelle Décor advises those not keen on flowers to try using light and glass which can be a sufficient substitute. "In this case, candles, beads and glass would make for simple, warm and clean table pieces," Lakor adds. These can be supplemented with varying shapes and textures such as wood, fairy lights, ornamental framed faux grass or well draped cloth with fairy lights. She says fresh flowers can be replaced by objects such as jewelry, foliage, herbs/ plants, a cute purse or faux flowers made of silk or paper.
Adding fruits to a centre piece will give it colour, add a fresh scent to your venue and give your guests something healthy to look forward to. "Decorating without flowers does not mean going for dull and lifeless options. You can still have natural and fresh fruit, plants and foliage," Lakor explains.
Flowerless centerpieces can also add a personal touch to a wedding, since couples can decorate tables with items of their interests such as framed photos. "A personal favorite of centerpieces is combining unique vases with candles to create interesting combinations and an intimate setting," Lakor relates.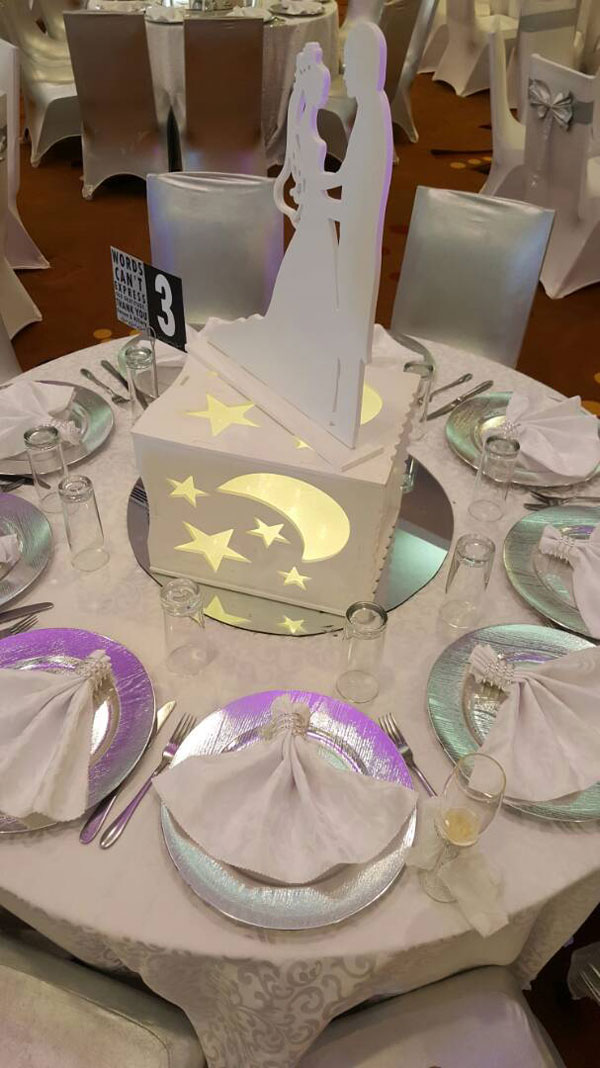 Flowerless bridal bouquets
Pocket squares and pins are popular alternatives to traditional flowers. For corsage replacements, have flowers or cute shapes made out of ribbon, fabric flowers, and elegant brooches. Crafty brides and grooms can also DIY flowers and corsages to suit the wedding theme and design.
The flower girl does not have to literally toss flowers. Instead of flower petals, the cutest member of the bridal party can throw items such as sequins or confetti. To avoid a mess, she can carry something down the aisle instead, a parasol, basket of dried herbs (lavender etc) or ribbon wand. Or simply give her a cute ornamental headband to wear and let her look cute.
Theme your bridal décor
According to Olivia Kyomuhendo, of Livy's Décor one of the commonest requests is making their clients' wedding décor different from all of the rest. Kyomuhendo says one sure way to make your reception unique is to create something so personal that is uniquely you. "Start by thinking of the things you like. Write down all the things you love both as individuals and as a couple. The wedding should reflect the two of you as that couple," Kyomuhendo advises. Think of details such food, music, décor and outfits.
After settling on a theme, you need to find the necessary people to help you execute it. Start the theme with the wedding invitations. While it is your wedding, guests help make it special, so let them know what you expect of them. Since they should be able to blend into the theme, it should not be too sophisticated or demanding.
"A wedding theme that is familiar will be easily accepted and executed by most guests. You do not want grumpy guests who fail to eat the food and drinks on offer. Whatever the theme is make it fun and fair for everyone but most especially for you," Kyomuhendo advises.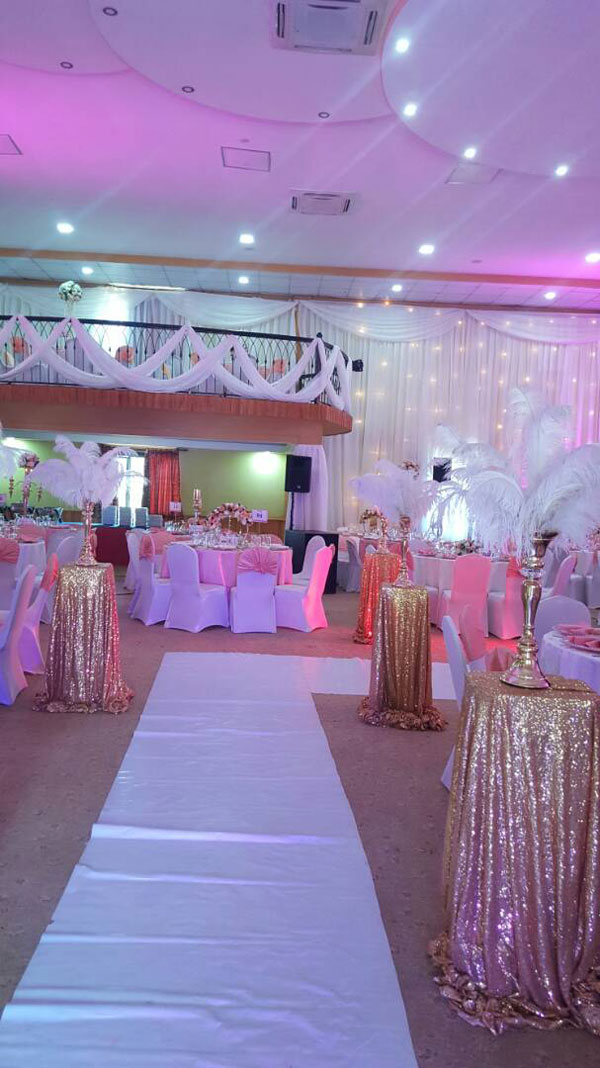 Some of the most popular wedding themes in Uganda include:
Vintage
This theme focuses on the elegance of the good old days. There is use of a lot of lace, ivory, slate grey, rose, and gold colours.
Classic
The focus here is timelessness. The perfect colours for a classic look are white with silver, gold accents and pale pinks.
Traditional
This theme is all about embracing one's culture, family and traditions. Expect the use of rich fabrics, ethnic objet d'art and jewellery.
Beach wedding
You do not have to go to the beach to have that seaside wedding you have always dreamed of. With a good event planner you can transform any venue into a serene waterside. Incorporate a lot of crisp whites, greens and blues. You can even add grass and sand if your guests will not be bothered by them