By Olivia Mukaaya
Joshua Menya, 30, a monitoring and evaluation coordinator at Spark Microgrants Mbale and Mariam Mutyembu, 28, businesswoman tied the knot last year. The couple spoke to our writer about their wedding.
How and when did you meet?
Joshua: I met Mariam at the end of 2015 at Church.
Mariam: I met Joshua at church where he was an active member and he always asked me if I enjoyed the church service.
When did the two of you eventually become close?
Joshua: It was in 2016 when we became close.
Mariam: We used to hang out and pray together. One Good Friday in 2016, he was going to check on his parents in Kampala and he asked to meet my parents.
What attracted you to each other?
Joshua: Mariam is beautiful, understanding, God-fearing, hardworking, and enterprising. She loves children and I saw a helper in her that I had always desired.
Mariam: Joshua is caring, a leader and focused, above all Joshua loves God passionately.
How did Joshua propose to you?
Mariam: It was a surprise. I didn't think he would propose to me because he always wanted a woman who would propose to him. I found it funny. He proposed to me when we were out with the church gang on Women's Day at Sisiyi falls. Joshua went on his knee, I didn't believe what I was seeing. I did not wait for him to ask me, I had already said yes. It was a good feeling.
When did you come up with the wedding date?
Joshua: We started planning and thinking about it in 2016 on Mariam's birthday, June 24, but it was a Sunday so we postponed it to June 30, 2018 since it was still in her birth month.
How did you raise the funds?
Joshua: We had a small budget of Shs36m because we wanted to do something we could both afford without borrowing. For the most part friends, workmates and family supported us a lot in raising the funds. We were surprised though after returning from honeymoon and our chairman handed some surplus cash.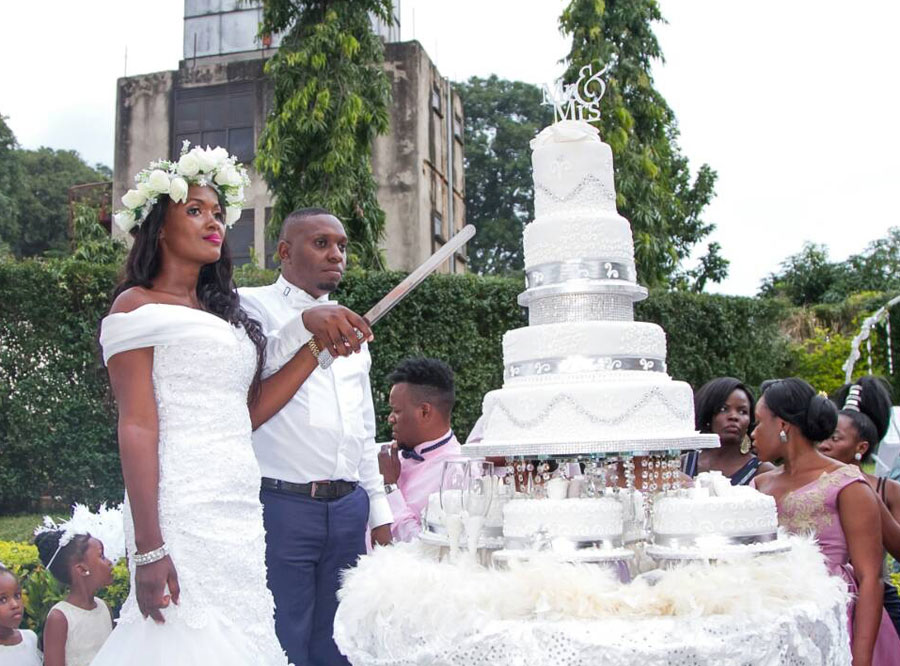 Did you involve a planner?
Mariam: No, we got a team of brilliant friends to help us workout the logistics. They did a remarkable job since we had an introduction and wedding on the same day.
How did you come up with the guest list?
Joshua: For the most part since it was a small wedding we chose to have very close friends, family, workmates and from the church where we both go to. This was easy as we knew we had an idea of who was coming.
What were you doing on your wedding eve?
Joshua: We did some rehearsal at church then I was with the boys/groomsmen and they told me I had still an opportunity to change my mind before tomorrow.
Mariam: I finalised with shopping since we were having both an introduction and a wedding on the same day in different places not far from each other.
Were you disappointed in any way?
Joshua: Our tailor didn't deliver as promised.
Mariam: Our decorator did not give us the things we agreed to.
What did you enjoy most on the wedding day?
Joshua: Mariam walking into church was great.
Mariam: Looking at each other as we repeated the vows after the pastor and getting to see our friend's family join us at the reception.
What was going through your mind during the ceremony?
Joshua: We were excited that we were able to come this far; remember we had an Introduction and wedding on that same day
Mariam: I was surprised to see my best friend Irene from Italy and all this time Joshua knew about it and he didn't say. I was overjoyed.
Did you go for premarital counselling and what did you learn from it?
Joshua: Yes, I learnt that I have to be faithful to my wife and when we get children, we should raise them together.
Mariam. Yes we learnt to leave and to cleave, not to forget marriage as a mystery between two people and I also learnt that I have to respect my husband and give him support.
Your advice to those planning to wed…
Joshua: Counselling sessions are vital and also choosing the right people/committee to help you run the wedding.
Mariam: Have some savings than only depending on others.
Titbits
Date: June 30, 2018
Groom: Joshua Menya,
Bride: Mariam Mutyembu
Celebrants: Pastors John Wandera and Peter Wamono
Church: City Victory Church Mbale
Reception: Crown Suites Hotel Mbale
Guests: 300
Budget: Shs36m