By Desire Mbabali
When Dan Emmanuel Apeu-O entered a city bank one morning, he had no idea that there in the queue waited his future wife Arklean Birungi. Although it was love at first sight for him, his persistence and patience won Birungi over with time and the couple tied the knot three years later.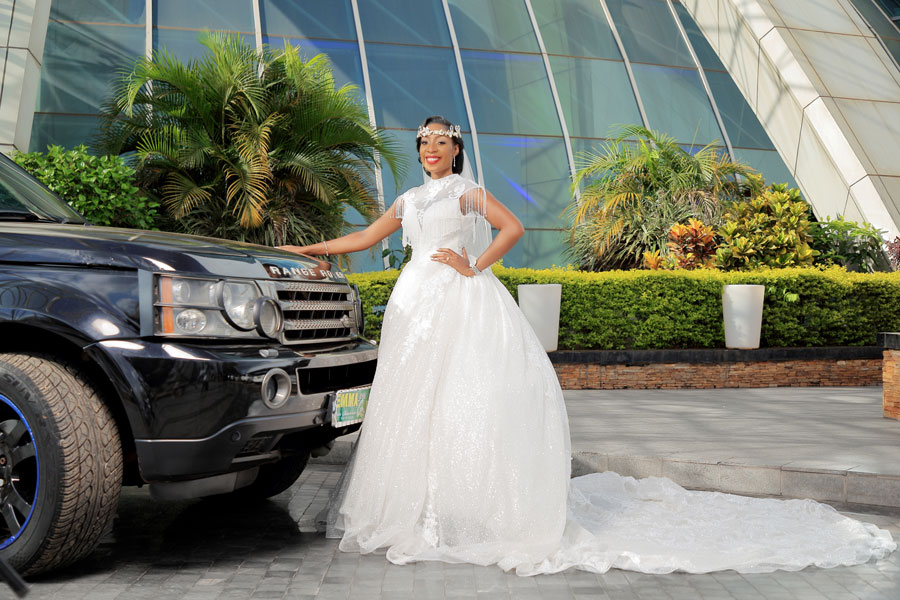 "The first time I laid my eyes on my husband, we were standing in a bank queue. I had not really paid attention to the person behind me until he casually said hi. I said hi back out of politeness but was not interested in a conversation with a stranger. But the stranger seemed intent on chatting. He asked for my name, and I told him. To discourage further questions, I picked my phone from the bag and pretended to be busy, although I had nothing to do on the phone. I logged onto my Facebook and started scrolling through; so he asked me if we could be friends on Facebook. "Can you send me a friend request?" he asked and I pretended as though I had not heard. So he pulled out his phone and asked for my user name. I showed it to him there, and he commented, "Nice profile picture," I said thank you. He sent me a friend request.
Meanwhile, it was my turn to be served, so I left him in the queue and walked to the counter. After being served at the bank, I walked out and went home, but I did not actually confirm the friend request until after some days.
He sent me a message, asking whether I remembered him. He asked for my contact and I refused to give it to him. I told him, "Anytime you want to talk to me, I will be here on this same chat." For about three months, we chatted on Facebook and I realised that he was a kind, humble person. He would ask for my phone number and every time I said no, he was patient, asked me to take my time, and he did not push.
The romance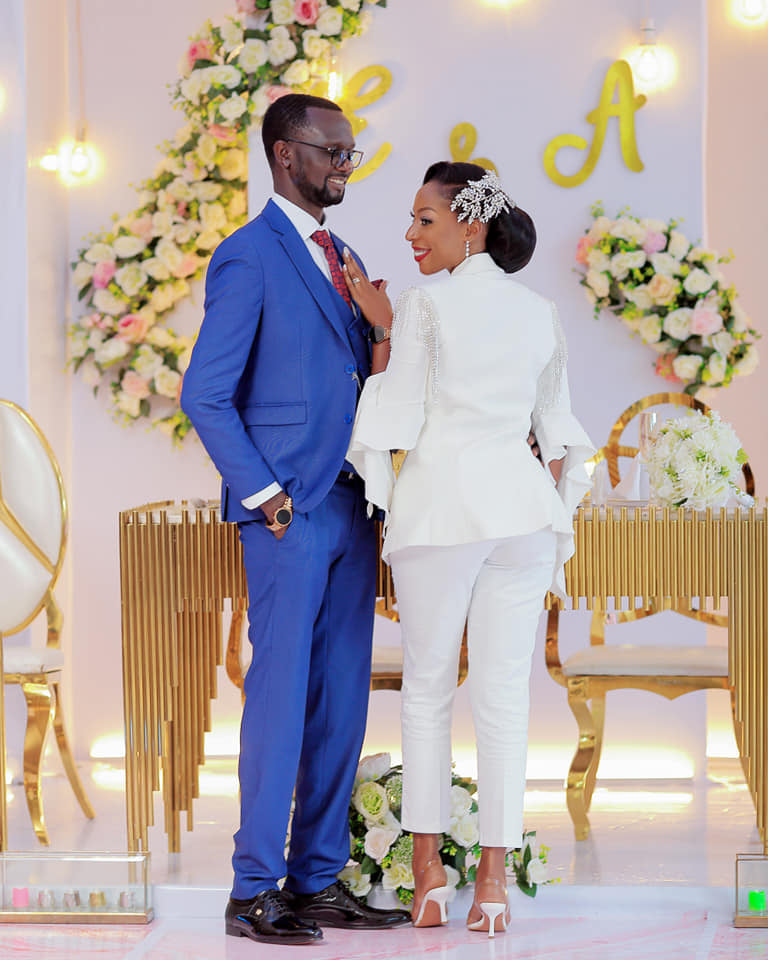 He was loving too, I would feel it and while I thought he was charming, I did not think we would have a future together. As we kept in touch, I fell in love with his personality, before I even met him again. I finally shared my number with him, and from then we casually dated. I realised he was actually sweet but it took me a while to think of him as anything other than a friend.
Later on, he travelled to the US, but we used to skype, call on WhatsApp. He was there for about a month and upon his return, he told me that he wanted to take things further.
He asked to meet my sisters, my parents, so I realised that he was really serious. He would ask me, "Why don't you want me to meet your sisters or your parents?"
After realising that he was serious, I decided to introduce him to my family. With a few of his relatives, he came to my home in Rukungiri for the traditional Okugamba obugyenyi (Kukyaala) in November 2018.
He told my parents that he wanted to marry me, and promised he would come
home officially the following month and he did. The function was so colourful. On that day, he promised my parents that after one year, he would wed me.
Wedding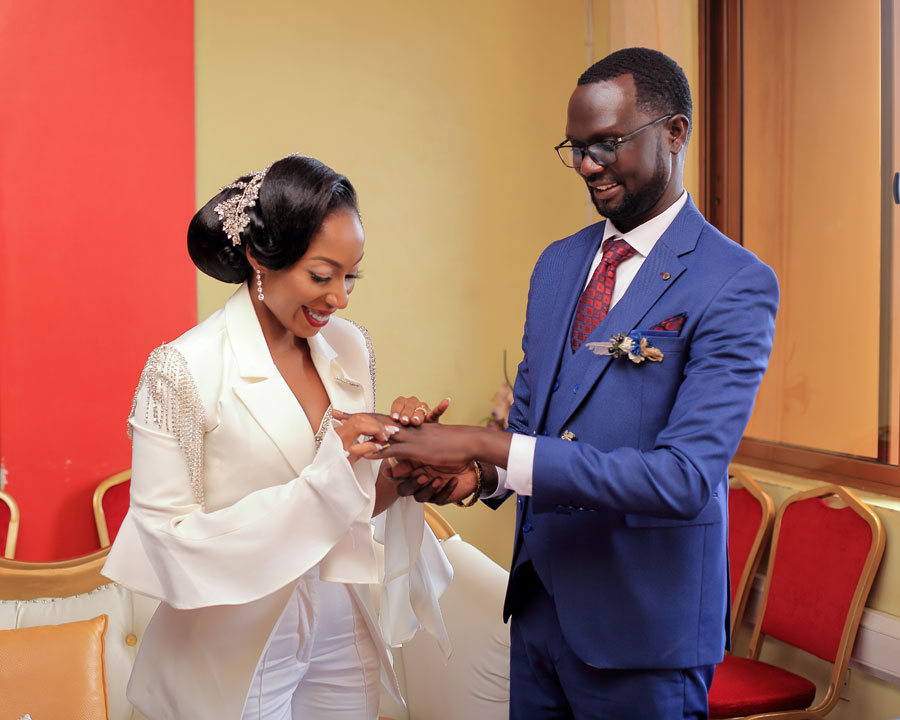 Three years later on November 11, 2020, we wedded. We exchanged our vows at Uganda Registration Services Bureau (URSB) and thereafter at the reception at Pearl of Africa Hotel. It was a really beautiful time with family and friends. We really had fun after some really restless nights and pre-wedding anxiety, I can say it was all worth it. It is the most unforgettable day of our lives.
Preparations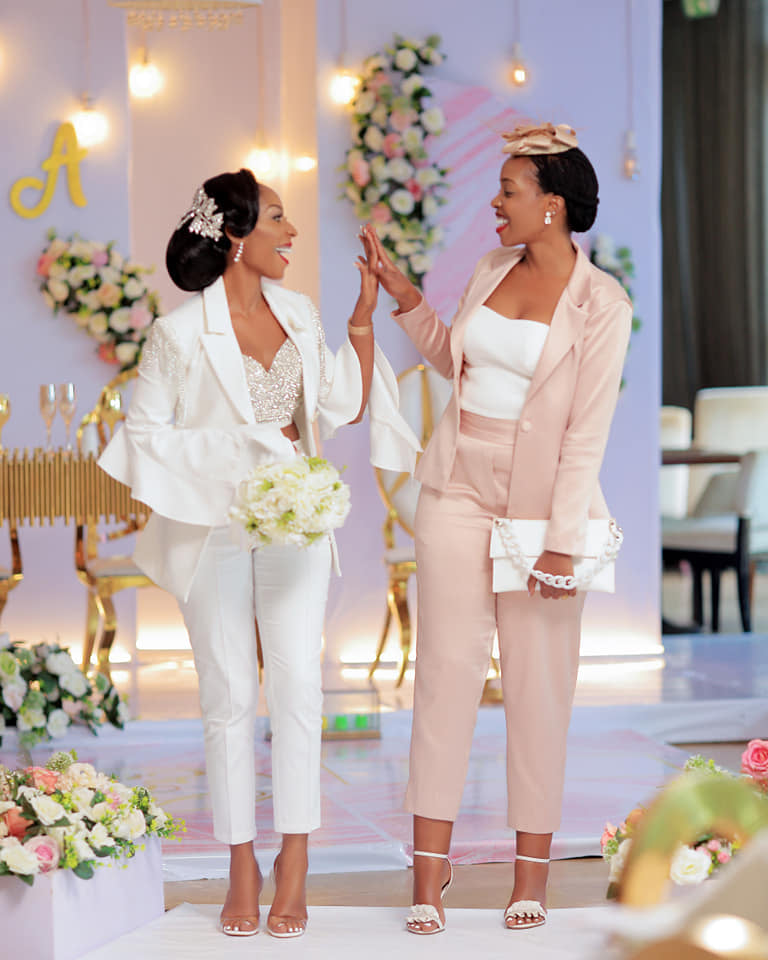 My husband had promised my family that he would wed me after one year. However, I had always had a dream of having my child(ren) among my entourage, so I asked my husband to wait until our little girl Isla A'chieng Apeu-O was able to walk for the wedding to take place. That gave us plenty of time to save and prepare for the wedding.
We did not have any wedding meetings because we knew exactly what we wanted on our special day.
For my entourage, I had six of my close friends and since I knew they all loved to dress well, we decided on maroon/ dark red for them and then let everyone style it the way they wanted and it was perfect.
Most memorable moment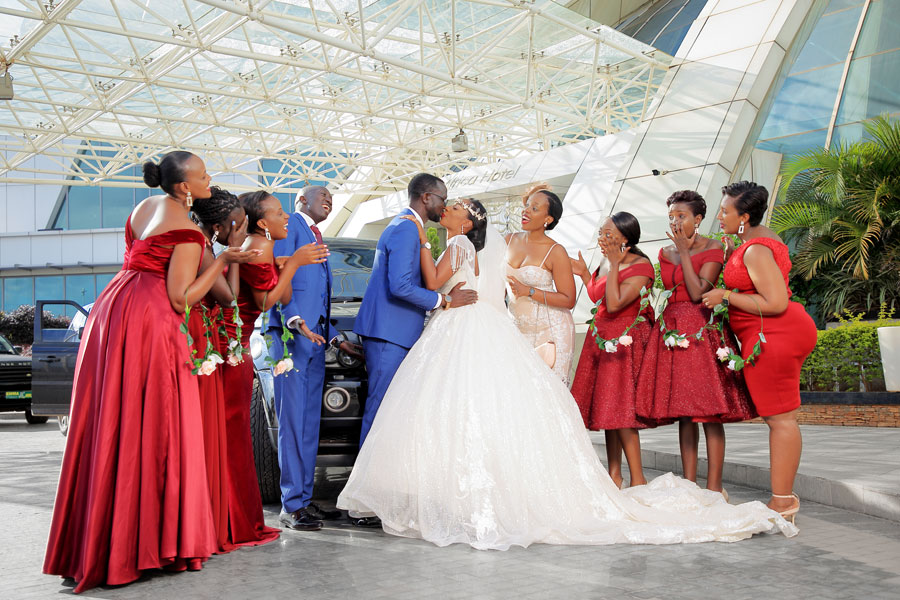 Our grand entrance is one of the moments I will never forget. I cried so much. They played the song that would usher us into the venue but I was in tears. I just could not believe that God had done it for me.
Fashion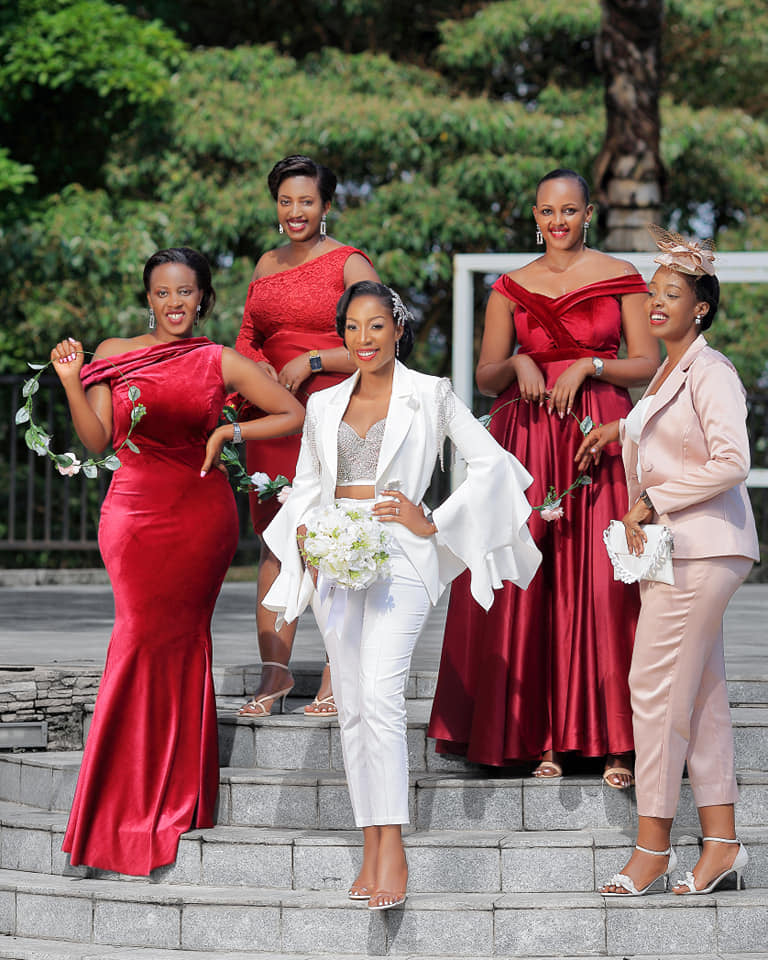 The pantsuit was my main outfit, although people thought that it was my changing dress. I have always dreamt of having a simple court wedding, with just a few close friends and family present and somehow, the Covid-19 pandemic made it easy for me.But again, considering what I wanted, I could not imagine having a court house wedding wearing a gown.
I went to my good friend at Fashion Loft who always dresses me and knows I like being unique. I explained my idea and everything I wanted. She talked to her suppliers who shared something similar to what I wanted and I fell in love with the pantsuit I wore for my ceremony. Later, I wore a Cinderella ball gown for the reception and then changed into a white mermaid gown for my cake cutting.