By Maria Immaculate Owechi
Having an outdoor wedding reception without tents has become one of the trendiest ways wedded couples can offer a relaxing atmosphere for their guests.
It is also a cost-cutting technique by avoiding spending on tents and their needed décor materials.
Some have even considered conducting both the religious and reception ceremonies at the same venue for a chill feel.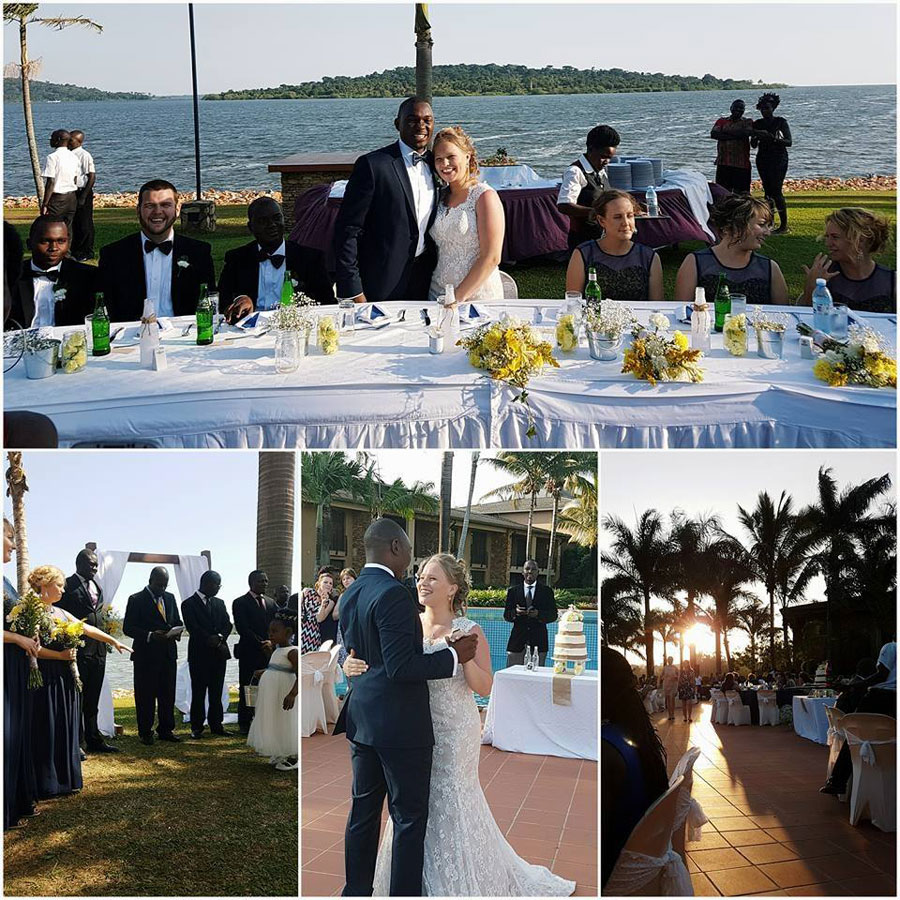 In 2017, Brian Nasala, a former 104.1 Power FM presenter with wife Sandra Waldner exchanged vows and even had a fun-filled outdoor ceremony without tents at Speke Resort Muyonyo.
However, some people are hesitant to take this concept up because of fear of heavy rain or too much sunshine that may make guests uncomfortable.
According to William Kings Katumba, of Ka2mba Deco Kingdom, this shouldn't be a challenge because there are alternatives for hiring gardens with a shelter as a backup plan in case of weather disruptions.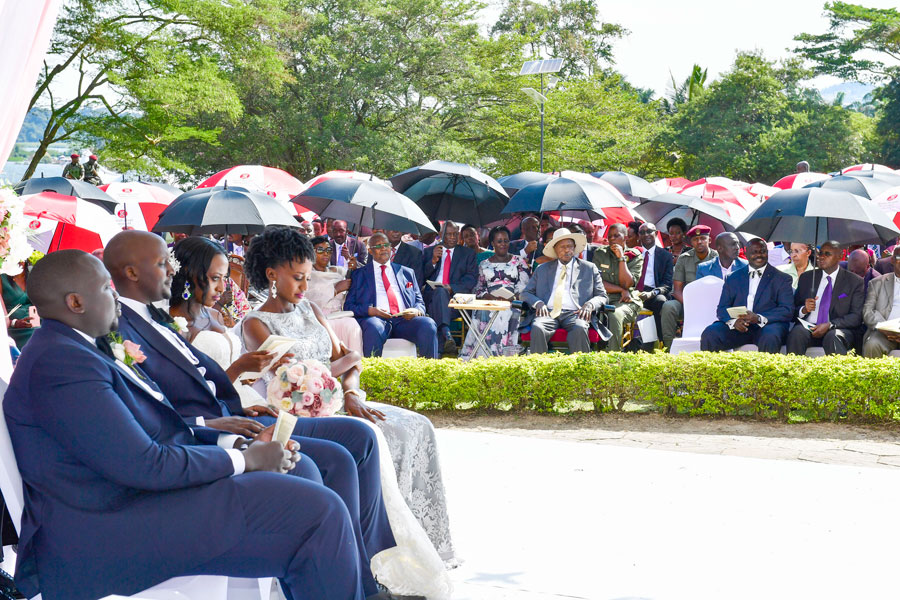 The guests can also be provided with umbrellas to shield them from the scorching sun like during the wedding ceremony of Isaac Kuteesa and Yvette Kamurasi, children to prominent Ugandan politicians in September this year.  The groom is the son to Hon Sam Kutesa the Minister of Foreign Affairs whereas the bride is a niece to the late Aronda Nyakairima, a former Ugandan army officer and Minister of Internal affairs.
The couple can also specifically set their wedding date in dry seasons of the year for example January to July here in Uganda.
With this sorted out, let's look at other ways you can pull off an outdoor wedding reception without tents.
Select comfortable grounds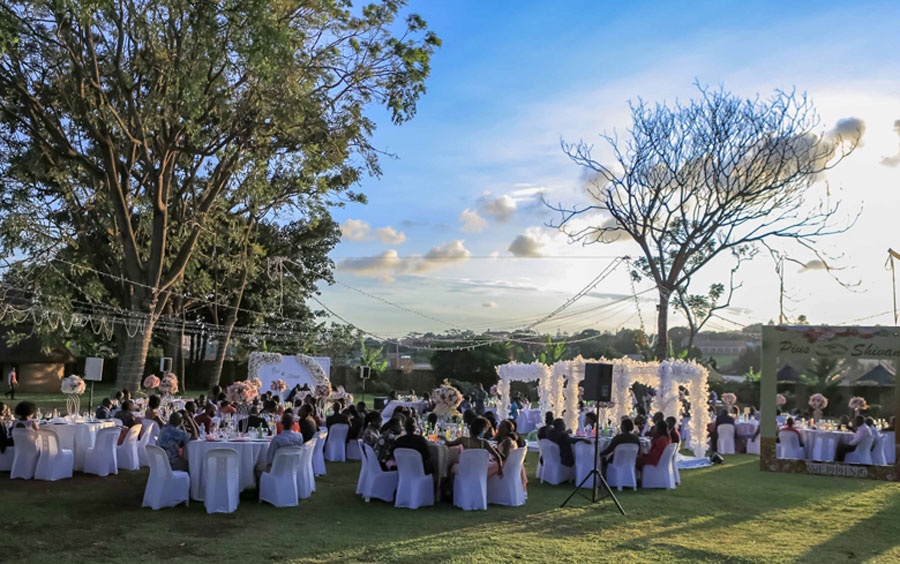 Katumba advises the couple to specifically choose gently sloppy gardens with no bumps or terraces so that the guests can comfortably walk especially the ladies in heels.
He adds that in case the grounds are uneven, there is an option of hiring floor surfaces like large whiteboards that can cover the entire grounds.
The decorator says the advantage is that in case the rain wets the board, the water can simply be cleaned away.
Consider decorating the walkways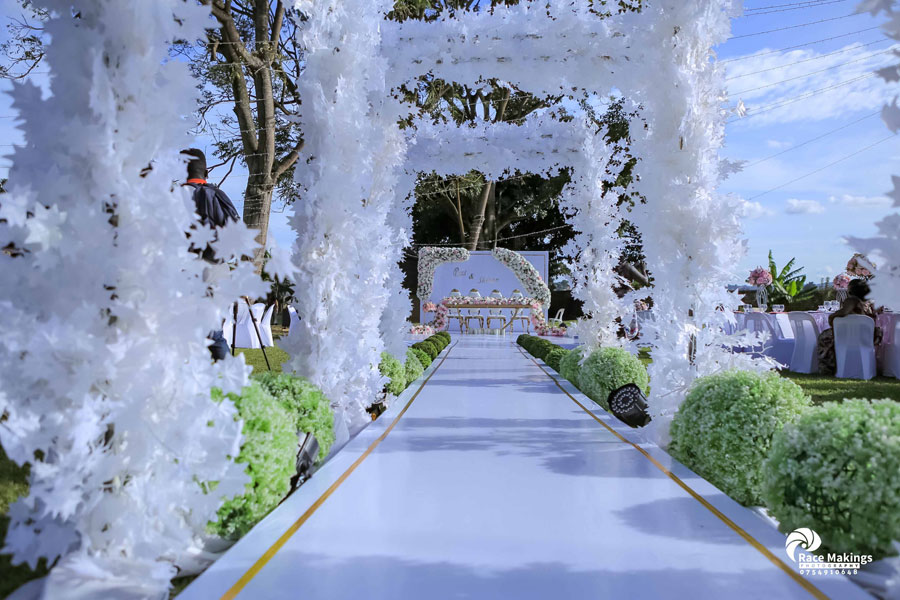 In May 2019, Pius Kavuma Mugagga, a Data Engineer who had a lovely outdoor wedding without tents shares how his decorator managed to decorate their walkway beautifully.
Mugagga says since the hired gardens already had green flower beds decorated around the walkways, his decorator just simply added some similar flower beds with sprinkles of white tiny flowers to make the walkway longer.
"They then placed a long whiteboard covering the grounds from the high table to the entire walkway," he explains further.
Muggaga adds that the white decorations surrounding the walkway were part of their theme of having an angelic atmosphere.
Consider having a backdrop for the high table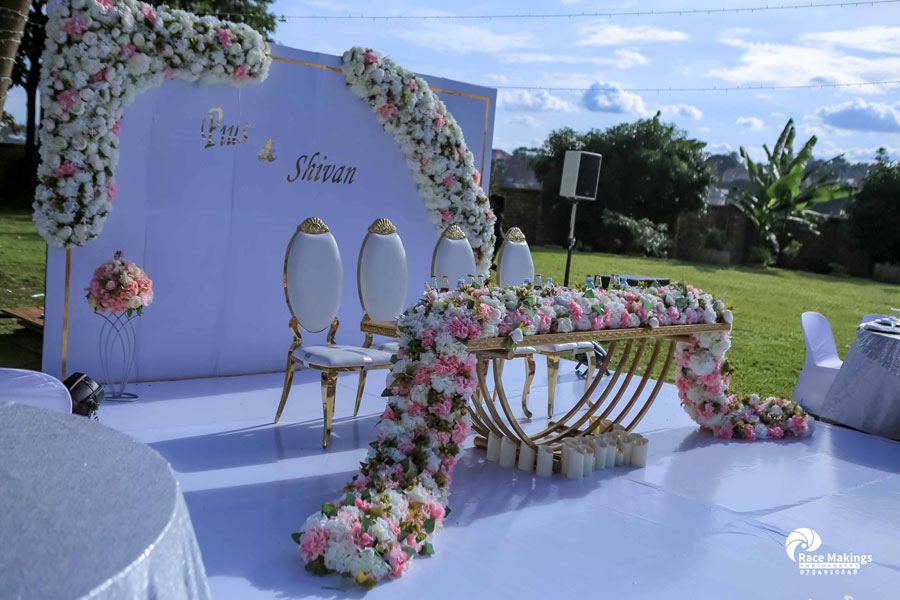 Since in this case even gazebos may not be required, Katumba suggests placing a nice backdrop behind the wedded couple's table.
He says this is done to make the high table stand out from the rest of the guests.
Examples of popular backdrops are personalised whiteboards designed with the couple's name decorated with flowers, shimmery curtains and draping.
In February 2019, dancehall musician Margla Da Raggamuffin on her wedding day to her German husband had a similar backdrop that made their high table unique from the guests during their outdoor reception without tents.
Chairs and tables setting
Joan Kugonza, a decorator with Divine Decorators suggests that chairs should at least have seat covers or be designed with ribbons or floral arrangements so that they can complement the major décor.
For the table set up, she says any can work but round tables are the popular choice because they offer enough space for guests to move around.
Kugonza, however, discourages from spacing the tables too much as it can make some people look like they are not part of the ceremony.
Decorate with lots of floral decor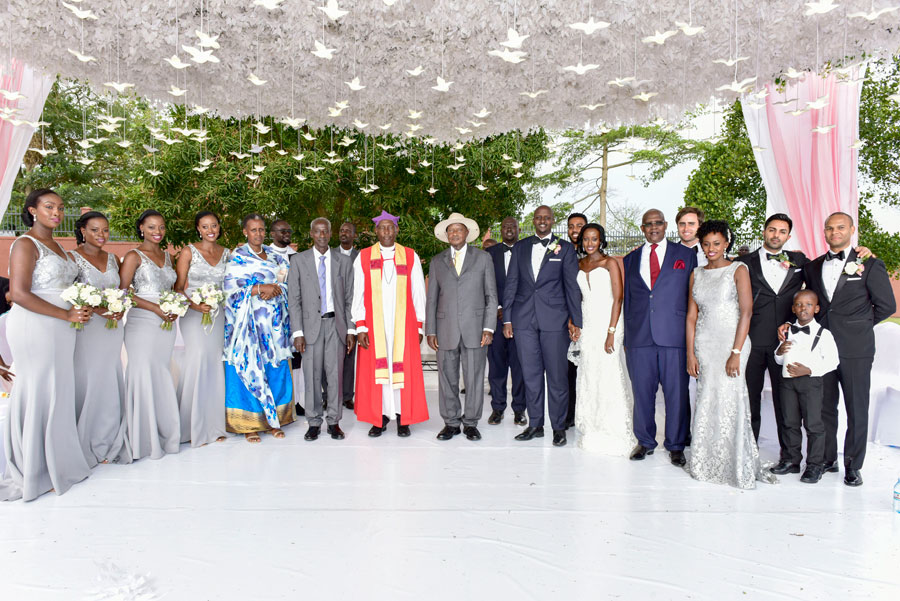 Katumba says floral decoration looks more beautiful in an outdoor setting and that is why he encourages having it as the main theme.
He adds that flower vases on the table should be very tall so that they easily stand out.
Kugonza chips in that with lots of floral décor any colour theme works, however, the couple that opts for bright colours stands out best.
Enough lighting around the venue
In order to make sure the celebration lasts all night long, it is important to place outdoor lighting in the gardens.
Mugagga shares that at his wedding,  the decorator surrounded the trees with fairy lights and some ran across the venue.
He adds that they placed flashlights at specific points of the gardens and around the walkway.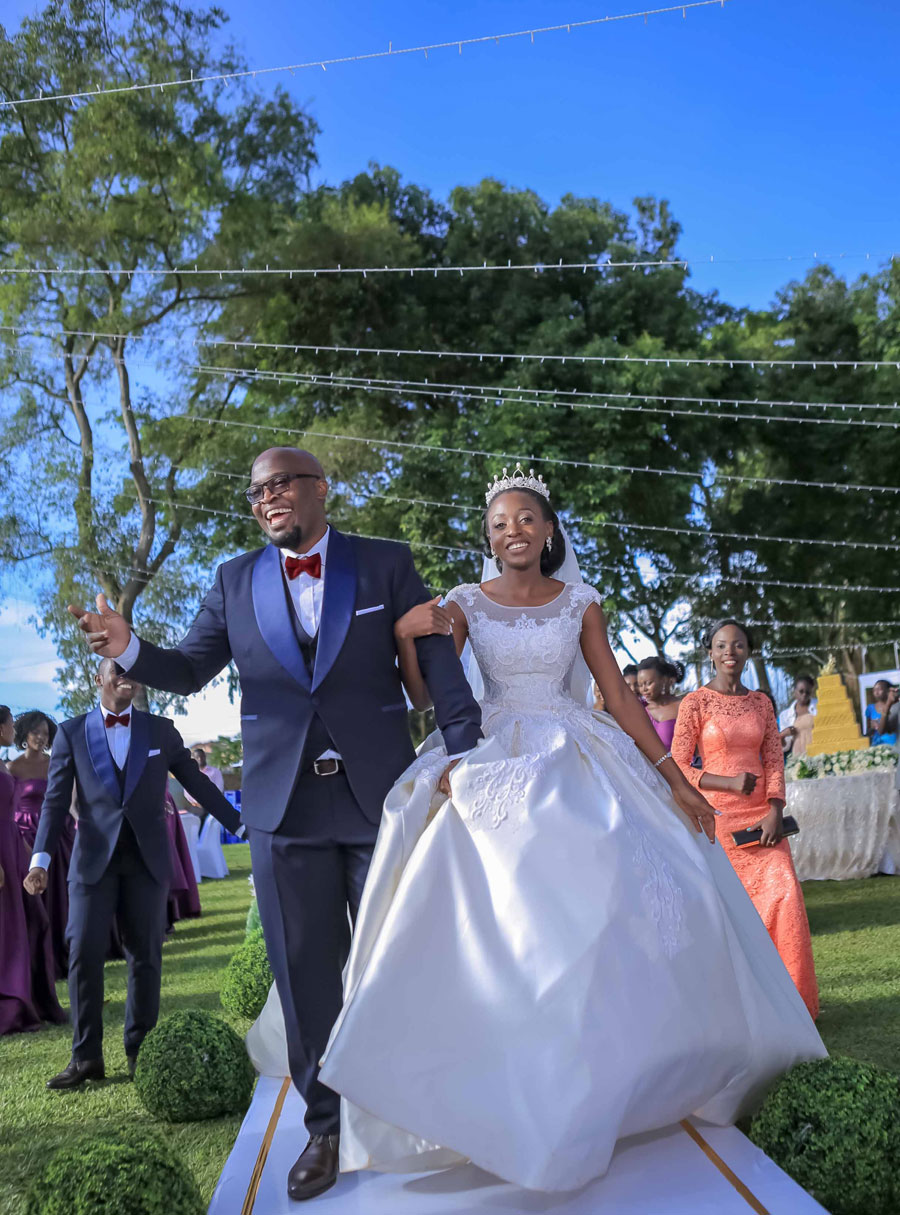 Access to a power supply
The lighting also requires access to power supply from the venue. You may consider the option of hiring a generator.
This is also important for the smooth running of the sound and music system.
Access to changing and restrooms
As the bridal entourage, there is need to have a private room for changing clothes for the party or doing a touch of make-up.
It is advised to ensure the outdoor venue has some shelters close by or a tent erected aside to act as the changing room.
The restrooms are also a necessity. That is why it is important to either hire gardens with toilets or consider providing the portable ones.
Consider having an enclosed venue
Atugonza says it is important to opt for gardens that at least have an enclosed perimeter fence for security purposes.
She adds that this also helps the ushers in strictly crosschecking for guests with invitation cards at the entrance.
The decorating styles between outdoor receptions with or without tents are similar except that with tents, you can hang chandeliers and decorate with more drapings.