It used to be that women got married and then had babies. But the trend is changing. It is common these days for pregnant brides to walk down the aisle. Some men even prefer it that way. It is better to know that your wife-to-be can have children before the wedding than to be sorry later, so the men argue. The focus of attention at every wedding is the bride. But the rules change when you are pregnant. Whereas other brides may pull off sexy high heels, you can't. A number of pregnant brides worry about who is judging them and may look exhausted. And yet a woman's wedding is a day she ought to enjoy considering that it comes once in a lifetime, at least for most people. You don't want to make a public announcement about your pregnancy.
Avoid overworking yourself before and on your big day because you risk having a miscarriage as a result of so much stress. It does not, however, mean you are doomed fashion-wise just because you are pregnant.
What to wear
Finding the right gown depending on how far your pregnancy has progressed can be a challenge. The possibility of gaining weight at a fast rate complicates issues further. However, because a number of pregnant brides get married before the protrusion shows, finding an adjustable gown shouldn't be hard.
Select a gown with an adjustable empire waist (a waist line that begins immediately beneath the bust line and hangs right there). Many bridal parlours offer adjustable gowns with wonderful tie tabs at the back, which you can adjust. Having one tailored is an option to consider. It would cost you about Shs1.3 million.
Avoid extra ruffles, bows and accents on the gown. This doesn't mean that you wear a plain gown with no accentuate. The secret is not to overdo it because it will make you look huge. Beadings and fabrics that shimmer and shine are appropriate.
To draw attention away from the belly, ask your designer to show off your best assets like the collarbones in an open gown and your shoulders. This is also an opportunity to make good use of that bust. A number of women get a bigger bust when pregnant. So if you have small boobs, the fear of them failing to fit in a lovely gown can be forgotten.
While looking for the gown and the changing dress, consider how comfortable you will be as your top priority. Minimise on itchy lace sections. Settle for a fabric that feels smooth on your skin because you will be wearing the gown for most of the day. Don't try too hard to cover up by squeezing into a small gown to look slimmer. It will only make you uncomfortable and make obvious your bulging belly -which could have easily gone unnoticed.
The shoes
Because you will do a lot of walking in and out of the church, to the gardens for the photo shoot, at the reception, you need comfortable shoes. The length and type of the heel should be taken into consideration because a bad heel will not only give you sore feet but you risk tripping over. God forbid that you have to be rushed to hospital on your wedding day!
A low heel is ideal. If you are in love with high heels, carry a pair only for photography purposes. Thicker heels will help you walk more comfortably on grassy areas. Your heels won't sink into the ground and they will protect your ankles while you walk and take the stairs. It is better to shop for the shoes last because you don't know whether your feet will swell. Carry an extra pair just in case.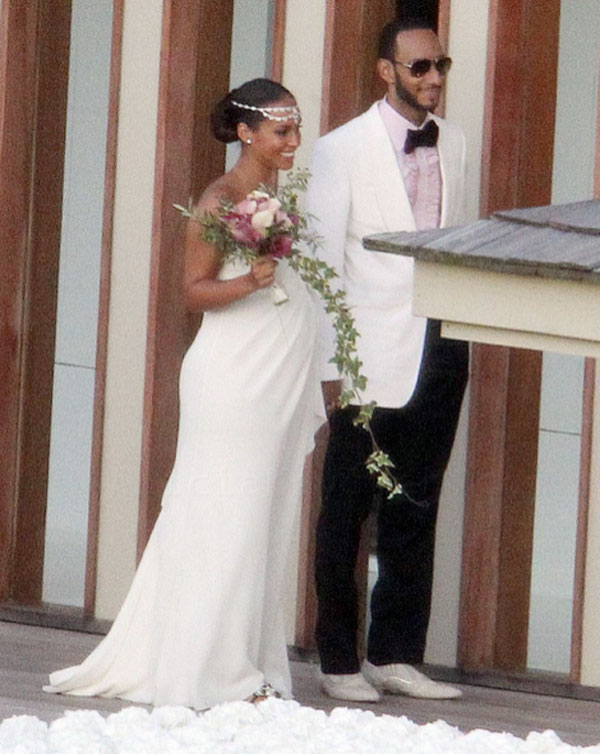 During the wedding preparations
These days couples do a lot of running around a lot in preparation for their wedding. The stress levels are bound to rise as a result. Stress even for people who are not pregnant can be disastrous. For the pregnant bride-to-be, a miscarriage is a risk that can be avoided. You have to delegate most of the responsibility to a trusted maid of honour and your organising committee who have volunteered to help. You have no business running after the decorator or the caterer. Don't be overwhelmed by the trend of events because most weddings hit some snags and yours may not be an exception.
Get enough sleep before your big day. A number of pregnant women have glowing skins so make up shouldn't be a hustle. That said, you need lots and lots of drinking water. Avoid telling many people that you are pregnant except for those who really have to know-otherwise they will make the rumour mill very hard for you to deal with.
At the function
You need a fantastic master or mistress of ceremonies who will keep the ceremony short and nice. He should include activities where you can walk around because sitting for long periods is not good for you. Speeches should be kept short so that you can catch up on some sleep. After all, the health of your unborn child is very important. Your worst enemy on this day is fatigue. You may probably get tired before the function is done. That is where a skilled MC comes in handy. Avoid going at the serving counters should some of the foods get you nauseated. Snack throughout the day even though you may be extremely excited. Make an effort to smile even though the hormonal imbalance is affecting your 'joy' levels. The last thing you need is an album of pictures of a gloomy bride years later. Remember a wedding day comes once in a lifetime and you have to give it your best look.