Imagine you're a groom standing at the altar, watching as the woman you've chosen to take your name, to share your life, glides gracefully toward you in all her bridal finery. There's just one problem. You don't recognise her. "Who is that creature walking toward me—under those painted on eyes; those shellacked lips?" you ask yourself. "What has happened to my lovely bride?"
We imagine that something like that is what goes through the minds of some of the poor grooms at some weddings we've been to, at which the bride got more than a little carried away with the makeup, in her quest to look her very best on the wedding day. Unfortunately, that doesn't change the fact that the rainbow of eye shadow and that opaque layer of pancake makeup make her resemble something out of a circus rather than a lovely bride glowing with happiness.
But here is the reality. First and foremost, when it comes to makeup, less is more. Second, remember that when your beloved met you, you didn't have all that makeup on. Yet he liked you and found you beautiful—even fell in love and proposed.
Of course, you do not want to look ordinary on your wedding day. By all means, go all out and experiment with makeup beforehand. But it should take place well before the big day, so you have time to see what looks good and what doesn't. Your guests—and your groom—expect to see you up there, not Naomi Campbell. Remember that the point of makeup is to enhance your features (not hide them.) Here is how to pull off that natural look.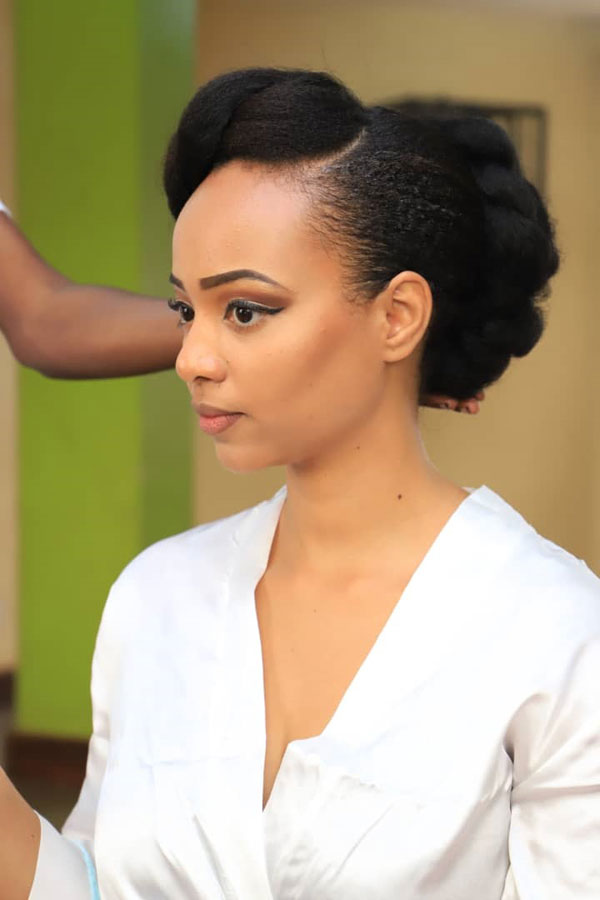 Build a good foundation
There are three basic kinds of makeup for the face: foundation, concealer and powder. That doesn't mean that you should slather on a layer of all three in an effort to resemble the model on the bottle. Wearing too much makeup on your skin will make you look overdone and waxy and may actually make you feel uncomfortable. You don't want that on the happiest day of your life. Begin your makeup routine (on clean, lightly moisturised skin) with a good concealer. As the name suggests, it is meant to hide small flaws, like shadows and blemishes. Use concealer sparingly, to hide blemishes or lighten bags under the eyes, for instance. For the most natural look, blend well. Next, apply a layer of foundation that will even out your skin tone, but won't make you feel overdone.
In general, foundation that has yellow undertones is the most flattering for African skin, but if you have very dark skin, a foundation with a slight blue cast works best. If you have medium-toned skin, choose a foundation with a red-yellow hue. And if you have light skin, look for a soft golden shade. Even if you never wear powder, you are advised to consider it on your wedding day, simply because an unpowdered nose will appear shiny in photos. Choose a shade that matches your foundation and natural skin tone.
Get cheeky
The key with blush is to avoid anything that looks ashy or pale on your skin. Lighter skin tones look pretty and most natural in dark bronzers, though apricot, rose, and soft pink also work well. Medium to dark skin tones look best with deep blush hues like dark rose, currant, and plum. What you're after is a natural glow, like you've just been kissed for the first time.
Open your eyes
While a well-shaped brow is key to the natural look, be careful not to overdo it. We've seen brides who trim and tweak their brows to the point where they end up mangling them or even worse. The eyebrow defines the face, and a neatly trimmed brow is the way to best accomplish that. Your best bet is to go with a professional, unless you have sufficient experience trimming your own brows that you know you can achieve a good result on your own. On the wedding day, (if you need it) just fill the brows lightly with a brown eyebrow pencil.
As for shadow, fight the urge to experiment with every colour of the rainbow. Stick to neutral, matte shades that won't reflect light and look too shiny. For brown skin, use a little peach shadow across the brow bone to illuminate your eyes even more. Stay away from frosted, shiny shadow, which creases easily and will reflect camera flashes. Lastly, blend, blend, blend your makeup. Cameras pick up lines.
Do use two coats of waterproof mascara on your wedding day. Avoid false eyelashes at all costs unless you're absolutely convinced that you need them—and you're even more convinced that they won't fall off.
Luscious lips
In general, the darker your skin tone, the darker you can go with your lip colour. Burgundy and blackberry are beautiful on dark skin. Women with medium skin tones look pretty in currant or red and those with light skin look best in low-voltage neutrals and glosses. If your bottom lip is paler than your top lip, you can even them out by applying a sheer, dark lipstick to your lower lip as a base, then sweeping the same lipstick over both lips.
If you have very full lips that don't require too much enhancement, avoid bright, attention-getting colours and stick to quiet, flattering shades instead, like caramel and soft brown. Perfect for kissing the groom!
Perfect hair
While bridal hair is largely a matter of the bride's taste, try to go with a hairstyle that complements, not overshadows, or clashes with, your dress. It has been the norm in Uganda for brides to feel like they must treat their hair on their wedding day. Few bridal magazines, after all, have pictures of kinky or natural hair. Your hairstylist will also advise you to treat it. Why shouldn't she? It's more business for her! Here's a news flash: You can wear your hair however you like on your wedding day! Some of hippest African brides today wear their hair naturally. Or consider an alternative: Have your hair braided. Braids can be styled in many ways and look sophisticated and sexy.
The truly sophisticated natural bride might also consider just shaving it off. Maureen Musisi, a former bride-to-be we know, had wanted to shave her head for a while. But everybody advised that if she knew what was good for her, she should keep the hair until after the wedding. "I kept the hair and had it treated and tweaked and manipulated. At the end of it all, I hated it," remembered Musisi. "What was wrong with having a clean shaven head at my wedding?" The answer is nothing. It is, after all, your wedding.