Bride in waiting is the diary of Noelyn Nassuuna who is engaged to be married in January i 2023.  In it, she describes her journey to the aisle, sharing the ups and downs, and the joys and frustrations of planning her wedding.
 By Noelyn Nassuuna
I've heard plenty of heartbreaking stories about bridesmaids who have let down the bride when it comes to wedding duties. I also know of a friend whose bridesmaid didn't turn up on the wedding day and never gave an explanation. This is one of the reasons I'm critically thinking about who my bridesmaids should be. First however, I need to put down what my expectations are.
For my bridesmaids, I need people who are willing to take on all the annoying tasks that come along with the preparations, and who will simply make me laugh. I have a 'squad' of girls. We call ourselves Kampala Life Eaters (funny I know) but I am sure that they will simply make me laugh and go nuts. Unfortunately, I can't have them all on the team because I also need friends to be behind the scenes, making sure things are going right, as I shall be on the stage.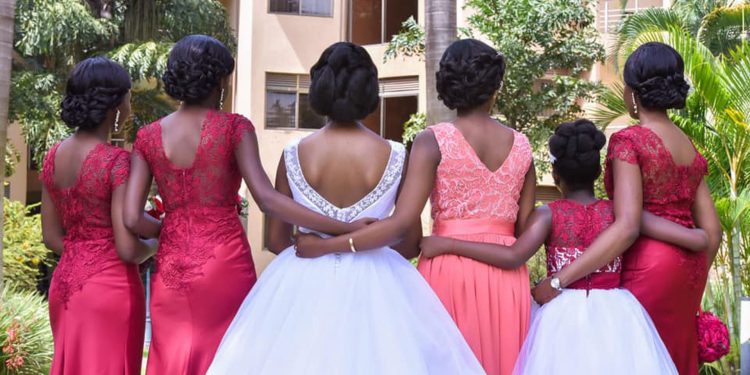 I'm considering my friends, people I've held closely to my heart and those that I have journeyed with all through my life because I believe that I can count on them. I plan to choose people who are ready to step up to the plate, and go above and beyond.
On my team, I'll need the No-Nonsense person who will help me deal with disappointing service provider( I am really praying and fasting that I don't have any because one wedding day is all I have.) One that will keep me sane incase I'm over reacting about anything.
I'll also need a bridesmaid who is always Perfectly Prepared, someone who is ready for any emergency, one that has the extra makeup or the emergency needle and thread, or safety pin in her bag. My fiancé told me it's like I'm sure that something is going to go wrong, but I insist. I need to be prepared for anything. This bridesmaid will also help me move around just in case of any abrupt plans that come up especially when moving around to meet service providers.
I need to figure out, amongst my close friends, who fits the position of the Go Getter bridesmaid and can confidently manage all the other bridesmaids. She will help me keep the girls sane. I know how crazy my friends can get when excited so it's only safe to have someone to keep them in place.
Over the weekend, I talked about having one of my friends as a bridesmaid and I was discouraged from considering it because she always cancels plans.
"She never calls you back and shows up late when you have plans. They will give you a headache when going for bridesmaid dress order deadlines," I was told.
They were right! I need a friend who I know I can lean on and will always answer my calls and messages. Also, us girls come with a lot of drama and I need someone on my team that will not cause any dramatic scenes at my wedding.
It's a public secret that being a bridesmaid is very expensive as it comes with the cost of catering for your own outfit. It's only safe to have bridesmaids that can fully cater for themselves.
Now that I know what I expect from a bridesmaid, I have to think critically about who of my friends have these qualities and then organise a 'be my bridesmaids proposal' for them.